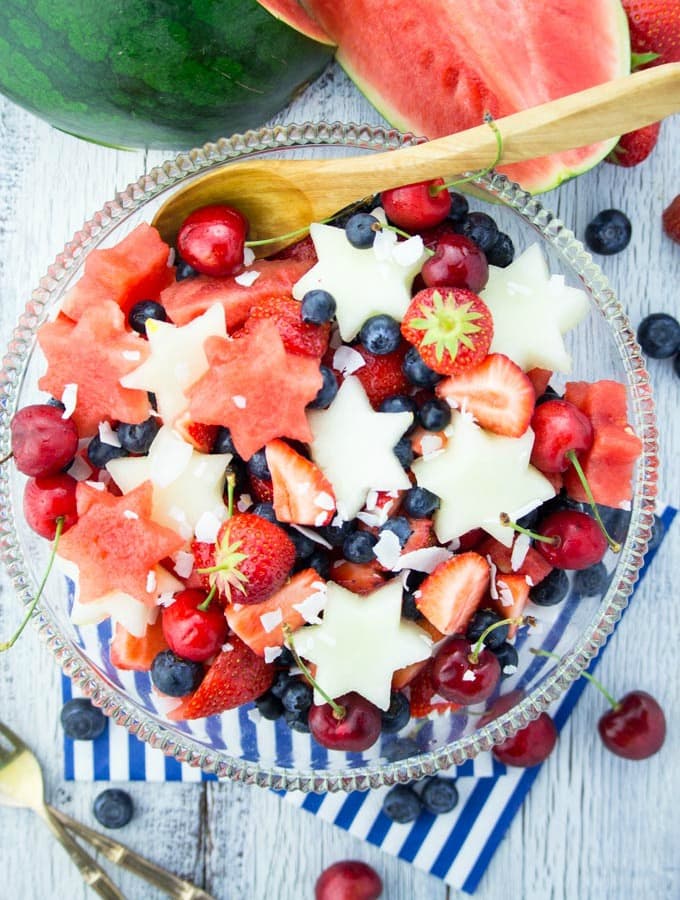 Last week, I got asked what my favorite fruit is. And the scary thing is I really couldn't tell!! Here I am eating tons of fruits every day and I just couldn't answer what my favorite fruit was. Ask me about my favorite veggie and I'd probably tell you it's either spinach or squash, but my favorite fruit…that's a hard one! I really love blueberries, strawberries, and watermelon. Oh, and let's not forget about cherries! So I put all of these fruits together to make this 4th of July fruit salad.
Of course I also needed some white stars to make an authentic 4th of July dessert recipe, so I added some honeydew. I'd probably always take watermelon over honeydew melon, but in this fruit salad I really loved it. Plus, it makes one hell of a star!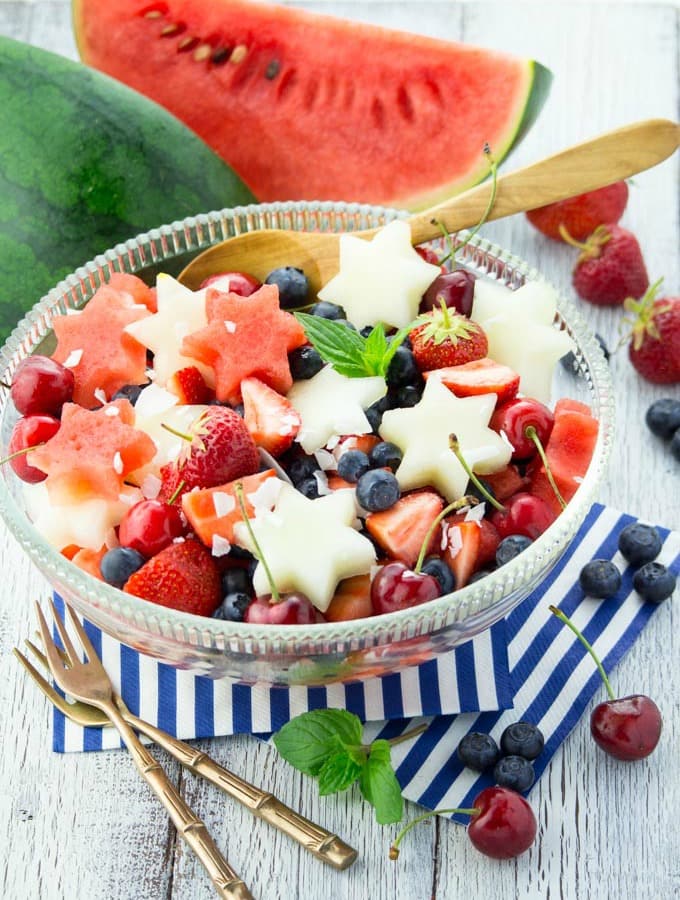 I used a star-shaped cookie cutter, which I usually only use for Christmas cookies, to make the watermelon and honeydew stars. It's best to slice the melons into about 1″ thick slices to do this. Of course it takes a bit longer than to just cut them into normal pieces or bites, but it just looks way more impressive and patriotic if you cut them into stars, right?! I'm sure this red, white, and blue fruit salad will stand out on any Fourth of July spread. And it's definitely a lot healthier than all those versions in which tons of Cool Whip is used to resemble the American flag. I topped if off with some coconut flakes and if you want it to be even fancier for your 4th of July party you could also serve it with homemade coconut whipped cream.
I'm SO happy summer is finally back!! It has been raining here 24/7 for almost a month now and I'm so tired of rain. But today was the first really nice day with lots of sun. Tomorrow afternoon, we're even taking a break from studying and we're heading to a nearby lake to go for a quick swim. And of course I'm making some fruit salad to take with us. Unfortunately this pretty salad is already gone, but I got enough fruits left in the fridge to make a new one. As a kid, my mom mostly made us fruit salads in the winter to boost up our immune system, but I also just love them in the summer with some vanilla ice cream. Oh, this makes me think that this 4th of July fruit salad would probably also be a huge hit with kids! Especially if you let them cut the stars. So if you're looking for something to get the kiddos to hit up the fruit, this might be the right dessert. Easy, healthy, and delicious!
Hope you like this 4th of July fruit salad and have a great and sunny week!! What are you making for Independence Day? Anything special?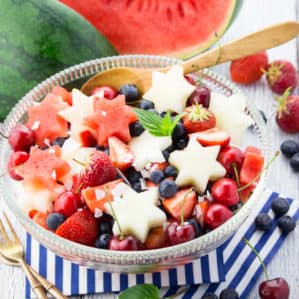 4th of July Fruit Salad
This 4th of July fruit salad with watermelon, honeydew, cherries, and blueberries is not only patriotic but also easy to make, healthy, and so delicious!
Print
Pin
Rate
Ingredients
1/2

medium

watermelon

1

medium

honeydew melon

2

cups

strawberries

1

cup

blueberries

2

cups

cherries

2

tablespoons

coconut flakes

homemade coconut whipped cream

(optional)
Instructions
Cut both the watermelon and the honeydew into 1" slices. Then use a star-shaped cookie cutter to cut the melons into stars.

Cut the strawberries and the cherries into half (leave some intact to put on top of the fruit salad).

Combine the melon stars, the strawberries, cherries, and blueberries in a large bowl and sprinkle with coconut flakes. If you want you could also serve this 4th of July fruit salad with some homemade coconut whipped cream.
Rate the recipe!
If you like this recipe, please leave a good rating! This will help other readers.