Halloween is just around the corner, so that means it's time for creepy and funny snacks! Invite some friends and family and host a ghoulishly Halloween party with these delicious and spooky vegan Halloween recipes!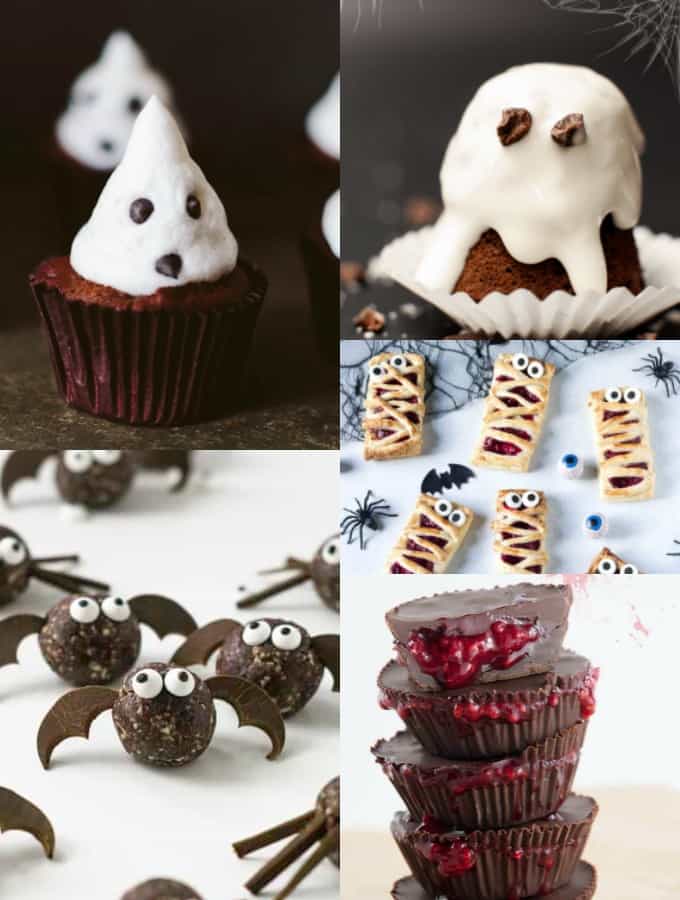 This roundup includes creepy and funny appetizers, sweets, and mains, which makes it the perfect collection for a Halloween dinner party or buffet. All of the recipes are of course 100% vegan and some are even gluten-free and low in sugar.
As always, I've teamed up with some fellow food bloggers to put together this stunning list of vegan Halloween recipes for you. Imagine all of these vegan treats on a huge Halloween buffet. That would be sooo cool!
We've got something for every taste:
ghost and owl cupcakes
bloody cups with raspberries
skull vegan pot pie
pumpkin pie smoothie
raspberry mummies and mummy cookies
monster bites (cute-looking Halloween energy bites)
creepy marzipan worms and maggots (they look sooo real!)
pumpkin chocolate cake
and soooo much more!
Just click on the heading above each photo to see the recipe. 
So bring out your Halloween decorations and enjoy these scrumptious vegan Halloween recipes! Happy Halloween, everyone!
17 Delicious and Spooky Vegan Halloween Recipes
These Halloween owl cupcakes might not be scary, but aren't they just super adorable?! They're vegan, incredibly chocolatey, and pretty easy to make! All you need to make these vegan owl cupcakes are some chocolate muffins or cupcakes, Oreos, skittles, and a little bit of creativity. I love them as cute owls, but if you want them to look scarier, you could also use green or red skittles instead of yellow ones.
These little coconut ghosts by Natalie from Feasting on Fruit aren't only super cute but they're also incredibly healthy. They're sooo much better than all the Halloween junk food you can buy at the store!
These bloody cups by Bianca from Elephantastic Vegan couldn't be much easier to make! They're vegan and gluten-free and you need only 3 ingredients. They are pretty much like usual Peanut Butter Cups, but filled with a simple raspberry sauce.
These bagels with vegan cinnamon cream cheese by Sophia from Veggies Don't Bite are just super cute! They're an awesome way to get your kids to the table and make such a great spooky breakfast for Halloween.
Of course you'll also need something pumpkin-flavored for your Halloween party, so what about this vegan pumpkin pie smoothie? It's sweetened with dates and bananas and tastes so much like liquid pumpkin pie.
Halloween dinner will be the spookiest ever with these little skull vegan pot pies by Kathy from Healthy Slow Cooking. Of course you can still make Kathy's vegan pot pie without a skull cookie cutter. But for Halloween this would be amazing!
Don't these Halloween mummy pies by Kate from Veggie Desserts look super cute? Kate used fresh raspberries to fill them. But she says you can also use frozen raspberries or even jam.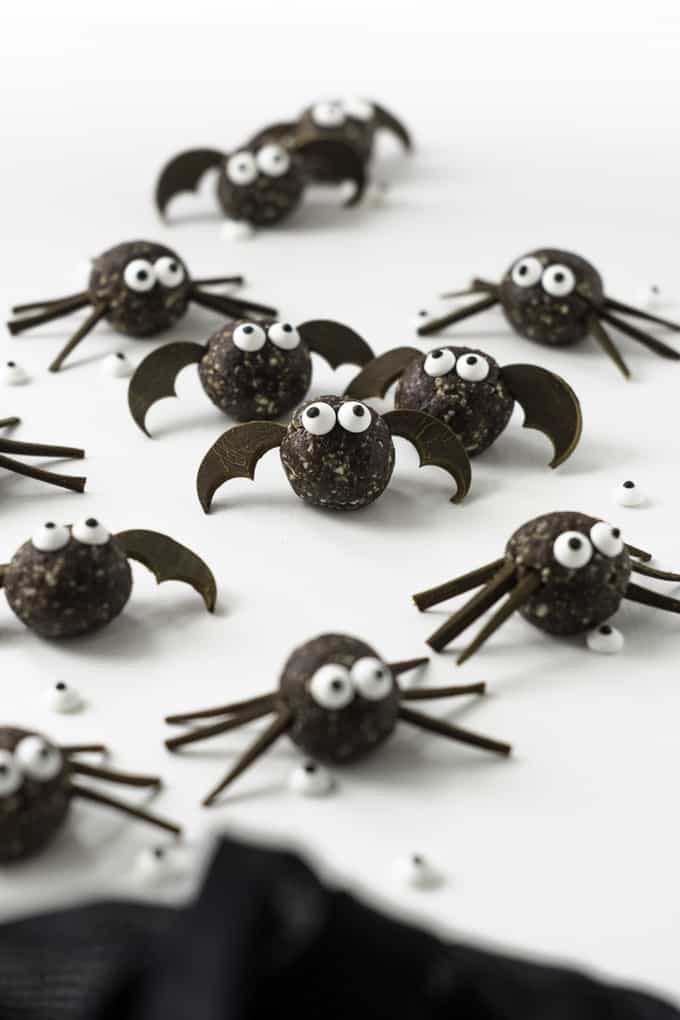 If you're looking for healthy vegan Halloween recipes, these little scary monster energy bites from Gathering Dreams are perfect for you! They are super easy to make, healthy and delicious.
These vegan mummy cookies by Alisa from Go Dairy Free are super easy to make. And they're so cute! I mean just look at them! They're made with store-bought sugar cookies to make it even easier for you.
These creepy Halloween candy creatures by Helene from Masala Herb are definitely the nastiest Halloween treats I've ever seen! But for Halloween recipes that's actually a good thing. Haha! They look so stunningly real. But in fact Helene used Marzipan paste to make these, so they're delicious and sweet.
This spiderweb tart by Audrey from Unconventional Baker is absolutely perfect for Halloween. If you want to go all out,  you can complete the cake with a little spider on top and you'll be all set for a spooky Halloween treat!
This jack o'lantern salad by Cadry from Cadry's Kitchen will make such a great addition to your Halloween buffet. It's best to carve the orange lanterns ahead of time and keeping them in the refrigerator. Then add the salad into each one just before serving. It's also super fun to carve different faces into the oranges.
This recipe by Leah from Love Me Feed Me might sound a bit unappetizing, but it's super creative and delicious! It's silky almond milk chocolate pudding with a crunchy no bake orange chocolate crumble. And the best thing is the worms are homemade agar gummy worms! So much healthier than the gummy worms you can buy at the store.
These vegan dark chocolate cupcakes with marshmallows by Aimee from Wallflower Kitchen might not look very scary, but they're super delicious and make such a great Halloween treat! Aimee even says that it's more likely "they're the ones getting a fright, instead of giving others a fright". Haha!
This pumpkin chocolate cake with ginger by Sarah from Fried Dandelions is super easy to make!  It's a simple one layer cake that is moist and fudgey. The addition of pumpkin and ginger makes it perfect for Halloween and fall season in general.
These Halloween chocolate cookie sandwiches with butter cream by Brandi from The Vegan 8 are so much healthier than regular cookie sandwiches! Brandi uses dried apricots for the butter cream, making it low fat and much lower in sugar than traditional buttercream.
And of course you'll need some hummus at your vegan Halloween party! So what about this pumpkin hummus with fresh parsley, sesame seeds, and crackers? It's super delicious, packed with protein and really easy to make.
I LOVE TO HEAR FROM YOU GUYS!
I hope you like these vegan Halloween recipes as much as I do. It's so much fun to make them!
If you give any of these recipes a try, I'd love to know what you think about it. Just leave me a comment below. Your comments really make my day!
You like my recipes and roundups and want to see more? Then follow me on Facebook, Instagram, or Pinterest!