This German stollen with dried fruits, almonds, and marzipan is so delicious! It's the perfect treat for Advent and the Christmas festivities. My recipe is of course 100% vegan. No butter, milk, or eggs required.
Wow! I can't believe it's already December. Only two more weeks until Christmas. Or actually even less! So to embrace the Christmas season I made this German stollen that I wanted to share with you guys.
What is German Stollen?
For those of you who have never heard of German stollen. It's a sweet yeast bread with candied lemon and orange peel and marzipan in the middle. It has been a German Christmas tradition for centuries. My grandma used to make the most delicious Christmas stollen. Unfortunately, I've never asked her for her recipe, but I always believed it was super complicated.
This year I tried to make a vegan stollen for the first time and it turned out to be so delicious!! And the recipe actually wasn't complicated at all. Of course baking with yeast is always a bit more time-consuming as the dough needs to rise about two hours. But apart from that the recipe couldn't be easier!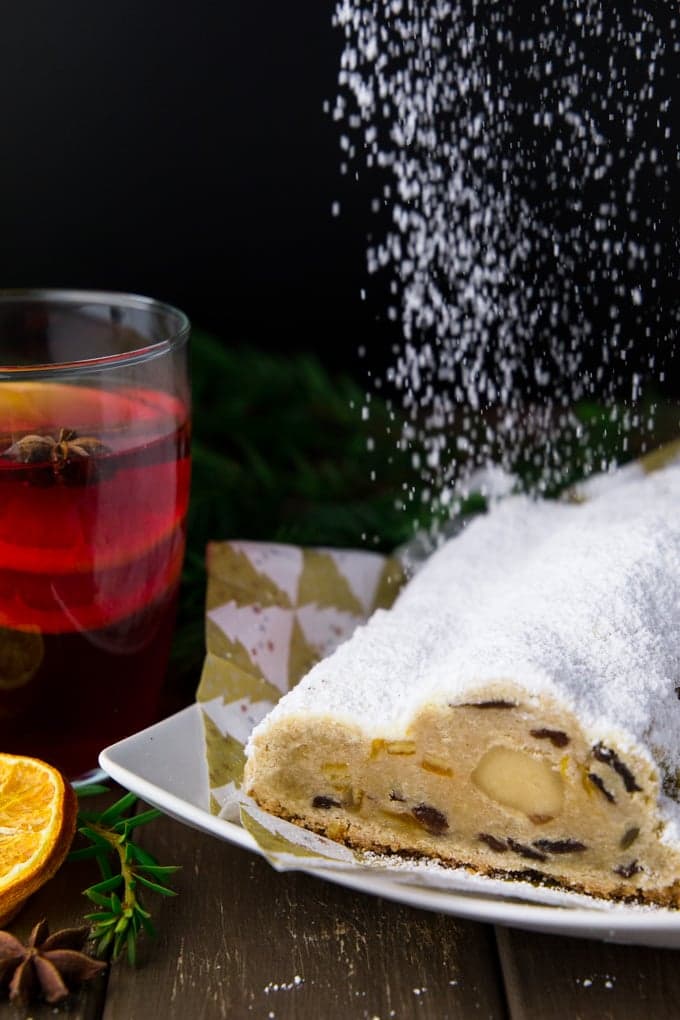 How to Make A Stollen:
All you have to do is combine the flour with melted margarine, soy milk, ground almonds, instant yeast, and the spices. I used cinnamon, ground ginger, allspice, and cardamom. So it's a mixture of traditional Christmas spices. Form a ball out of the dough and let it rise for about two hours. So grab a cup of tea and a good book and let it enjoy some alone time in a warm place…
Once it's ready gently fold in some candied orange and lemon peel as well as raisins and dried apricots. As a kid, I absolutely hated raisins and I spent quite some time picking them out of the stollen. But now as an adult I don't mind them. I'm still not a huge fan and wouldn't eat them just by themselves, but I really like them in the stollen.
The stollen is best served with some hot German mulled wine. Check out the recipe for the mulled wine.
I hope you like this recipe for German stollen or Christmas stollen how it's also called.
Have a great week, everyone! Sina – xx
German Stollen with Marzipan
This German stollen with dried fruits, almonds, and marzipan is the perfect treat for Advent and the Christmas festivities!
Total Time
1
hour
10
minutes
Ingredients
4 1/2

cups

all-purpose flour

one packet

instant yeast

3/4

cup

brown sugar

7.5

oz

vegan margarine

1/4

cup

soy milk

(it should have room temperature)

2

tablespoons

brown rum

1

pinch

cardamom

1

teaspoon

cinnamon

1/4

teaspoon

ground ginger

1/4

teaspoon

allspice

1/3

cup

ground almonds

2/3

cup

raisins

1/3

cup

candied lemon, chopped

1/3

cup

candied orange, chopped

6

dried apricots, chopped

3.5

oz

marzipan

1.7

oz

margarine

powdered sugar, to sprinkle
Instructions
In a small pot, melt the margarine over low heat and let it cool down for a bit.

In the meantime, combine the flour, the dry yeast, the sugar, the milk, the rum, the ground almonds, and the spices in a mixing bowl. Add the melted margarine and knead all ingredients into a dough. Form a ball, cover it with plastic wrap, and let it rise at a warm place.

When the dough is ready, gently gold in the dried apricots, the raisins and the candied lemon and oranges.

Form the marzipan into a longish role. Roll the dough into a 9 by 13-inch rectangle. Place the marzipan in the middle of the rectangle and fold one side of the stollen over the marzipan.

Preheat the oven to 350°F and bake for 45 minutes. Cover with aluminium foil if necessary (if it gets too brown).

When the stollen is ready, melt the remaining margarine. Immediately coat the stollen with the melted margarine and sprinkle with powdered sugar.

The stollen is best when you prepare it in advance and let it sit for about 1-2 weeks (it should be wrapped and stored at a cold place).