It's almost 90 degrees today, so this is definitely the right time for another vegan summer roundup. This time, I got 12 vegan popsicles and ice creams you really need to try this summer!  They're all totally dairy-free, creamy, super yummy, and some of them are even insanely healthy!!
Until a couple of years ago, I would have never believed that making vegan ice cream could be this easy! You can just replace cow's milk with coconut milk, almond and soy milk, or just use bananas, avocados, or even the liquid from chickpea cans (aka aquafaba) instead. Yes, you've heard right. These crazy vegans even use the brine of legumes to make ice cream and the most surprising thing is that it even turns out incredibly delicious! You may have heard of this secret ingredient by now as it's pretty popular in the vegan world. It's also an amazing egg replacer.
But back to the vegan popsicles and ice creams! I teamed up with some of my blogger friends and I think I got something for every taste in this vegan popsicle and ice cream roundup. Chocolate, berries, peanut butter, caramel – we've got it all covered. We even got a vegan ice cream cake, sweet potato ice cream, and green smoothie popsicles. I hope I succeeded in making you crave vegan popsicles and ice cream by now. Haha! So, here we go:
12 Vegan Popsicles and Ice Creams You Need to Try This Summer
We'll start with this decadent, extremely yummy, and super easy vegan oreo ice cream with peanut butter and peanuts. 
You don't need an ice cream maker to try this vegan oreo ice cream and it's ready in less than 5 minutes! All you need are frozen bananas, oreo cookies, peanut butter (chunky if possible),peanuts, and a good blender.
Can you believe you can use sweet potatoes to make vegan ice cream?! Well, this purple beauty by Aimee from Wallflower Kitchen definitely shows that this really works!! It gives the ice cream extra creaminess and such a great texture. And let's not forget about this stunning color! If you can't find purple sweet potato, you can use orange sweet potato instead.
If you're craving caramel ice cream this vegan, no-churn ice cream by Audrey from Unconventional Baker might be perfect for you! It's vegan, raw, and refined sugar-free, and made with cashews.
Doesn't this mango, blueberry, and banana nicecream by Natalie from Feasting on Fruits just look super cute?! It's a triple layered fruity treat with an optional protein boost and some crunchy rice crispy clusters on top! You only need three main ingredients to make this healthy vegan ice cream: bananas, blueberries, and mango.
These canataloupe popsicles by Bianca from Elephantastic Vegan are the perfect treat for hot summer days! They're super easy to make, refreshing, and they're even healthy! It's like a popsicle dream come true. Haha! If you haven't heard of lucuma powder yet you should really check it out. Lucuma is often used as a low-glycemic sweetener and it contains many nutrients as well as protein.
Surprise your family and friends with this gorgeous vegan ice cream cake by Jenn from Veggie Inspired Journey ! I'm sure you'll love this dairy-free frozen dessert! It's creamy, refreshing, sweet, and tart! Perfect for your next birthday party!
These tropical avocado lime popsicles by Michelle from Healthier Steps are such an awesome, cooling summer treat! They're so much healthier than the sugar-laden ones you can find in the grocery stores.
You only need 4 ingredients to make this delicious-looking chocolate ice cream by Trinity from Trinity's Kitchen. It's vegan and refined sugar-free. Instead of sugar it uses dates, which makes it sooo much healthier!! Yummy!
These green smoothie popsicles are packed with vitamins and nutrients. The top is made with berries and chia seeds and for the rest I used a tropial green smoothie made with spinach, banana, pineapple, kiwi, orange, and passion fruit. These vegan popsicles are so healthy you can even have them for breakfast! 
These vegan peanut butter cookie dough fudgsicles by Leah from Love Me Feed Me are creamy and chocolatey as a fudgsicle needs to be. But they're elevated with bits of peanut butter cookie dough throughout! The hardest part about these is the waiting while they're in the freezer. Haha!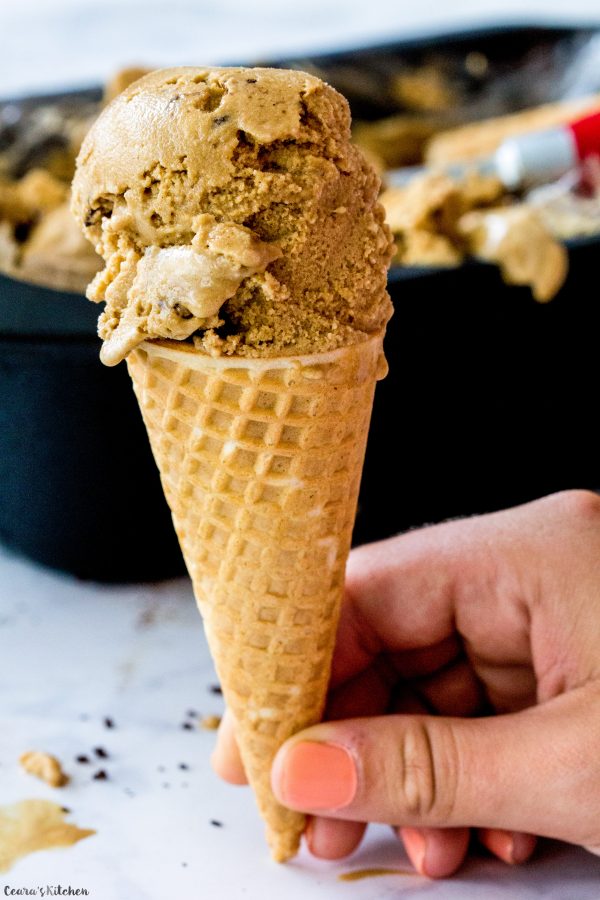 This dairy-free coffee ice cream by Ceara from Ceara's Kitchen is made with aquafaba (the liquid from chickpea cans) and coconut sugar. The aquafaba makes this vegan ice cream extremely fluffy and creamy!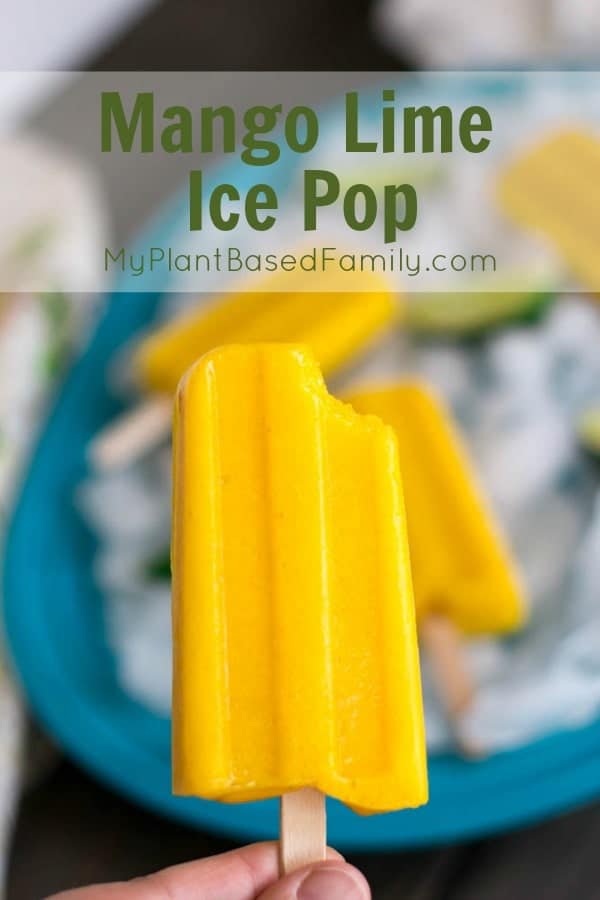 Last but not least are these mango lime popsicles by Holly from My Plant-based Family. These vegan popsicles are super refreshing and require only four simple ingredients: mango, lime, coconut water, and stevia. The recipe really couldn't be much easier!
I hope you liked these vegan popsicles and ice cream as much as I do! Have a great and sunny week! xx