If you're looking for vegan sandwiches, this is the right place for you! We have 18 easy and delicious vegan sandwiches for you that are perfect for lunch! Most of them are super healthy and ready in no time!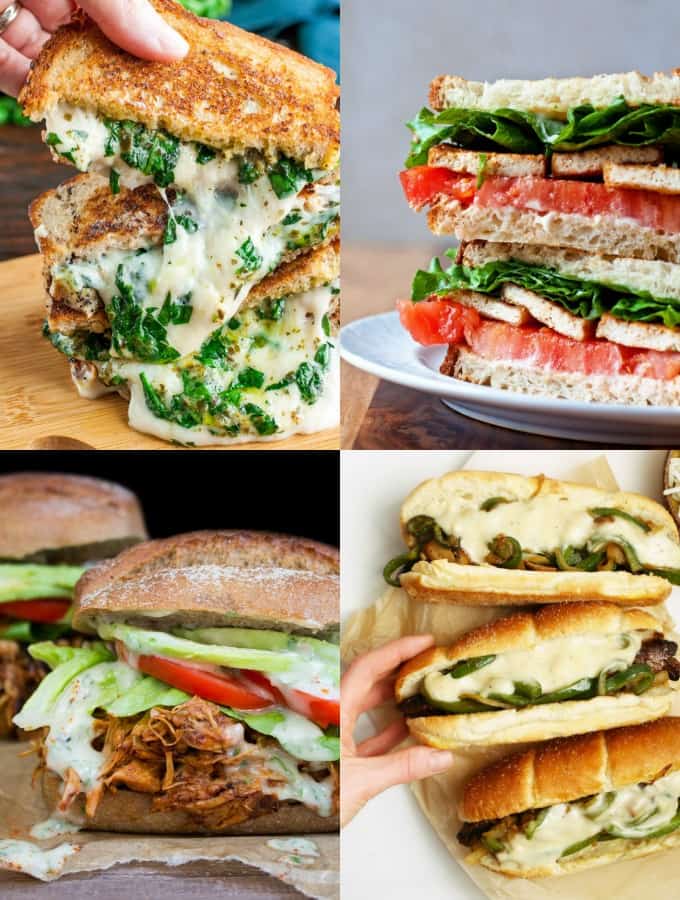 Are you a sandwich fan like me? I like salads, but I think nothing is more comforting for lunch than a sandwich packed with fresh and crispy vegetables, some vegan protein source like tofu or tempeh, and a delicious sauce. Yummy! If you like sandwiches as much as I do, I'm sure you will LOVE these 18 vegan sandwich ideas!
We've got something for every taste! Here are some examples of the vegan sandwiches that are included in this roundup:
jackfruit pulled pork sandwich
a few vegan cheese sandwiches (a vegan spinach pesto grilled cheese sandwich and a vegan mozzarella and fig jam sandwich)
smashed chickpea sandwiches (for example a vegan "tuna" sandwich, a vegan Caesar sandwich, and a garlic butter chickpea sandwich)
homemade vegan TLT sandwiches (we've got a tofu, lettuce, tomato sandwich and a tempeh, lettuce, tomato sandwich)
vegan Philly cheesesteak
Thai peanut veggie sandwich
veganized classics like vegan lobster rolls, vegan sloppy joes, and vegan fried chick'n Benedict sandwiches with Hollandaise
vegan egg salad sandwiches
"exotic" sandwiches like a vegan coconut bacon sandwich with peaches
So did I make you hungry yet? Then let's get started with all of these vegan sandwich ideas!
And if you're looking for even more lunch recipes, also check out my roundup of 40 easy vegan lunch ideas!
18 Delicious Vegan Sandwiches That Make The Perfect Lunch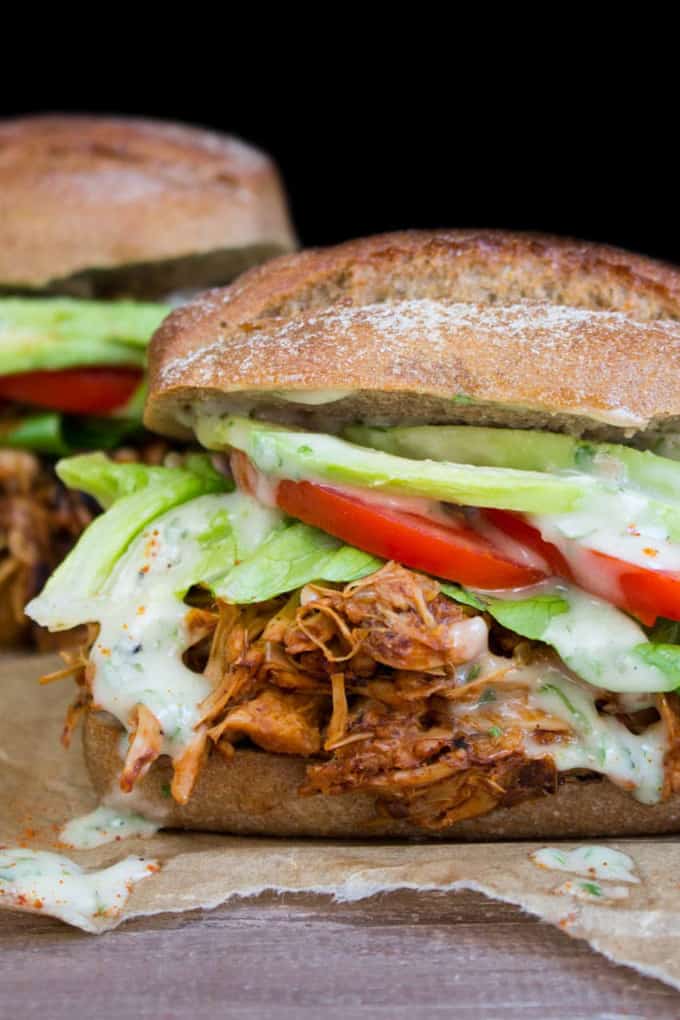 These jackfruit pulled pork sandwiches with avocado and ranch sauce don't only look like the real thing, but they also taste amazing! They are one of my favorite vegan sandwiches!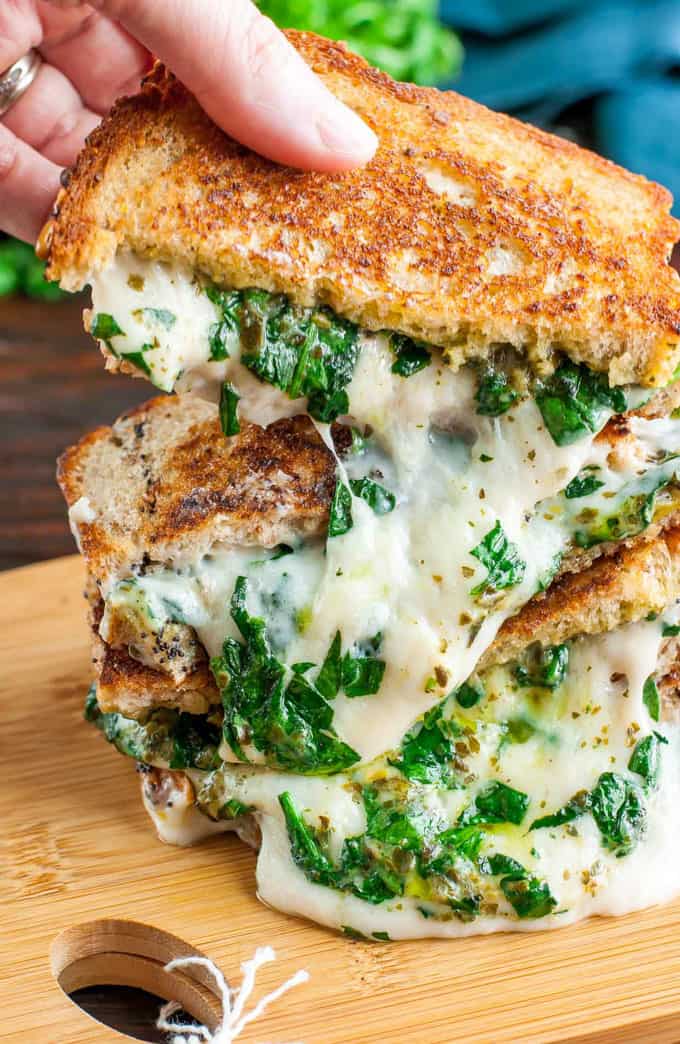 Doesn't this cheesy vegan spinach pesto grilled cheese by Jenn from Peas and Crayons look super good and comforting? It's so incredibly melty!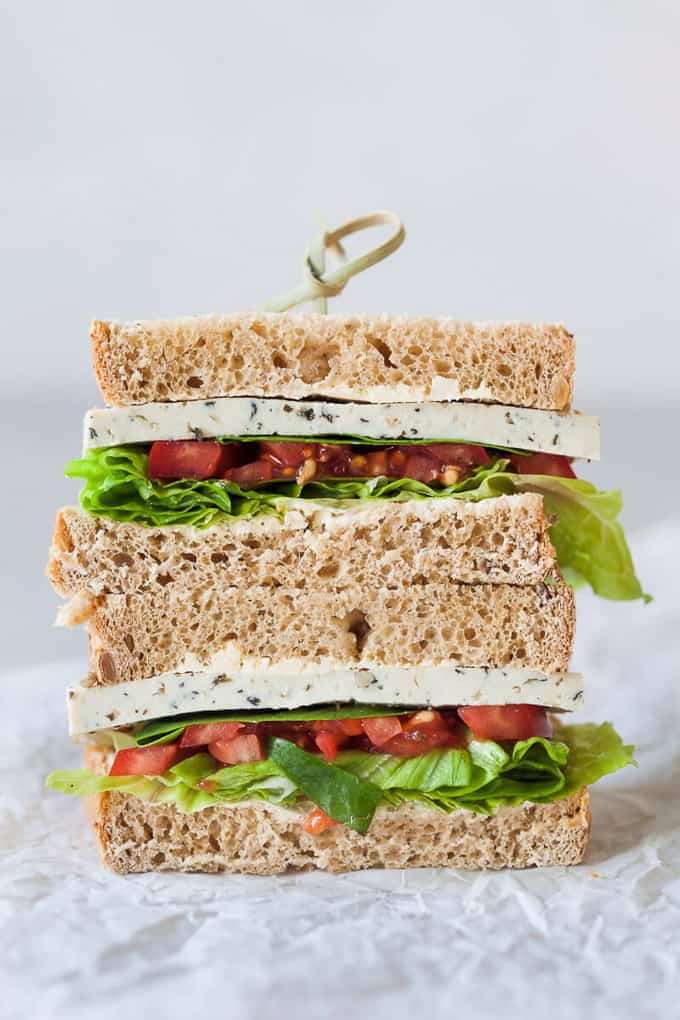 Are you looking for easy and fresh vegan sandwiches for the summer? Then try this basil tomato tofu sandwich by Kristina and Mitja from Vibrant Plate! It's ready in just 15 minutes!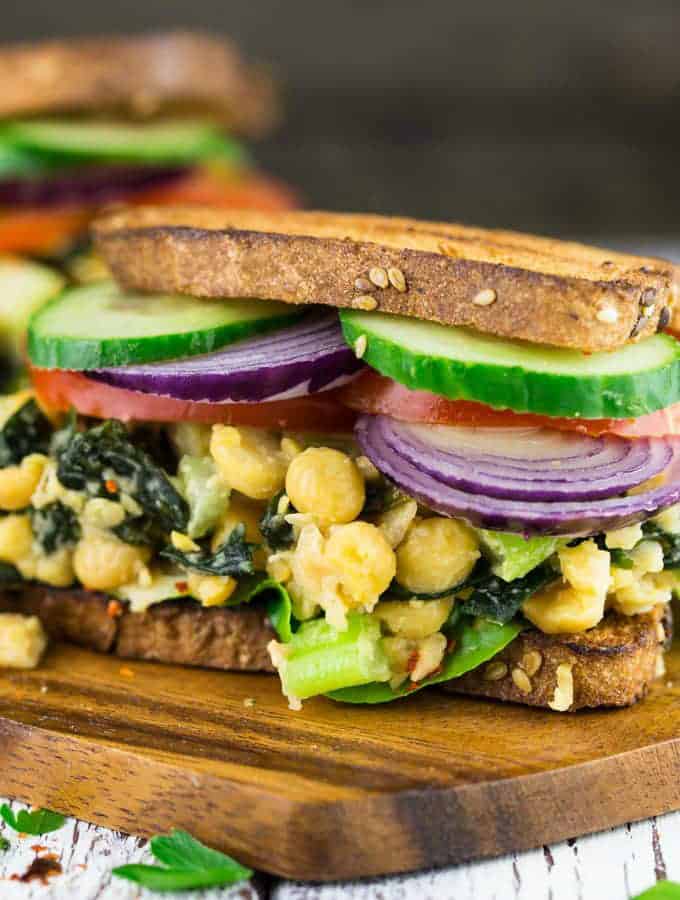 This vegan tuna sandwich with chickpeas is one of my all-time favorite vegan sandwiches! It's ready in no time and it's so incredibly yummy! And with the help of dried seaweed it tastes so much like the real thing!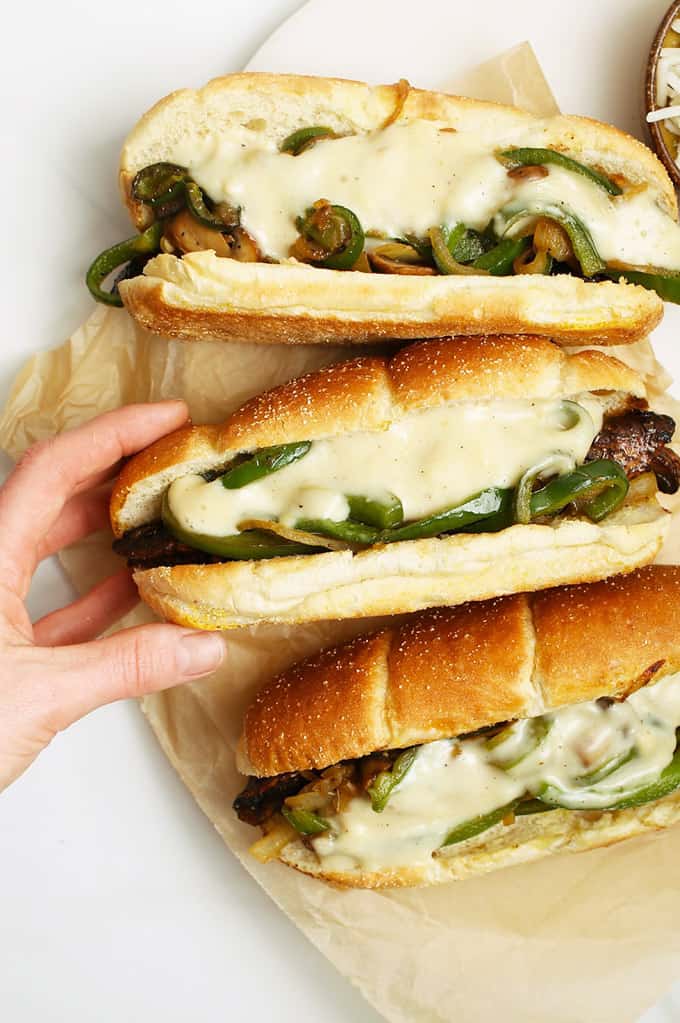 Are you looking for a vegan version of Philly cheesesteaks? Look no further! These vegan Philly cheesesteak sandwiches by Sarah from My Darling Vegan are a healthier spin on the classic sandwich. Sarah used marinated portobello mushrooms, sautéed onions and peppers, and homemade vegan cheese sauce for these sandwiches.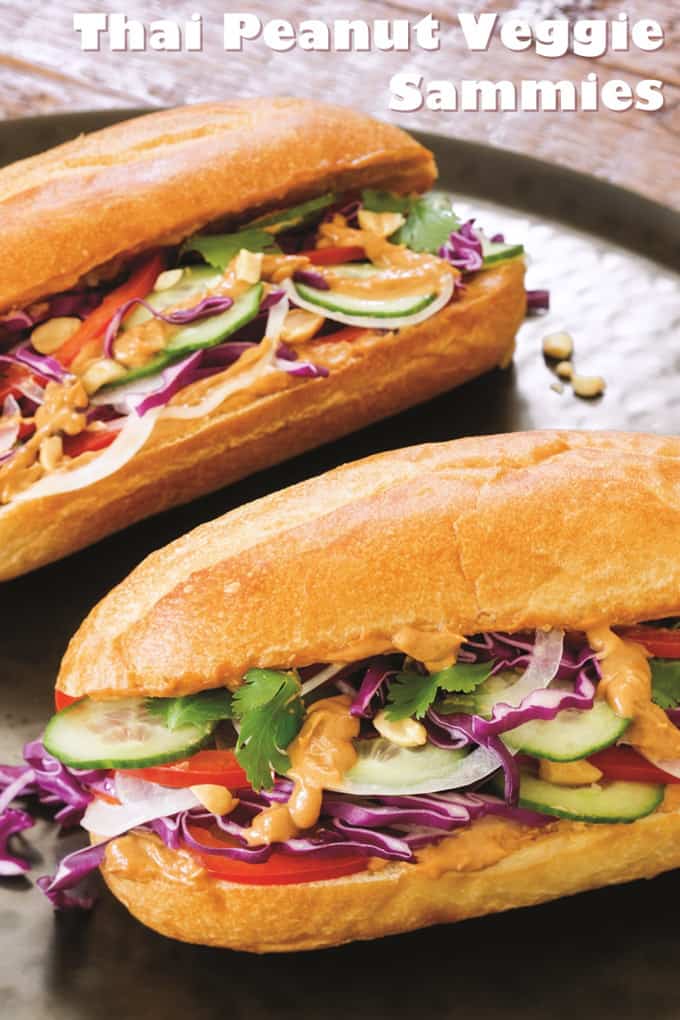 I absolutely LOVE Thai peanut sauce! So I'm sure these Thai Peanut Veggie Sandwiches by Alisa from Go Dairy Free taste amazing! Alisa used fresh crunchy vegetables and a creamy and spicy protein-rich peanut sauce for these vegan sandwiches.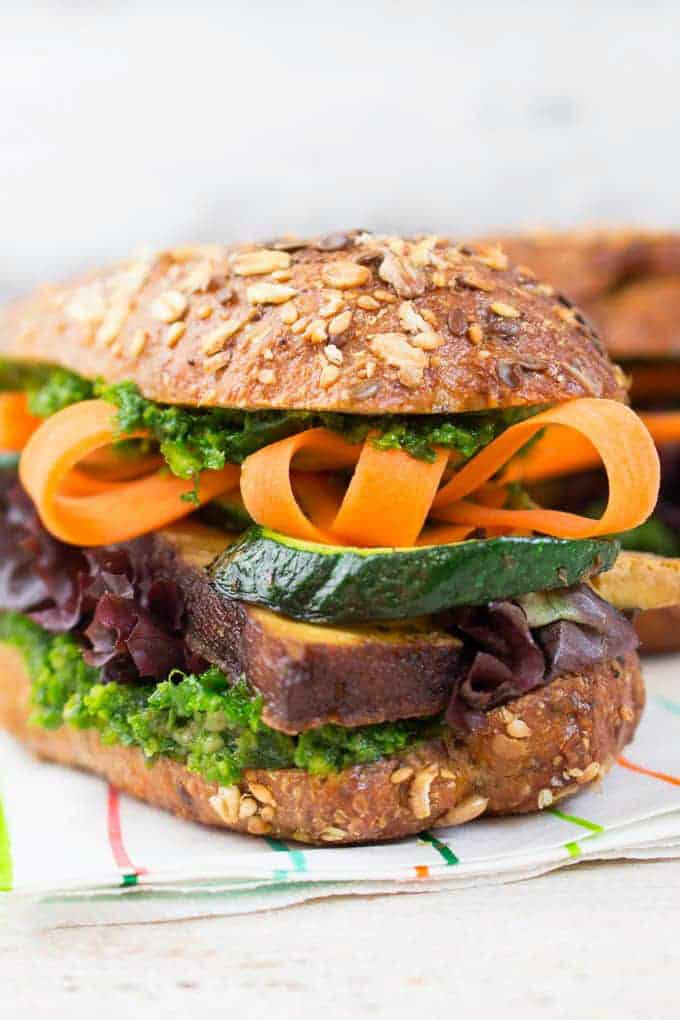 This vegan tofu and kale pesto sandwich with carrots, grilled zucchini, and lettuce is perfect for a quick and healthy lunch! If you don't want to use smoked tofu or can't find it, you can of course also use regular tofu and marinate it.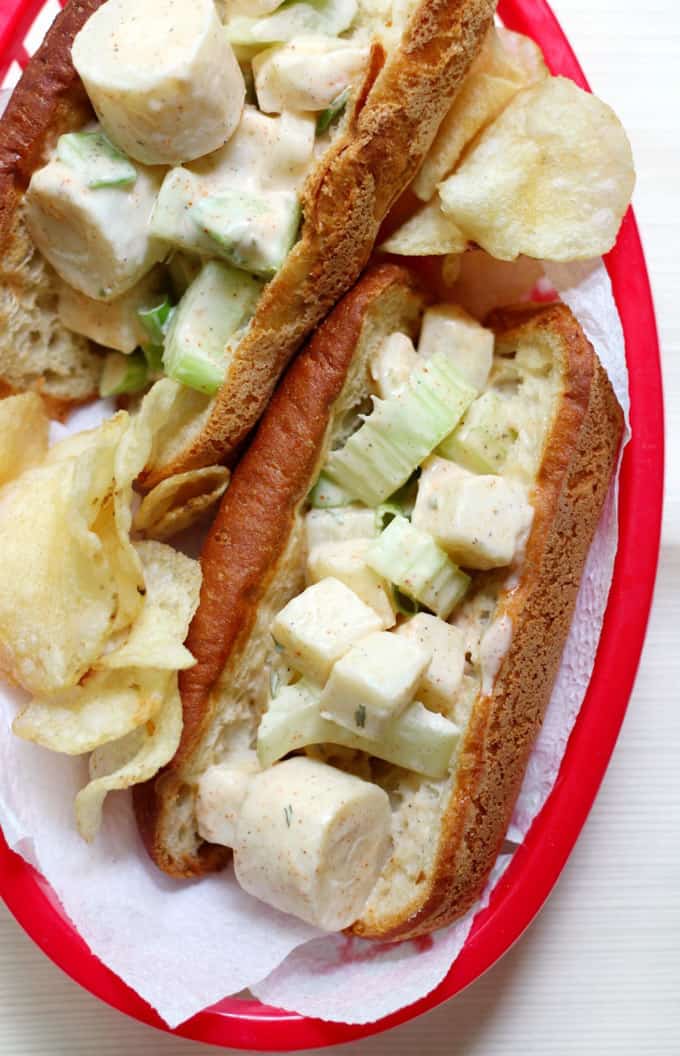 Yes, you can even veganize main lobster rolls! This simple and healthy recipe by Rebecca from Strength and Sunshine is the perfect proof!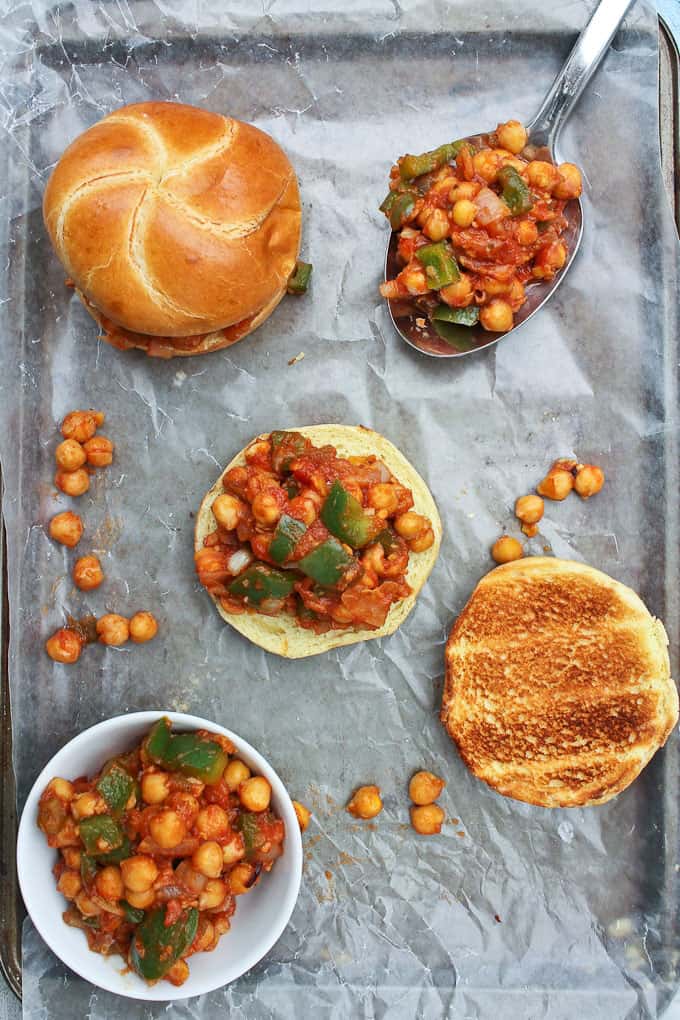 Don't these vegan Sloppy Joes by Sarah from Champagne Tastes look like the perfect comfort food? Sarah used fresh vegetables, tomato sauce, and chickpeas for her vegan version of this classic sandwich. And they're ready in just 20 minutes!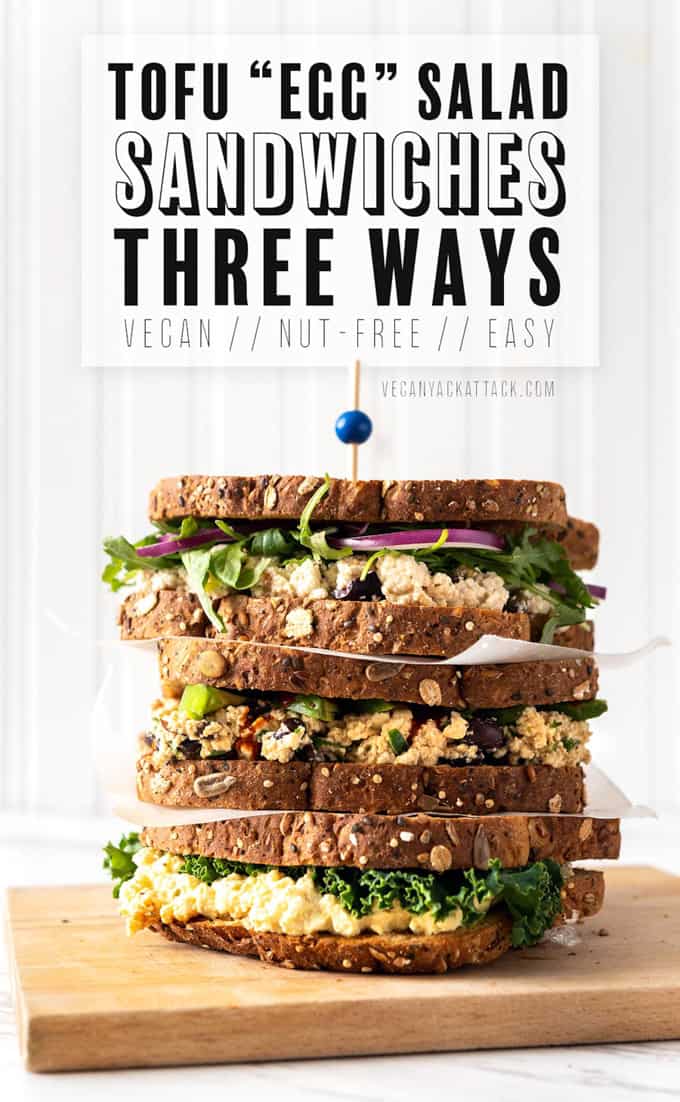 A vegan egg salad sandwich is always a great idea. It's easy to make, full of protein and flavor. Jackie from Vegan Yack Attack shared three easy ways to make vegan sandwiches with "egg" salad on her blog.
Doesn't this vegan mozzarella and fig jam grilled cheese sandwich by Alissa from Connoisseurus Veg look like perfection? It's made with gooey cashew mozzarella, peppery arugula, and fig jam. So yummy!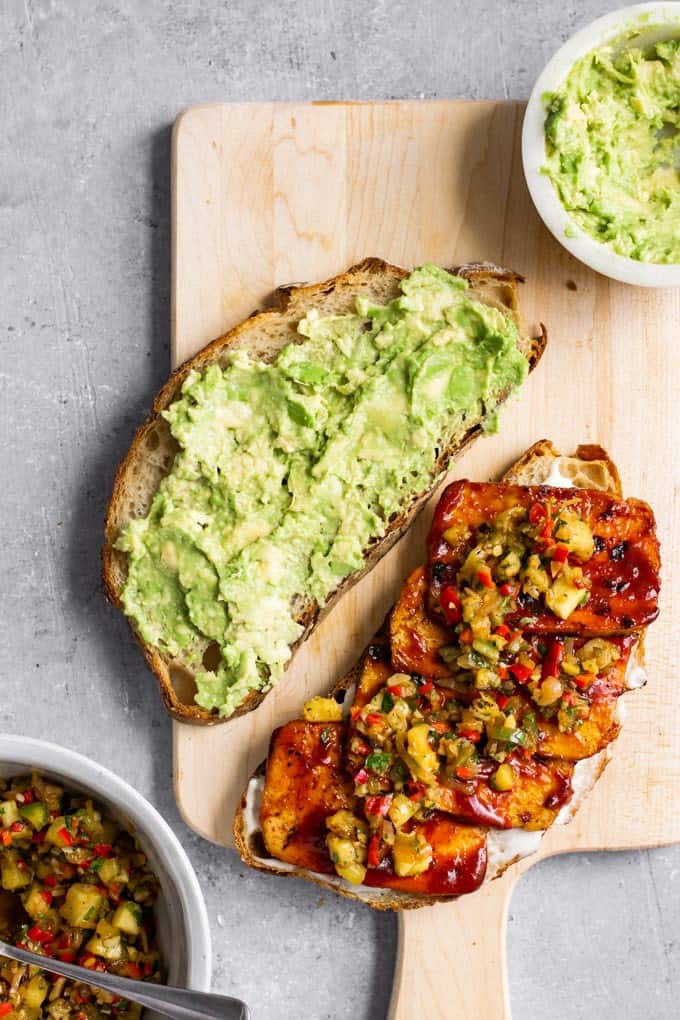 These BBQ tofu sandwiches with pineapple relish and avocado by Eva form The Curious Chickpea are perfect for picnics in the summer! They're healthy, packed with flavor, and super easy to make.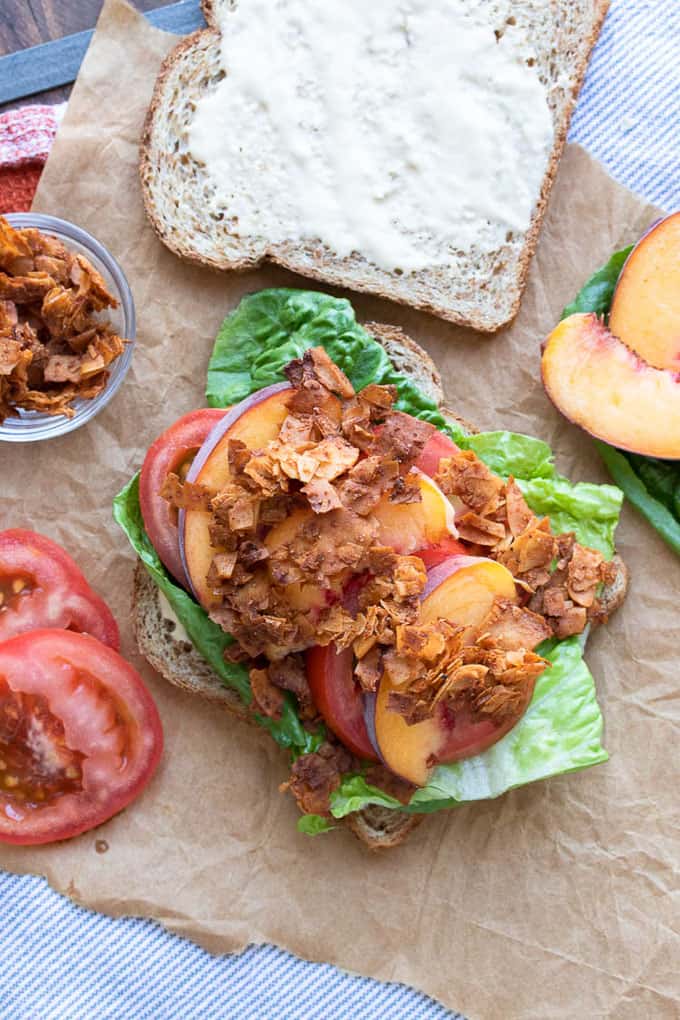 This vegan coconut bacon with sliced peaches by Sophia from Veggies Don't Bite is another great vegan sandwich for summer! If you haven't tried coconut bacon yet, you should really give it a try!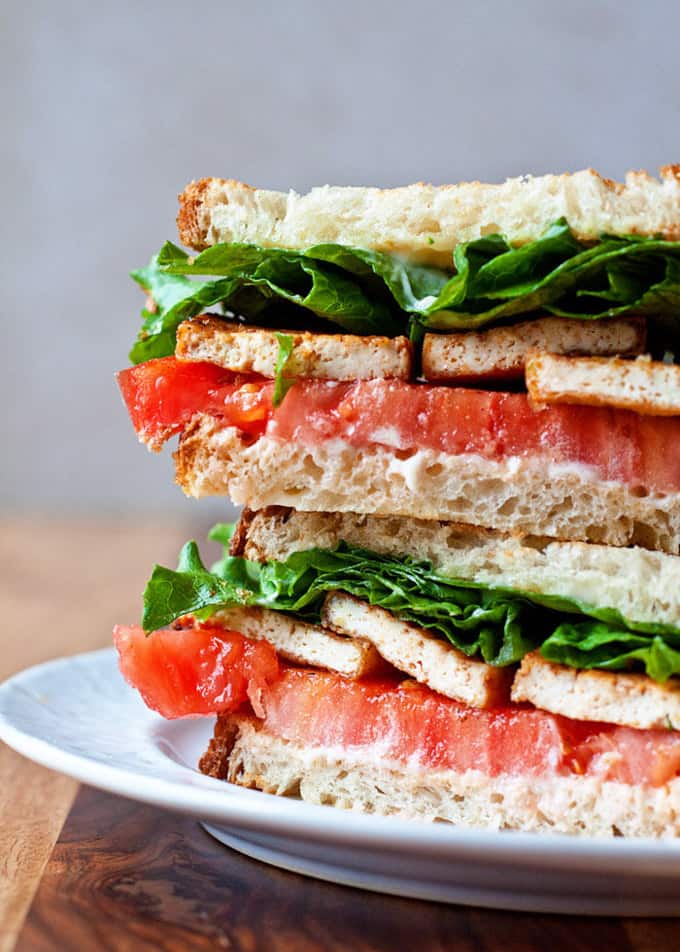 Of course we also needed a smoky tofu, lettuce, and tomato sandwich for this roundup of vegan sandwiches! This TLT sandwich by Kare from Kitchen Treaty looks so comforting! And it's super easy to make!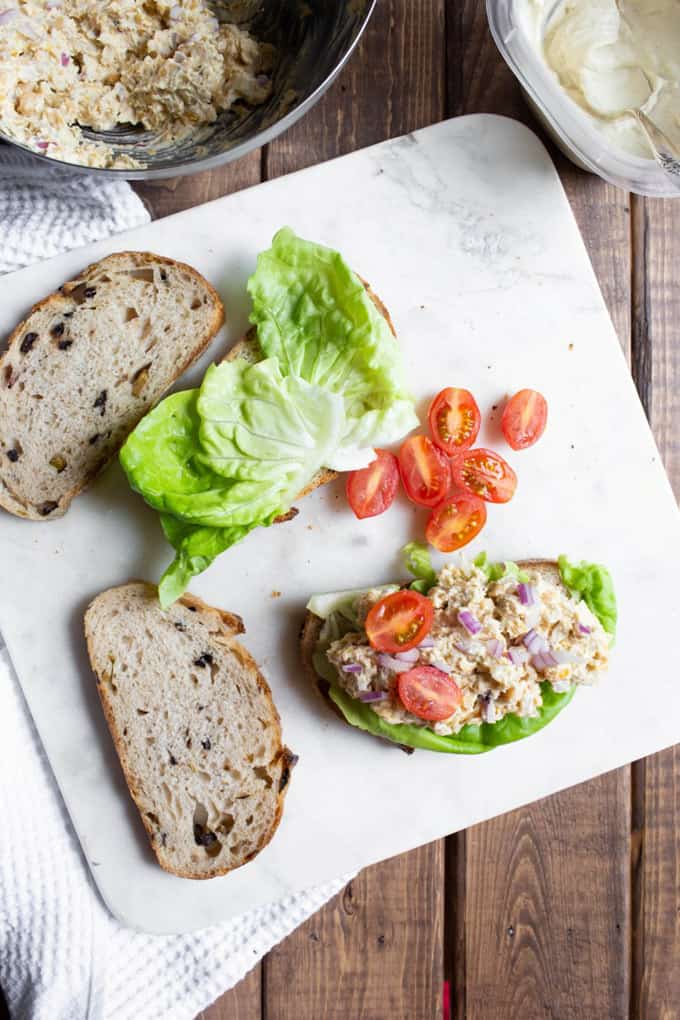 If you're a fan of mashed chickpea salads, you should try this vegan caesar smashed chickpea sandwich by Brandi from The Vegan 8. It has a delicious Caesar salad flavor and an amazing texture!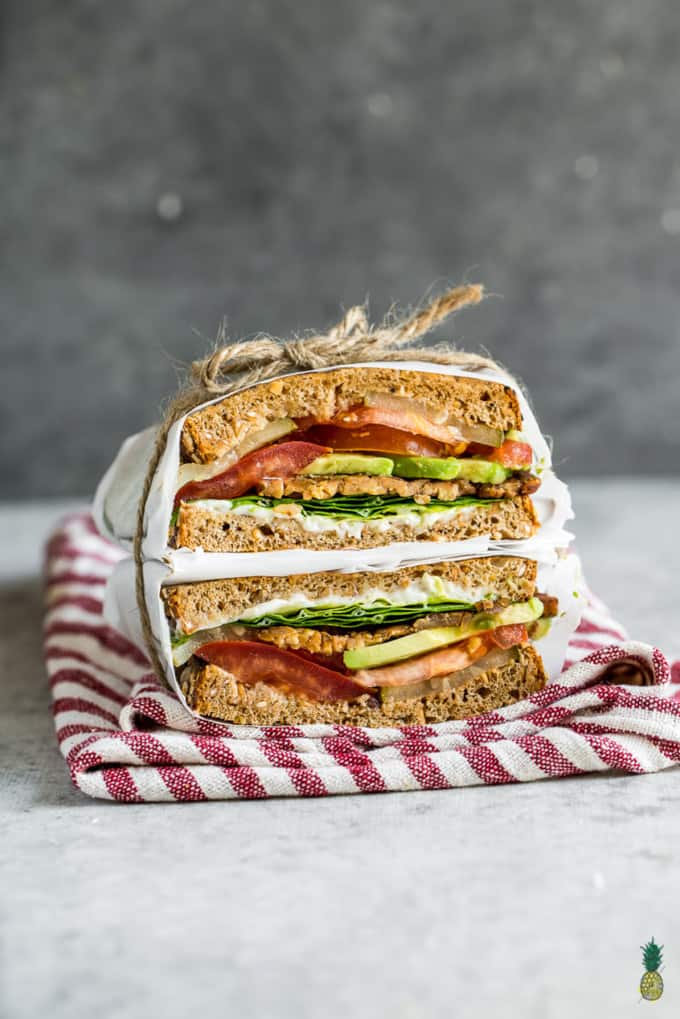 This homemade TTLA (tempeh bacon, tomato, lettuce, and avocado) by Jasmine and Chris from Sweet Simple Vegan is another great vegan sandwich! And don't forget to top it off with some homemade vegan garlic aioli!
17. Fried Chick'n Benedict Sandwiches with Vegan Hollandaise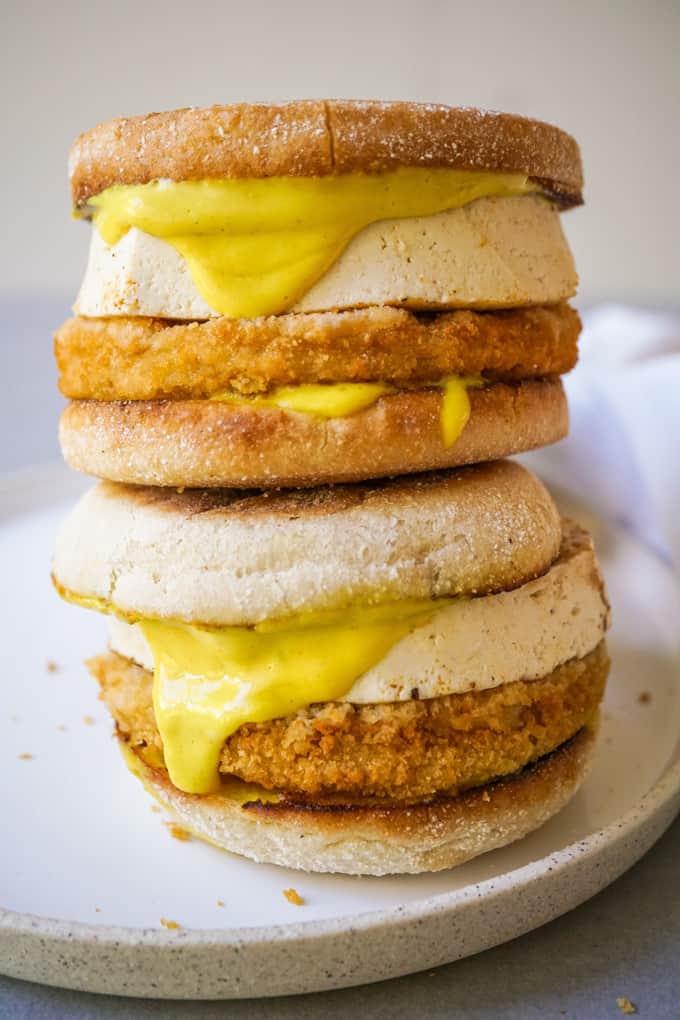 These fried chick'n Benedict sandwiches with vegan hollandaise by Valerie from Vegan Travel Eats are the perfect proof that you can veganize basically anything! Don't they look super delicious?
Don't these garlic butter chickpea sandwich by Florian from Contentedness Cooking look comforting? They are made from only wholesome ingredients and they make the perfect lunch!
I LOVE TO HEAR FROM YOU GUYS!
I hope you enjoy these vegan sandwiches as much as I do! Don't forget to pin or share this post so you have these vegan sandwich recipes ready when you need them!
If you give any of these vegan sandwiches a try, I'd love to know what you think about it. What do you think are the best vegan snacks? Just leave me a comment below. Your comments really make my day!
You like my recipes and roundups and want to see more? Then follow me on Facebook, Instagram, or Pinterest!
Sina