If you're looking for sweet vegan treats for Valentine's Day, this is the right post for you! Surprise your loved ones with some of these delicious dessert recipes. They're all vegan and many of them are gluten-free as well.
I must admit that I'm actually not the biggest fan of Valentine's Day. So why the heck do I post a vegan Valentine's recipe roundup on my blog then?! Well, I don't like that Valentine's Day has become super commercial with all the over-priced candies and pink gifts, but I sure LOVE to surprise my loved ones with some delicious sweet vegan treats. And that's exactly what this roundup is about!
I teamed up with some fellow bloggers and I put together a stunning roundup of 30 vegan treats for Valentine's Day for you guys. Vegan desserts at its best so to say!
We got you covered with so many different vegan desserts for Valentine's Day:
vegan cheesecake in all kinds of flavors (vanilla, raspberry, chocolate, strawberry, and even cinnamon!)
delicious vegan cookies (yes, they're of course heart-shaped!)
vegan brownies, chocolate cake, and chocolate mousse
different kinds of vegan ice cream
vegan chocolate truffles
I hope you like this roundup as much as I do. I'm seriously drooling over here. Haha!
So let's get started… As always, click on the title below each picture for the recipe.
30 Vegan Treats for Valentine's Day
Vegan Vanilla Cheesecake with Raspberries (without Cashews)
Strawberry and Lemon Tarts by Anthea from Rainbow Nourishments
Vegan Nice Cream Hearts by Emily from Emily Kyle Nutrition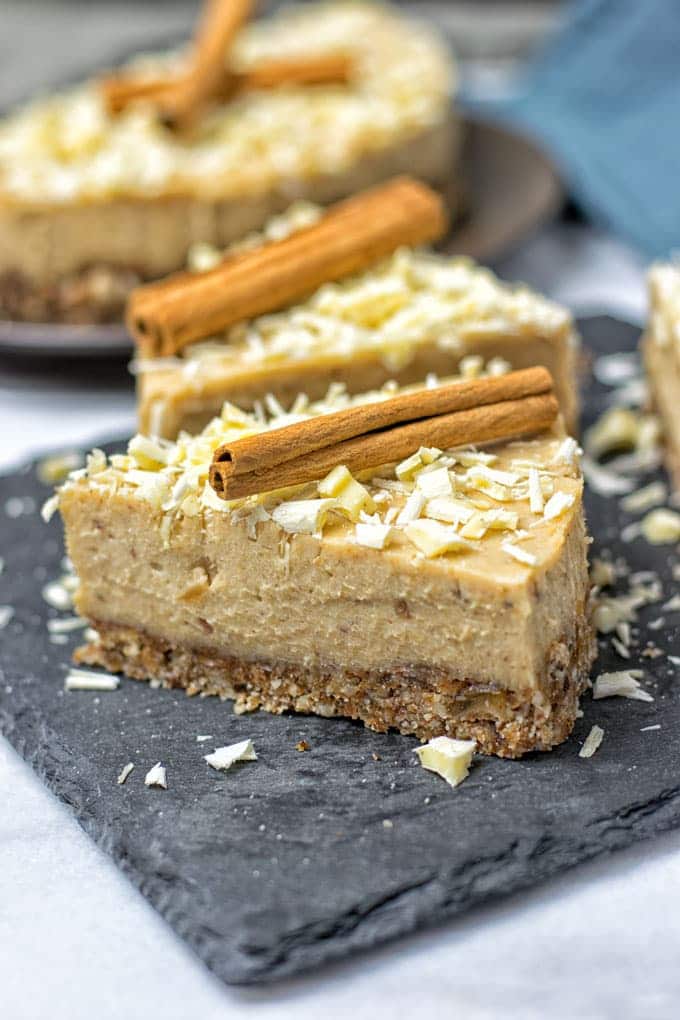 Cinnamon White Chocolate Cheesecake by Florian from Contentedness Cooking
Healthy Valentine's Day Candy Strawberries by Brandi from The Vegan 8
French Silk Pie by Audrey from Unconventional Baker
Almond Butter Mousse and Blueberry Jelly Slice by Anthea from Rainbow Nourishments
Puppy Love Valentine Cupcakes by Cara from Fork and Beans
Valentine's Day Vanilla Cupcakes by Annie from Veg Annie
Chocolate Covered Strawberry Cheesecake Bites by Leah from Love Me Feed Me
No Bake Chocolate Almond Cheesecake by Brandi from The Vegan 8
Chocolate Lovers Raw Vegan Layered Strawberry Chocolate Mousse Dessert by Sophia from Veggies Don't Bite
Chocolate Cake with Chocolate Buttercream Frosting by The Veg Life
Valentine's Day Chocolate Truffels by Cassidy from Euphoric Vegan
Chocolate Lovers Cake with Banana Ice Cream and Chocolate Hard Shell by Bianca from Elephantastic Vegan
Vegan Cheesecake Bites by Melissa from Vegan Huggs
Cranberry Shortbread Cookies with Chocolate Drizzle by Jackie from Vegan Yack Attack
5 Ingredient Vegan Turtle Truffles by Linda from Veganosity
Stracciatella Cream Pie by Florian from Contentedness Cooking
Healthy Vegan Chocolate Pudding by Melanie from A Virtual Vegan
Valentine's Day Heart Sugar Cookies by Kathy from Healthy Happy Life
Chocolate Covered Strawberry Cream Popsicles by Anjali from Vegetarian Gastronomy
 Vegan Peanut Butter Cups by Sam from It Doesn't Taste like Chicken
Valentine Lavender Rose Baked Donuts
Vegan Mini Strawberry Cheesecakes
Cherry Chocolate Walnut Truffle by Jenn from Veggie Inspired Journey
Raw Chocolate Cookies by Kyra from Vie de la Vegan