Hello, fall! Hello, pumpkin season! Hello, vegan pumpkin burger. I just can't believe September is almost over. This is probably the first time in my life I'm actually looking forward to fall and all its delicious hearty dishes. This will probably only last until it gets all rainy and yucky outside…Then I'll start to miss summer again. Haha!
I just got back from Bali a week ago and I saw all these yummy-looking pumpkin dishes on Instagram while I was there. So I was in a real fall mood when I got back. The first pumpkin recipe I made this year was my vegan pumpkin smoothie, which kinda tastes like liquid pumpkin pie. And the second one was this vegan pumpkin burger with lamb's lettuce, pomegranate, mushrooms, and garlic mayonnaise. Or vegannaise, however you wanna call it.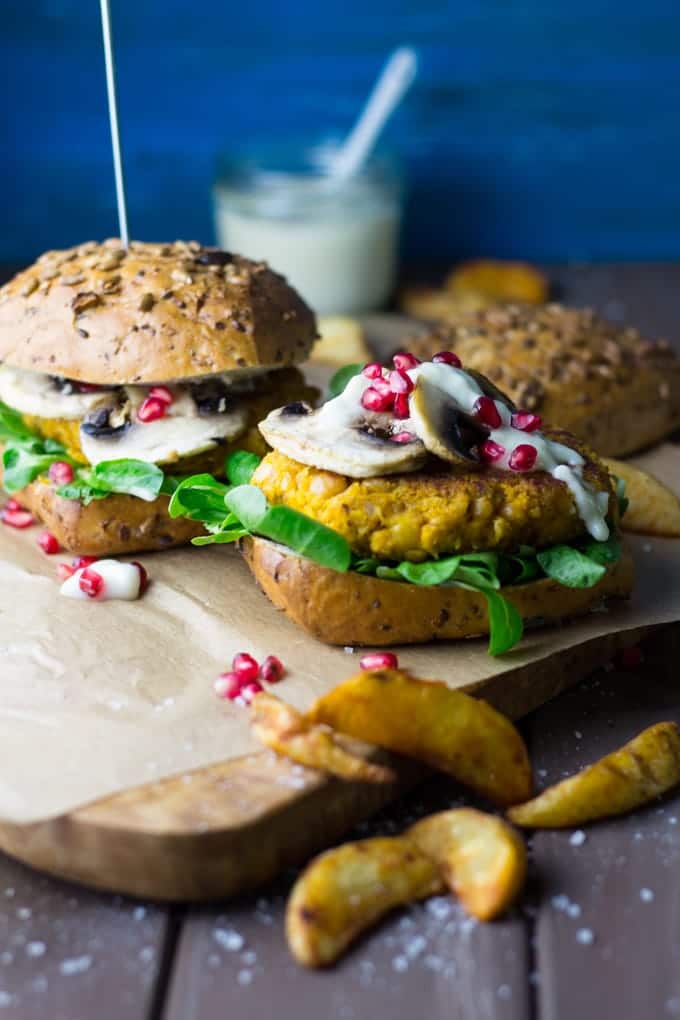 I actually didn't intend to make this burger for the blog. I was just looking for a way to use up some leftover pumpkin. But it turned out so delicious that I just had to share it with you guys. Some veggie patties just won't hold together, but these pumpkin patties turned out super firm and they stick together really well. I used ground flaxseeds as a binder and I think the chickpeas also do a great job in these veggie burgers.
Our vacation to Bali went by waaaay too fast, just like always. We were there for two weeks and had such a great time. We took it really slow since the last few months have been absolutely crazy and super busy. We rented a scooter to get around and visited lots of temples, markets, beaches and just enjoyed the beautiful nature. Oh, and the food was just amazing! I was so surprised that they had so many vegan and vegetarian restaurants. We found a smoothie shop not far from our hotel (or it actually was a homestay) and had the most delicious smoothies and vegan burritos. And I really fell in love with the Balinese food and their fruits!
And the best thing is Flo and I got engaged!!! He proposed during sunset at the beach and I was so surprised and totally stoked! I mean we talked about marrying in like the near future, but I didn't think he was gonna ask me in Bali. We've been together for more than seven years and he really is the love of my life, so I'm super excited to marry him!! We're actually high school sweethearts. Haha!
The recipe for this vegan pumpkin burger is really easy. I feel like I say that for all my recipes, but for a veggie patty it really is pretty easy. You need three main ingredients for the pumpkin burger: Pumpkin puree, rolled oats, and chickpeas. Just mash the chickpeas with a fork (leaving some of them intact for texture), add the pureed pumpkin, the oats, and some spices. I used Italian seasoning, paprika powder, salt, and garlic. I also added a chopped and sautéd onion and two small cloves of garlic. Serve them on whole wheat buns with lamb's lettuce, mushrooms, and pomegranate and you got the perfect fall burger.
I hope you like this vegan pumpkin burger as much as we do! Let me know if you give it a try.
Have a great week, everyone! Sina- xx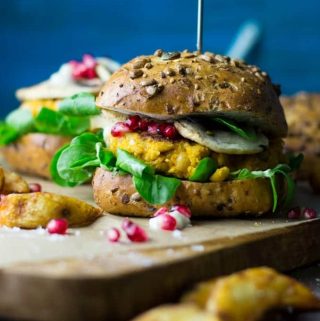 Vegan Pumpkin Burger
This vegan pumpkin burger with lamb's lettuce, mushrooms, pomegranate, and garlic mayonnaise is just perfect for fall! Super healthy and insanely delicious!
Print
Pin
Rate
Ingredients
For the vegan pumpkin patties:
1

tablespoon

ground flax seeds

3

tablespoons

water

1 1/2

cups

canned chickpeas, drained

1

cup

pumpkin puree

1 1/2

cups

rolled oats

2

cloves of garlic, minced

1

small onion, chopped

1

teaspoon

Italian seasoning

1

teaspoon

paprika powder

1/2

teaspoon

mustard

salt, to taste

black pepper, to taste
For the rest:
4

whole grain buns with sunflower seeds

2

handful

lamb's lettuce

about 5-6

mushrooms, sliced

1/2

cup

pomegranate seeds

4

tablespoons

vegan mayonnaise

1

small clove of garlic, minced
Instructions
Combine the ground flaxseeds with the water and let it sit for at least 5 minutes.

Heat some oil in a medium-sized pan and sauté the onion and the garlic for 2-3 minutes. Set aside. Heat some more oil and sear the mushrooms for about 3 minutes.

Mash the chickpeas with a fork, leaving some intact for texture. In a bowl, combine the chickpeas, the pumpkin puree, and the oats. Add the Italian seasoning, the paprika powder, the mustard, the flaxseed-water mixture, and the sautéd onion and the garlic. Season with salt and pepper. Form four burger patties.

Heat some oil and cook the patties for about 2-3 minutes on each side. Put the vegan mayonnaise in a small bowl and stir in the minced garlic.

Serve the pumpkin pattties on whole wheat buns with lamb's lettuce, mushrooms, garlic mayonnaise, and top with them with pomegranate seeds. Serve with potato wedges.
Rate the recipe!
If you like this recipe, please leave a good rating! This will help other readers.