These vegan pretzels with chocolate sauce are the ultimate comfort food! If you like the combination of sweet and salty food, you will absolutely LOVE them. They're insanely good and pretty easy to make!
I've always loved pretzels! I mean, hey, I'm from Germany! So I kinda have to love pretzels, right? Pretzels, or as we call it "Bretzeln", have been pretty famous in Europe for centuries. I checked wikipedia because I wanted to know more about their origin and basically they've been around for soooo long!! Wikipedia states that "there are numerous unreliable accounts regarding the origin of pretzels, as well as the origin of the name; most assume that they have Christian backgrounds and were invented by European monks." The first dated account of pretzels is from 610 AD. Isn't that crazy? Good old pretzels, still going strong!
I've made these vegan pretzels several times. Usually we eat them just by themselves or sometimes even with vegan cheese sauce. But this time I felt more like having a sweet treat! Besides, I'm a huge fan of sweet and salty desserts. If you like this combination as well, you might wanna check out my chocolate chip pretzel cookies. So good and easy!
But back to the vegan pretzels…
What You Need For These Vegan Pretzels with Chocolate Sauce
You don't need any fancy ingredients to make these vegan pretzels. Just very basic ingredients you probably have in your pantry anyway! 6 ingredients is all you need!
You need:
all-purpose flour
quick-rise instant yeast
brown sugar
oil
salt
and baking soda
The chocolate sauce is basically melted dark chocolate. You can either melt it in the microwave or on the stovetop. As always, you can find the full ingredient list and detailed recipe instructions in a separate recipe box at the end of this post.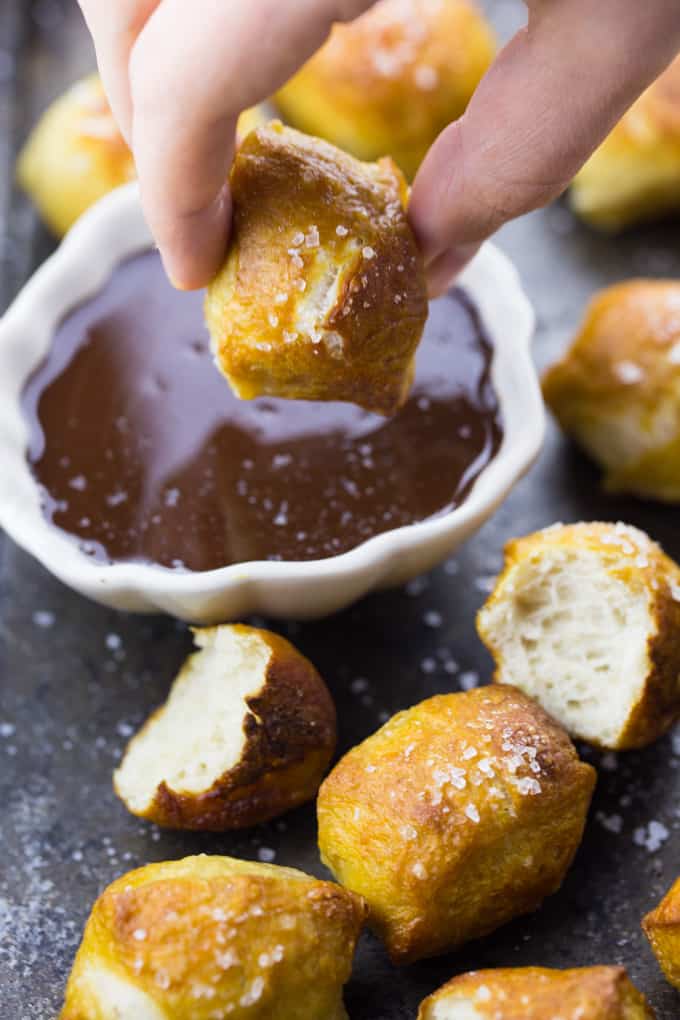 I hope you like these vegan pretzels as much as we do around here! But be careful, they're pretty addictive! I mean that's a good sign, isn't it? Haha!
Have a great week, everyone!
Sina – xx

| | |
| --- | --- |
| | |
In a large bowl, combine all ingredients for the dough and knead the dough with your hands for about 5 minutes. Form it into a ball and cover the bowl with a towel. Let the dough rise for an hour.

Divide the dough into three parts and roll each part in your hands so you got a long roll. Each roll should be around 1 inch wide. Place the rolls on a lightly floured work surface. Use a pizza cutter and cut the roll into bites (about 1 inch big). You should have around 20 bites.

Make the baking soda "bath": Line a baking sheet with parchment paper. Bring the water to a rapid simmer, then add the baking soda. Stir to dissolve the baking soda. Lower about 5 pretzel bites at a time into the baking soda "bath" and simmer for 30 seconds. Place the pretzel bites on the baking sheet. Add the next batch until you're done.

Once all the pretzels have been dipped in the water bath, brush them with the melted coconut oil and sprinkle them with sea salt.

Preheat the oven to 350 °F. Bake the pretzel bites for 10-12 minutes or until they're brown.

Melt the chocolate either in the microwave or on the stovetop. Serve together with the pretzels. Enjoy!