Are you looking for vegan gifts for family and friends? Then this is the perfect post for you! Surprise your loved ones with one or even a few of these 17 cool vegan gifts!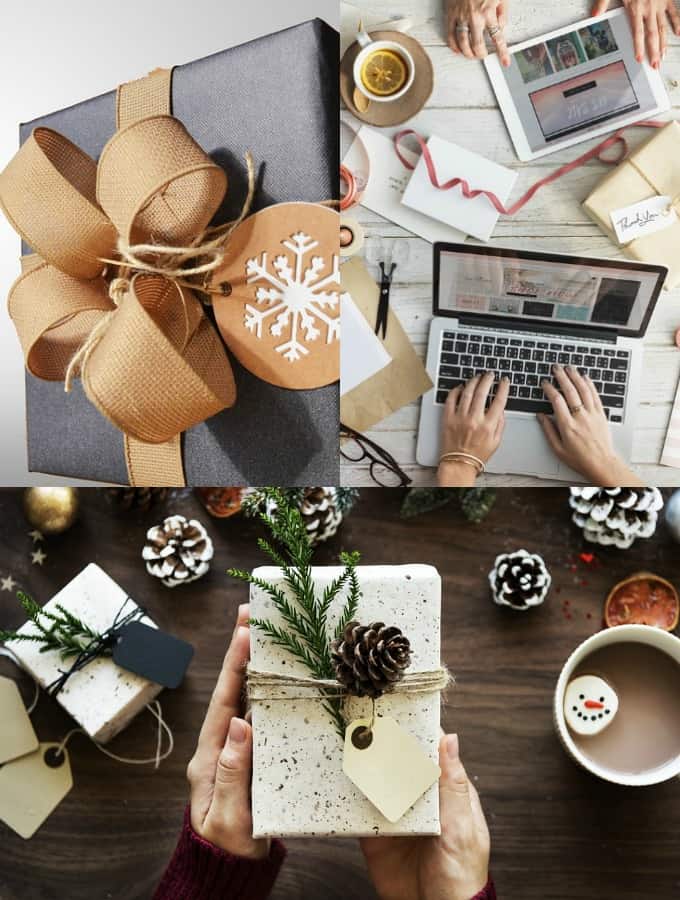 What can I buy a vegan for Christmas? I've heard this question sooo many times! But there are good news! There are tons of cool vegan gifts out there and it's much easier than you think. Vegans might seem like the hardest kind of person to shop for, but that's definitely not the case.
I compiled a list of my favorite 17 gifts for vegans to make Christmas shopping a little bit easier for you this year. Whether you're looking for vegan birthday presents or Christmas gifts, I'm sure this list won't let you down.
I included some great kitchen tools, like an Instant Pot or a Vitamix, which I personally absolutely love and use regularly. However, I know that not every vegan loves cooking. So you can also find some great vegan fashion, wellness, and beauty products in my list.
I hope you like these vegan gifts as much as I do! Enjoy this special time of the year!
And I also got some great posts if you're looking for vegan Christmas recipes or vegan Christmas cookies!
Vegan Gifts – 17 Cool Ideas!
I absolutely LOVE my Instant Pot! I use it almost every day. At first, I mostly used it for cooking dried beans and brown rice, but now I love making entire meals in it. It's such a time saver and perfect for a vegan kitchen!
Matt and Nat is a Canadian brand that produces vegan, eco-friendly, and cruelty-free fashion products. The linings of their bags are made out of 100 % recycled plastic bottles, which is so cool. I bought a backpack last spring in Montreal and I use it almost every day. They also have super cute purses and smaller bags.
Did you know that a lot of makeup brushes are made with real animal hair?! And of course these animals were killed in slaughterhouses, so definitely not something I want in my face. Luckily, there are some great synthetic make up brushes out there! And the best thing is that they are easier to clean and shed much less.
Have you ever tried zucchini spaghetti or carrot spaghetti? It might sound a bit weird, but it's sooo delicious! You can use them just like regular pasta. They're a super healthy and a great low carb alternative to regular pasta. A great vegan gift!
Is there anything more relaxing than taking a bath on a cold winter day? Add a vegan bath bomb to your bath water, take a book, and just relax!
Making your own juice is so cool and super healthy! I got a Hurom juicer a few weeks ago and it's really worth the money. I'm so in love with it. It's amazingly quiet and very efficient. And just look at that color. Rose gold!! If you want something a bit plainer, you could, however, also get one in silver or black.
Make your own vegan yogurt at home with this vegan yogurt starter kit! The yogurt culture is completely vegan and you can use it with non-dairy milk such as rice, soy, or coconut milk. You'll end up with a rich and tangy vegan yogurt!
My Vitamix blender is another one of my kitchen tools that I absolutely love! You can use it for basically EVERYTHING! I love making smoothies in it, vegan cheese sauces with cashews, ice cream with frozen bananas, and even homemade nut butter.
Essential oils are just the best! I use them in my diffuser almost daily. Especially in the colder seasons they make your house super cosy! My favorite essential oil combination is grapefruit and rosemary. Surprise your loved ones with some great essential oils!
Isn't this herb garden kit the perfect vegan gift? I mean you definitely need fresh herbs in a vegan kitchen! This set comes with seed starting soil pellets, biodegradable growing pots, and plant markers. You can grow basil, thyme, cilantro, parsley, and sage with this seed starter kit.

This vegan cork wallet is not only super stylish, it's also 100 % vegan, eco-friendly, and even approved by Peta.  It's unisex, so it's a great vegan gift for everyone!
You can never have enough candles in the winter! These eco-friendly soy wax candles come in four fragrances: lemongrass, jasmine, lavender, and rose. I absolutely love the decorative cans!

And of course we also need a cookbook in this list of vegan gifts. Angela Liddon's cookbook "The Oh She Glows Cookbook" is one of my favorites. It's a New York Times bestseller that is full of healthy and delicious vegan recipes for the whole family.


Aren't these coconut bowls cool? Bring the tropics home with these stylish coconut bowls! They're perfect for nice cream, salads, and Buddha bowls. They're handcrafted by local artisans in Vietnam.
Doesn't this water bottle look fancy? It's BPA-free and leak proof. I love its style and the metal handle. Of course it's faux leather material that is vegan-friendly.
This vegan skin care collection is perfect for a spa day at home. It includes body lotion, shower gel, lavender bath salt, a loofah bath sponge, a sisal sponge, a pumice stone and a hair brush. If you like the smell of grapefruit and lavender, this is the perfect gift!

This reusable bamboo travel mug is the perfect vegan gift for all coffee and tea lovers! It comes with a green silicone tea infuser that you can use to brew your tea directly into the mug.
I LOVE TO HEAR FROM YOU GUYS!
I hope you like these vegan gift ideas as much as I do! Don't forget to pin or share this post so you have this list ready when you need it!
If you have any other great ideas for vegan gifts, just leave me a comment below. Your comments really make my day!
You like my recipes and roundups and want to see more? Then follow me on Facebook, Instagram, or Pinterest! 
Sina – xx
*affiliate link