If you're going bananas for vegan banana bread recipes, this is the perfect post for you! It includes 15 amazing vegan banana bread recipes as well as some helpful baking tips. I can never get enough of banana bread!! It makes such an awesome snack or even breakfast!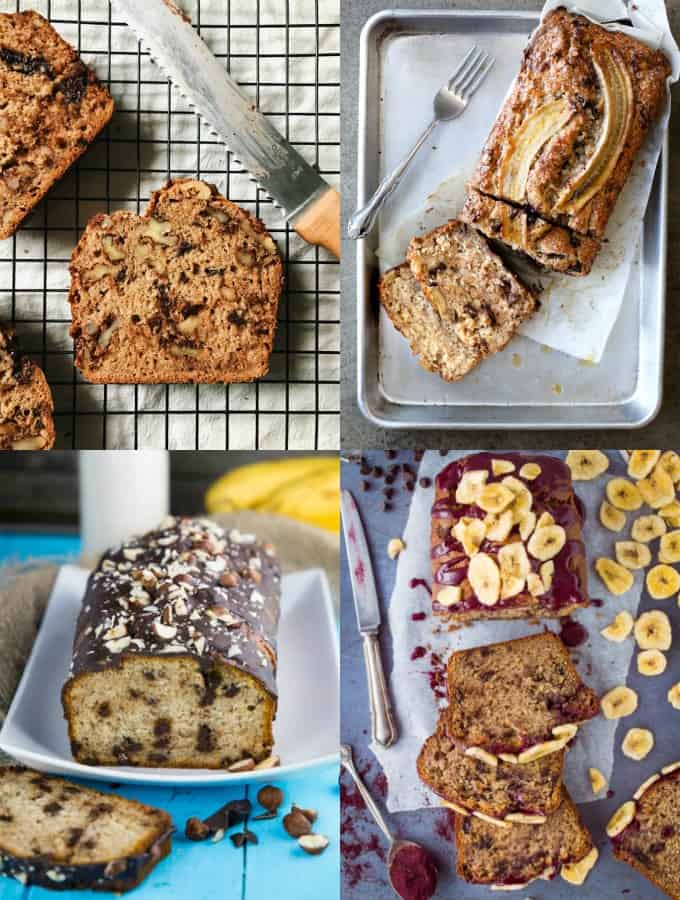 I've got a couple vegan banana bread recipes on the blog. But to provide you with even more recipes, I teamed up with some fellow food bloggers and compiled a list of 15 delicious banana bread recipes. I'm sure we've got something for every taste! 
I just wanna eat all of them at once. Haha!
I included a great variety of banana bread recipes in this roundup. We've got:
vegan chocolate banana bread
vegan banana bread with nuts (walnuts, almonds, and hazelnuts)
healthy banana bread, for example with quinoa, superfoods, or naturally sweetened with dates
banana bread with oats (some of them are gluten-free)
coffee-shop like banana bread with simple ingredients and all-purpose flour
As always, just click on the heading above each picture to see the actual recipe. 
How to Make Vegan Banana Bread
Making vegan banana bread couldn't be easier! You only need to follow 5 easy steps:
Mash a few ripe bananas with a fork.
Combine the mashed bananas with the other ingredients in a bowl (flour, baking powder, plant-based milk etc.). Most recipes only call for one bowl and a spoon. You don't need a mixer or a food processor.
Transfer the banana bread batter into a greased loaf pan for about 40 minutes. Alternatively you could also line a loaf pan with parchment paper.
Bake for about 40 minutes or until a skewer comes out clean.
Allow the banana bread to cool down before you slice it. If you want you could also add a glaze on top.
Easy peasy, right?
Vegan Gluten-Free Banana Bread
Making gluten-free banana bread is absolutely no problem! I like to use oat flour as an alternative to wheat flour. It's super cheap when you make it with rolled oats in your food processor or high speed blender.
You could also use a gluten-free flour blend instead. There are tons of vegan gluten-free banana bread recipes out there. And I also included some in this roundup.
Vegan Banana Bread Toppings
There are so many different toppings for banana bread. My favorites are:
dark chocolate
nuts (almonds, walnuts, and hazelnuts)
dried bananas
blueberries
cinnamon streusel
rolled oats
chocolate chips
Can You Freeze Vegan Banana Bread?
Yes, freezing banana bread is a great idea, so you can just take individual slices out of the freezer when you feel like a little treat. I do this all the time!
Just store the banana bread in plastic freezer bags. They keep up to 2-3 months in the freezer.
15 Amazing Vegan Banana Bread Recipes You Will Love!
Sophie from Backed – The Blog made this easy vegan banana bread as a copy-cat version of her favorite banana bread at a coffee shop in her town. She used ingredients that are very easy to find to make the recipe accessible for everyone.
Making banana bread without butter and eggs is super easy! This vegan banana bread with chocolate and chopped hazelnuts is one of my all-time favorites! It's like a Nutella version! And it's super easy to make. Chocolate heaven, here I come!!
This bananas foster breakfast bread by Alisa from Go Dairy Free has less sugar than your usual banana bread. Alisa paired it with vanilla caramel spread for an extra boost of flavor. And the slices hold up well in the toaster, which make them perfect for breakfast.
If you're going bananas for banana recipes, this vegan chocolate chip banana bread by Lauren Melissa is perfect for you! Lauren Melissa used coconut yogurt to create a denser loaf that doesn't dry out.
This vegan banana bread by by Ruchi from Ruchi's Kitchen is loaded with chopped walnuts. It's perfect for breakfast, dessert, or as an afternoon snack! Ruchi included step-by-step preparation shots to make it even easier for you.
This easy vegan banana-quinoa bread with chia jam is perfect for breakfast or a healthy snack in between meals. It's packed with vitamins and antioxidants! It's one of the healthiest banana bread recipes out there. And if you haven't tried homemade chia jam yet, you should really give it a try! Soooo good!
Doesn't this vegan chocolate banana bread by Monica from The Movement Menu look amazing? It's a one bowl recipe that is super easy. And Monica decided to use sprouted oat flour and coconut sugar to make it healthier. Besides, it's completely gluten-free.
8. Vegan Blueberry Crumb Banana Bread 
This vegan blueberry crumb banana by Sara from Beaming Banana is full of juicy blueberries! Sara topped it with a blueberry banana crumb that makes it even more sweet and delicious!
9. Superfood Chunky Monkey Banana Bread
This chunky monkey banana bread by Carly from Fit Living Eats is not only super delicious but also pretty healthy. Carly decided to use nutritious ingredients for this gluten-free and vegan banana bread with superfoods.
This healthy banana bread by Jasmine and Chris from Sweet Simple Vegan is date-sweetened, oil-free, and gluten-free. It's packed with only good stuff and it makes an awesome snack or breakfast.
Maybe this isn't your typical banana bread, but doesn't it look delicious? This chocolate banana babka by Alexandra from Occasionally Eggs is more like a sweet cake-like bread with yeast. Alexandra used mashed bananas as a sweetener. Therefore it's pretty healthy!
This easy marbled banana bread by Bianca from Elephantastic Vegan is perfect for leftover ripe bananas. Even though Bianca used very basic ingredients, the marbled look makes this banana bread really special!
Doesn't this vegan chocolate banana bread by Melanie from A Virtual Vegan look like a real treat? Because Melanie wanted to make a healthier version, she used whole-grain flour and and didn't add any butter or oil. It turned out super moist and slightly fudgy!
This vegan banana bread with Walnuts by Marlena from Where You Get Your Protein is extremely popular on Pinterest. And with good reason – it's made with only a few ingredients and is super easy to make. Besides, it's delicious and perfect for leftover bananas!
If you're a fan of chocolate and fruit, this vegan chocolate chip banana bread by Hannah from Domestic Gothess is perfect for you. Hannah topped her vegan banana bread off with a blueberry glaze and dried bananas. Maybe not your typical banana bread, but it looks soooo delicious!
I LOVE TO HEAR FROM YOU GUYS!
I hope you like these vegan banana bread recipes as much as I do. There are so many different ways to make banana bread! What do you think is the best vegan banana bread?
If you give any of these recipes a try, I'd love to know what you think about it. Just leave me a comment below. Your comments really make my day!
You like my recipes and roundups and want to see more? Then follow me on Facebook, Instagram, or Pinterest! 
Sina – xx