Vegan and vegetarian food is expensive, complicated, and time-consuming? Maybe some of you have already heard this claim, but it really couldn't be more wrong. You don't have to spend hours in the kitchen to end up with a delicious and healthy meal. And you don't have to be a trained chef either! Check out these 10 quick veggie meals that are ready to eat in no time!
I'll start with these easy vegan spaghetti with bean balls. They've been the most popular recipe on the blog for months and they're are one my favorite dishes as well! I always have to think of the meat ball scene in the Disney's classic "Lady and the Tramp" when I have these.  They're really easy to make. All you need is a can of kidney beans, sunflower seeds, rolled oats, garlic, half an onion, and some spices. For the sauce I used tomatoes, red wine, an onion, garlic, and a carrot.
The vegan bean balls are also great just by themselves with a green salad and some dips such as guacamole or hummus. Or you could also eat them in a wrap with lettuce.
Number two is another easy Italian recipe: Vegan chickpea or garbanzo soup with tomatoes, carrots, spinach, celery, fennel, and lots of fresh parsley. Chickpeas or garbanzo beans are definitely among my favorite foods. We have them at least twice a week and I love using them for all sorts of curries, pasta, and spreads. And hummus of course!
This easy veggie-loaded soup is a great flu fighter for colder days!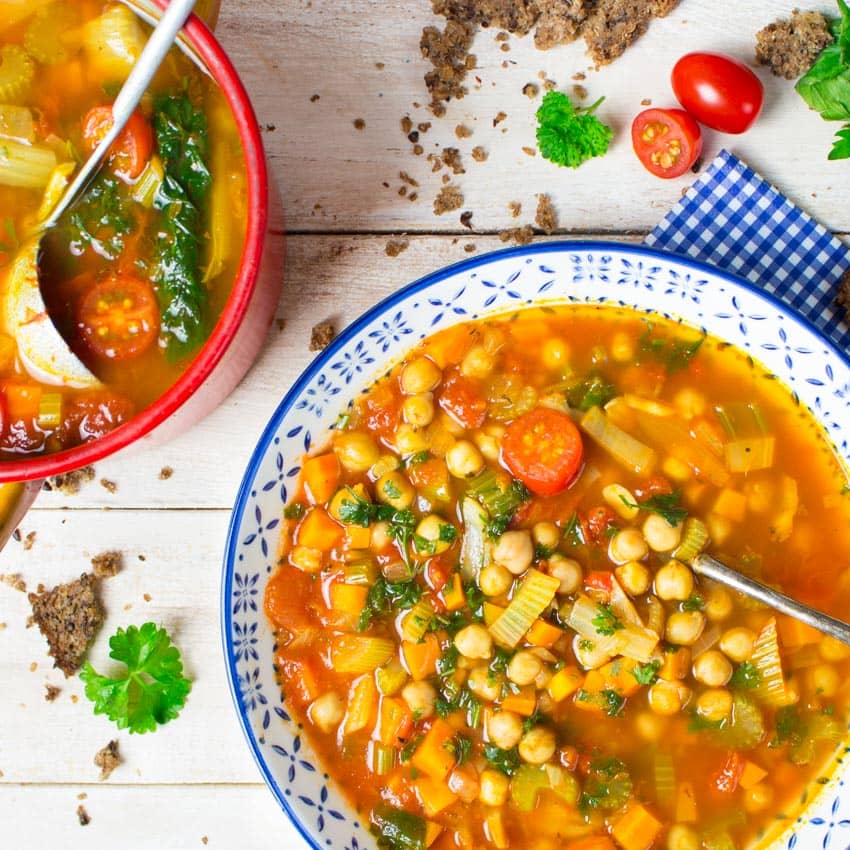 I absolutely LOVE pasta and I love quick and easy meals! So this Asian style vegan one pot pasta with coconut milk and red curry paste is absolutely perfect. It's my new favorite meal for weeknight dinners. Easy, healthy, and so incredibly delicious and creamy.
I've always been a huge fan of sandwiches! This vegan tofu and kale pesto sandwich with grilled zucchini, carrots, and lettuce is one of my favorites!  When I first tried tofu more than ten years ago, I wasn't exactly keen on it. I somehow didn't like it's structure and most of all its plain taste. It wasn't until years later, that I tried it again. I marinated it with lots of spices, garlic, and soy sauce and let it sit for a couple of hours.
And man was it good! Crispy, savory, packed with flavor, and just so easy!
This vegan one pot spaghetti with vegetables was a huge hit on Facebook and I got a lot of positive feedback from my readers! You only use one pot and literally just throw in all of the ingredients – including the uncooked spaghetti – and then cook it for about 12-15 minutes. Instead of water I added vegetable broth to give it some extra flavor. Yes, you really do cook it all together in one pot and do not drain the pasta. This might sound weird, but it really works!
Of the 10 quick veggie meals I got for you this is probably the easiest one. Perfect for lazy cooking days!
This vegan chickpea curry is the perfect comfort food! It's super easy to make and packed with protein. One of my all-time favorites! Big YUM!!
I'm always looking for quick and easy vegan salads that I can bring along to university.  This vegan lentil salad with spinach and pomegranate is not only super delicious but it's packed with vitamins. I also added avocado, apples, and walnuts and topped it off with a tahini orange dressing.
You don't feel like eating your veggies today? No problem, just eat this green monster veggie burger with grilled eggplant, red bell pepper, and vegan sun-dried tomato mayonnaise instead. It's not only super delicious but also packed with tons of vitamins and minerals. Who knew that a burger could be this healthy? It's not as quick as the rest of this quick veggie meals but it's really worth the time! If you're in a hurry, you can also just omit the grilled bell pepper and eggplant. The patty is made with broccoli, peas, kale, and celery.
This vegan quinoa salad with mushrooms, spinach, tomatoes, and green onions is perfect for an easy and healthy lunch or picnic. Quinoa is one of my favorite foods and it's packed with nutrients! We usually have this salad in the spring and summer, but of course you can enjoy it all year long.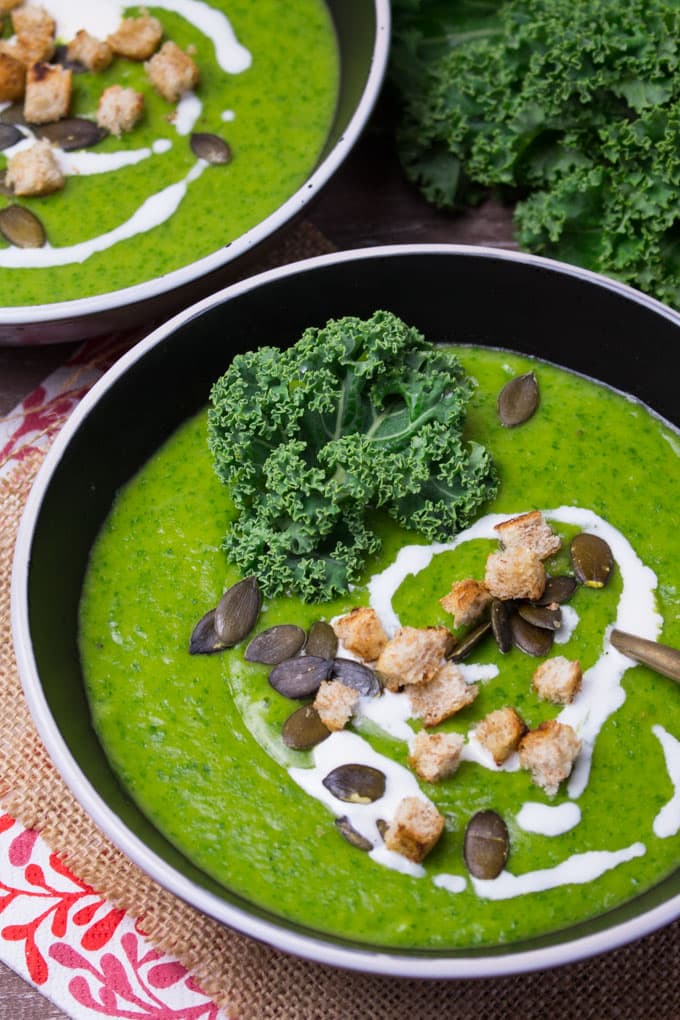 This vegan potato kale soup is great for cold winter days! You wouldn't guess how many veggies are in this soup! Besides kale and potatoes, I also smuggled in some carrots, celery, and leek. I absolutely love the bright green color the kale soup got! When we were eating it, my boyfriend, Flo, joked that we could also call it "the incredible Hulk soup" and some of my readers told me it looks like a forest from above. Whatever name works best for you, it's just so delicious! For the topping, I used roasted pumpkin seeds, homemade croutons, and some soy cream.
Mexican rice with kidney beans and corn? GREAT! Mexican stuffed zucchini? YES, please! Mexican stuffed zucchini with cashew cheese? Even better! I really like these vegan stuffed zucchini. They're healthy and easy to make. We usually eat them together with a green salad, but they're also great just by themselves.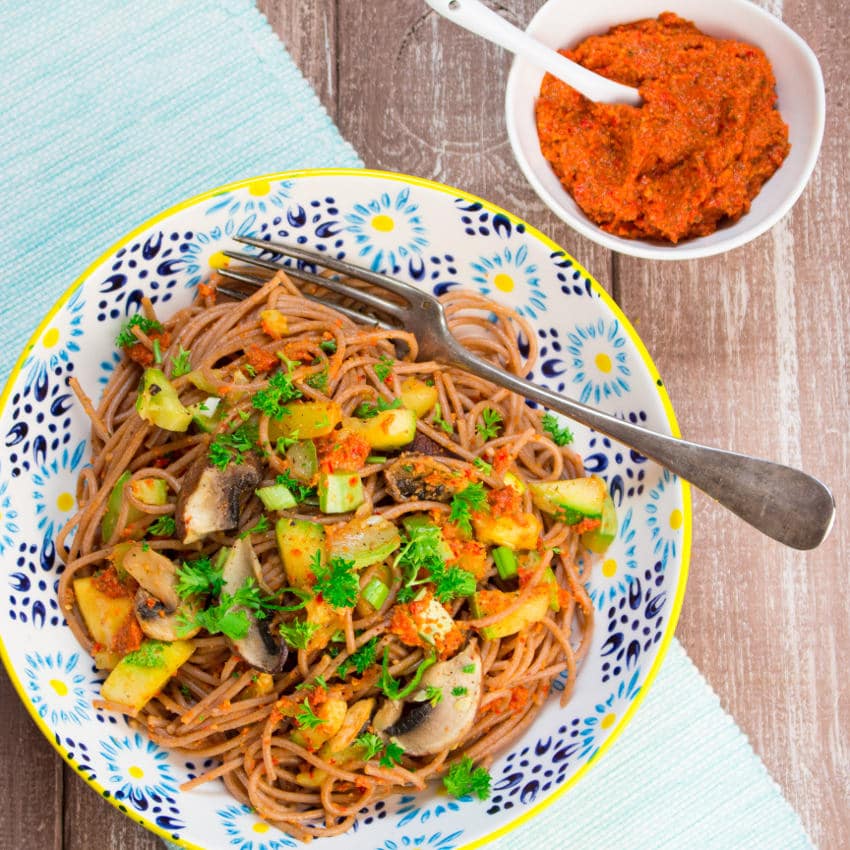 I really love pesto; it's easy, delicious, and there are so many different variations. We usually stick with green pesto with basil, spinach, or kale (especially in the winter), but this red bell pepper almond pesto with spelt spaghetti, mushrooms, zucchini, and green onions is sooo good! I couldn't get enough of the red bell pepper almond pesto, although I used to hate red bell peppers more than anything when I was a kid! Isn't this funny?!
I hope you liked these 10 quick veggie meals. If you give them a try let me know. As always, I love hearing from you guys!
Have a great week! xx