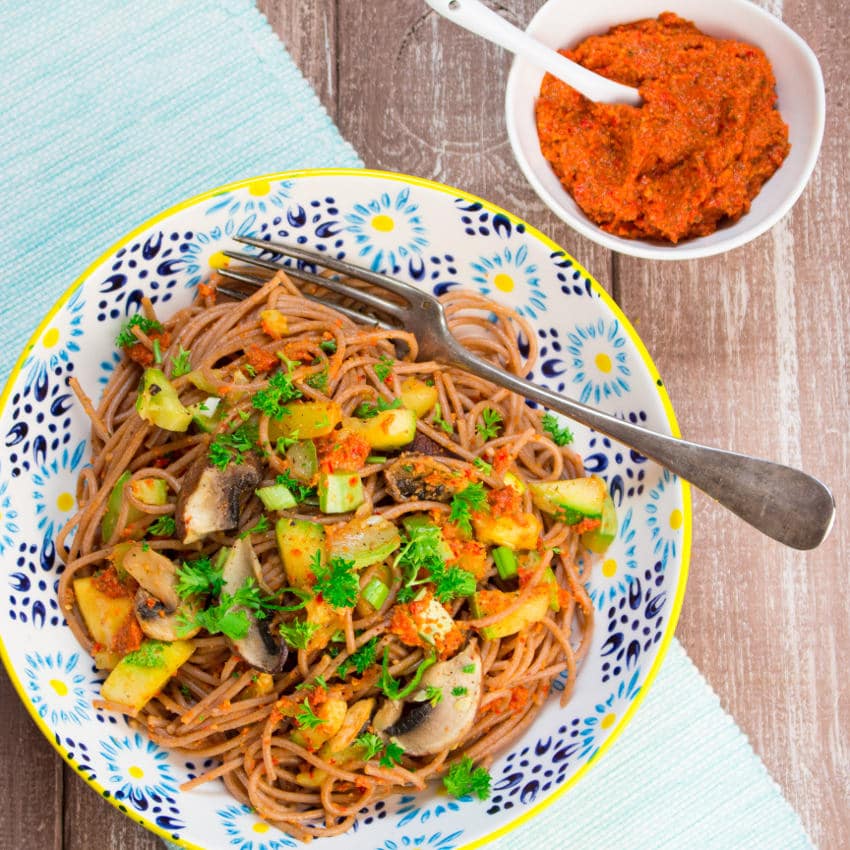 I really love pesto; it's easy, delicious, and there are so many different variations. We usually stick with green pesto with basil, spinach, or kale (especially in the winter). A couple of days ago, we, however, tried a new recipe: Red bell pepper almond pesto with spelt spaghetti, mushrooms, zucchini, and green onions. I couldn't get enough of the red bell pepper almond pesto, although I used to hate red bell peppers more than anything. On field trips, I even pretended to be highly allergic so people didn't try to make me eat red bell pepper. Can you believe it?! Today, I really like bell pepper with pasta, or just as sticks with hummus or other dips. By the way, the red bell pepper almond pesto is also great as a dip or on bread.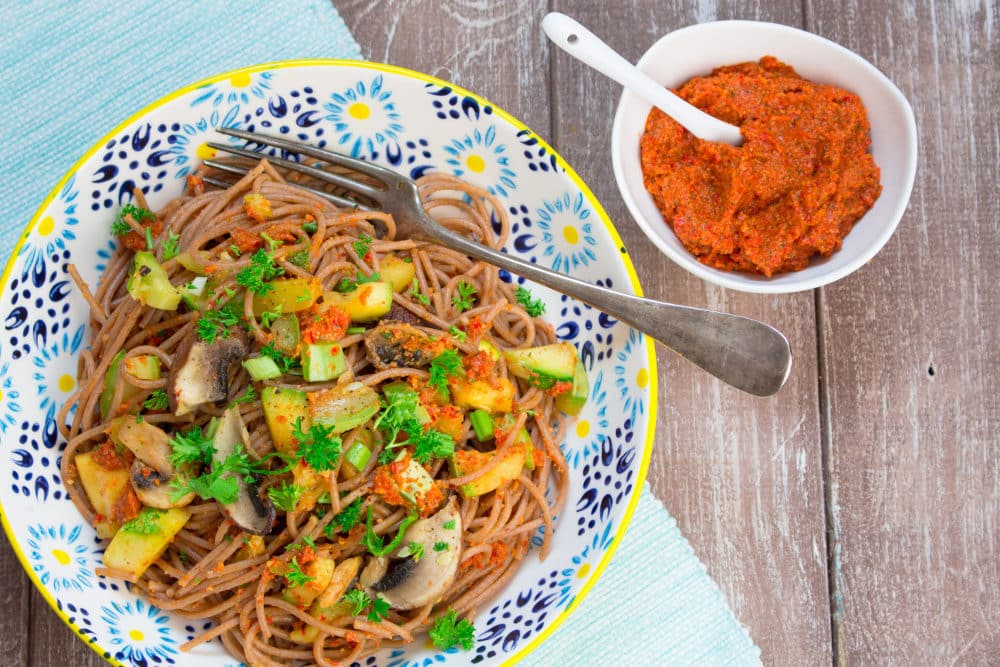 Stored in an air-tight container it can be kept in the fridge for several days. Just pour some olive oil on top once you've used some of it. I've turned into a real spelt addict lately. I've used unripe spelt for lasagna and pasta sauces for a long time, but a couple of weeks ago my dad bought spelt spaghetti and gave me a package to try and I just loooved it. I barely eat white pasta anymore as I'm so used to the whole grain version and its texture. When I saw spelt semolina porridge in the health food store the other day, I just had to buy it! It's a typical German food, which probably every child loves. I cooked it with almond milk instead of regular milk and we ate it together with apple sauce and cinnamon. It was sooo yummy and I felt like I was 5 years again! :D I can't remember the last time I had semolina porridge. Have you ever tried spelt and do you like it? :-) And can you buy it in regular grocery stores in your country?
For the Red Bell Pepper Almond Pesto:
| | |
| --- | --- |
| For the Red Bell Pepper Almond Pesto: | |
Prepare the spaghetti according to the instructions on the package.

In a medium skillet, heat one tablespoon olive oil over medium heat. Sauté the red bell pepper for about 5 minutes until it is slightly brown.

Put it into a food processor with the chopped parsley, the remaining olive oil, the almonds, the nutritional yeast, the tomato paste, the lemon juice, and the garlic clove. Blend until smooth.

Heat another tablespoon of olive oil in a medium pan and sauté the zucchini, green onions, and the mushrooms for about 4 minutes. Season with salt and pepper.

Stir in the red bell pepper almond pesto and the spelt spaghetti. Sprinkle with fresh parsley and green onions.