Are you looking for delicious jackfruit recipes? Then look no further! We've got you covered with 10 amazing vegan jackfruit recipes the whole family will love.

Have you ever tried jackfruit? If not, you should really give it a try! It's super versatile and it makes such a great vegan meat alternative.
Jackfruit is the largest tree-borne fruit in the world and it's commonly found in South and South East Asia. While the ripe version is commonly used for sweet recipes, canned young unripe jackfruit is very popular among vegans and vegetarians.
Make sure to use young jackfruit in brine or water, not in syrup. It's available in well-stored grocery stores, Asian supermarkets, or on Amazon.
I was a bit skeptical when I first tried jackfruit, but I really fell in love with it. It's so versatile and super delicious when prepared the right way.
I've got some delicious vegan jackfruit recipes on the blog, but to provide you with even more recipes I've teamed up with some fellow food bloggers. So let's get the yumminess started!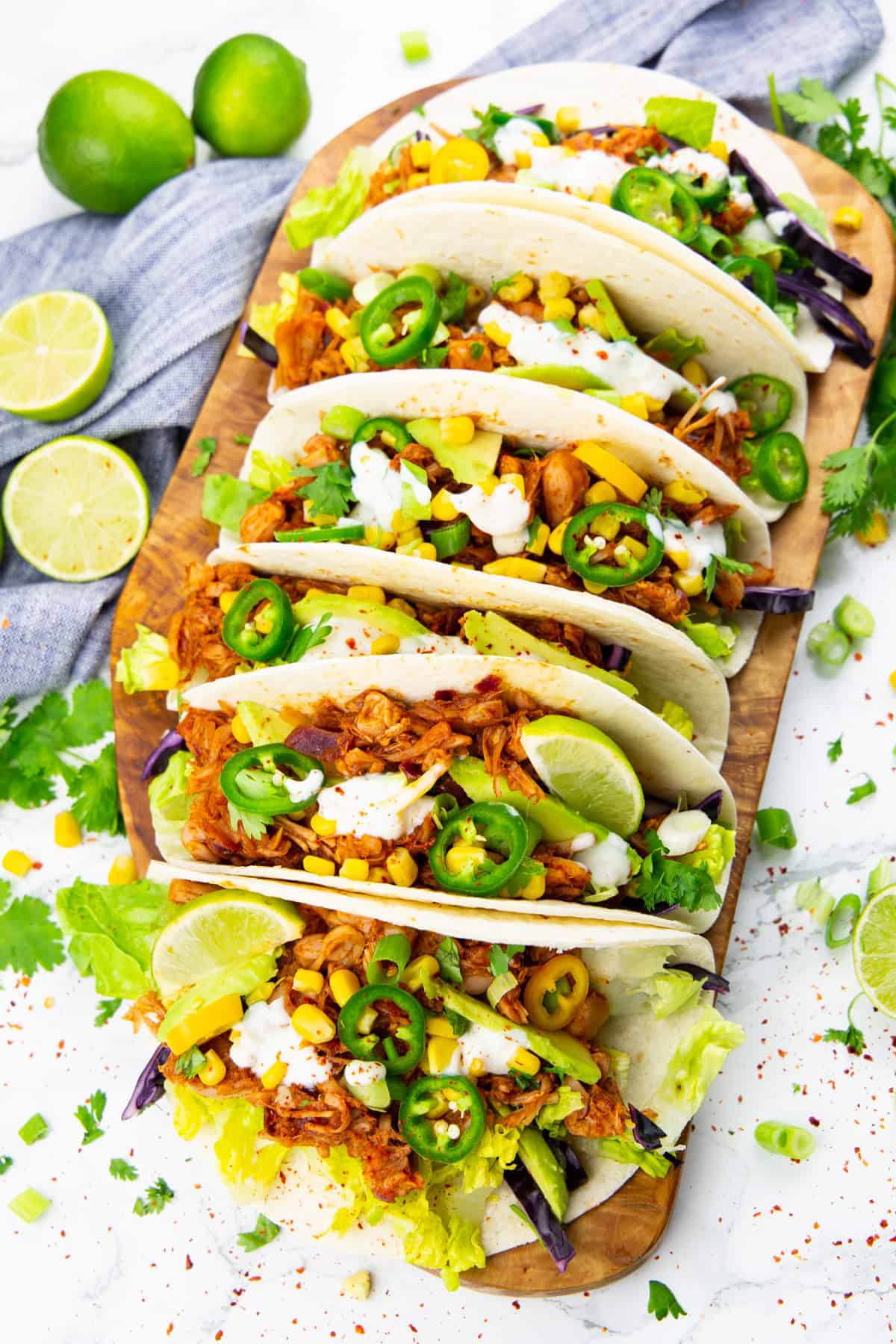 These jackfruit tacos are the ultimate comfort food! The tacos are so delicious, completely vegan, and ready in only 30 minutes!
Doesn't this vegan gryos with pulled jackfruit by Jaclyn from Holistic Foodie look amazing? She served it along with lots of veggies, a Greek dressing, and vegan tzatziki.
This jackfruit buffalo dip is perfect for your next movie night or party! It's super easy to make, packed with flavor, incredibly creamy, and so comforting! People will be begging you for the recipe.
Yes, you can also use jackfruit to make chili! It's super versatile. Mary Ellen from V Nutrition and Wellness used a crockpot to make her vegan jackfruit chili. The perfect meal for colder days!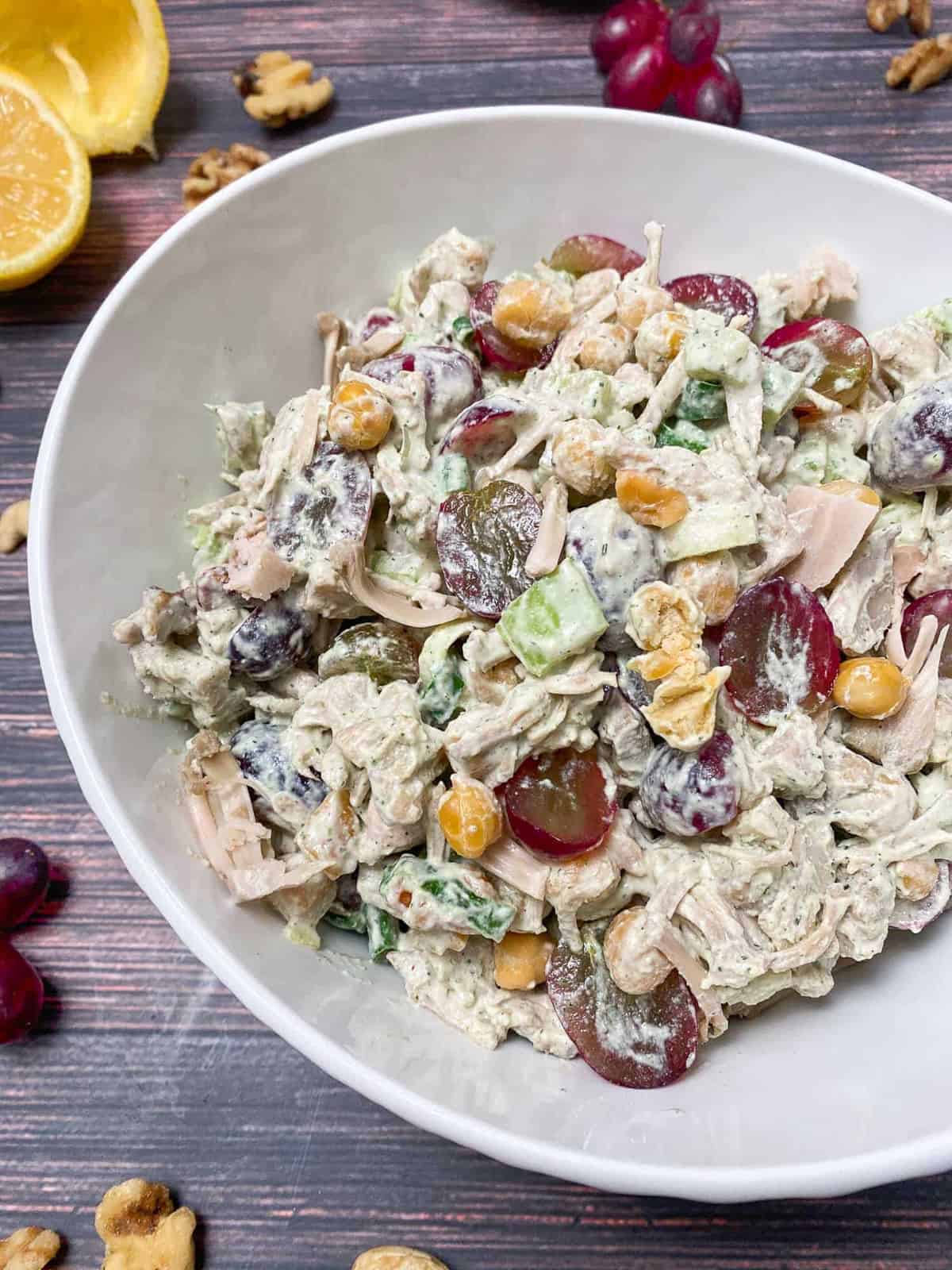 This vegan chicken salad by Rosa from This Healthy Kitchen is perfect for your next lunch! It's loaded with flavor and jackfruit is the perfect meat replacement in this recipe.
These jackfruit pulled pork sandwiches with avocado and ranch sauce don't only look like the real thing, but they also taste amazing!
This hearty vegan stew with jackfruit by Tania from Fit Foodie Nutter is the perfect comfort food for colder days. It's a one pot recipe that will impress vegans and meat eaters alike.
These jackfruit fajitas by Rosa from This Healthy Kitchen make the perfect weeknight dinner for the whole family. The recipe is packed with flavor and it comes together in only 25 minutes!
You can even use jackfruit to make enchiladas! These beer braised jackfruit enchiladas by Nicolette from Home-Cooked Roots are perfect for your next dinner party. Nicolette included instructions for making the jackfruit on the stovetop and in the Instant Pot.
This vegan tuna salad with jackfruit by Lori from My Quiet Kitchen makes a great lunch on a sandwich paired with lettuce, tomato, and cucumber. It's also good with crackers!
I Love To Hear From You!
I hope you enjoy these vegan jackfruit recipes as much as I do! Don't forget to pin or share this post so you have these recipes ready when you need them!
If you give any of these recipes a try, I'd love to know what you think about it. Just leave me a comment below. Your comments really make my day!
You like my recipes and roundups and want to see more? Then follow me on Facebook, Instagram, or Pinterest!
Sina