Only 16 more days till Christmas, so this means it's definitely time for Christmas cookies!
Over the last couple of months, I got to know so many great, supportive, and funny bloggers who love cooking just as much as I do. We talked about how cool it would be if we could all get together and have a giant vegan feast. Well, the only thing that is keeping us from doing this is that we are scattered all over the world. So until we can all meet in person one day, we decided to have an online holiday cookie party. This means we all made some delicious vegan and gluten-free cookies and share them on the same day, so its kinda like an explosion of deliciousness. Oh and we got exactly 12 cookies, so one for each of the 12 days of Christmas! How awesome is that?!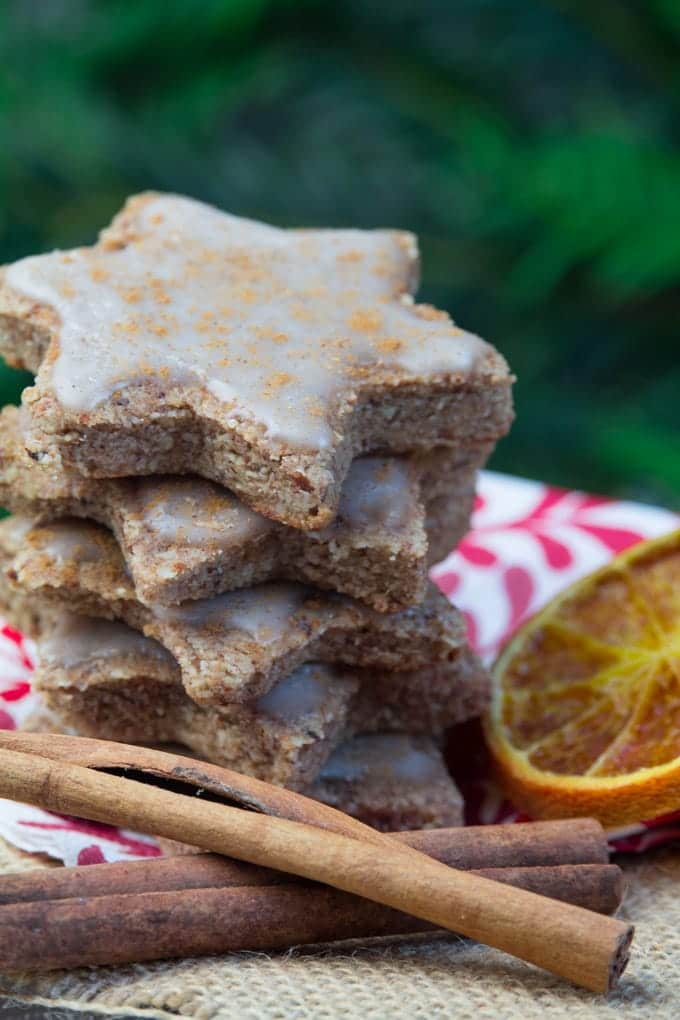 I made these vegan orange cinnamon Christmas cookies that have been one of my favorites for years!  They're extremely easy to make, packed with flavor and nutrients, and sooo delicious! Oh, and let me tell you there is a lot of cinnamon involved. ;-)
For more delicious vegan Christmas cookies, scroll down and click on the links, which are matched with the pictures above. Just to warn you, better don't do this while you're hungry…
For the vegan orange cinnamon Christmas cookies you only need 7 ingredients: Powdered brown sugar, almonds, hazelnuts, orange juice, cinnamon, water, and flour. Sounds easy? It really is!
Maybe you just wondered about the powdered brown sugar and where you can find it. I haven't seen it in the store yet, but you can easily make it yourself in a blender or food processor in just one minute. Just put the brown sugar in a blender and pulse for about 30-60 seconds until the sugar is powdered.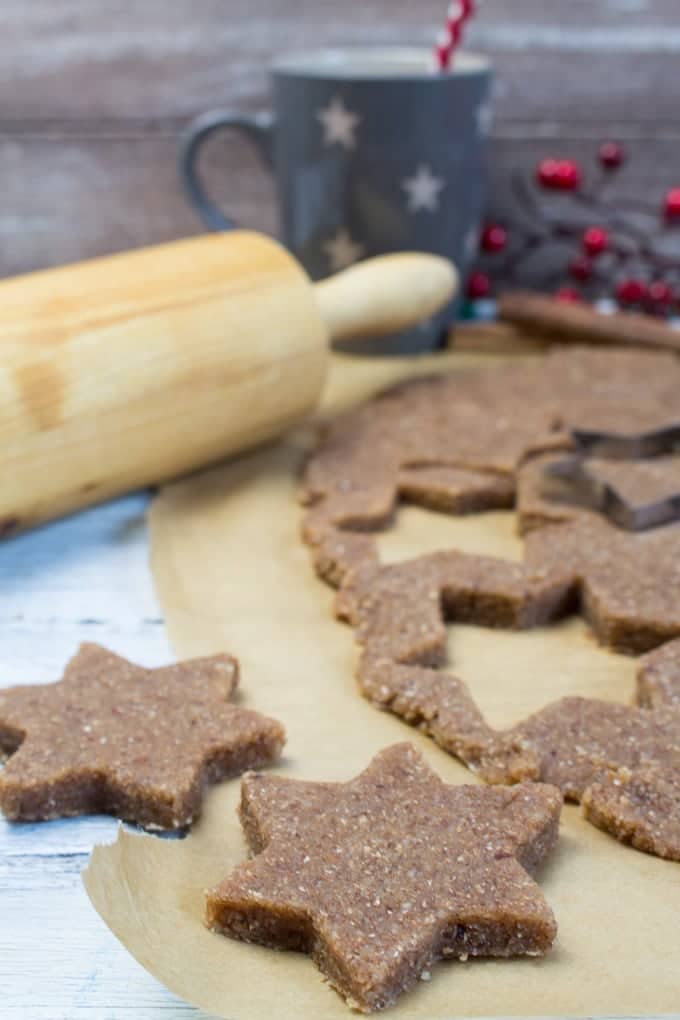 You can either use whole wheat flour for the cookies or make them gluten-free by using oat flour. Out flour can be ridiculously expensive when you buy it in the grocery store, but you really don't have to spend a lot of money on it, because I'm sure you already have everything you need in your pantry to make your own oat flour. It's actually just as simple as making powdered sugar. Just place the oats in a food processor and pulse them until they have acquired a powder-like consistency. It really couldn't be any simpler! I love using oat flour for all kinds of baked goods!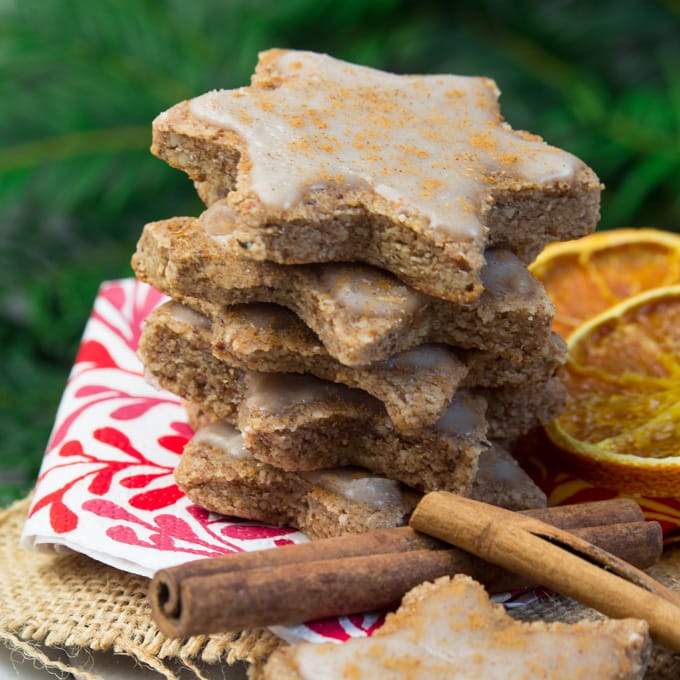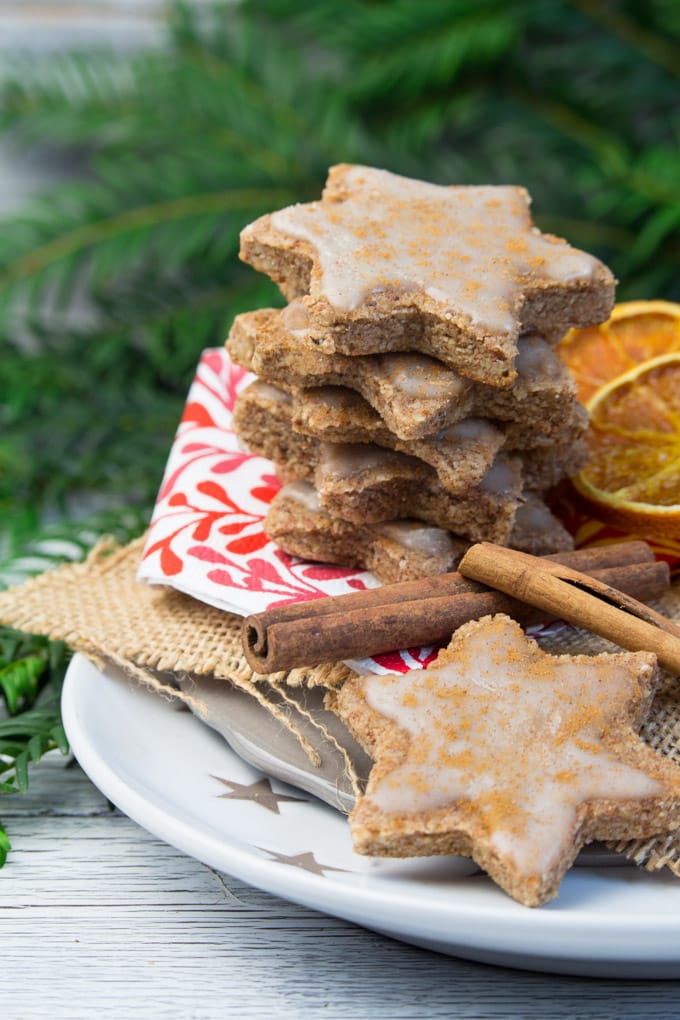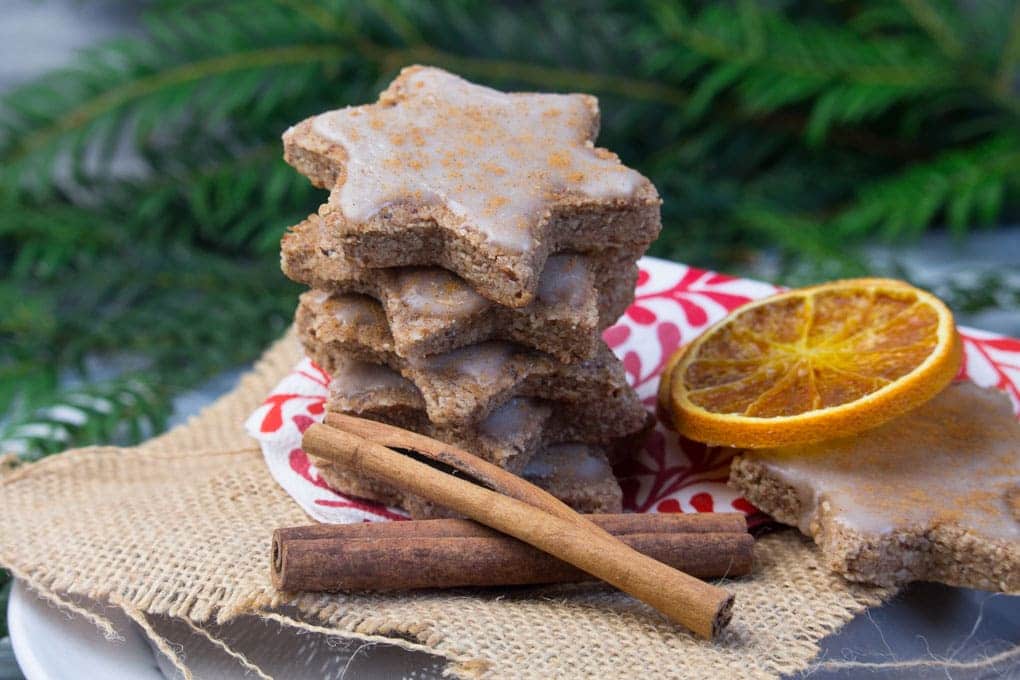 As already mentioned, here are the links to the other cookies of our vegan and gluten-free holiday cookie party. Don't they all look so festive and delicious? :-)
Chocolate Candy Cane Crunch Cookies – Rebecca from Strength And Sunshine
Gingerbread Fig Bars – Natalie from Feasting On Fruit
No-Bake Marzipan Rum Balls – Bianca from Elephantastic Vegan
Chocolate Drizzle Ginger Pecan Cookies – Laura from Chronicles Of Passion
Chewy Gluten Free Chocolate Gingerbread Cookies – Jenn from Veggie Inspired Journey
Cranberry Chocolate Coconut Macaroons – Linda from Veganosity
Vegan Orange Cinnamon Christmas Cookies – Sina from Vegan Heaven
Cranberry White Chocolate Ginger Cookies – Leah from Love Me Feed Me
Chocolate Tahini Cookies – Lucie from Win-Win Food
Sugar Cookie (Vegan, Gluten-Free, Oil-Free) – Brandi from The Vegan 8
Orange Spice Cookies – Harriet from Harriet Emily
Vegan Cranberry Crunch Dark Chocolate Truffles – Sophia from Veggies Don't Bite
What are your favorite Christmas cookies? And do you have any special traditions for the holiday season?
If you make the vegan orange cinnamon Christmas cookies let me know how you liked them. As always, I love hearing from you guys!
Hope you all have a great week and have time to just enjoy the Christmas season!
Talk to you soon! xx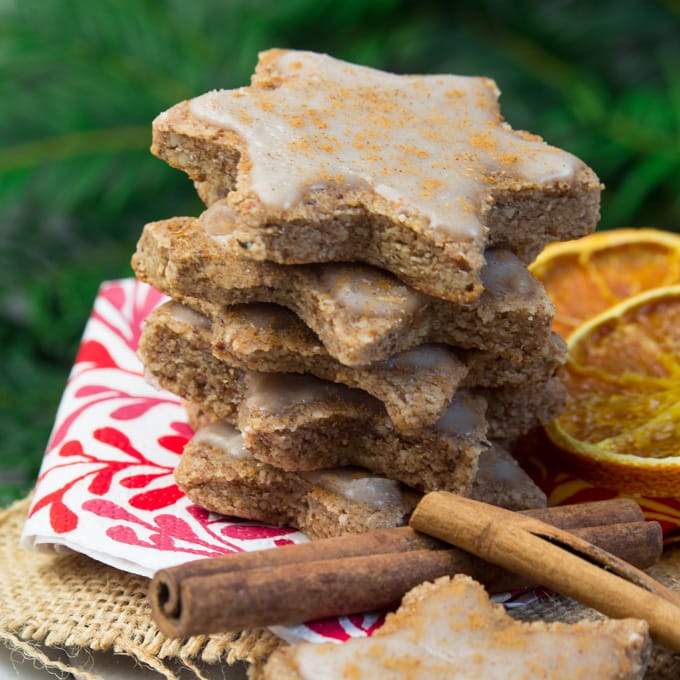 Ingredients
For the cookies:
3/4

cup

powdered brown sugar

2

cups

ground almonds

1 3/4

cup

ground hazelnuts

1

tablespoon

orange juice

2

tablespoons

cinnamon

1/2

cup

water

3/4

cup

oat flour or whole wheat flour

Use oat flour to make the cookies gluten-free!
For the icing:
1/2

cup

powdered brown sugar

about 1 to 1 1/2

tablespoons

water or plant-based milk

1/2

teaspoon

cinnamon
Instructions
First make the powdered brown sugar: Put the brown sugar (3/4 cup) in a blender and pulse for about 30-60 seconds until the sugar is powdered.

If using oat flour do the same with the oats. Store-bought oat flour can be ridiculously expensive, but it's super easy to make at home and so much cheaper. Just place 3/4 cup of rolled oats in a food processor and pulse them until they have acquired a powder-like consistency.

Combine all ingredients in a medium mixing bowl.

On a floured board or baking parchment, roll out the dough to about 0.4 inch (1 cm) thickness and cut it into star shapes using a cookie cutter.

Line a baking tray with parchment paper and place the star-shaped cookies on top.

Preheat the oven to 360 °F (about 180 °C) and bake for about 6-8 minutes. Make sure not to bake them too long, so they don't get hard. They're supposed to still be a bit soft.

In the meantime, make the icing: Combine all ingredients and stir until smooth. If it is too thin, add more powdered sugar. Let the cookies cool down and spread them evenly using a knife or the back of a spoon. Sprinkle them with some more cinnamon.
Rate the recipe!
If you like this recipe, please leave a good rating! This will help other readers.