A couple of months ago, I was in London and had this really yummy vegan burger in a vegetarian restaurant not far from Piccadilly Circus. It's called Milred´s and I can absolutely recommend their food! They got tons of vegan options and it's so hard to choose! It's known to be really busy and they don't take bookings, so make sure to come early. Ever since, I wish I could just hop on a plane, fly to London, and have another one of these veggie burgers. No, just kidding, but it really was a great burger, so I thought about making one at home. I didn't know what they used to make the burger patty, but I came up with a really good vegan lentil burger with basil mayonnaise, arugula, and tomatoes. Flo just loved it, so it's definitely boyfriend-approved! :-)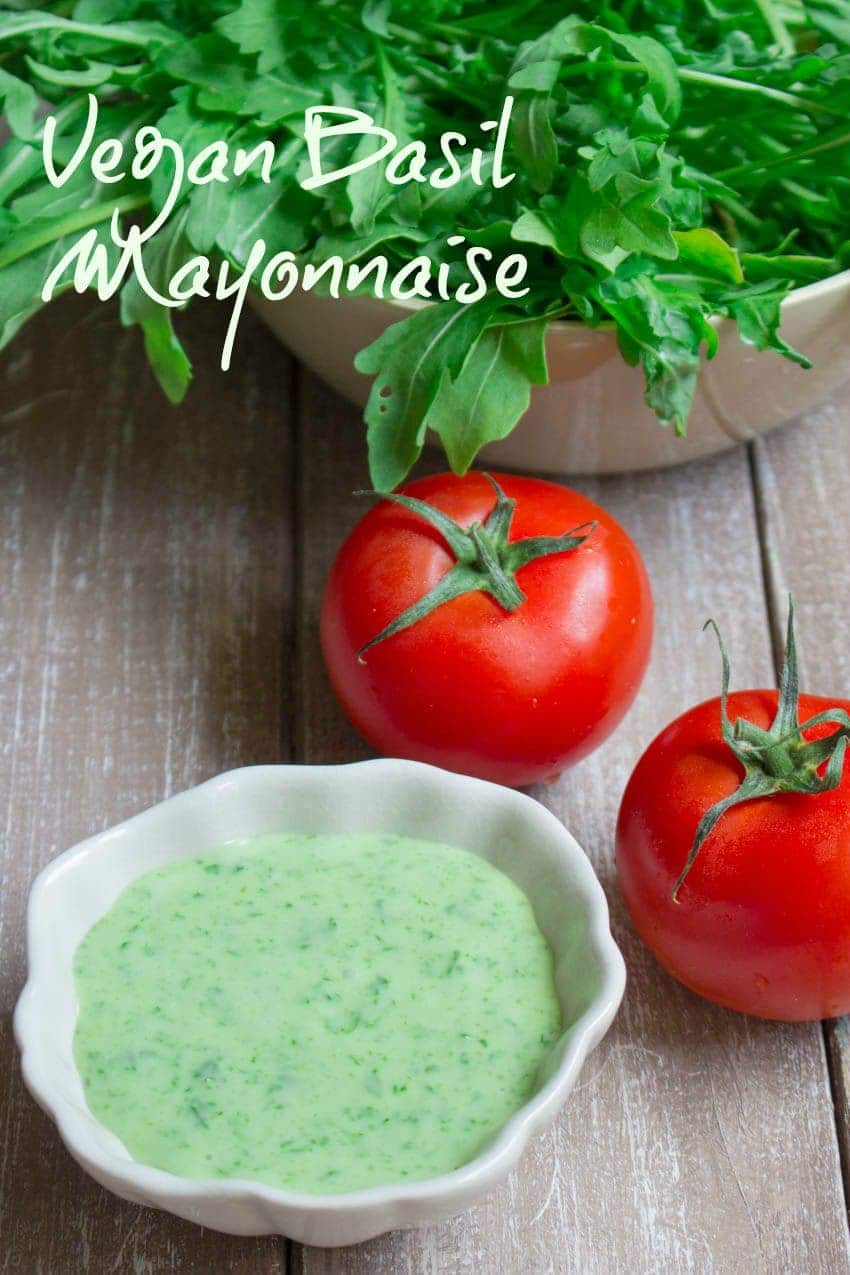 If you don't like arugula and its slight bitter taste, you can of course also use lettuce, but I especially liked the combination of basil and arugula. I used store-bought vegan mayonnaise to make the basil mayonnaise, but it's also easy to make at home. The vegan burger patties are made of brown lentils, tofu, sun-dried tomatoes, a grated carrot, an onion, and lots of spices. It might seem like a pretty long ingredient list at first, but the majority of the stuff is available in most kitchens or easy to buy. I haven't tried to freeze the lentil patties yet as we didn't have any left-overs, but I guess next time I will double the batch and freeze some for quick weeknight dinners. We ate this vegan lentil burger together with crispy rosemary fries.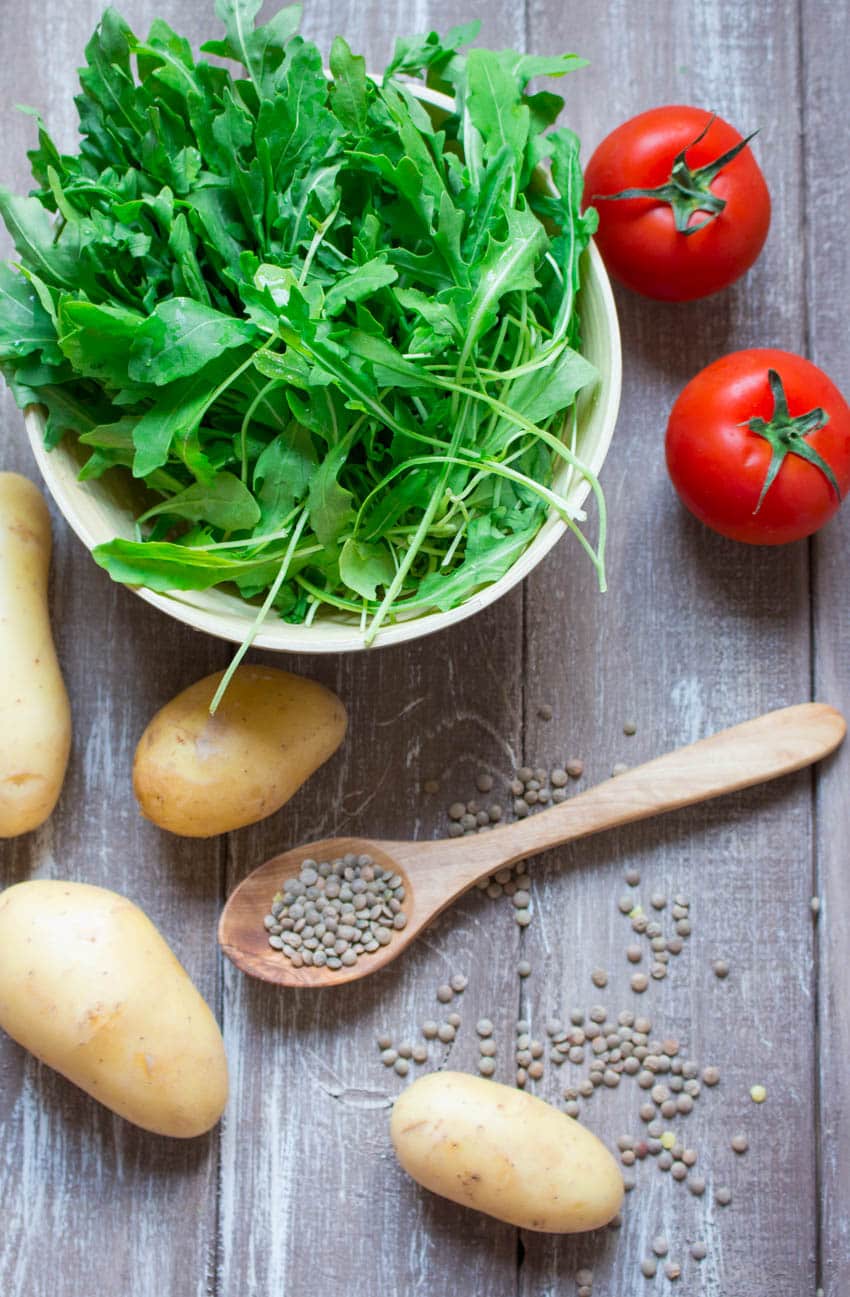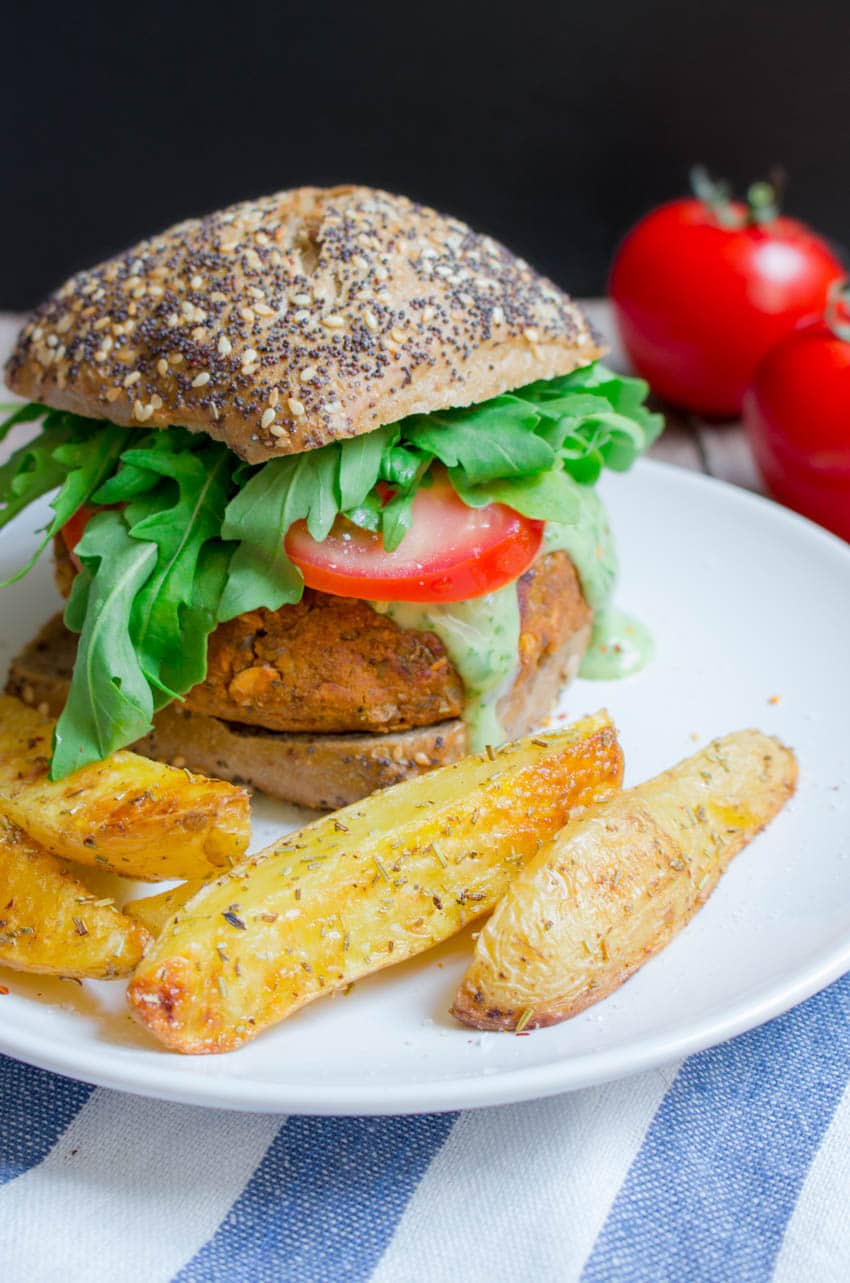 If you make this vegan lentil burger let me know how it turned out and how you liked it. I love hearing from you guys! :-)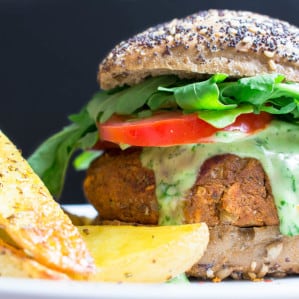 Vegan Lentil Burger with Basil Mayonnaise
This vegan lentil burger with basil mayonnaise, arugula, and tomatoes is not only super yummy, but also packed with nutrients! Vegan fast food at its best!
Print
Pin
Rate
Ingredients
For the vegan lentil patties:
1

cup

brown lentils

7

oz

firm tofu (one block)

2

tablespoons

tomato paste

8

sun-dried tomatoes

1

tablespoon

olive oil

1

small

onion, chopped

1/2

cup

whole wheat flour

3/4

cup

rolled oats

1

carrot, grated

1

teaspoon

oregano

1

teaspoon

thyme

1

teaspoon

basil

1

teaspoon

soy sauce

1

teaspoon

mustard

salt

black pepper
For the basil mayonnaise:
6-8

tablespoons

store-bought or homemade vegan mayonnaise

about 10

basil leaves
For the rosemary fries:
about 8

large

potatoes, cut into even wedges

1

teaspoon

rosemary

2

tablespoon

olive oil

sea salt
Instructions
Cook the brown lentils according to the instructions on the package.

Make the rosemary fries: Preheat the oven to 475 degrees Fahrenheit. Line a baking sheet with parchment paper and put the potatoe wedges on top. Drizzle with olive oil and sprinkle with rosemary and salt. Bake for about 40 minutes or until crispy and brown.

Make the basil mayonnaise: In a food processor, combine the vegan mayonnaise and the basil leaves and process until smooth.

Put about 1/4 of the cooked lentils in a food processor together with the tofu, the mustard, the sun-dried tomatoes, and the tomato paste. Process until well combined.

In a small skillet, head the olive oil and sauté the onion for about 3 minutes or until it is translucent.

Add the remaining cooked lentils, the onion, the rolled oats, the whole wheat flour, the grated carrot, the spices, soy sauce, and mustard to the lentil-tofu mixture and stir well. Season with salt and pepper and form about 4 burger patties.

In a large pan, heat some olive oil and bake the patties for about 3 minutes on each side or until they are slightly brown.

Serve on buns with the basil mayonnaise, arugula, and tomatoes.
Rate the recipe!
If you like this recipe, please leave a good rating! This will help other readers.