You definitely won't miss the meat in this spicy vegan tofu chili with cashew sour cream! It's super easy to make and packed with protein! It has been one of my favorite vegan weeknight meals for a long time.
Last week, I posted a recipe for a chickpea potato curry we've almost every week and today I got another one of those "keepers". I love trying new recipes and new ingredients, but some recipes just make their way to our meal plan again and again and this easy vegan chili is definitely one of them!
It's actually a spin-off of our favorite recipe for spaghetti with vegan Bolognese sauce. This was one of the first recipes I made when I became vegan in 2012. I was staying in Australia at that time. I lived there for three months and traveled around the country with my boyfriend, Flo. We seriously had the best time of our lives! After years of being vegetarian, I decided to become vegan during our time in Australia.
So the first thing I did when I got back home was buying this popular vegan cook book called "Vegan for Fun"
 and it made the transition really easy for us. In just a couple of weeks, I got tons of other vegan cook books and I couldn't stop trying all these new recipes and spent hours in the kitchen. Now, more than three years later, I hardly use my cook books anymore. This is actually kinda sad, but I just try so many new things for the blog and don't have enough time. However, we still love Attila's spaghetti Bolognese and it's our number one comfort food for busy days!
I slightly changed the original recipe for the vegan Bolognese sauce for this vegetarian chili and added paprika powder, cumin, and cilantro to make it taste more Mexican. And of course I also added beans (I used both, kidney and black beans), corn, and red bell pepper.
How to Make This Vegan Tofu Chili
To make this vegan chili sin carne even better, I topped it off with homemade cashew sour cream and sliced avocados. We ate it together with nachos, but it's also great with rice or bread.
It's really important that you cook the tofu long enough, so it loses its wobbly consistency. I usually cook it for about 5 minutes before I add the onions and the garlic and cook it for another 4 minutes. This easy meatless chili is packed with protein, so when people ask you "but where do you get your protein?!", just tell them to have a look at this vegan tofu chili recipe. I'm sure most of you have heard this question at least once…
Hope you all have a great weekend! Can't believe it's already Thursday!
Let me know if you give this tofu chili a try. I always love when you guys share your Vegan Heaven creations with me on Instragam!
Talk to you soon! xx
If you like this tofu chili or Mexican food in general, check out these vegan tacos with lentil walnut meat: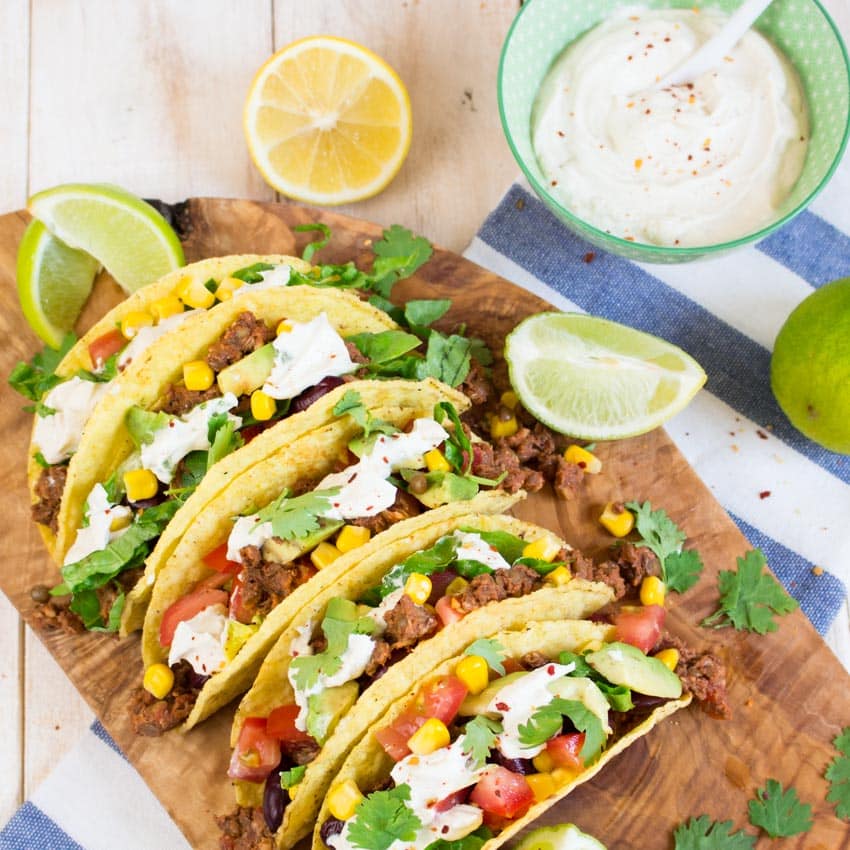 Spicy Vegan Tofu Chili
You definitely won't miss the meat in this spicy vegan tofu chili with cashew sour cream! It's super easy to make and packed with protein!
Ingredients
For the vegan tofu chili:
1

tablespoon

olive oil

1

block firm tofu (7 oz), crumbled

1

onion, chopped

2

cloves of garlic, minced

2

tablespoons

tomato paste

1/3

cup

dry red wine

1 1/2

cups

diced tomatoes (canned)

1

cup

kidney beans

1

cup

black beans

1

cup

corn

1

red bell pepper, cut into medium pieces

1

teaspoon

paprika powder

1

teaspoon

ground cumin

1/2

teaspoon

ground cilantro

red pepper flakes, to taste

salt, to taste

black pepper, to taste
For the vegan cashew sour cream:
1

cup

cashews, soaked for 30 minutes

1/4

cup

fresh lemon juice

1

clove of garlic

salt

pepper
Instructions
Either use a fork to mash the tofu or use your hands until it's all crumbled in small chunks. In a large pan, heat the olive oil and cook the tofu for about 5 minutes.

Add the onion and sauté for about 3 minutes. Then add the garlic and cook for another minute.

Stir in the tomato paste and cook for 2 minutes. Then deglaze it with red wine and allow the sauce to thicken for about 2 minutes. Stir in the diced tomatoes, the red bell pepper, the corn, the beans, and the spices and cook for about 10 minutes.

In the meantime, make the sour cream: Drain the cashews and put all ingredients in a food processor and process until smooth. Season with salt and pepper.

Serve the tofu chili with nachos and top it off with some of the cashew sour cream and avocado.