I usually use kale for my daily green smoothies, which have become an essential part of my breakfast. Seriously, a day without a green smoothie just doesn't seem right to me anymore since I got my new blender about a year ago! I've really turned into a green smoothie addict and the first question I ask my boyfriend, Flo, in the morning is probably what to add to our smoothie. But kale is also great with lentils and quinoa. This combination is not only super yummy but also packed with essential nutrients such as iron, magnesium, and calcium. Besides, it's also rich in omega-3 fatty acids and protein. I just love the fluffy and slightly crunchy structure and the nutty flavor of quinoa in this dish. To give the quinoa-lentil bowl an extra boost of vitamin C, I added sliced red bell pepper and tomatoes.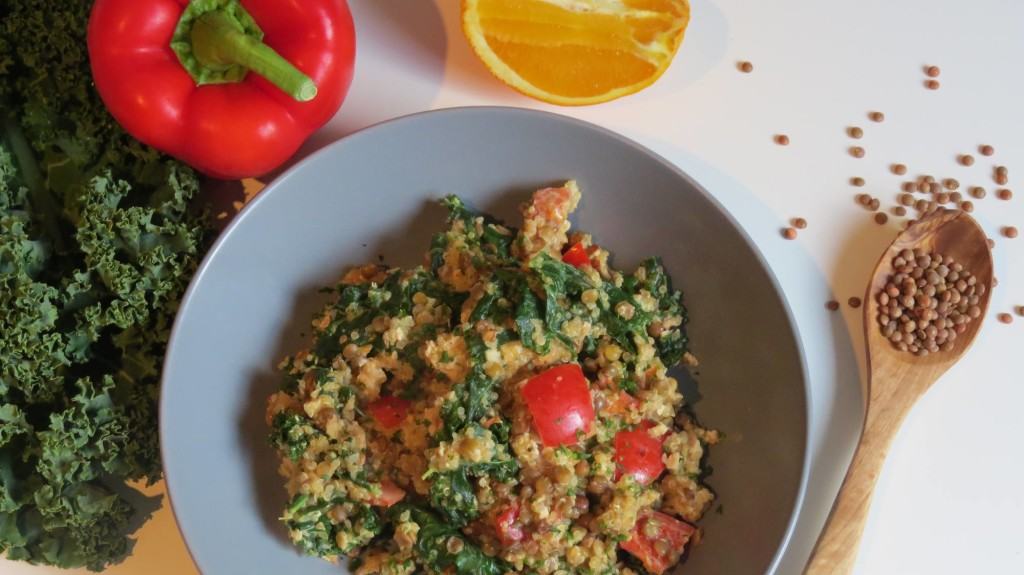 Tahini, a nutritious paste made of ground sesame seeds, is mostly used in hummus, but it's also pretty good for salad dressings and sauces. If you got a good blender or food processor and want to save some money you can also make it at home instead of buying it at the store. Just combine roasted sesame seeds and olive oil in your blender and process until smooth (for one cup of sesame seeds you need at least 2 tablespoons, if you want the tahini to become thinner add more oil). Transfer the tahini into an airtight container or a jar and store it in the fridge. It lasts up to one month or even longer.
Quinoa with Lentils and Kale in an Orange-Tahini Sauce
Quinoa with lentils and kale in an orange-tahini sauce - a great source of iron and protein, especially for vegans and vegetearians! Super yummy and healthy!
Print
Pin
Rate
Ingredients
1/2

cup

brown lentils

1

cup

quinoa

half a block (7 oz)

smoked tofu

2

tablespoons

chopped parsley

1

tomato

1

red bell pepper
For the Orange-Tahini Sauce
2

tablespoons

tahini

1

teaspoon

mustard

3-4

tablespoons

fresh orange juice

1

tablespoon

olive oil

2

tablespoons

nutritional yeast

8

tablespoons

water

1

garlic clove, minced

salt

black pepper
Instructions
Prepare the lentils and the quinoa according to the instructions on the package. Set aside.

Wash and slice the kale into thin stripes. In a skillet, blanch the kale with some water for about 5 minutes. Then set aside.

Chop the red bell pepper, tomato, and tofu into bite-sized pieces. Sauté the red bell pepper and the tofu for 4 minutes. Then add the tomatoes and fry for another minute.

Meanwhile make the orange-tahini sauce: In a food processor or blender, combine the minced garlic, the tahini, orange juice, oil, nutritional yeast, mustard, water, salt, and pepper. Process until smooth.

Add the lentils and the quinoa to the vegetables and stir in the orange-tahini sauce. Reduce the heat to low and simmer for about 2-3 minutes. Then stir in the chopped parsley.
Rate the recipe!
If you like this recipe, please leave a good rating! This will help other readers.