On Sunday, I just came back from London, where I spent four awesome and sunny days together with my mom! London does not only offer super interesting sightseeing attractions like Buckingham Palace, the Tower of London, or the Tower Bridge, but it also has a a great variety of vegan and vegetarian restaurants. I don't want to tell you too much as I'm still going to write a separate article on my trip to London and the vegan food I had, but let me tell you we certainly didn't starve! On the contrary, their food was sooo good and it was really easy to find vegan meals and products! For dinner, we went to several exclusively vegetarian and vegan restaurants, but it was also very easy to find vegan food all over the city. :-)
However, I don't only want to tell you about my trip to London in this article, but I also have a new recipe for you! Some time ago, I bought a package of orzo at the grocery store, but it actually sat in my cupboard for quite a while as I wasn't exactly sure what to do with it. I already had orzo salad several times, but it was always store-bought, so I decided to use the orzo I bought for a home-made Mediterranean orzo salad with tomatoes, artichokes, olives, and lots of basil. I also added some tofu, which I marinated with a mixture of olive oil, balsamic vinegar, and oregano. It's important to let it sit for at least an hour, so the tofu soaks up the flavor. If you have a choice, also make sure to buy extra firm tofu.
I think it's also good to let the whole salad sit for a while as the flavor then becomes more intense. We had the leftovers for lunch today and we thought it even tastes better than last night. I really love the combination of tomatoes, olives, and artichokes, especially in the summer and I can imagine that this salad would also go pretty well as a side dish at a BBQ or a picnic! :-)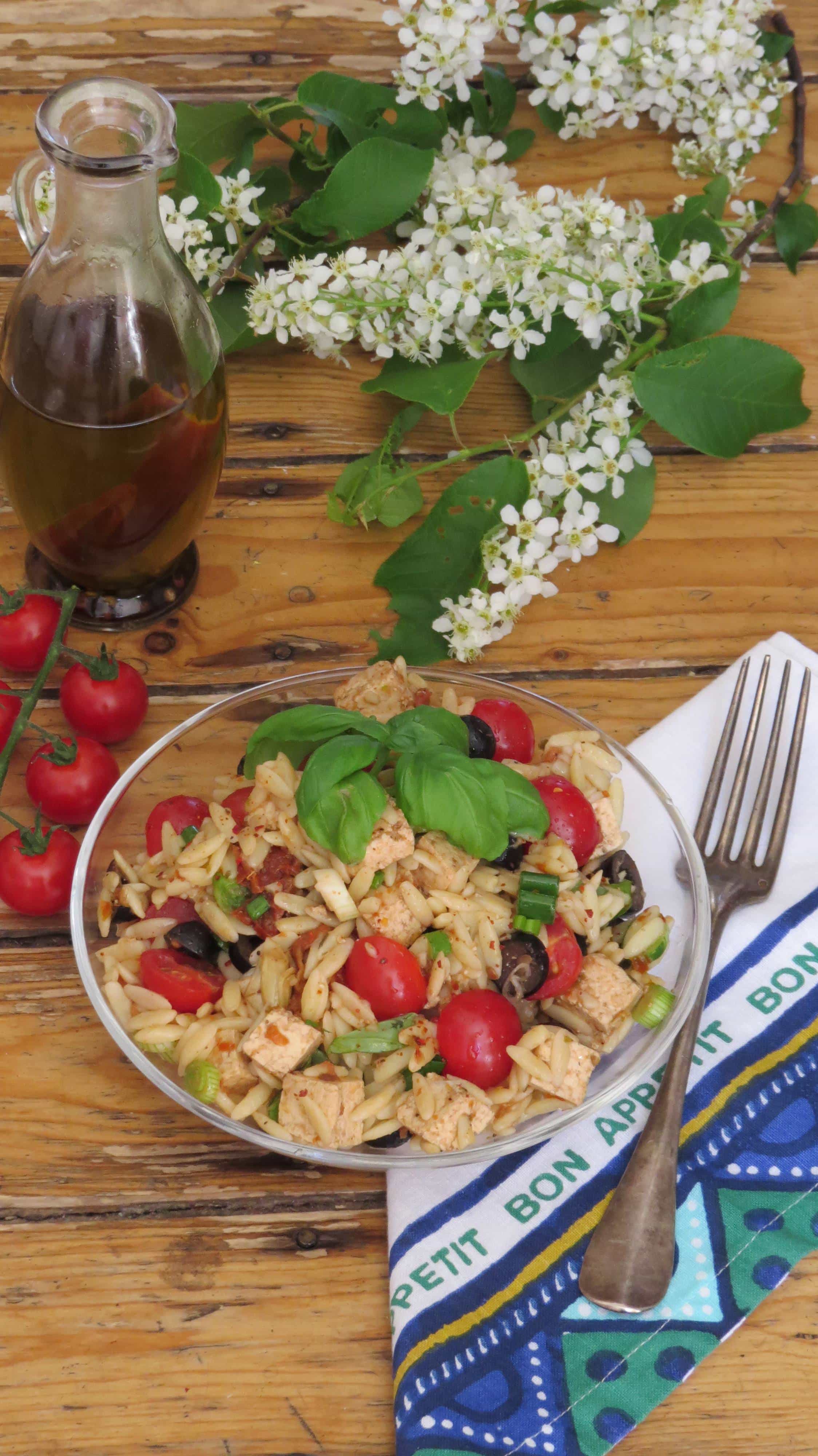 For the dressing, I used 1/3 cup of sun dried tomatoes in oil, balsamic vinegar, olive oil, garlic, and some water. I placed all ingredients in my blender and processed them until they were smooth. You can also use an immersion blender or any sort of food processor. I didn't add any more dried tomatoes to the salad, but I rather used fresh tomatoes instead.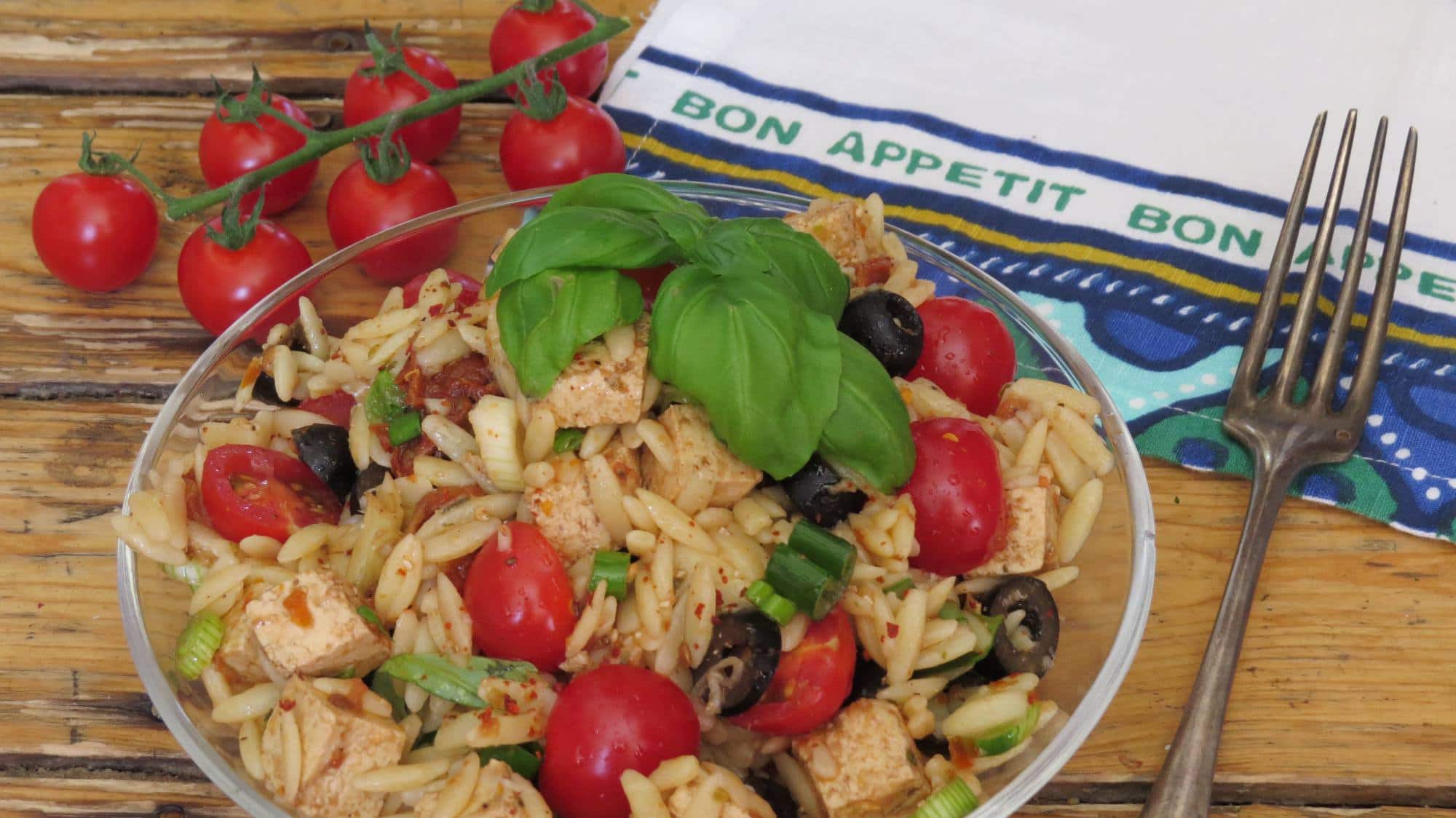 Mediterranean Orzo Salad
Recipe for an easy Mediterranean orzo salad with tomatoes, olives, artichokes and basil - This vegan salad is a great BBQ side dish! :-)
Print
Pin
Rate
Ingredients
For the Orzo Salad
2

cups

orzo

1

cup

cherry tomatoes

1

handfull

basil

1/2

cup

black olives

I used about 15 black olives

1/3

cup

artichokes in oil

2

green onions

1/2

block firm tofu (7 oz)

1

tablespoon

olive oil

1

tablespoon

balsamic vinegar

1

teaspoon

oregano

salt

pepper
For the Dressing
1

garlic clove, minced

2

tablespoons

olive oil

1

tablespoon

balsamic vinegar

2

tablespoons

water

1/3

cup

sun dried tomatoes in oil

I used about 5 dried tomatoes
Instructions
Cut the tofu into cubes and marinate for at least an hour in a mixture of one tablespoon of olive oil and balsamic vinegar and one teaspoon of oregano.

Cook the orzo according to the instructions on the package.

Prepare the dressing: Place the sun dried tomatoes, the olive oil, the balsamic vinegar, and the garlic into a food processor and process until smooth.

Cut the cherry tomatoes and the olives in halves. Chop the green onions into rings. Cut the artichokes into small pieces. Chop the basil leaves.

Rinse the cooked orzo with cold water. Add the salad dressing and stir in the remaining ingredients.

Season with salt and pepper and let it sit for a while. If you want, add some more balsamic vinegar.
Rate the recipe!
If you like this recipe, please leave a good rating! This will help other readers.