If you like hummus, you will LOVE this hummus pizza with artichokes, spinach, and olives. It's one of our favorite pizza recipes around here! The recipe for this hummus pizza was kindly sponsored by NOA.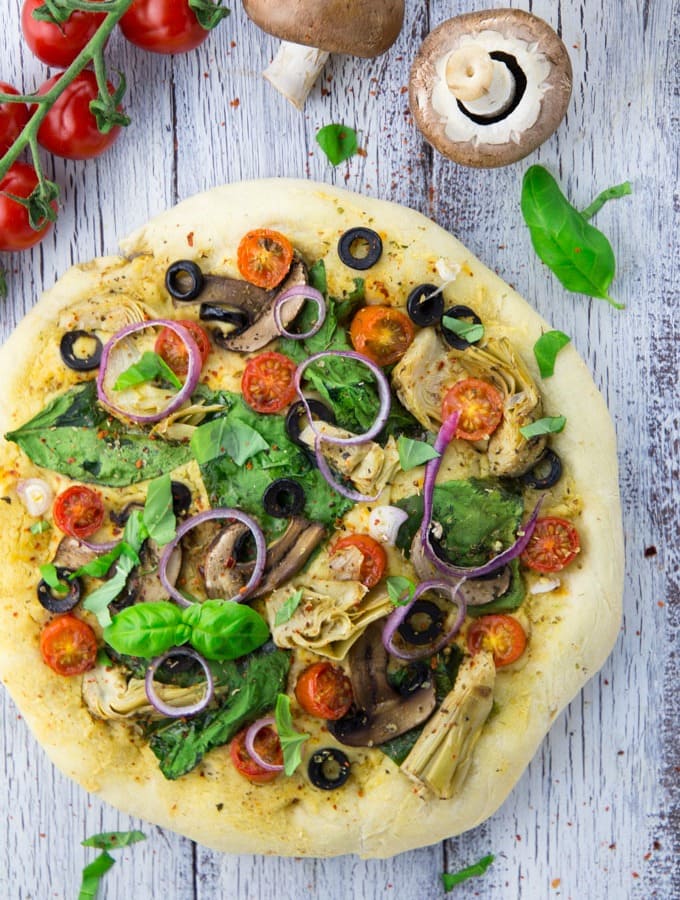 I love hummus and I love pizza. So I thought why not just make hummus pizza?! Instead of tomato sauce, I spread hummus on the pizza dough. I then added spinach, cherry tomatoes, mushrooms, artichokes, olives, and red onion. Boy, it turned out sooo delicious!!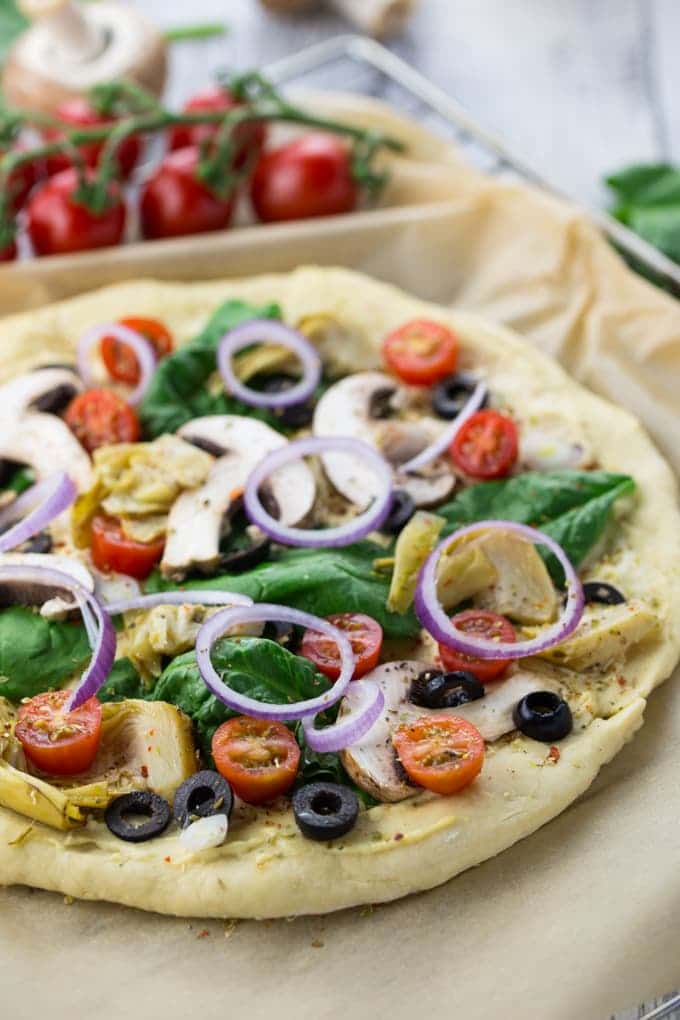 I just came home from Asia last week. Together with my mom, I spent three weeks traveling from India to Thailand and I still suffer from some kind of cold shock. I knew it would be cold when I got home, but I didn't expect it to be this cold. We had like 86 degrees and lots of sun, so it kinda feels like I'm living in Siberia right now. Haha! No, I'm exaggerating, but I definitely wasn't looking forward to the cold weather. But I sure was looking forward to having my own kitchen again and being able to cook my own food. Don't get me wrong, the food we had in Asia was amazing, but I really missed cooking.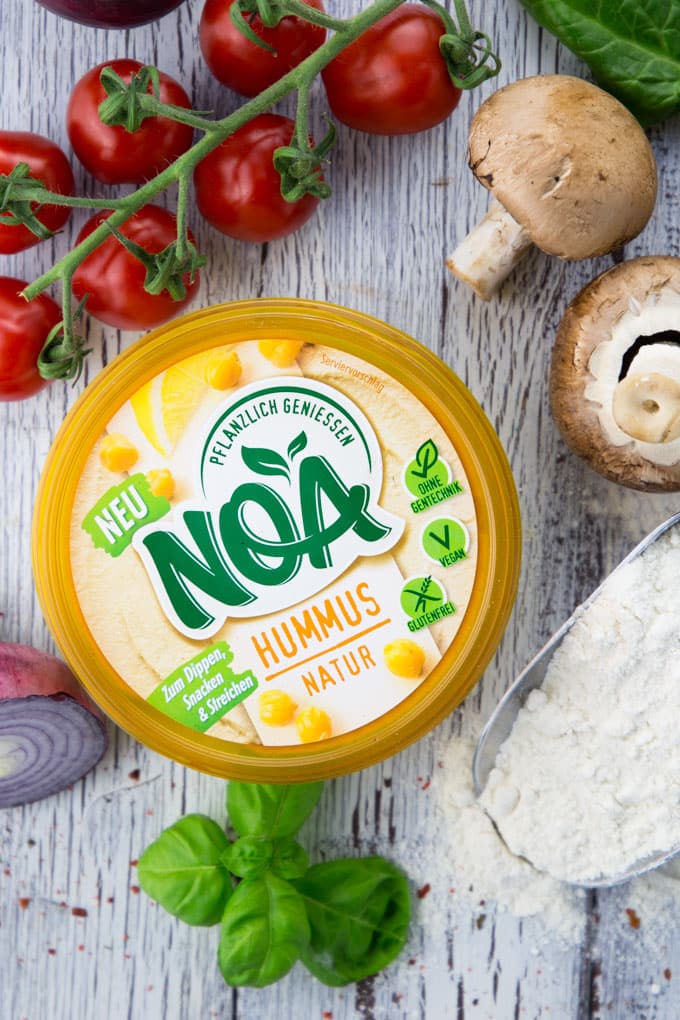 So when I got home, I got some delicious hummus and other healthy lentil and bean spreads waiting for me in the fridge. NOA sent me some of their new products to test and I couldn't wait to make some great recipes using their hummus. All of their spreads and dips are 100 % vegan and made with fresh and healthy ingredients. And they're so yummy! Right now, they offer four different spreads:
hummus
hummus with herbs (my favorite!)
lentil curry with quinoa
kidney bean red bell pepper with quinoa
You can either just eat them with bread or veggie sticks or you could get a bit more creative and use them for pasta dishes. I also love eating them with potatoes and salad. All of the four spreads are packed with protein, which makes them perfect for vegetarians and vegans.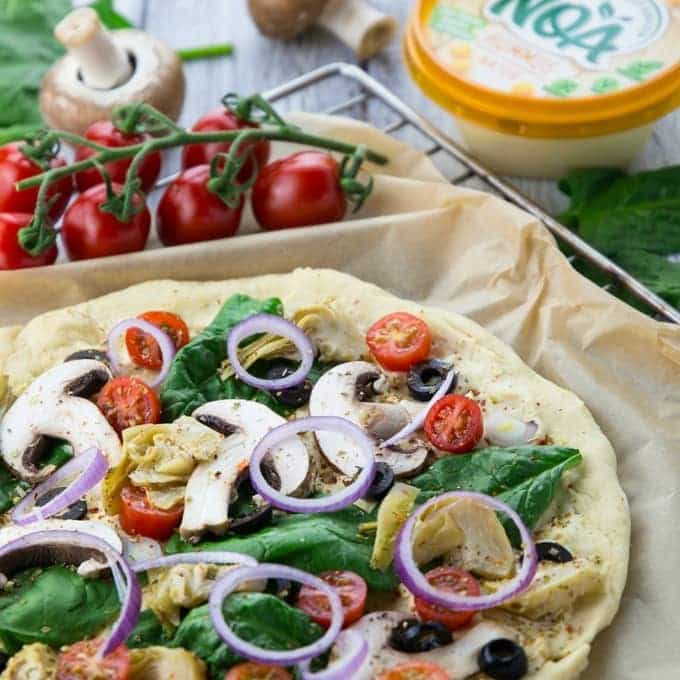 The hummus pizza was the first recipe I made after I got back from my vacation and I couldn't get enough of it! We enjoyed it with a big bowl of green salad and it made such a great dinner.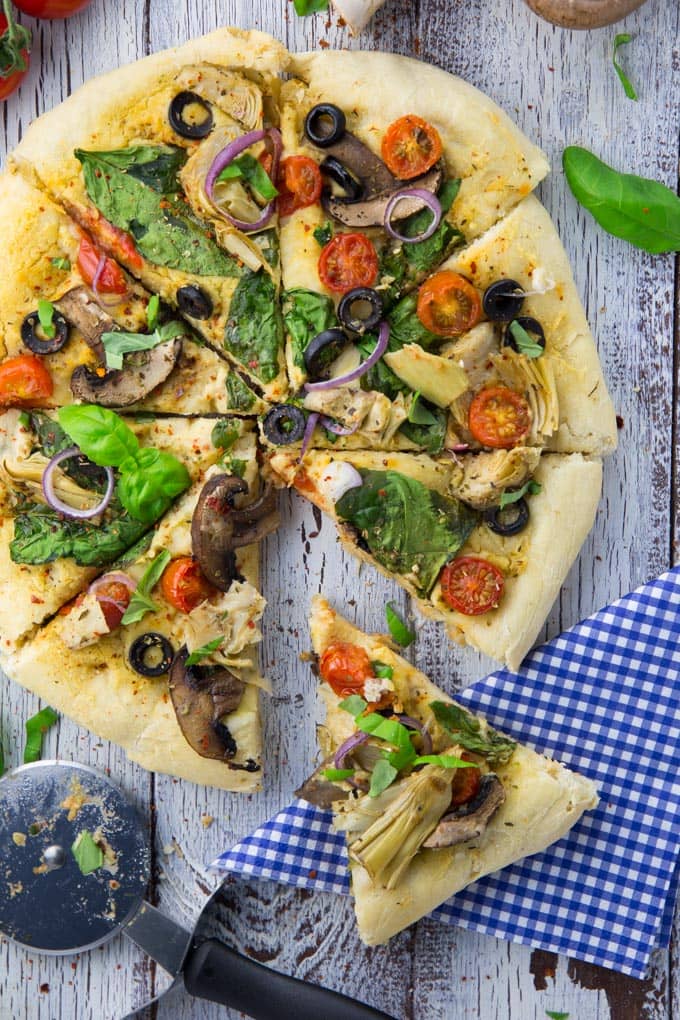 I made the pizza dough from scratch this time, but of course you can also use pre-made pizza dough instead. However, the recipe for the pizza dough really couldn't be much easier. All you need is flour, instant yeast, salt, and olive oil. The only thing is that it needs to rise for about an hour. So if you got enough time to wait for it to rise, I strongly recommend making your own pizza dough. It's really worth waiting!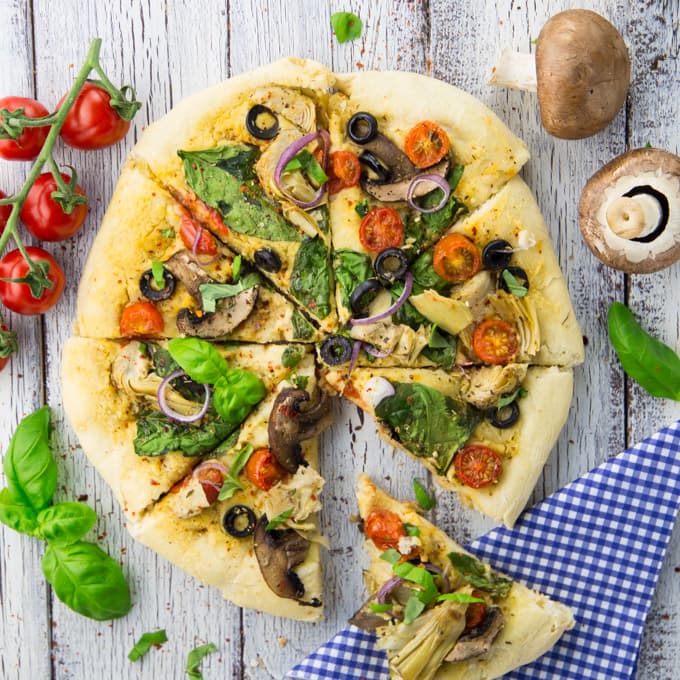 I Love To Hear From You!
I hope you like this hummus pizza as much as we do around here.
If you give it try, I'd love to know what you think about it. Just leave me a comment and a star rating below. Your comments really make my day! Also check out my vegan flammkuchen.
You like my recipes and want to see more? Then follow me on Facebook, Instagram, or Pinterest!
Sina
Hummus Pizza with Veggies
I love hummus and I love pizza. So I thought why not just try hummus pizza?! This veggie pizza with spinach, olives, and artichokes is one of my favorites!
Print
Pin
Rate
Ingredients
For the pizza dough:
3 1/2

cups

all-purpose flour

1

teaspoon

salt

1

teaspoon

instant yeast

1

pinch

sugar

3

tablespoons

olive oil

1

cup

lukewarm water
For the toppings:
1

cup

hummus

8-10

mushrooms, sliced

1

handful

fresh spinach

1/2

cup

black olives

1/2

cup

artichoke hearts in oil, roughly chopped

1/2

cup

cherry tomatoes, cut into halves

1/2

red onion, cut into rings

2

teaspoons

dried oregano

red pepper flakes, to taste (optional)
Instructions
First make the dough: In a medium-sized bowl, combine all dry ingredients. Then add the oil and the lukewarm water. Knead with your hands until you got a smooth dough. Form into a ball and cover the bowl with a damp cloth or plastic wrap. Place into a warm room and let it rise for about an hour until it has doubled in size.

Move the dough to a flour-dusted surface, divide the dough into two balls, and form it into two pizzas using your hands. Alternatively, you could also make one larger pizza.

Evenly spread the pizzas with the hummus and add the pizza toppings on top. Sprinkle with oregano and red pepper flakes. Bake for about 20 minutes at 350 °F. The baking time can vary depending on the oven you use.
Rate the recipe!
If you like this recipe, please leave a good rating! This will help other readers.