These fruit spring rolls with strawberries, kiwi, blueberries, and mango are the perfect dessert for hot summer days. I like them best with strawberry dipping sauce or chocolate sauce! They're super healthy, 100 % vegan, gluten-free, and you don't need any additional sugar. So yummy and easy!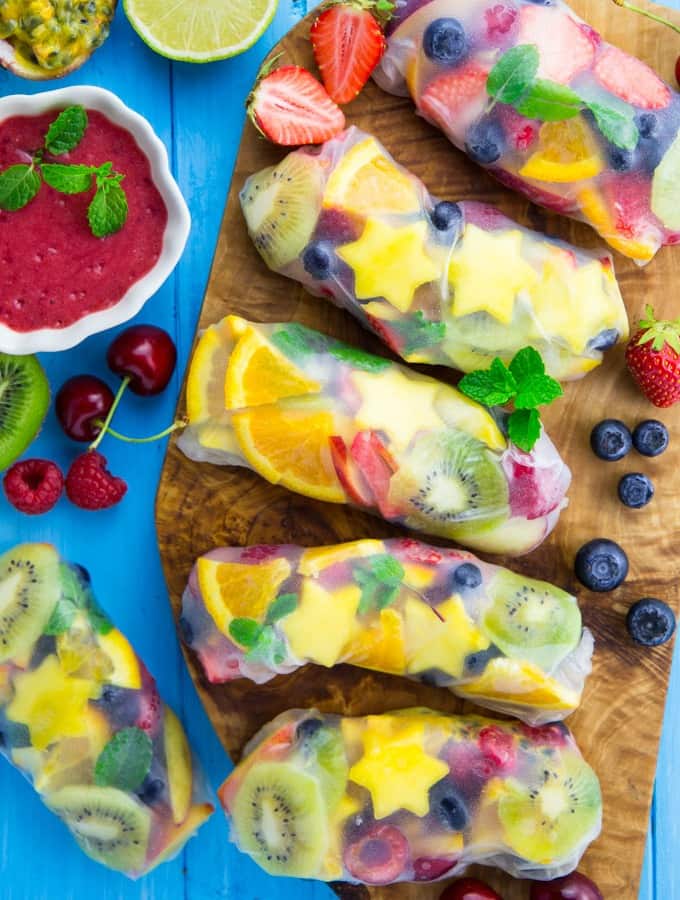 Okay, I LOVE summer rolls. I just love how light and healthy they are, which makes them absolutely perfect for summer. I mean duh! They're called SUMMER rolls. Haha! My vegan summer rolls with mango, mint, and peanut dipping sauce went absolutely crazy on Pinterest in the last couple of weeks. They're one of the most popular recipes on the blog right now. And I think this is well deserved. They're so DELICIOUS and super easy to make! We usually make these savory summer rolls about once or even twice a month. Sometimes I add smoked tofu or even BBQ tempeh. I guess it all depends on my mood or actually what's in our fridge.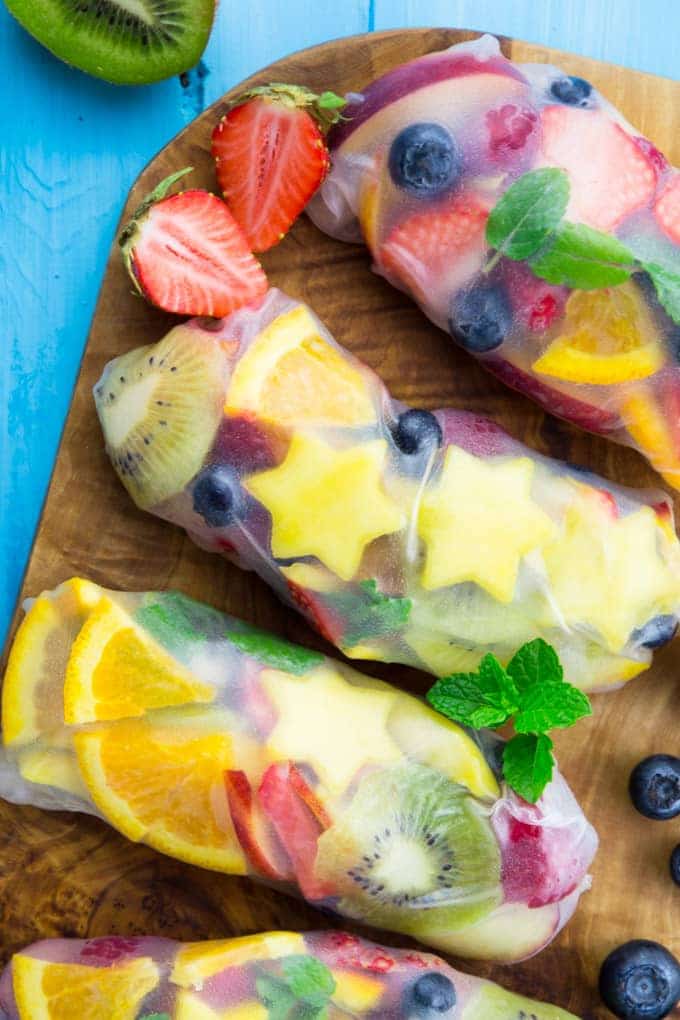 Fruit Spring Rolls – What You'll Need
So last week I thought why not try sweet summer rolls?! I mean they'd make a great and easy vegan summer dessert. So I ended up with these fruit spring rolls with tons of fresh fruits and a strawberry dipping sauce instead of our usual peanut sauce. And boy, were they good!
I got a little crazy with the fruits! For the vegan fruit spring rolls you can see in the pictures I used:
kiwi
strawberries
blueberries
cherries
raspberries
oranges
mango
peach
star fruit
passion fruit
and mint
But of course you can use any fruits you like or even use less fruits than I did! Just get creative… They're also amazing with chocolate sauce!!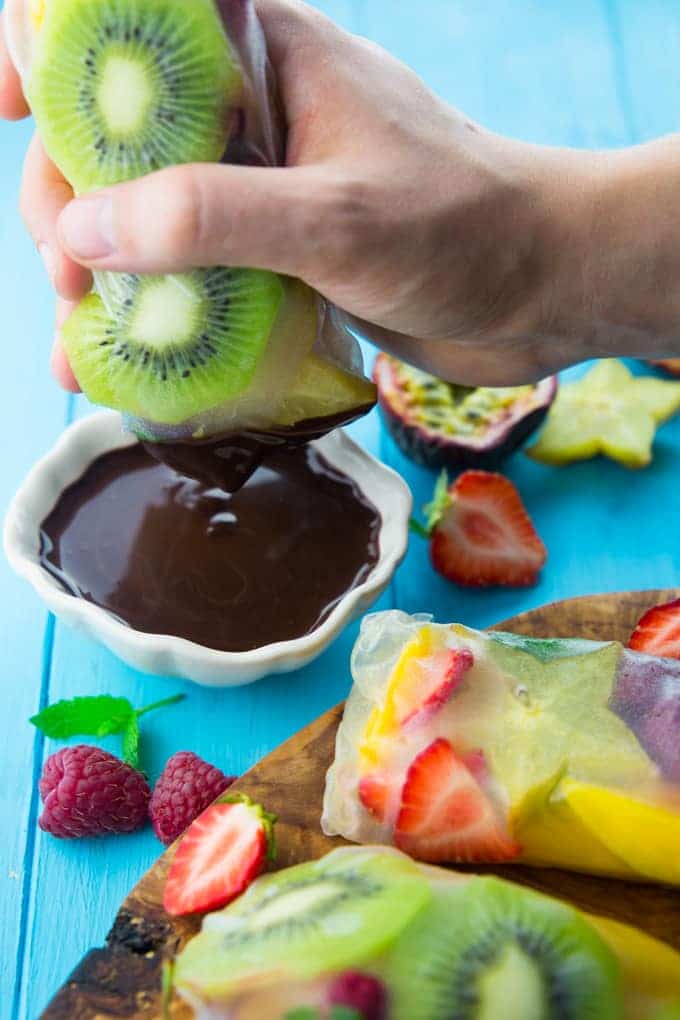 Just cut everything up and roll it into rice paper rolls. That's it! It's really super easy…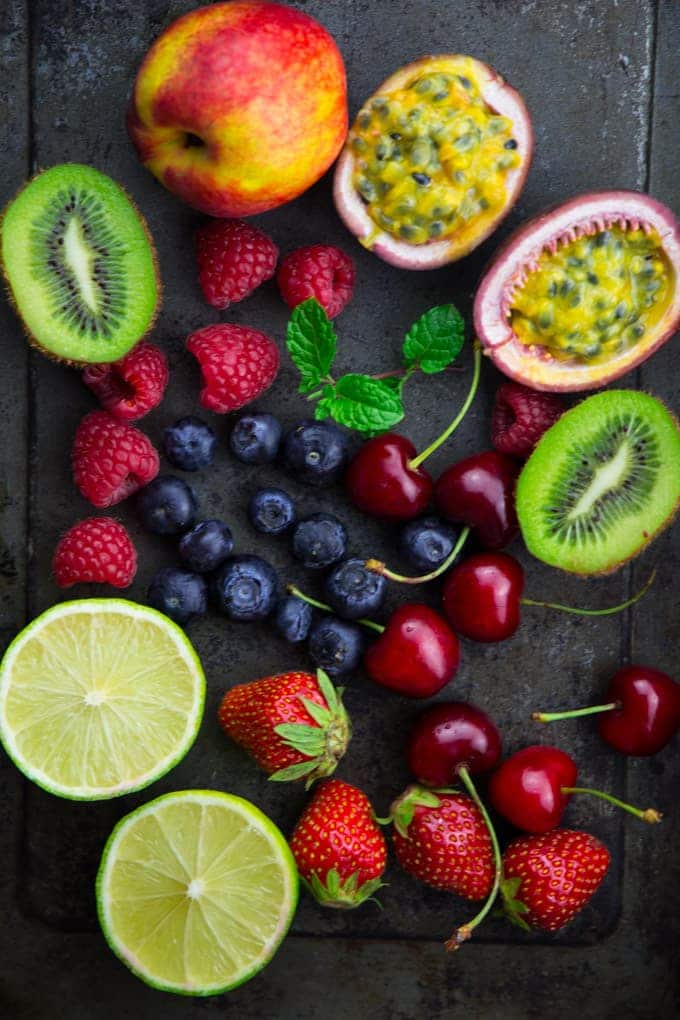 And don't they look amazing? I used a star-shaped cutter for the mango to make them even prettier. I don't have kids yet, but I imagine this would be so much fun making with young children! WE even had lots of fun making them! I was at my parent's house sitting their dog when I made them together with my brother.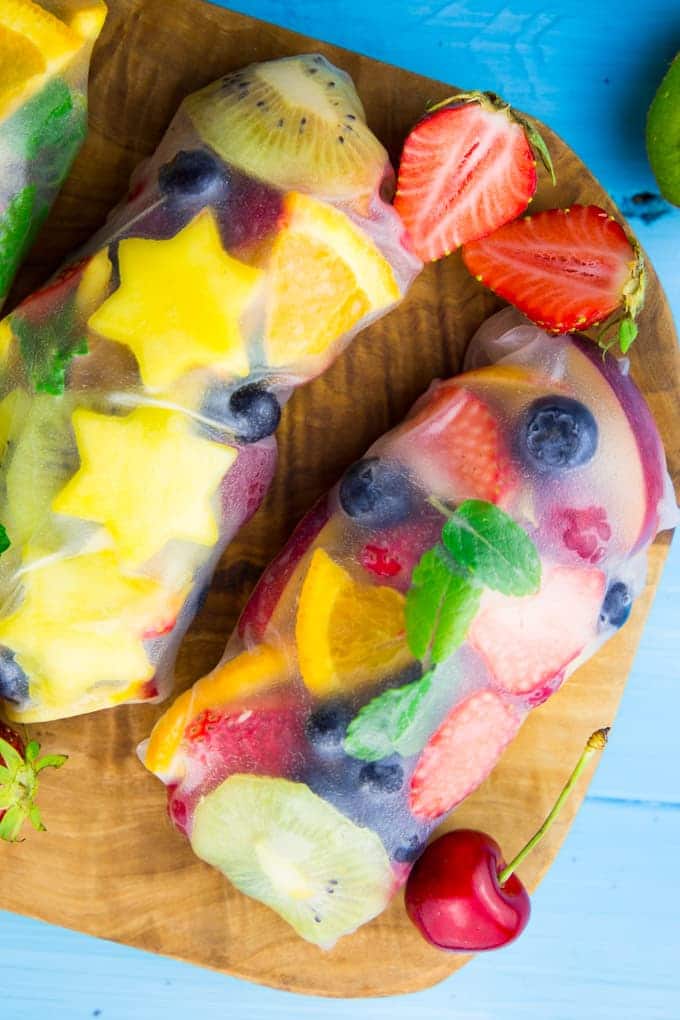 Let me know if you give them a try. I always love seeing your Vegan Heaven creations on Instagram and reading your comments on the blog!
Have a great start into the new week, everyone!
Sina – xx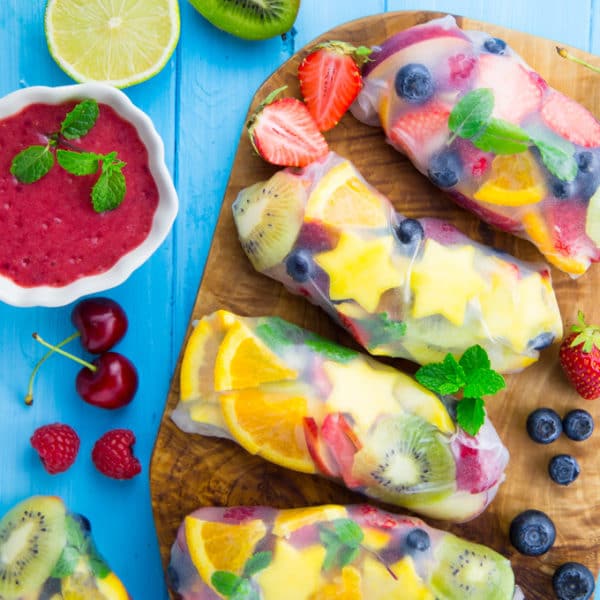 For the fruit spring rolls:
| | |
| --- | --- |
| For the fruit spring rolls: | |
Cut all fruits in small pieces. If you want you can use a star-shaped cutter for the mango.

When you're done cutting the fruits, fill a shallow bowl with water and dip the rice papers in water so they get moderately wet on both sides. Don't let them soak too long, so they don't get too soft.

When you soaked the rice papers, fill them with the fruits and wrap them like a burrito. I think it's best to center the filling and then roll it up and fold in the two side flaps.

Then make the strawberry dipping sauce: Put the strawberries and the passion fruit in a blender and process until smooth. Alternatively you can serve them with melted dark chocolate.

Serve the fruit spring rolls with the strawberry dipping sauce or the chocolate sauce. Or both. ;-)