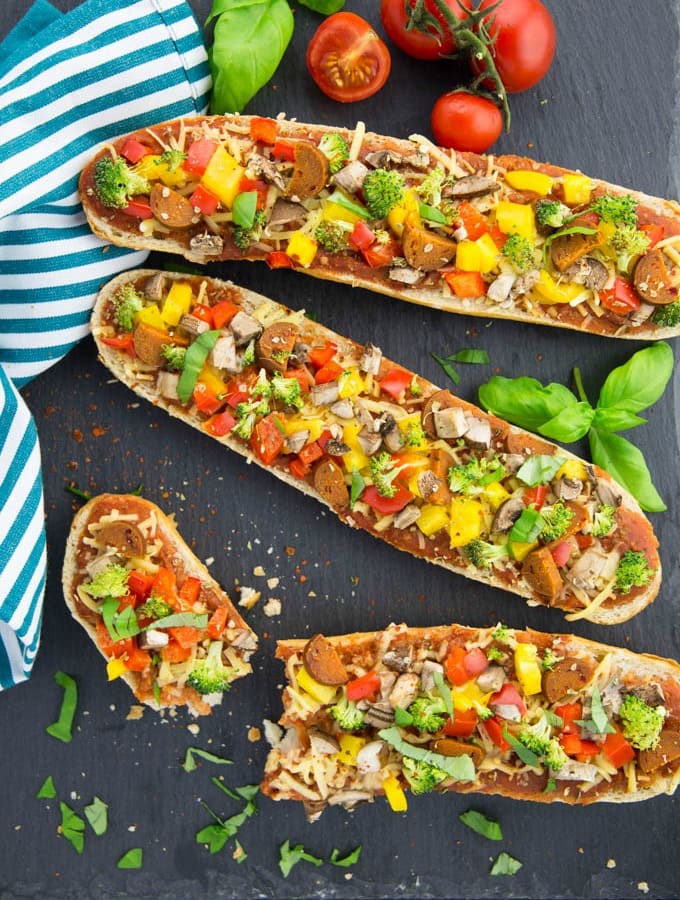 Vegan French bread pizza?!  This is one of my favorite ways to eat pizza these days. So as you can probably guess by its name, it's pizza on a baguette instead of pizza dough. You just cut the baguette into halves lengthwise, spread the pizza sauce on top, and use any topping you want. We used broccoli, red and yellow bell pepper, mushrooms, vegan pepperoni, and vegan cheese. This seriously is vegan comfort food at its best!!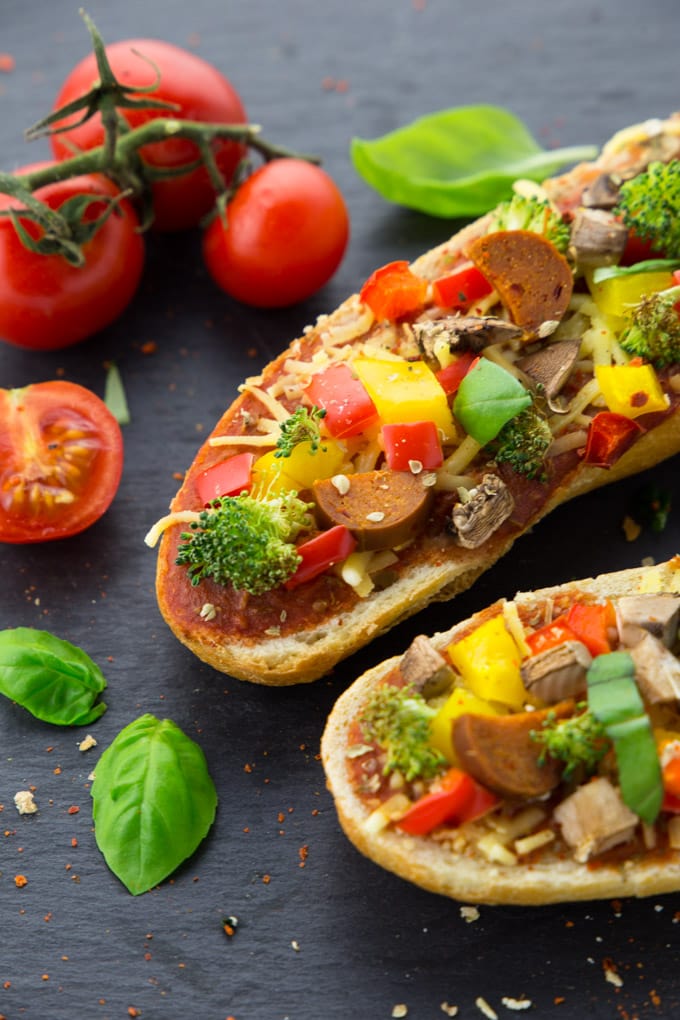 I really can't get enough of this French bread pizza with veggies. We already tried several versions, but this one is by far our favorite. Mostly because it reminds us so much of our time at high school. We are high school sweet hearts and started dating in grade 12. Wow, how time flies! Now more than seven years later, we're engaged and off to new adventures…
But back to the food. So, we had a similar version of this vegan French bread pizza at our school cafeteria. Of course with real pepperoni and cheese. I actually didn't have it very often as I became vegetarian when I was 15, but it was a real "thing" at our school. Flo even had it like once or twice a week. So about a year ago when we were making pizza, Flo came up with the idea of veganizing the French bread pizza from our school days. And who am I to deny a grown man his pizza baguette, right? Haha!
So we started experimenting a bit with different toppings and absolutely loved this one. It's super easy to make, incredibly delicious and crunchy, and ready in only 15 minutes. Serve it along with a green salad and you got a great and delicious meal.
Let me know if you give this vegan French bread pizza a try. As always, I love hearing from you guys! Have a great week!
Sina – xx
Vegan French Bread Pizza
This vegan French bread pizza is incredibly delicious, crunchy, and ready in only 15 minutes! Perfect for quick weeknight dinners!
Print
Pin
Rate
Ingredients
3

baguette buns or 1 French baguette

1/2

red bell pepper, cut into small pieces

1/2

yellow bell pepper, cut into small pieces

about 6

mushrooms, cut into small pieces

1/4

cup

vegan pepperoni, cut into small pieces

1/2

cup

vegan cheese

1 1/2

cups

tomato sauce

1

teaspoon

dried basil

1

teaspoon

dried oregano

1

clove of garlic, minced

salt

black pepper
Instructions
Preheat the oven to 350 °F. Cut the baguette buns or the French baguette lengthwise into halves.

In a bowl, combine the tomato sauce, basil, oregano, garlic, and season with salt and pepper.

Spoon on the tomato sauce, sprinkle with vegan cheese, and place the toppings on the French bread pizza. Bake for 8 minutes. Serve with a green salad.
Rate the recipe!
If you like this recipe, please leave a good rating! This will help other readers.