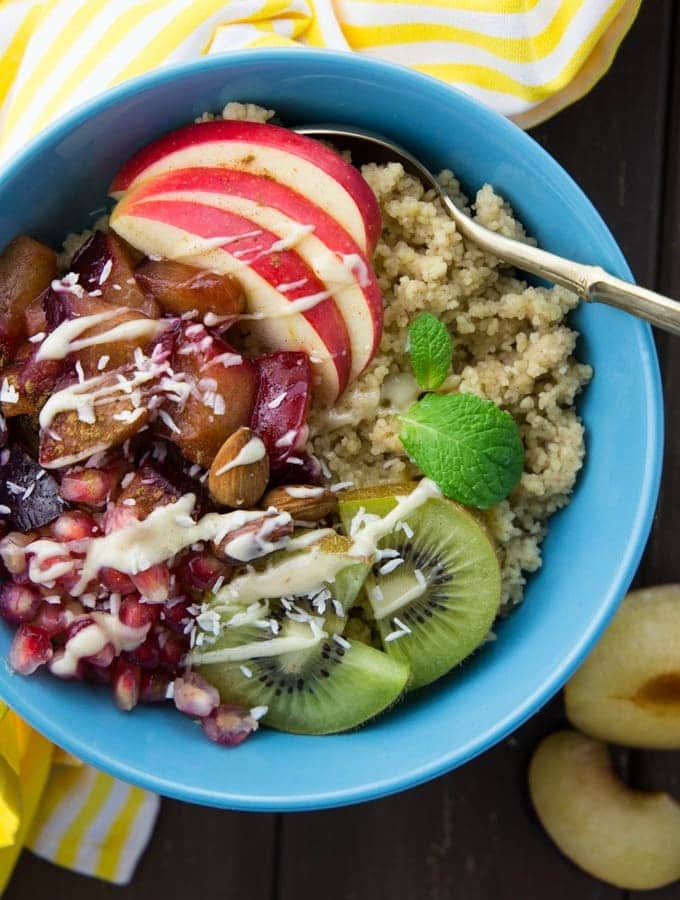 I've wanted to try sweet couscous for like ever. But somehow I always chose hearty couscous dishes like couscous salad over sweet couscous. Now I finally made this couscous dessert bowl with cinnamon plums, pomegranate, and almond butter. And it turned out sooo delicious and comforting!!
It's best served warm with a good pinch of cinnamon and a glass of almond milk or green tea. Yummy! I'm a huge fan of couscous, mostly because it's super easy to make. Over the last couple of years it has definitely become a staple in our kitchen. I love making a simple couscous salad with tomatoes, cucumber, and looooots of fresh parsley for BBQs and picnics. And it's also great with ratatouille or curries.
Of course you could also call this couscous dessert bowl a couscous breakfast bowl. And isn't it just awesome that you can have dessert for breakfast and still eat super healthy?! If you want it to look a bit more fancy, for example for Thanksgiving or Christmas, you could also serve it in dessert glasses and make different layers of couscous and fruits. It's also super delicious with homemade coconut whipped cream.
I'm usually not a big breakfast person. Most of the time I'm perfectly happy with my daily green smoothie with kale, bananas, and maybe some berries and ginger. But now as it's getting colder I love having a warm breakfast. Usually it's either overnight oats or millet porridge with fruits, but this fruit couscous was such a great change! I just checked the weather app on my cell phone and can you believe it's supposed to be snowing on Wednesday and Thursday?! Snow in early November just doesn't sound right! I definitely see more warm breakfasts coming soon…
The night before I made this breakfast couscous bowl, Flo and I just made a new batch of almond butter, so of course I had to add it to the sweet couscous. We used our blender to make it and although it always turns out super creamy, I always swear that it's the last time we're making it at home. It just takes foreeeever to make almond butter with our blender (we got an Omniblend V). But it's so much cheaper than buying it at the store and I just love the feeling when it's finally done and you got this super smooth nut butter… Haha!
I hope you like this couscous dessert bowl as much as I do. Have a great start into the new week, everyone!
Sina – xx
Couscous Dessert Bowl
This couscous dessert bowl with cinnamon plums and almond butter comes together in only 10 minutes. It also makes a great and comforting breakfast!
Print
Pin
Rate
Ingredients
Sweet Couscous:
1

cup

couscous

1 1/2

cups

almond milk or other plant-based milk

1

teaspoon

agave

1/2

teaspoon

cinnamon
Fruit Topping:
2

plums, cut into pieces

1

tablespoon

water

1

teaspoon

agave

1

teaspoon

cinnamon

1

apple, cut into slices

1/2

cup

pomegranate seeds

1

kiwi, cut into slices

2

tablespoons

almond butter

1/4

cup

almonds

2

tablespoons

coconut flakes

more cinnamon, to sprinkle
Instructions
In a medium pot, combine the almond milk with the cinnamon and the agave and bring it to a boil. Remove the pot from the heat and stir in the couscous. Let it sit for about 10 minutes.

In the meantime, prepare the cinnamon plums. In a small pot combine the plums, the cinnamon, the water, and the agave and cook for about 5 minutes.

Once the couscous is ready, fill it into bowls and serve with the almonds, the fruits, and the almond butter. Sprinkle with coconut flakes and some more cinnamon.
Rate the recipe!
If you like this recipe, please leave a good rating! This will help other readers.