These 15 fresh and easy summer salads are just perfect for hot days! All recipes are vegan, easy to make, and most of them are pretty health as well.
Is there anything better than a fresh and light salad and a refreshing drink on a hot summer day? I don't think so! To provide you with a list of the best summer salads, I teamed up with some fellow food bloggers.
So many yummy recipes in just one place! I just want to try all of these recipes at once…
I'm sure we've got a salad for every taste. We've got a few vegan pasta salads, bean salads, quinoa salads, and so much more.
So let's get started! As always, click on the heading above each photo to see the actual recipe.
This Southwestern pasta salad with avocado, black beans, and lime dressing is one of my new favorites. It's not only super easy to make, but also healthy. It's a great addition to any BBQs and potlucks!
This cowboy Caviar by Verna from The Cheeky Chickpea is a combination of a bean salad and a fresh tomato salad. It's healthy, ready in just 15 minutes, gluten-free, and of course vegan.
This easy Greek pasta salad is perfect for BBQs and picnics! It's fresh, easy to make, healthy, and vegan. The perfect recipe to make for your next party or potluck!
Are you looking for a healthy salad that is packed with flavor? Then you should try this easy Thai quinoa salad by Mary Ellen from V Nutrition. It's a great combination of quinoa, chickpeas, red cabbage, carrots, and cilantro. And don't forget the creamy peanut sauce.
This asparagus pasta salad with strawberries and balsamic dressing is the perfect spring and summer recipe! I love making it for potlucks, picnics, and BBQs! It's vegan, healthy, and ready in just 20 minutes.
Oh how I love pasta salads! Doesn't this creamy vegan macaroni salad by Sarah from My Darling Vegan look delicious? It's made with elbow macaroni, carrots, celery, bell pepper, and peas in a creamy garlic sauce.
This vegan potato salad with pickles and celery is perfect for summer BBQs and picnics. It's a vegan version of classic American potato salad that will have everyone coming back for more!
This lemon orzo salad by Sarah from My Darling Vegan is another great summer salad. It's a combination of fresh herbs, cucumbers, toasted pine nuts with a lemon garlic dressing. It's ready in 20 minutes!
This quinoa black bean salad makes the perfect lunch and it's also great for BBQs and potlucks! It's so easy, entirely vegan, and super healthy!
This Southwestern salad with chile lime tofu nuggets and cilantro lime avocado dressing by Julianne from No Sweat Vegan is totally calling my name. It's filling, healthy, and packed with flavor!
11. Mexican Salad
This Mexican salad with cilantro lime dressing makes a great side for BBQs and it's also perfect for lunch. The recipe couldn't be much easier and it's packed with nutrients. Easy, healthy, and delicious at the same time!
This Mediterranean vegan ravioli salad is just perfect for hot summer days! It's super easy to prepare, fresh, healthy, and so delicious.
I think quinoa is just the perfect base for healthy summer salads! This quinoa tabouli by Alex from It's Not Complicated is a great example. It's healthy, full of flavor, gluten-free, and of course vegan.
This Mexican street corn salad with chipotle dressing makes such a great BBQ side! It's spicy, tangy, and super easy to make. Plus, it's entirely vegan and gluten-free.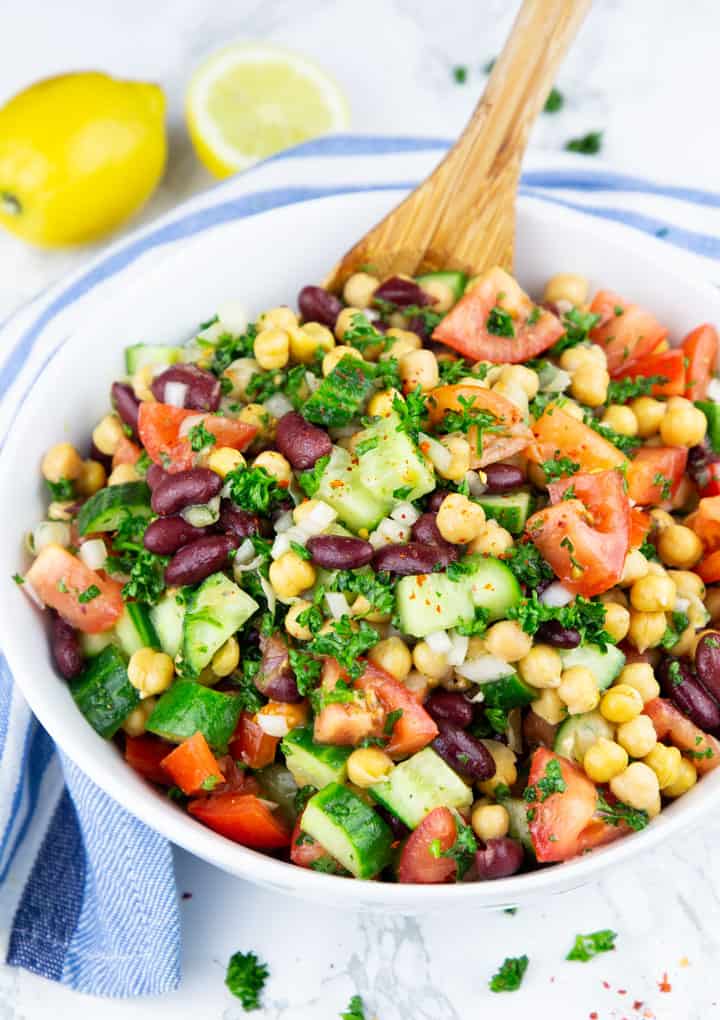 This vegan chickpea salad with kidney beans, tomatoes, and cucumber is one of my favorite salads! It's the perfect addition to BBQs and potlucks, it's super healthy, and very easy to make. 10 minutes is all it takes!
I Love to Hear From You Guys!
I hope you enjoy these salads as much as I do! Don't forget to pin or share this post so you have these vegan bowls ready when you need them!
If you give any of these recipes a try, I'd love to know what you think about it. Just leave me a comment below. Your comments really make my day!
You like my recipes and roundups and want to see more? Then follow me on Facebook, Instagram, or Pinterest!
Sina