I can't believe Thanksgiving is less than a month away! With these 38 festive vegan Thanksgiving recipes it's absolutely no problem to skip the turkey! I teamed up with some fellow food bloggers to provide you with an awesome list of vegan Thanksgiving recipes that will even impress meat eaters! We got several festive vegan main dishes, vegan sides, salads, appetizers, desserts, and even some festive Thanksgiving drinks for you. All 100 % plant-based and incredibly delicious!!
We got you covered with:
several vegan lentil loaves and even a seitan roast
crispy potato recipes
and of course pumpkin recipes!! We got them all! Vegan pumpkin cheesecake, vegan pumpkin pie, vegan pumpkin cookies, and pumpkin bread. And of course pumpkin soup
lots of different roasted veggies, like carrots and Brussels sprouts
vegan appetizers, like walnut falafel with cranberry pear sauce and broccoli tots
and let's not forget about dessert! How do chocolate cupcakes with orange frosting or cinnamon white chocolate cheesecake sound? Of course all vegan!
Did I make you hungry yet? Then let's get started with all the deliciousness!
38 Festive Vegan Thanksgiving Recipes That Will Impress the Whole Family
Vegan Thanksgiving Lentil Loaf with Gravy and Sweet Potato Pumpkin Casserole (Whole Menu)
Crispy Garlic Smashed Baby Potatoes by Marie from Yay For Food
Mushroom and Chestnut Stuffed Seitan Roast with Gravy by Evi from Green Evi
Festive Vegan Falafel with Cranberry Pear Sauce
Vegan Pumpkin Cheesecake by Marina from Yummy Mummy Kitchen
Vegan Lentil Loaf by Marina from Yummy Mummy Kitchen
Vegan Baked Cauliflower by Lauren from Lauren Caris Cooks
Easy Vegan Pumpkin Cheesecake by Monica from the Movement Menu
Vegan Pumpkin Bread with Cranberries and Pumpkin Seeds
No Oil Crispy Roasted Potatoes by Melanie from A Virtual Vegan
Cinnamon White Chocolate Cheesecake by Florian from Contentedness Cooking
Vegan Stuffed Squash by Melissa from The Stingy Vegan
Vegan Pumpkin Cookies with Chocolate Chunks
Spicy Vegan Barbecue Lentil Loaf by Brandi from The Vegan 8
Vegan French Toast with Caramelized Bananas and Berries by Lauren from Lauren Caris Cooks
Veggie Salad with Broccoli and Mushrooms
Roasted Butternut Squash Salad with Quinoa by Julia from Happy Food Stube
Smoky Maple Roasted Carrots by Sophia from Veggies Don't Bite
Slow Cooker Cranberry Apple Cider with Cinnamon by Julia from the Savory Tooth
Pasta with Brussels Sprouts and Cranberries by Robyn and Simply Fresh Dinners
Vegan Thanksgiving Vegetable Crescent Roll Ring by Dianne from Dianne's Vegan Kitchen
Fragrant Toasted Almond Rice Pilaf by Sue from The View from Great Island
Broccoli Tots by Caroline from Pickled Plum
Millet Porridge with Cranberry Sauce (also great as a dessert!)
Pan-Fried Bread Dumplings by Bianca from Elephantastic Vegan
Cumin Spiced Carrots by Josh and Katie from Delightful Vegans
Lentil Loaf with Gravy with Aimee from Wallflower Kitchen
Vegan Pumpkin Pie by Marina from Yummy Mummy Kitchen
Balsamic Roasted New Potatoes with Asparagus with Aimee from Wallflower Kitchen
Smoky Southern Style Meatless Meatloaf by Linda from Veganosity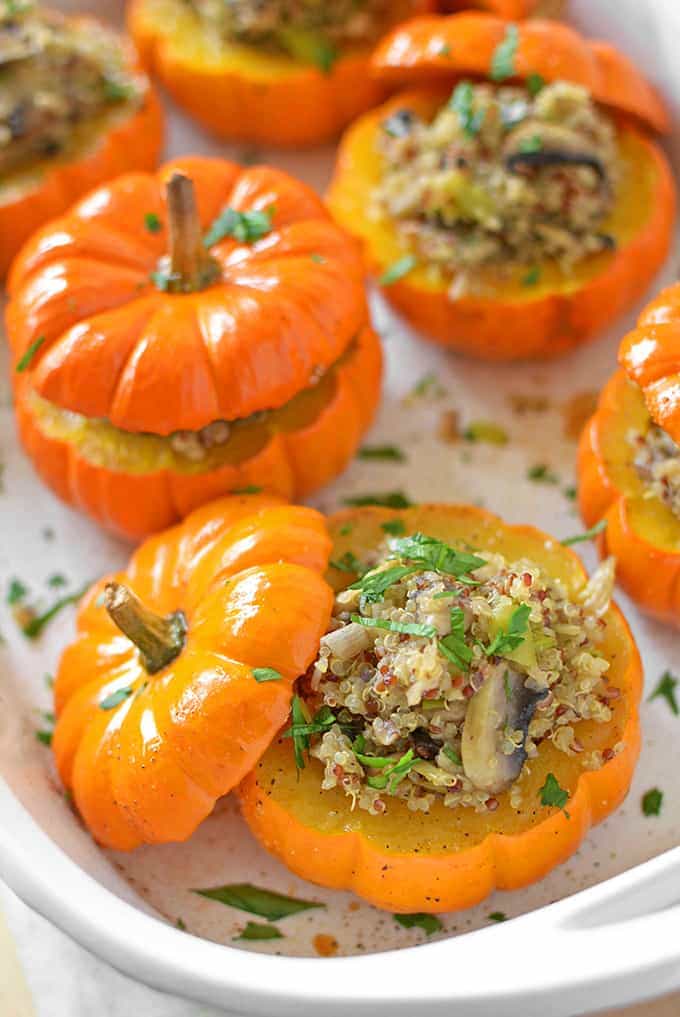 Savory Mushroom and Quinoa Stuffed Pumpkins by Rachel from Simple Seasonal
Easy Vegan Pumpkin Soup by Monica from The Movement Menu
Chocolate Cupcakes with Orange Frosting by Sonia from Sweet Sensitive Free
Vegan Scalloped Cauliflower by Sophia from Veggies Don't Bite
Maple Cinnamon Cranberry Pear Sauce by Jenn from Veggie Inspired
Sweet Potato Casserole by Florian from Contentedness Cooking