If you're a breakfast fan, you gotta check out these 27 vegan breakfast recipes! A good breakfast can set the tone for your whole day. So start the day off right with one of these amazing sweet and savory vegan breakfast recipes. From vegan banana pancakes to vegan lox bagels – we got something for every taste!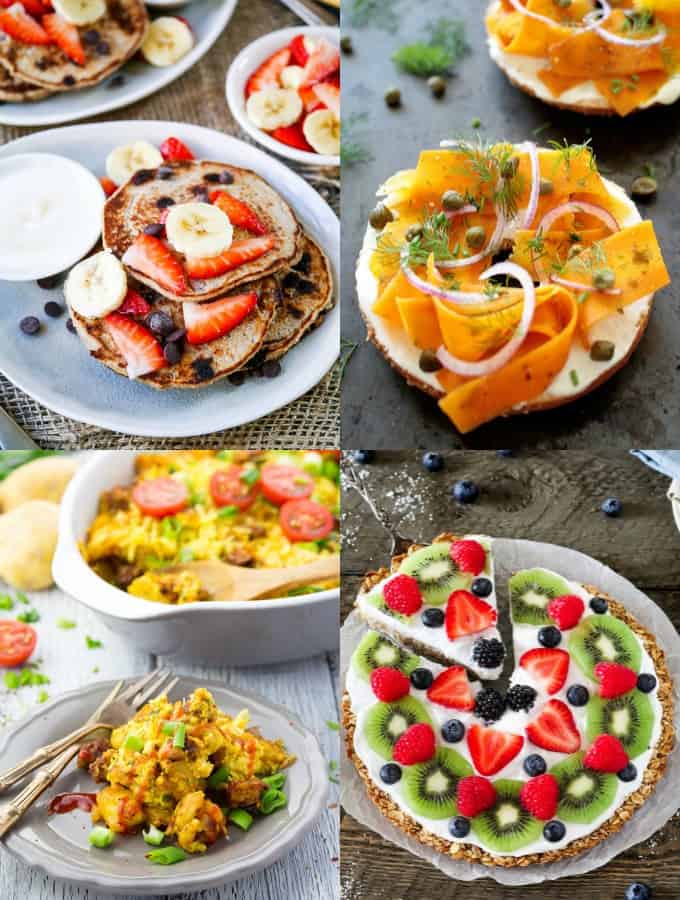 This weeks's roundup is all about breakfast recipes! I know so many people who go totally crazy about breakfast. Some even say it's their favorite meal of the day. While I wouldn't say it's my favorite meal, I sure LOVE a good breakfast. As you probably noticed if you've been following my blog for a while, I'm more a dinner kind of girl. Haha! That sounds weird, but I really love savory meals!
However, I also believe in having a good breakfast, so it's about time to post a giant roundup of vegan breakfast recipes on the blog! As always, I teamed up with some talented fellow foodies to provide you with this stunning list.
My usual breakfast consists of a green smoothie with kale and some kind of muesli. Mostly rolled oats with flax and hemp seeds, nuts, and fresh fruits. But on the weekends I don't mind some fancier kind of breakfast.
We've got you covered with:
sweet vegan breakfast muffins
vegan pancakes and waffles
homemade English muffins
vegan parfaits and overnight oats
homemade cereal
and tons of savory vegan breakfast recipes like tofu benedict, biscuit and gravy, chickpea flour omelet, and so much more!
So let's get started with all the vegan yumminess!
27 Delicious Vegan Breakfast Recipes (Sweet & Savory)
Tempeh Potato Breakfast Casserole 
Vegan Baked Blueberry French Toast Breakfast Muffins by Sophia from Veggies Don't Bite
Sweet Potato Muffins with Blueberries
Vegan Chocolate Chip Banana Pancakes by Monique from Nourish Everyday
French Toast without Milk and Eggs
Vegan Salmon Bagel by Evi from Green Evi
Homemade English Muffins by Melanie from A Virtual Vegan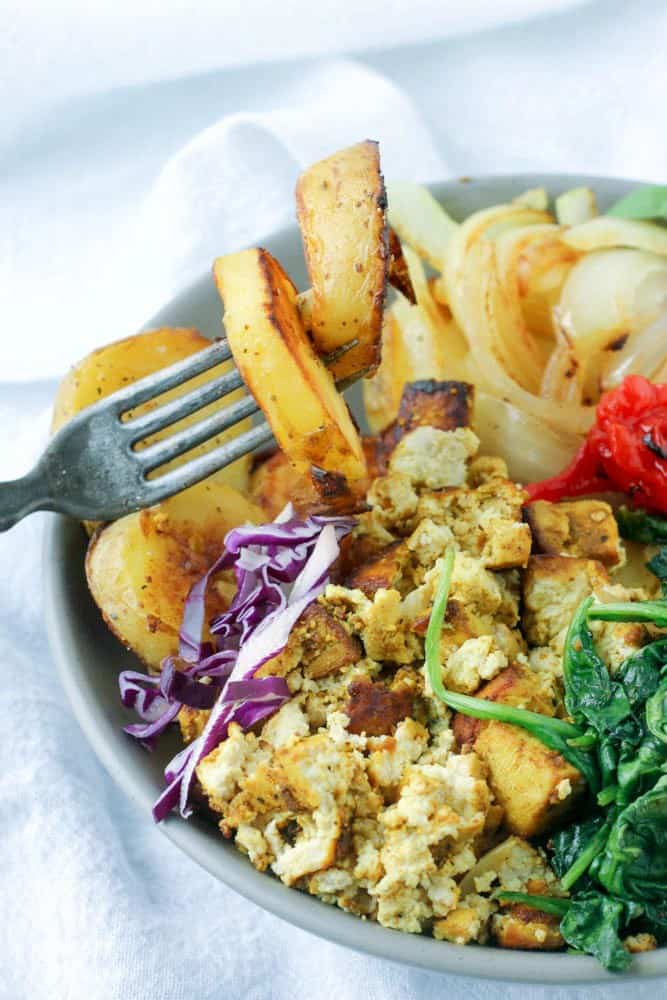 Savory Potato Breakfast Bowl by Nicole from Allergylicious.
These Carrot Cake Overnight Oats are the perfect breakfast for busy people! The carrots take your plain, old overnight oats to the next level.
Gorgeously Simple Sweet Potato Toast by Amanda from My Goodness Kitchen. I totally love the idea of using sweet potatoes as toast! It makes your normal breakfast so much healthier and tastes fantastic.
Lemon Poppyseed Pancakes by Jenn from Veggie Inspired.
Banana-Free Smoothie Bowls by Natalie from Feasting on Fruit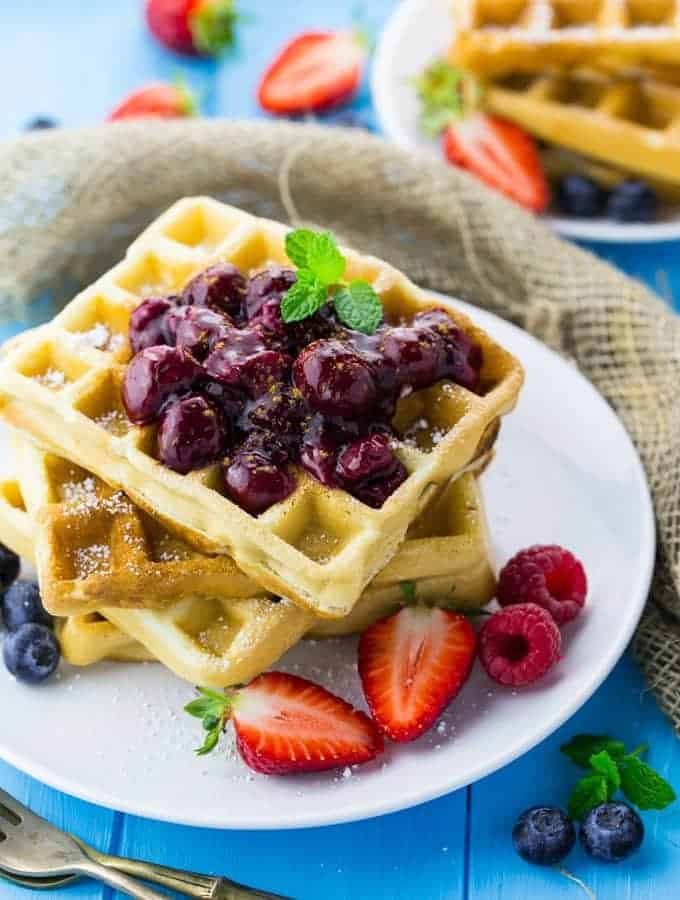 Eggless Waffles with Cherry Sauce
Easy Basic Savory Crêpes by Audrey from Unconventional Baker
Healthy Fruit Pizza by Melissa from Vegan Huggs
Chickpea Scramble Breakfast Bowl by Sarah from Well and Full
Healthy Sweet Potato Muffins by Amanda from Heart Beet Kitchen
Fruit Muesli Yogurt Parfait by Diana and Natalie from Little Sunny Kitchen
 Vegan Buckwheat Waffles with Rhubarb Raspberry Compote by Lara from Vanilla Crunnch
3 Ingredient Chocolate Cereal by Sara from Beaming Banana
Tofu Benedict Fillo Pockets by Jackie from Vegan Yack Attack
Paleo Vegan Acai Bowl by Monica from The Movement Menu
Vegan Coffee Cake (Gluten-Free and Oil-Free) by Natalie from Feasting on Fruit
Vegan Pancakes by Renana from Renana's Kitchen
Biscuits and Gravy (Vegan and Gluten-Free) by Michelle from Healthier Steps
Vegan Cinnamon Sugar Doughnuts by Sara from Beaming Banana
Vegan Chickpea Flour Omelet by Rebecca from Strength and Sunshine
Breakfast Potato Polenta Bowl by Melissa from The Stingy Vegan