If you're looking for vegan Thanksgiving recipes, this is the right place for you! It's absolutely no problem to skip the turkey with these delicious Thanksgiving appetizers, salads, mains, and desserts and to have a meatless Thanksgiving instead. Just show your family and friends how delicious vegan food can be!

Wow! It's almost November, so Thanksgiving is just around the corner. It's one of the greatest times of the year, but family dinners can also get quite stressful. Especially when you're vegan and people ask you why you won't eat turkey and other Thanksgiving classics.
I think the best thing in these situations is to show them how incredibly delicious and versatile vegan Thanksgiving recipes can be. I can promise you nobody will even think about the bird while they fill up on these festive vegan dishes.
Together with some talented fellow food bloggers, I put together a stunning roundup of 28 vegan Thanksgiving recipes for you to impress your family and friends. So let's make this Thanksgiving a Plantsgiving!
As always, click on the heading above each photo to see the recipe!
28 Vegan Thanksgiving Recipes that Will Impress Meat Eaters and Veggies Alike
Vegan Thanksgiving Sides, Appetizers, and Salads
Who knew falafel could be this festive? These walnut falafel with cranberry pear dip make an awesome appetizer for your Thanksgiving dinner.
I love panzanella salads in the summer and I often make them for BBQs. For those of you who have never heard of it, it's a classic Italian bread & tomato salad. This creative version with Brussel sprouts, beets, and butternut squash by Dixya from Food, Pleasure & Health is absolutely perfect for fall!
Impress your guests with this Moroccan spiced warm salad with roasted winter vegetables, quinoa, and pomegranate seeds by Alexandra from Occasionally Eggs. Doesn't it look absolutely gorgeous?
This pumpkin hummus with sesame seeds, fresh parsley, and crackers is one of my favorite snacks. It's super delicious, packed with protein, and really easy to make!
These decadent stuffed mushrooms with sun-dried tomatoes, fresh basil, garlic, and vegan cream cheese by Angel from Cheftographer are the perfect addition to your vegan Thanksgiving buffet. Enjoy them with a glass of white wine.
I can't wait to try this roasted sweet potato salad with green onions and chives by Vanessa from Vegan Family Recipes! It's such a great side dish to make ahead for the Holidays.
And of course you also need a great recipe for vegan cornbread. This one by Brandi from The Vegan 8 is vegan, gluten-free, refined sugar-free and you need only eight ingredients to make it.
This recipe for roasted Brussels sprouts and butternut squash really couldn't be easier! Your oven actually does most of the work for you, making it perfect for dinner parties.
Vegan Thanksgiving Mains
10. Thanksgiving Lentil Loaf with Pumpkin and Sweet Potato Squash, Vegan Gravy, and Cranberry Pear Sauce
Let's begin with the absolute classics. This is actually one of my all-time favorite vegan Thanksgiving recipes. The vegan gravy is simply to die for! Of course it's a bit more time-consuming than my usual recipes, but it's so worth the work! It's also great for Christmas.
You only need 30 minutes to make this vegan butternut squash chili by Julia from Savory Tooth. It includes quinoa, black and pinto beans, and peppers. Yummy!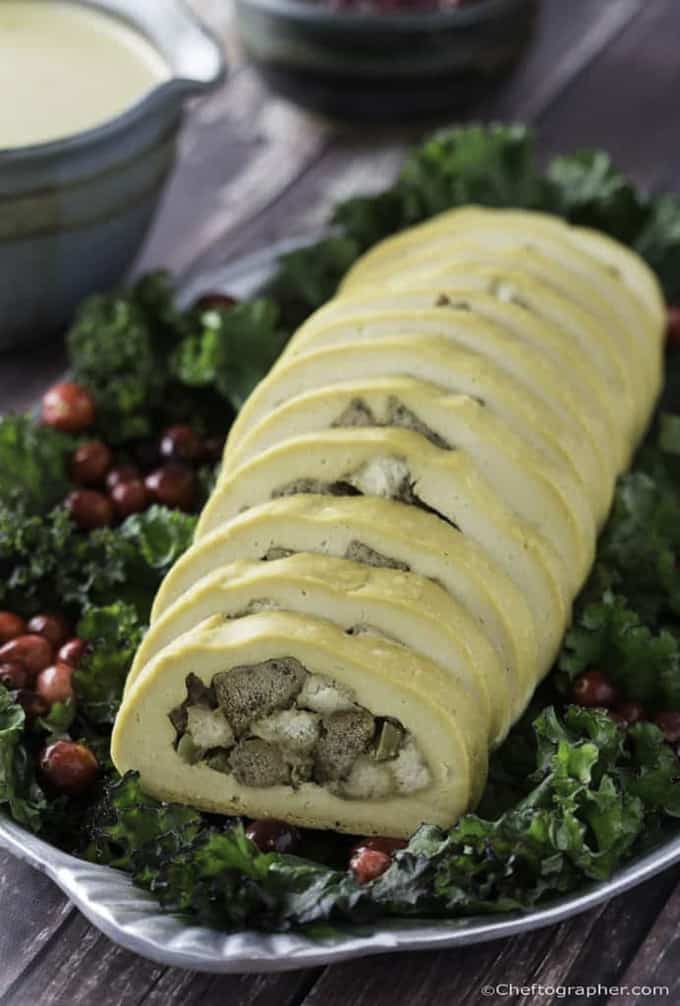 Doesn't this vegan turkey roll by Angel from Cheftographer look amazing? Serve it with vegan gravey, mashed potatoes, and green beans and you got an amazing vegan Thanksgiving meal!
This elegant chickpea tart with walnuts and spinach by Dreena from Plant-powered Kitchen will be the perfect center piece at your vegan Thanksgiving buffet. It's so much better than all these faux turkeys out there!
This vegan Wellington by Katie from Delightful Vegans is made with white and brown mushrooms. It's best served with a salad or some roasted veggies.
This butternut roast with lentils, cranberries, and spinach by Kate from The Vegspace looks so delicious! It's relatively easy to prepare ahead, so you got more time to spend with your family and friends.
If you're looking for a super healthy Thanksgiving recipe, what about this quinoa bowl with tempeh and roasted carrots by Molly from Apollo and Luna? It looks so delicious!
If you're a total bowl addict like me, you'll probably love this Thanksgiving power bowl with lentils, sweet potato, brown rice, and cranberry sauce by Natalie from Feasting on Fruit.
What would Thanksgiving be without sweet potato?! This sweet potato casserole with pecans by Maryea from Happy Healthy Mama looks so delicious!
Vegan Thanksgiving Drinks
And of course you need something festive to drink?! This cider sangria by Charity from Vintage Kitty seems just perfect! It looks fabulous, uses seasonal fruits, and comes together in only 10 minutes!
Can you imagine one single day without a smoothie? I can't! That's why I had to include at least one smoothie. Okay, Smoothie-giving may begin!
Vegan Thanksgiving Desserts and Sweets
Okay, a banana dessert with rum?! Seriously? I'm totally in! No further questions. This baked banana pudding by Melanie from A Virtual Vegan looks amazing!
If you need a really fancy and decadent dessert you should definitely check out these pumpkin pie parfaits by Brianne from Natural Girl Modern World. They're an absolute eye-catcher! And the best thing: You get the pumpkin pie flavor without the stress of making a crust.
These tartlets by Demeter from Beaming Baker combine two great fall flavors: Apple and pecan. And the best part: You don't even have to bake these cuties.
So for all the guys who can't get enough of sweet potatoes or for those who missed out on all the great sweet potato choices that were mentioned earlier. Good news! You can still have sweet potatoes for dessert! How does this sweet potato pie by Leah from Love Me, Feed Me sound?
You can never get enough of pumpkin! Especially when the pumpkin looks so delicious, like in this fantastic pumpkin cheesecake by Audrey from Unconventional Baker! Mooore pumpkin!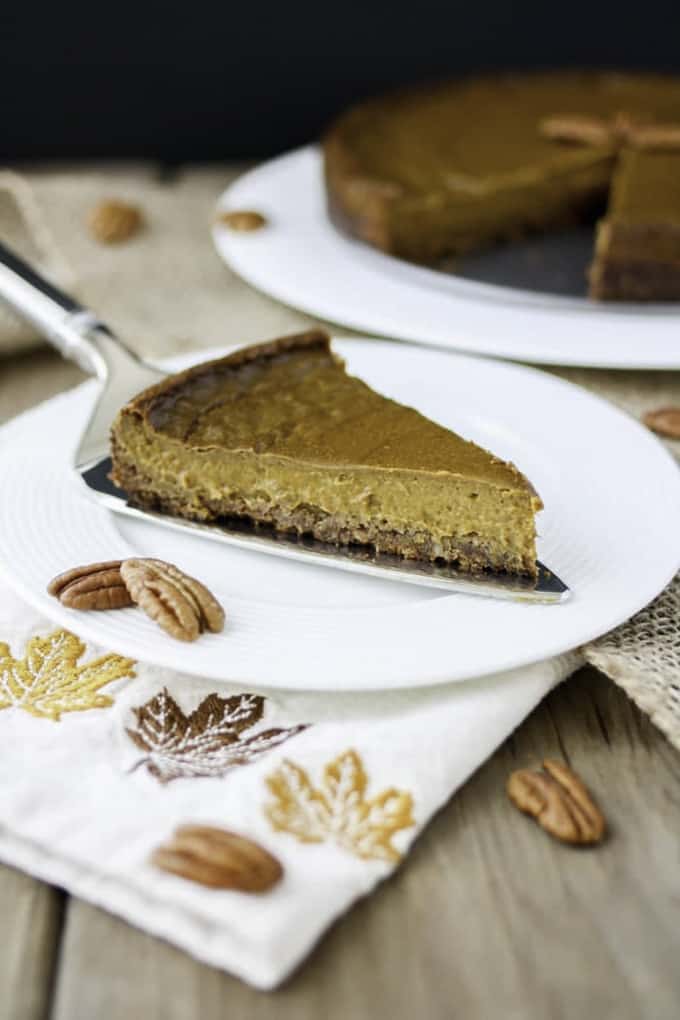 This pumpkin pie with pecan crust by Sophia from Veggies Don't Bite is one of the absolute classics. But of course 100% vegan!
Okay, this desert by Gin from Eat Healthy Eat Happy really combines all the great fall flavors: Pumpkin? Check! Apple? Check! Pecan? Check! And the best thing: It only uses healthy whole ingredients and it's so easy to make.
Don't these mini pecan pie by Ginny from Vegan in the Freezer tarts look super cute? They're super rich and perfect for a festive party.
I LOVE TO HEAR FROM YOU GUYS!
I hope you enjoyed these vegan Thanksgiving recipes as much as I do! Don't forget to pin or share this post so you have these vegan Thanksgiving recipes ready when you need them!
Check out my roundup of 38 festive vegan Thanksgiving recipes, for even more ideas!
If you give any of these festive vegan recipes a try, I'd love to know what you think about it. Just leave me a comment below. Your comments really make my day!
You like my recipes and roundups and want to see more? Then follow me on Facebook, Instagram, or Pinterest!
And I know it's quite early, but happy Thanksgiving!
Sina – xx