Who doesn't love muffins? Sweet or savory, muffins are such a great and easy treat for all kind of occasions: breakfasts, birthday parties, school lunches, brunch, snacking in between meals or even for a light dinner. And because you don't need milk or eggs to enjoy these little bites of deliciousness, I put together a round-up of 25 incredibly delicious vegan muffins.
I just love having so many great vegan muffins in one post and I'm sure there is a flavor for everybody. We got the classic ones with blueberry and chocolate but also others with pumpkin, pomegranate, kiwi, cranberry and sooo many more. And have you ever heard of a vegan omelette muffin? Sounds weird because you need eggs for that?! Oh, no! Or what about a cinnamon roll muffin? You see, we've got you covered!
25 Incredibly Delicious Vegan Muffins:
by Vegan Heaven
Zucchini muffins?! I know this sounds kinda crazy, but it's suuuuper delicious!! They're so moist, chocolatey, sweet, and also a bit crunchy! And eating zucchini muffins is just like eating your veggies, right?
by Linda from Veganosity
If you're looking for a slightly sweet and savory muffins with a moist center, these vegan muffins with blueberries will be the perfect choice!
by Natalie from Feasting on Fruit
These mango ginger muffins are jumbo sized, super chunky, and streusel topped. So what's not to love about them?!
by Alisa from Go Dairy Free
Vegan muffins with apples and crunchy almonds? Yes, please!!
by Vegan Heaven
Why not just make cinnamon rolls in a muffin pan? It's so easy and they're so cute, aren't they? And that delicious cinnamon smell!!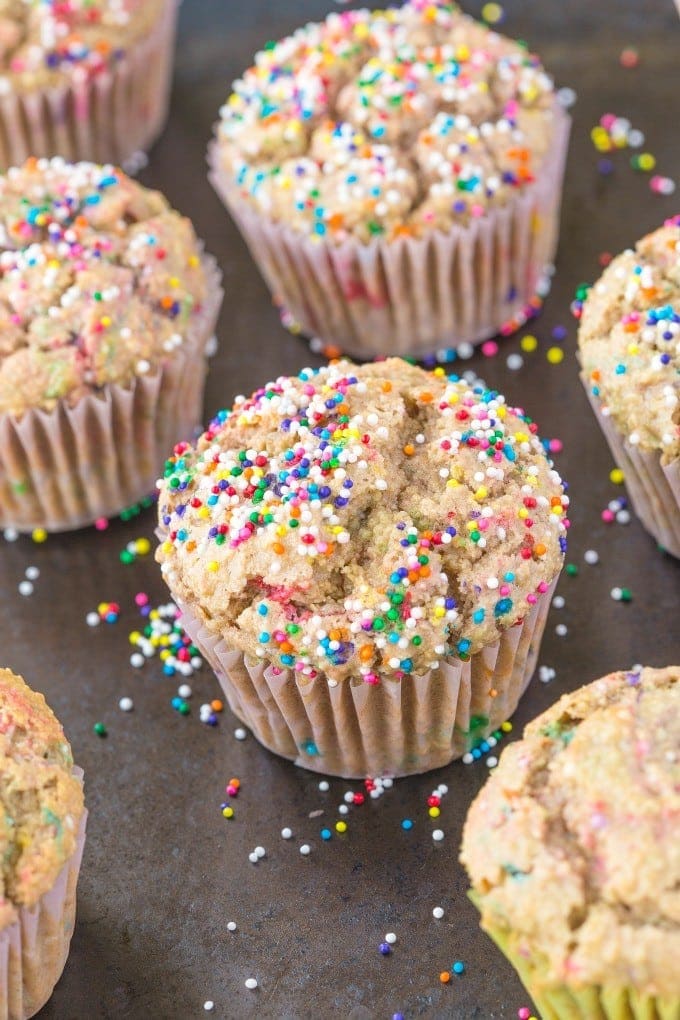 by Arman from The Big Man's World
You won't believe that these are gluten-free, vegan, and that they can also be made sugar-free! Yum!
by Bianca from elephantastic vegan
These are super easy to make and so great to bring along to parties!
by Audrey from Unconventional Baker
Are you looking for simple, fluffy, good breakfast muffins? Then these might be perfect!
by Dave from Hurry The Food Up
These delicious vegan banana muffins with sweet apple chunks come together in only 30 minutes!
by Vegan Heaven
Vegan carrot zucchini muffins?! A couple of years ago, I probably would have shaken my head in utter disbelief. Vegetables and sweet muffins definitely didn't go together for me, but now I know they actually do and they make such a great and healthy breakfast!!
These cranberry orange muffins were actually made for Christmas, but they're great for the whole year!
by Evi from Green Evi
Who thinks you need eggs to make omelette? These little "egg" wonders just look amazing!
by Gwen from Delightful Adventures
Don't these little donut muffins look amazing?! This is such a great idea!
by Vanessa from Vegan Family Recipes
Aren't streusel only for cakes?! No! They're perfect on muffins as well!! And these are made with oats.
by Ceara from Ceara's Kitchen
These double chocolate banana muffins are so fudgy, moist, and rich. Oh, and they're even gluten-free!
by Rebecca from Strength and Sunshine
Take a trip "down under" to the Gold Coast with this Golden Kiwi Muffin recipe with macadamia milk!
by Celeste from The Whole Serving
If you're a Chocolate Lover, you are going to love this Chocolate Coconut Streusel Muffin.
by Sandra from Vegan Sandra
Who could say no to vegan raspberry muffins? Definitely not me!!
By Jenn from Veggie Inspired Journey
These classic blueberry muffins with a little spin are great for breakfast, lunch, snack, or an after dinner treat.
by Angel from Cheftographer
Dark chocolate and nuts is such a great combo! YUM!
by Joann from Woman in Real Life
These banana muffins boast healthy ingredients – bananas of course, but also oats, ground flax and coconut oil.
by Vegan Heaven
Another great classic muffin recipe with a twist!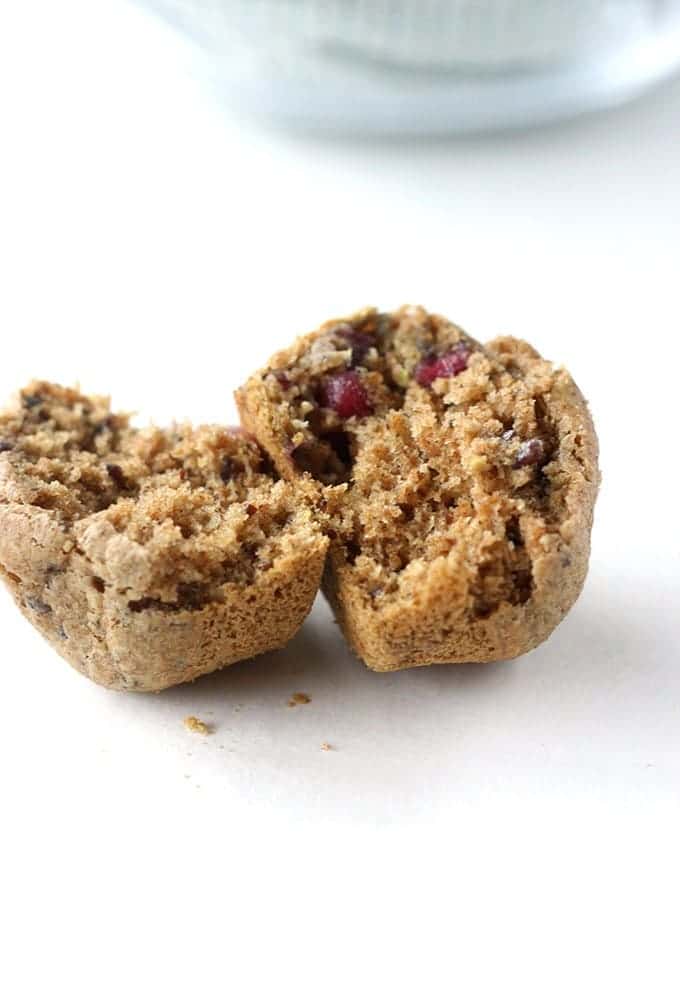 by Lea from Love Me Feed Me
What an awesome idea to use pomegranate for muffins!!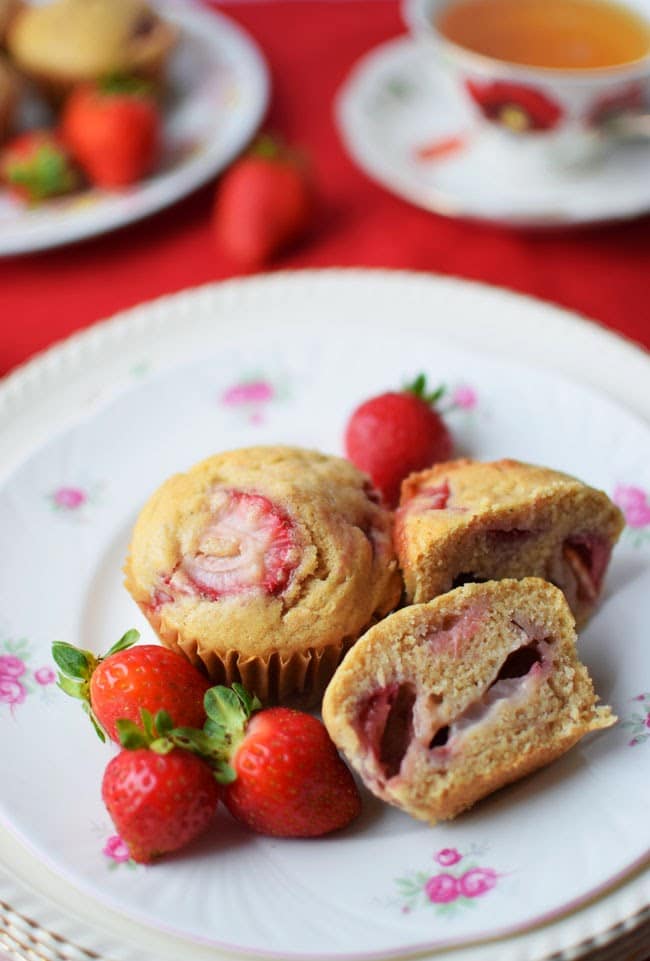 by Joann from Woman in Real Life 
Spring is coming fast with these vegan strawberry muffins!
by Bianca from elephantastic vegan
Blueberry Muffins are a classic – but the addition of marzipan gives this dessert a whole new twist!
I hope you like this collection of 25 incredibly delicious vegan muffins as much as I do! Happy baking! xx