Do you like pancakes for breakfast? Then this is the perfect post for you! It includes 10 easy and delicious vegan pancakes that are perfect for the whole family!

I'm actually not the biggest breakfast person, but I sure love vegan pancakes on the weekend!
In this roundup of vegan pancake recipes, you can find something for every taste.
We've got:
vegan banana pancakes (with chocolate chunks!)
peanut butter pancakes
blueberry pancakes (that are gluten-free as well)
vegan crepes
English pancakes (that are much thinner than American pancakes but not as thin as crepes)
strawberry pancakes
cinnamon roll pancakes
caramel nutella pancakes
All of these vegan pancake recipes are perfect for a nice and relaxed breakfast on the weekend. Or you could make them for a brunch or even a sweet afternoon treat!
So let's get the drooling started! Pancake heaven, here we come!
As always, just click on the heading above each photo to see the recipe.
10 Easy and Delicious Vegan Pancakes
You can't decide between banana bread and pancakes? Then these vegan banana bread pancakes with chocolate chunks by Bianca from Elephantastic Vegan are perfect for you. Don't they look amazing? And they're super popular on Pinterest!
Vegan crepes are not only super delicious but also really easy to make. And they're completely without eggs or milk. You can enjoy my vegan crepes with a sweet as well as with a savory filling. So yummy!
You will love these gluten-free and vegan blueberry pancakes by Gwen from Delightful Adventures. They're light, fluffy, and just perfect for breakfast!
Can you believe that these vegan peanut butter pancakes by Jenn from Veggie Inspired are actually healthy? I mean look at them! They look absolutely amazing. And who could say no to the combination of peanut butter and chocolate?
Have you ever tried English pancakes? They are flatter and much bigger than American pancakes. And as they don't use a raising agent, they don't have the typical cakey texture of American pancakes. Melanie from A Virtual Vegan topped her vegan English pancakes with fresh lemon juice and sugar. Yummy!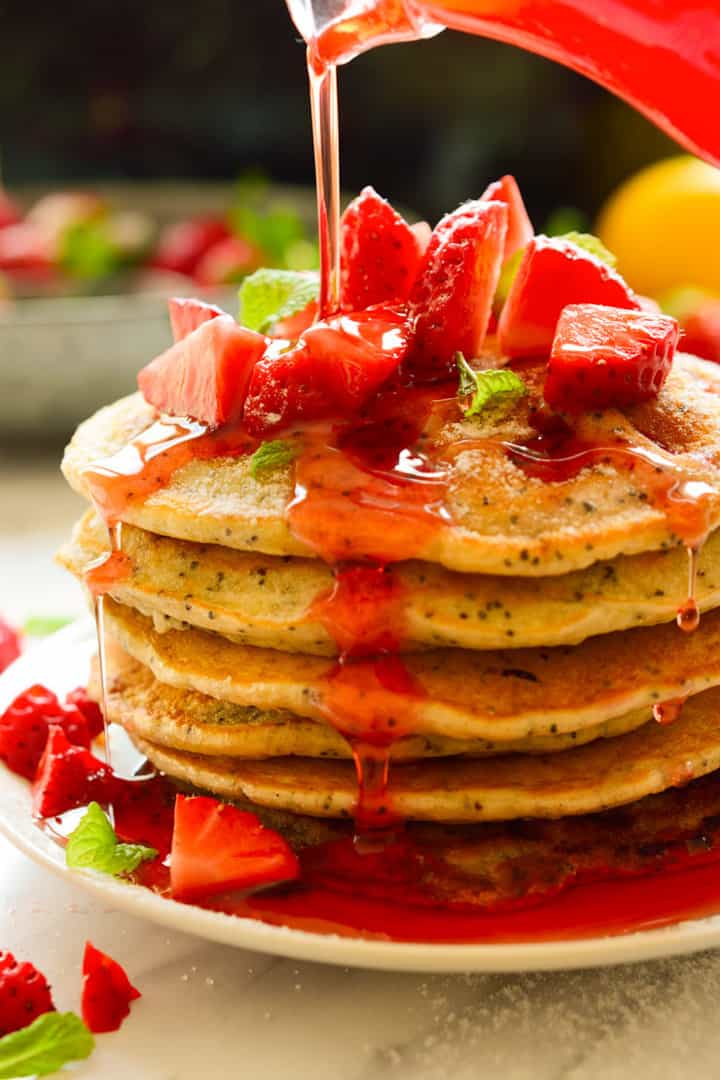 If you like strawberries, you just have to try these vegan strawberry lemon poppy seed pancakes by Melissa from The Stingy Vegan. They're perfect for spring when you can buy fresh and ripe strawberries at the farmers' market.
Don't these vegan caramel Nutella pancakes by Florian from Contentedness Cooking look absolutely drool-worthy? And they're even gluten-free!
You can't decide between cinnamon rolls and pancakes? Then have these cinnamon roll pancakes with cashew cream cheese icing by Caitlin from From My Bowl. They're vegan, gluten-free, and refined sugar free!
Who can say no to chocolate chip pancakes? Definitely not me! These vegan chocolate chip pancakes by Melissa from Vegan Huggs look just way too good. And they're ready in just 25 minutes!
If you want extra fluffy pancakes, try these easy pancakes by Rachel and Andrew from The Plant Riot. They included different mix-in ideas like fresh blueberries, lemon zest, cranberries, and chocolate chips.
I LOVE TO HEAR FROM YOU GUYS!
I hope you enjoy these vegan pancakes as much as I do! Don't forget to pin or share this post so you have these vegan fast food options ready when you need them!
If you give any of these recipes a try, I'd love to know what you think about it. Just leave me a comment below. Your comments really make my day!
You like my recipes and roundups and want to see more? Then follow me on Facebook, Instagram, or Pinterest!
Sina