If you're looking for vegan eggplant recipes, this is the right place for you! I've put together a list of delicious eggplant recipes including pasta dishes, salads, dips, and so much more!

You are not sure if you like eggplant? These vegan eggplant recipes will definitely change your mind! They are all easy to make, healthy, and perfect for the whole family! 
We've something for every taste!
This round includes so many delicious vegan eggplant recipes! Here are some examples:
dips (baba ganoush and chickpea and eggplant dip with dill pesto)
comforting casseroles (vegan eggplant parmesan zucchini casserole and eggplant potato casserole)
pasta recipes (eggplant bolognese pasta and eggplant meatballs with spaghetti)
Asian-inspired dishes (Chinese eggplant in garlic sauce and grilled eggplant tahini satay kebabs)
Mediterranean recipes (stuffed eggplant with rice and tomato sauce and a grilled eggplant salad)
Are you hungry yet? Then let's get started with all the delicious recipes!
As always, click on the heading above each photo to see the recipe. 
16 Delicious Vegan Eggplant Recipes
This easy baba ganoush makes such a delicious and healthy dip or appetizer. It's great with pita, flatbread, or as a side dish to falafel and tabouleh. And the recipe couldn't be much easier!
This eggplant parmesan zucchini casserole by Florian from Contentedness Cooking is not only vegan but also gluten-free! It's the perfect comfort food that is packed with flavor. And you need only 6 ingredients to make it! 
This dump and bake ratatouille by Blair from The Seasoned Mom makes such a delicious side dish or entree. I especially love eating ratatouille in the summer, but it's great the whole year round.
Don't these vegan eggplant meatballs by Lucy from Super Golden Bakes look amazing? They will even surprise meat eaters! Just perfect for all pasta lovers.
If you're looking for healthy vegan eggplant recipes, you should try these stuffed aubergines by Dianna from Little Sunny Kitchen. They're cooked the middle Eastern way with rice, veggies, spices, and tomato sauce. 
Did you know you could make kebabs out of eggplants? These grilled eggplant satay kebabs by Nicole from Delicious Everyday are the perfect proof! Nicole served them with a delicious tahini sauce. And they're vegan, nut-free, and gluten-free.
And of course we need some more Asian inspired vegan eggplant recipes for this post. What about this Chinese eggplant in garlic sauce by Michelle from Healthier Steps? It's made with tender and juicy strips of eggplant in a Szechuan-style garlic sauce.
This eggplant bolognese pasta by Amy from Veggies Save The Day is another great pasta recipe with eggplant! It's completely meat-free and packed with flavor.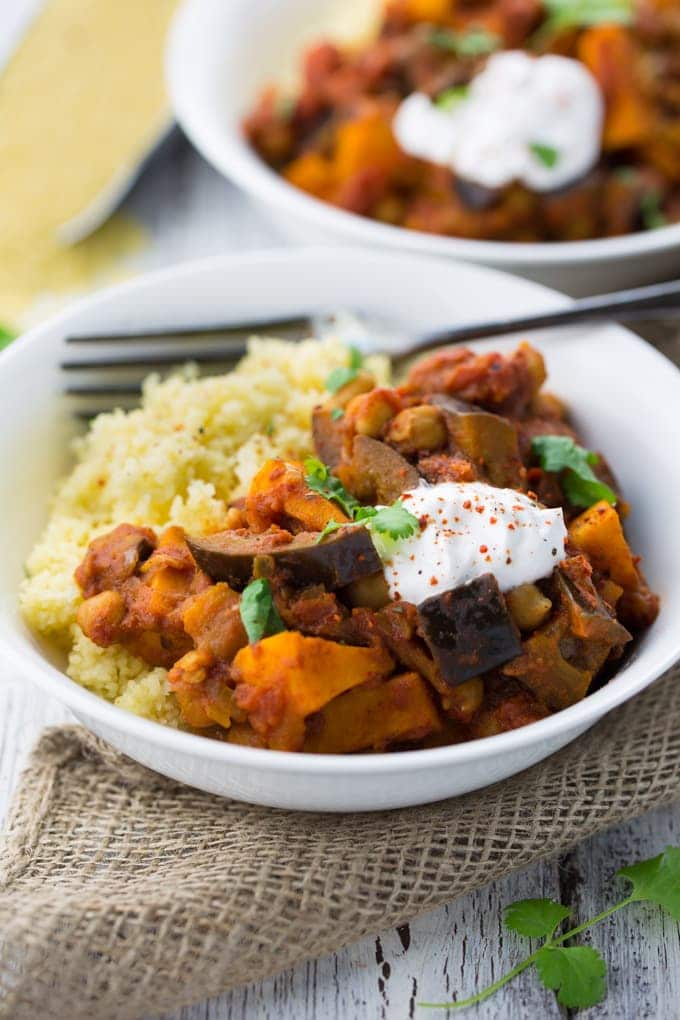 This Moroccan chickpea & sweet potato stew with eggplant and couscous is the perfect weeknight dinner: easy to make, healthy, and filling!
This eggplant parmesan potato casserole by Florian from Contentedness Cooking is the perfect comfort food! It's vegan, gluten-free, and super satisfying! 
This vegan chickpea and eggplant dip with dill pesto by Julia from Imagelicious makes the perfect appetizer or snack. It's full of flavor, easy to make, and very healthy! 
If you're looking for exotic flavors, you should try this curried okra and eggplant by Tamara from Beyond Mere Sustenance. This Indian-inspired dish is packed with protein and fiber!
This vegan stuffed eggplant by Melissa from Cilantro and Citronella is the perfect dish for spring and summer! The roasted eggplant is topped with fresh summer vegetables and a delicious homemade tomato sauce. And don't forget the Mediterranean herbs!
This vegan eggplant shakshuka with tofu scramble by Jasmine and Chris from Sweet Simple Vegan is a real treat! It consists of vegetables in a thick tomato sauce and topped with tofu scramble. So yummy and ready in less than 30 minutes! 
This grilled eggplant salad with chickpeas and tomatoes by Amy from Veggies Save The Day is perfect for the summer! It's easy to make, vegan, gluten-free, and pretty healthy!
This eggplant stew by Dianna from Little Sunny Kitchen makes a great side dish. And it's so easy to make. It takes just 10 minutes to prepare from start to finish!
I LOVE TO HEAR FROM YOU GUYS!
I hope you enjoy these 16 vegan eggplant recipes as much as I do! Don't forget to pin or share this post so you have these vegan dinner ideas ready when you need them! 
If you give any of these recipes a try, I'd love to know what you think about it. Just leave me a comment below. Your comments really make my day!
You like my recipes and roundups and want to see more? Then follow me on Facebook, Instagram, or Pinterest! 
Sina