Are you looking for delicious seitan recipes? Then this is the right place for you! This post contains 15 delicious vegan seitan recipes as well as many facts about seitan and a step by step guide that shows you how to make seitan. Don't miss out on this delicious, versatile, and healthy meat alternative!

If you used to like meat but you became vegan because of ethical reasons, you will LOVE seitan! It has a very meatlike texture while being super healthy and easy to prepare. You can use it for so many different kinds of vegan meat alternatives.
You are a total newbie when it comes to seitan? Don't worry! I've included everything you need to know about seitan in this post as well as 15 delicious seitan recipes for you to try!
What Is Seitan?
Seitan is a meat substitute that is very popular among vegetarians and vegans. Unlike tofu and tempeh, it does not contain any kind of soy products. Seitan consists of hydrated gluten, which is the main protein of wheat.
So seitan is basically just gluten. It is made by rinsing wheat flour dough with water to remove the starch and the fiber. In the end, you're left with a sticky and stringy mass of pure gluten. You can season it any way you like and then cook it in vegetable broth.
It will have a very meat like texture and you can use it for all kinds of vegan meat alternatives. It's great for vegan steaks, burgers, vegan meatballs, and so much more.
These days making seitan is much easier as you can just buy vital what gluten, which is purified gluten powder, that you can mix with water. It's my favorite way to make seitan. Many grocery stores also carry premade or frozen seitan, so keep an eye out for that too. It's perfect for busy days.
It might seem like seitan is a pretty new thing. However, it has been around for quite a while. In fact, the first mention of wheat gluten can be dated back to the 6th century. Especially Chinese Buddhists liked to consume it as a meat alternative.
The Japanese word "seitan" was, however, coined only about 50 years ago. So it is a pretty old thing with a rather new name.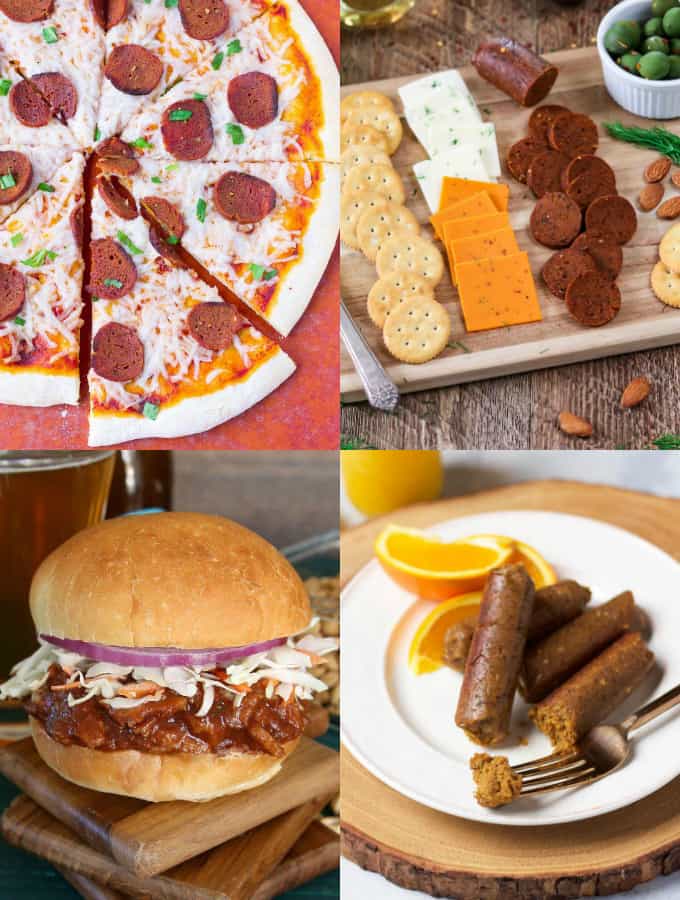 How To Make Seitan – My Basic Seitan Recipe
My basic seitan recipe is pretty easy and doesn't take much time. All in all, it's ready in about half an hour. And most of it is just cooking time during which you don't have to do much or anything at all.
For my basis seitan recipe you need:
2 cups of vital wheat gluten
1 teaspoon onion powder
1 teaspoon garlic powder
1/2 teaspoon smoked paprika powder
1 teaspoon regular paprika powder
1 teaspoon salt
2 cups of water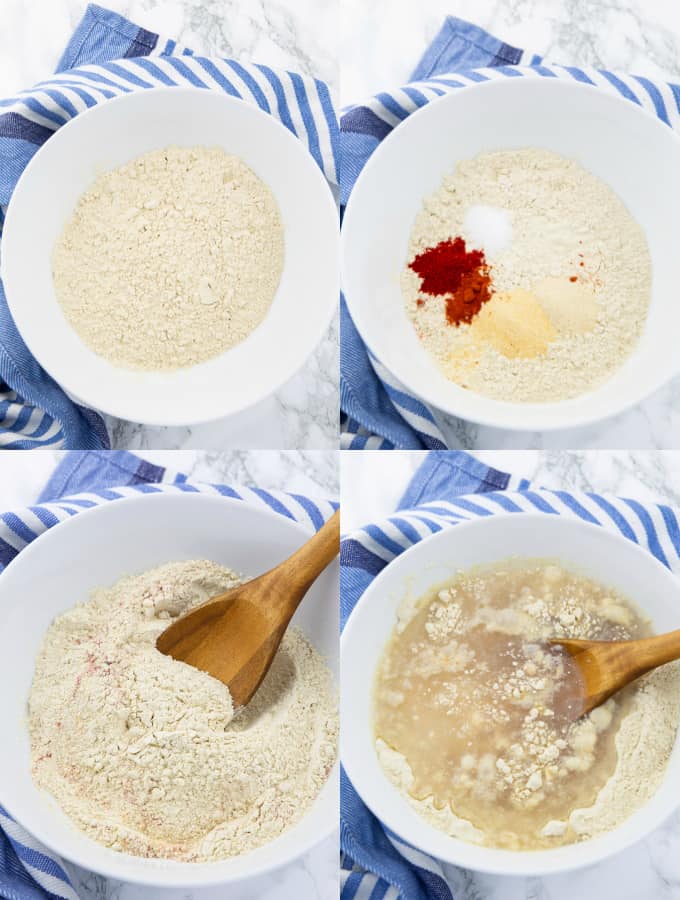 STEP 1: Make Your Seitan Dough
In a large bowl, combine the vital wheat gluten with the spices. Then stir in the water and form a dough. You will have a very elastic mass.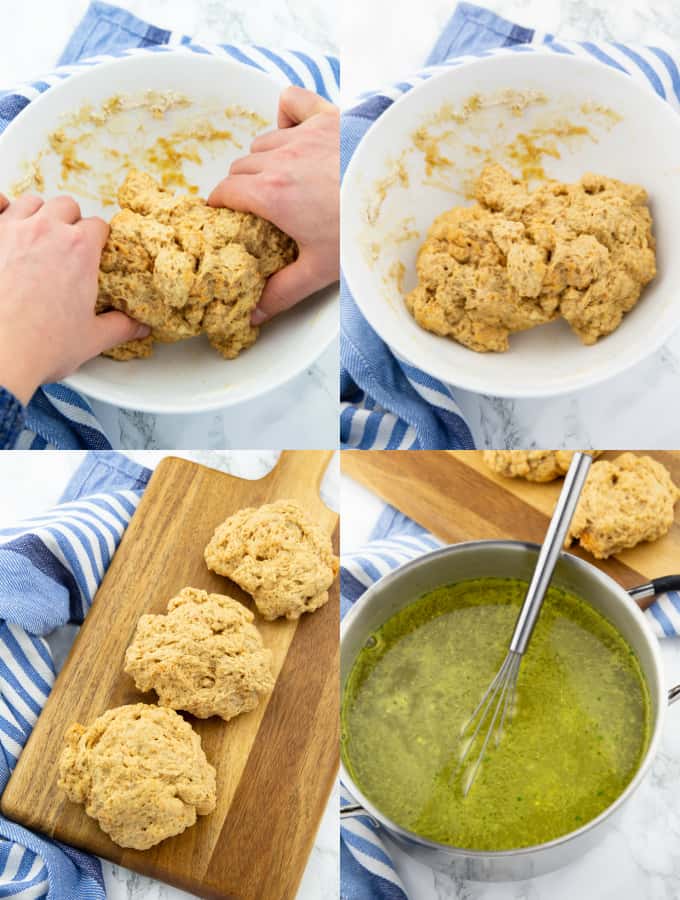 STEP 2: Knead and Form Your Dough
Knead your dough for about 5 minutes just like you would when making bread. It's important to knead it because this way it will form strands of gluten that will give it its meatlike texture. You could even knead it for up to 10 minutes if you want.
Then divide your seitan into three pieces and form three flat and round pieces of dough.
It won't be possible to make them completely even because the dough is so stretchy, so don't worry about that.
STEP 3: Cook Your Seitan in Vegetable Broth
Prepare a big pot of vegetable broth. Remember that your seitan will double or even triple in size, so make sure the pot is big enough.
Bring the broth to a boil and then lower it to medium heat. Then add the seitan pieces and cook them for 25 minutes.
STEP 4: Cook It Up Any Way You Like
Now that you have your basic seitan, you can use it any way you like. Let it cool down for a bit and then cut it into slices or smaller pieces.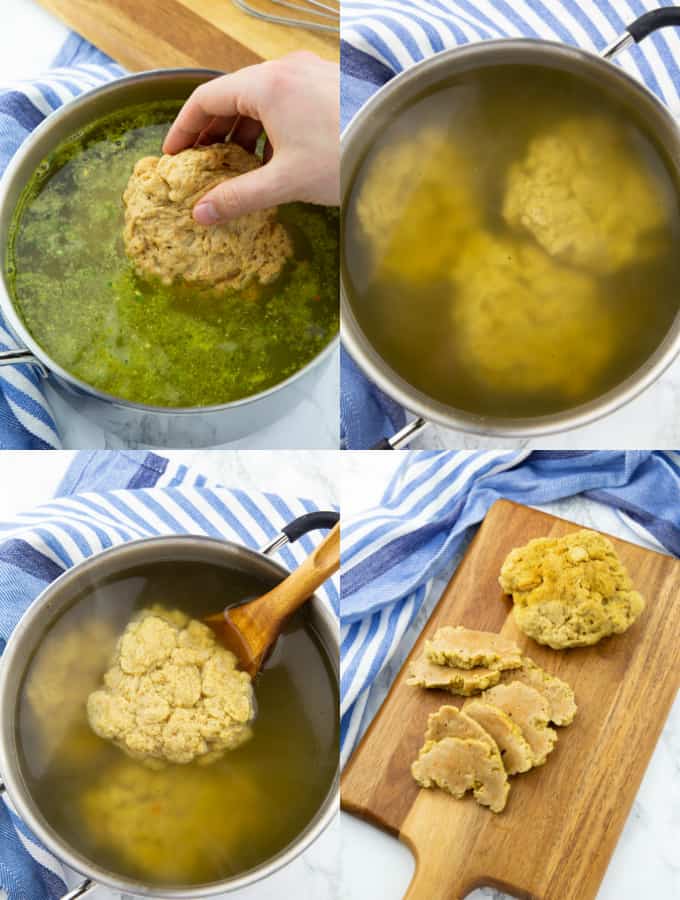 I like to pan-fry my seitan in a grill pan on high heat. Just add some soy sauce, BBQ spices, salt, and pepper on top and cook it for 2-3 minutes on each side.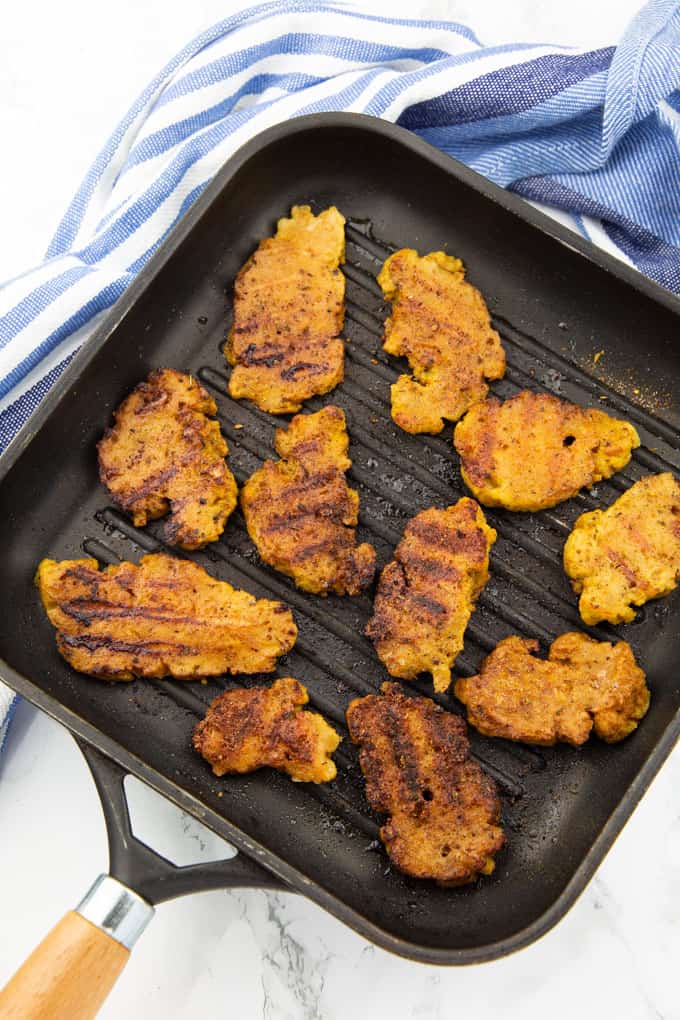 Seitan – Recipe Notes and Tips:
Seitan is super versatile. You can sauté it, steam it, or even bake it. And you can use it to make all kinds of "vegan meat" like vegan steaks, vegan sausages, vegan meatballs, and so much more. I included tons of delicious vegan seitan recipes in this post. So just keep scrolling.
I used onion powder, garlic powder, and paprika powder for my basic seitan recipe. I then added some soy sauce and BBQ seasoning when I fried it. However, you could add any seasonings you like to the vital wheat gluten depending on what you want to use it for.
I used vital wheat gluten for my seitan recipe. So this is basically purified gluten powder, which makes it super easy for you to make homemade seitan. However, you could also make homemade seitan from all purpose flour or even from whole wheat flour. It's just more work, but the result is the same.
You could also add chickpea flour to the vital wheat gluten powder to reduce the wheat flavor. It also helps to make a slightly more fluffy texture. 1 cup of vital wheat gluten and 1/2 cup of chickpea flour is a good start.
Seitan Broth – More Ideas:
Besides, you could also make a stronger flavored broth. I only cooked the seitan in vegetable broth for my basic recipe, but if you want a more savory flavor you could tune up the broth.
Here are some ideas that add even more flavor to your broth:
soy sauce
vegan Worcestershire sauce
liquid smoke
red wine
onion and garlic powder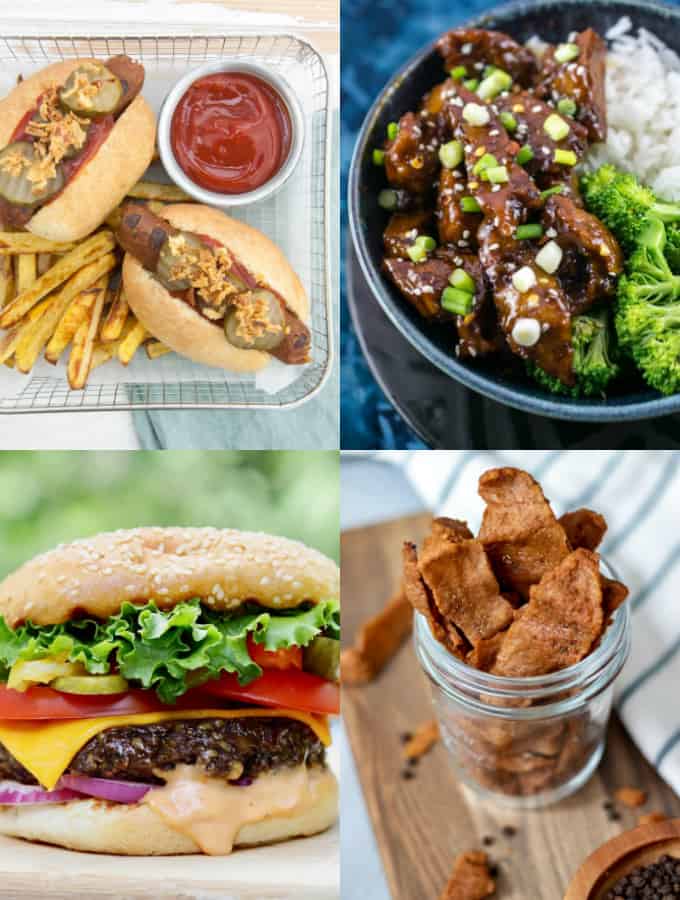 Seitan – FAQs:
Seitan Pronunciation – How do you pronounce seitan?
Have you ever wondered how to pronounce seitan? I've heard so many mispronunciations over the last few years and I was pretty unsure how to pronounce it myself at first.
Well, it's pretty easy. It's pronounced "say-tan".
Is seitan healthy?
Yes, seitan is very healthy. It's a very good source of protein and it's great for a vegan or vegetarian diet. It also provides important minerals like iron or selenium.
While it's high in protein, seitan is also low in calories. It's also great for people who want to avoid soy products but who are looking for vegan meat alternatives.
However, if you have a sensitivity to gluten or gluten intolerance, you should of course avoid seitan.
Seitan Protein
As I've already said, seitan is a very good source of protein. 100 grams of seitan contain 75 g of protein.
Can you freeze seitan?
Yes, you can freeze seitan for up to three months. You could also store it in the fridge in an airtight container for up to 5 days. If you store it in the cooled broth you cooked it in, it will last even longer.
So now that we have covered the most important facts about seitan, let's move on to all the delicious seitan recipes! You can use seitan in sooo many different ways!
Let's get the yumminess started!!
15 Amazing Seitan Recipes You Will Love
If you're looking for a festive recipe, you should try hearty seitan roast by Eva from The Curious Chickpea. It's stuffed with chestnut white white risotto and makes the perfect centerpiece to impress your guests.
Melissa from The Stingy Vegan used vital wheat gluten to prepare these vegan meatballs. They're quick and easy to prepare. And they're super healthy too!
Doesn't this vegan pepperoni pizza by Nora from Nora Cooks look amazing? I wish I could just grab a slice from the screen. You could also serve it on sandwiches or on a vegan appetizer plate with crackers and vegan cheese.
If you used to be a hot dog fan and you're looking for a vegan version, these homemade seitan sausages by Bianca from Elephantastic Vegan are perfect for you! Bianca topped her hot dogs traditionally with ketchup, pickles, and fried onions.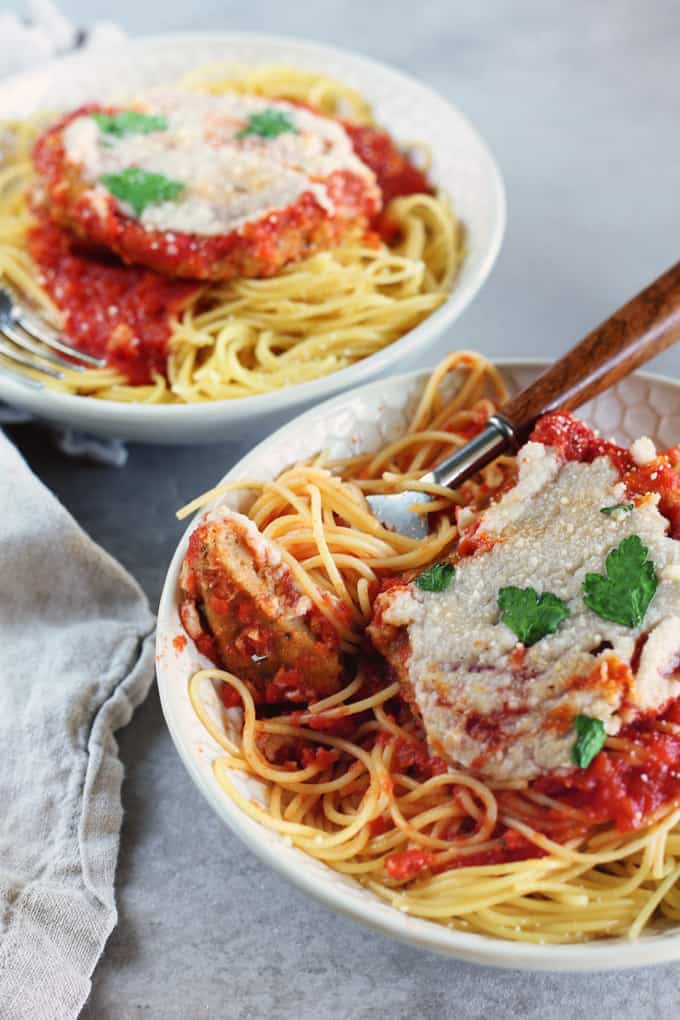 Can you believe that this chicken-style seitan parmesan by Matt and Steph from Pasta-Based is vegan? It looks so real! The seitan white bean cutlets are covered in breadcrumbs and baked in marinara sauce. And don't forget to top it off with stretchy vegan mozzarella cheese!
This vegan pepperoni recipe by Melissa from Vegan Huggs is perfect for a party platter! I mean just look at it! It has a peppery and smoky-sweet flavor and is pretty easy to make.

Don't these vegan seitan burgers by by Verna from The Cheeky Chickpea look amazing? Verna called them the best vegan burgers! They're juicy, won't fall apart, and you can even make them on the grill. The secret ingredients are bulgur and vital wheat gluten (seitan).
This vegan seitan steak by Bianca from Elephantastic Vegan is super juicy and pretty easy to make! Bianca's secret is adding sparkling water and canned chickpeas to the mix. Serve it with roasted potatoes and herb butter for a delicious and hearty meal.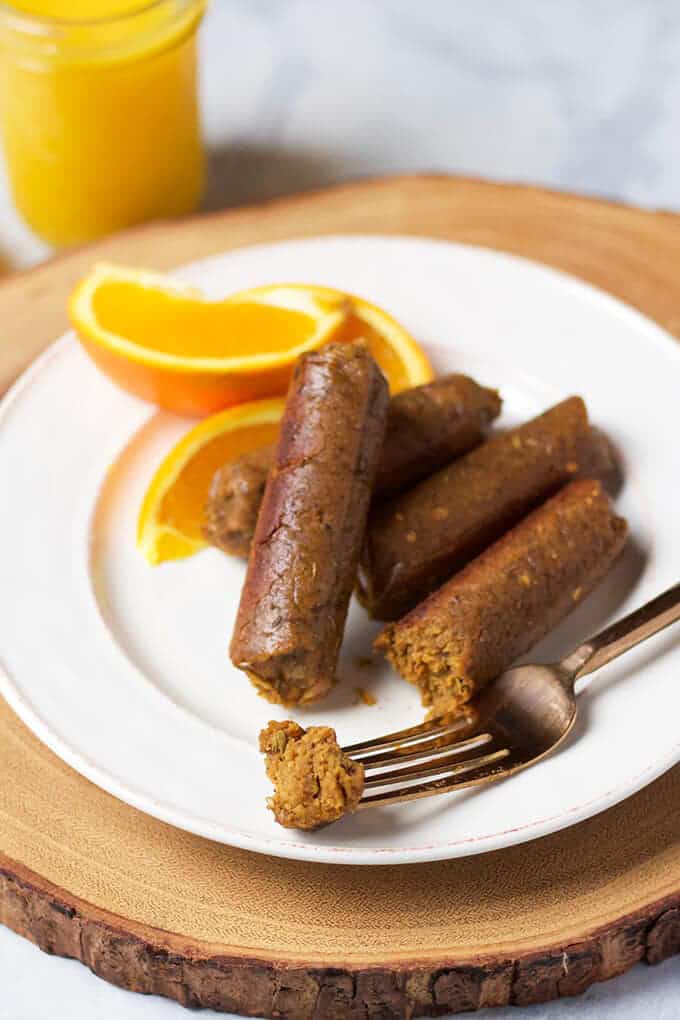 If you're looking for a hearty vegan breakfast, you should try these vegan maple breakfast sausages by Karissa from Karissa's Vegan Kitchen. They're little sweet, a little spicy, and super delicious thanks to the seitan!
This Texas BBQ sausage seitan sandwich by Ginny from Vegan in the Freezer is the perfect comfort food. Ginny used different vegetables, spices, herbs, and steamed seitan for this recipe. Serve it on a big bun!
Shannon from Yup It's Vegan used seitan to make a vegan version of Mongolian beef. For this delicious dish she tossed crispy pan-fried seitan in a sweet and slightly spicy Asian-inspired sauce.
This is what I call a great vegan sandwich! And the best thing is that this vegan sausage sandwich with onions and peppers by Ginny from Vegan in the Freezer is made with seitan from the slow cooker!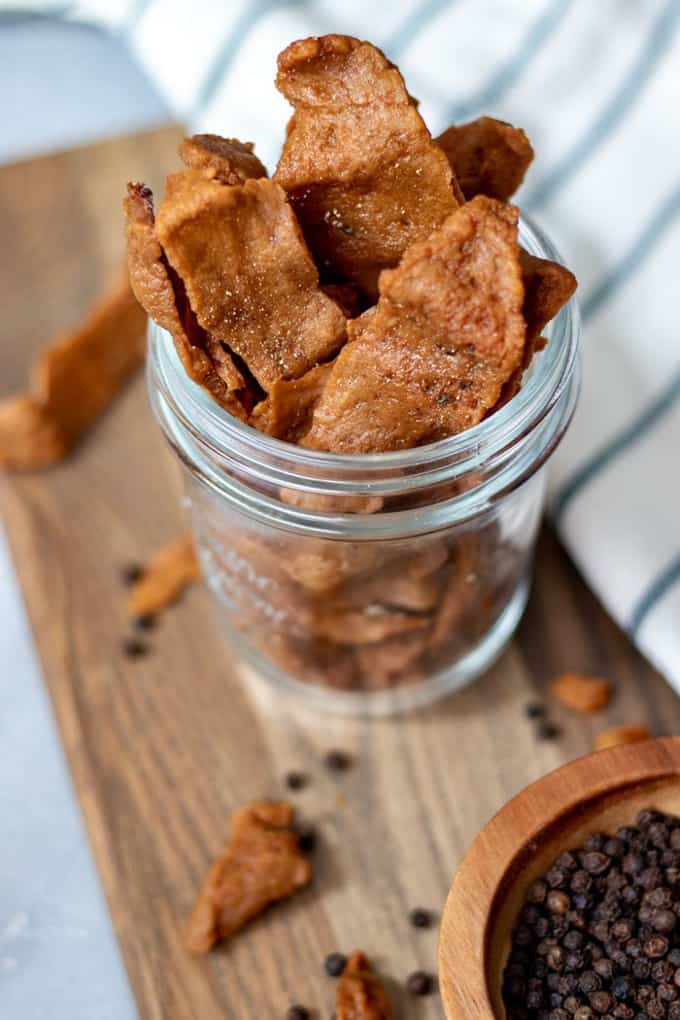 You can even use seitan to make vegan jerky! This teriyaki seitan jerky by Lori from My Quiet Kitchen is a great example. It's savory, delicious, low-fat, and high-protein.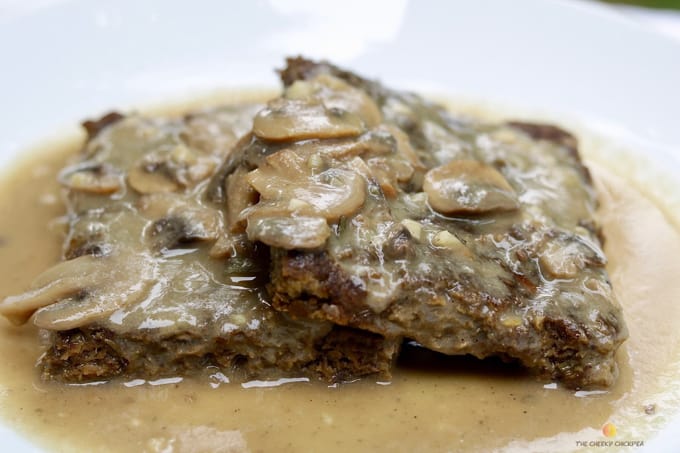 This meaty vegan Salsbury Steak meatloaf by Verna from The Cheeky Chickpea is the perfect holiday meal. Top it with delicious vegan gravy like Verna did!
Doesn't this greek vegan seitan gyros with tzatziki sauce by Johanne from Sunny Side Hanne look super delicious? Serve it with tzatziki sauce, ripe tomatoes, and crispy lettuce in a flat bread like Johanne did. Yummy!
Other Posts You Might Also Like:
I LOVE TO HEAR FROM YOU GUYS!
I hope you enjoy these vegan seitan recipes as much as I do! Don't forget to pin or share this post so you have these recipes ready when you need them!
If you give any of these vegan seitan recipes a try, I'd love to know what you think about it. Just leave me a comment below. Your comments really make my day!
Are you looking for even more vegan recipes? Then check out these 10 vegan recipes for beginners!
You like my recipes and roundups and want to see more? Then follow me on Facebook, Instagram, or Pinterest!
Sina – xx