Do you love quinoa as much as I do? We make it at least two or three times a week and it's so healthy and versatile! These 23 vegan quinoa recipes are perfect when you want to eat healthier!
Quinoa is not only super delicious, it's also incredibly good for you! And it's pretty easy to prepare, which makes it perfect for quick weeknight meals.
Health Benefits of Quinoa
Quinoa got so many health benefits! It's:
extremely nutritious (it's packed with proteins (8 grams of protein per one cup of quinoa) and quinoa is a complete plant-based protein (it got all of the essential amino acids!))
very high in fiber, in fact much higher than most grains
gluten-free, which makes it perfect for people who suffer from a gluten intolerance
a good source of important minerals like iron and magnesium
very high in antioxidants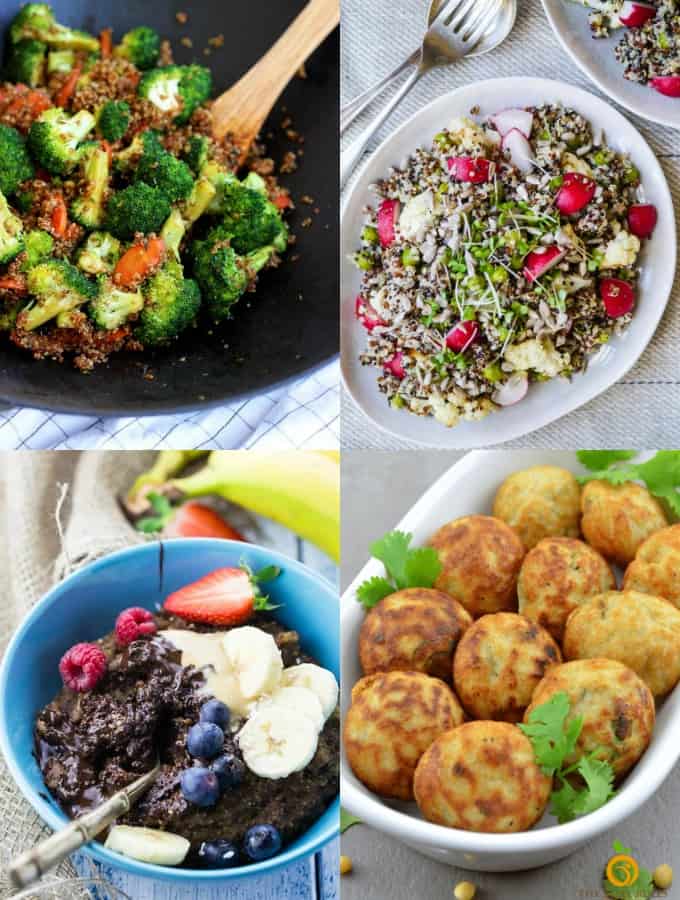 To provide you with some easy and delicious vegan quinoa recipes, I teamed up with some fellow food bloggers. We got you covered with quinoa one pot meals, quinoa salad, quinoa soup, quinoa breakfasts, and so much more! I hope you like these vegan quinoa recipes as much as I do!
23 Healthy Vegan Quinoa Recipes
Garden Veggie Quinoa Salad by Jenn from Peas and Crayons
Quinoa Porridge with Chocolate
Baked Beet Falafel Quinoa Bowl by Melissa from The Stingy Vegan
Vegetarian Lettuce Wraps with Quinoa
Chocolate Quinoa Breakfast Bowl by Julia from Savory Tooth
Quinoa Lentil Vada Fritters by Soniya from The Belly Rules The Mind
Vegan Pea Cauliflower Quinoa Pilaf by Monique from Nourish Everyday
Superfood Breakfast Quinoa Bowl by Marina from Yummy Mummy Kitchen
Easy Stuffed Pepper Soup by Stacey from Stacey Homemaker
Quinoa and Black Bean Patties by Ruchi from Ruchi's Kitchen
Strawberry Quinoa Breakfast Bars by Gunjan from Kiipfit
Mushroom Quinoa Minestrone Soup by Maria from Maria Ushakova
Simple Vegan Quinoa Fried Rice by Elena from Happy Kitchen Rocks
Baked Red Lentil Quinoa Fritters by Jenn from Veggie Inspired
Pesto Quinoa Salad by Melissa from The Stingy Vegan
Herbed Quinoa Salad by Bintu from Recipes From a Pantry
Mexican Quinoa Wraps by Florian from Contentedness Cooking
Mediterranean Quinoa Salad by Richa from Vegan Richa
Lentil Quinoa Meatloaf Burgers by Richa from Vegan Richa
Cilantro Lime Quinoa Side Dish by Stacey from Stacey Homemaker
Mushroom Quinoa Stuffed Acorn Squash by Marina from Yummy Mummy Kitchen