People often think that tofu is boring and plain. But it's the very opposite! If it's prepared the right way it's super versatile, packed with protein, and very delicious. Learn how to cook tofu and make it the new super star in your kitchen!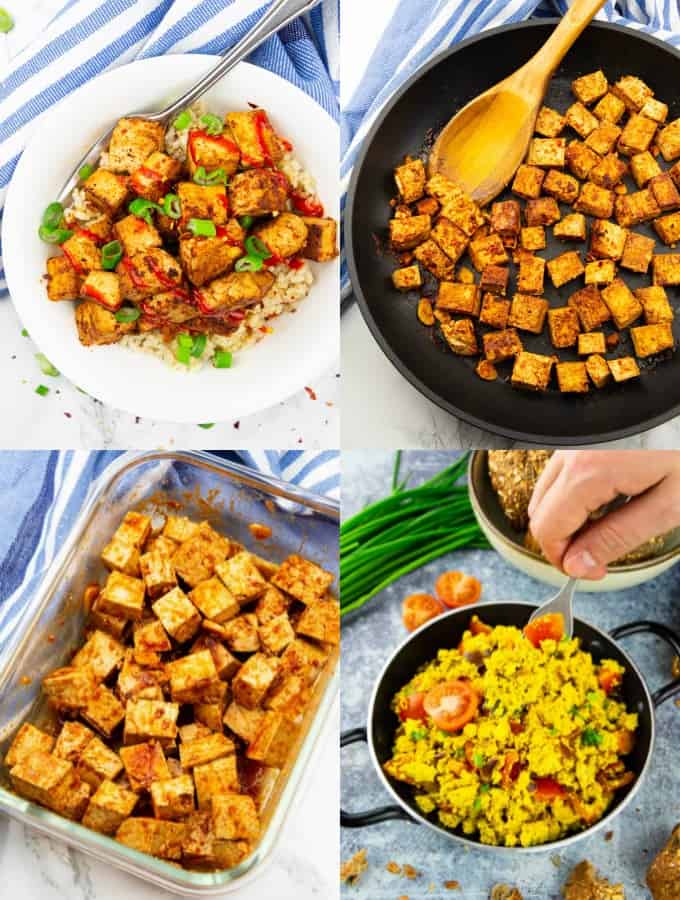 Are you still a bit skeptical about tofu? I get it, I've been there! When I became vegetarian, I didn't like tofu at all! In fact, I hated its texture and plain taste. I wasn't impressed at all. But over time I fell in love with tofu!
You just need some easy tricks on how to to cook tofu and you will love it too! I promise! And I don't think you have to be vegan or vegetarian to enjoy tofu.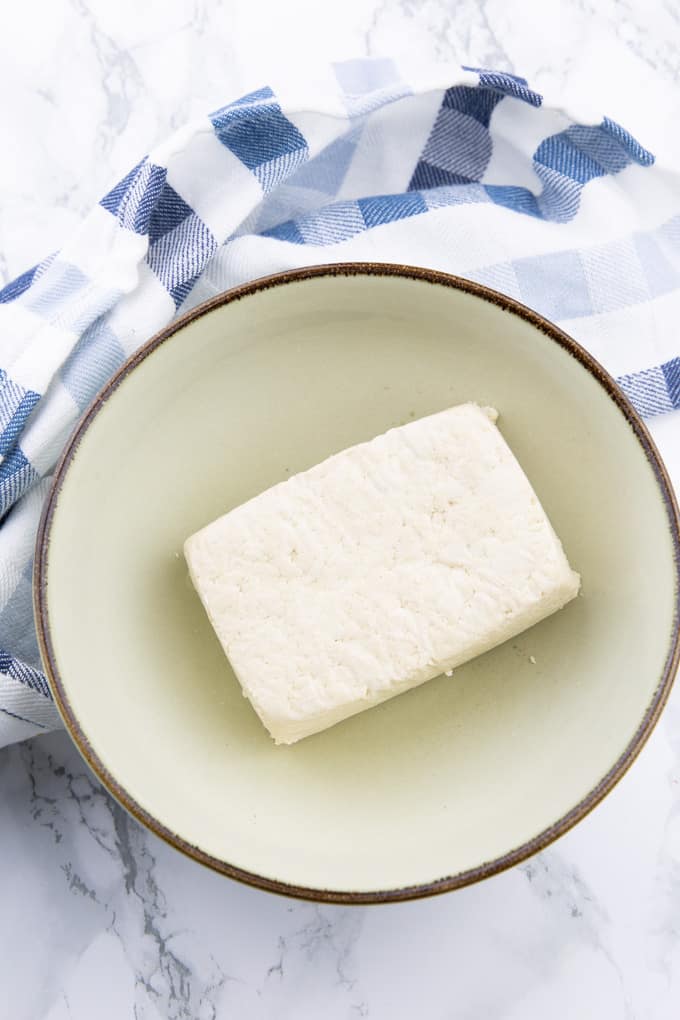 TOFU IS:
a great source of protein
very healthy
super versatile
very budget-friendly
easy to find in almost every supermarket
available in different kinds (silken tofu, soft, firm, and extra-firm tofu)
kind of tasteless on its own, so you can add any kind of flavor to it by using spices and sauces
super delicious
easy to prepare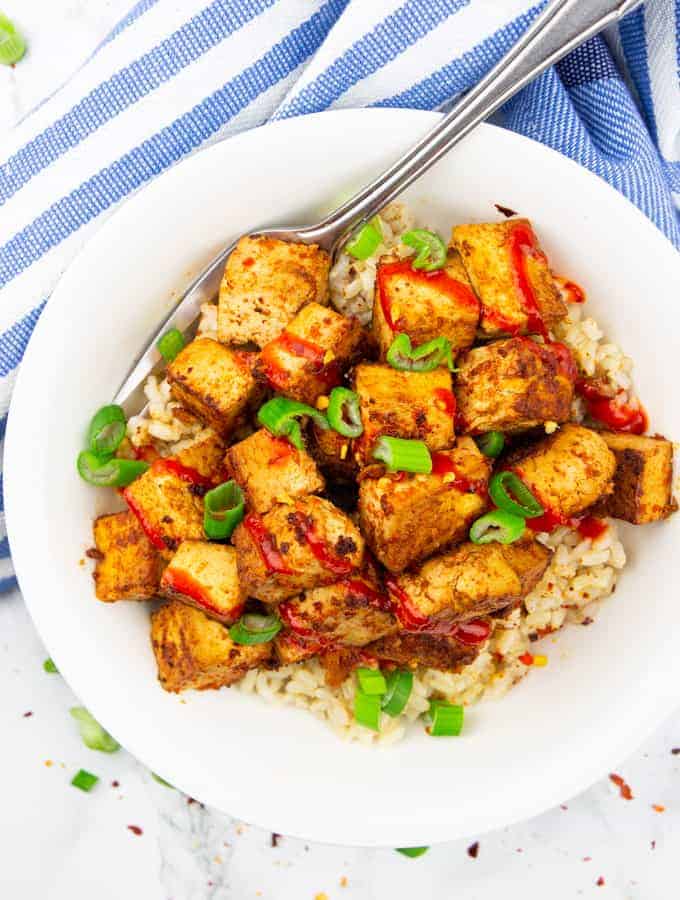 Different Ways to Prepare Tofu:
There are many different ways to prepare tofu depending on what you want the end product like to be.
Tofu can be:
baked
sautéed
fried
scrambled
Before you start with any of the different tofu cooking techniques, you should make sure to press your tofu to get rid of the excess water. This way you will end up with delicious and crispy tofu.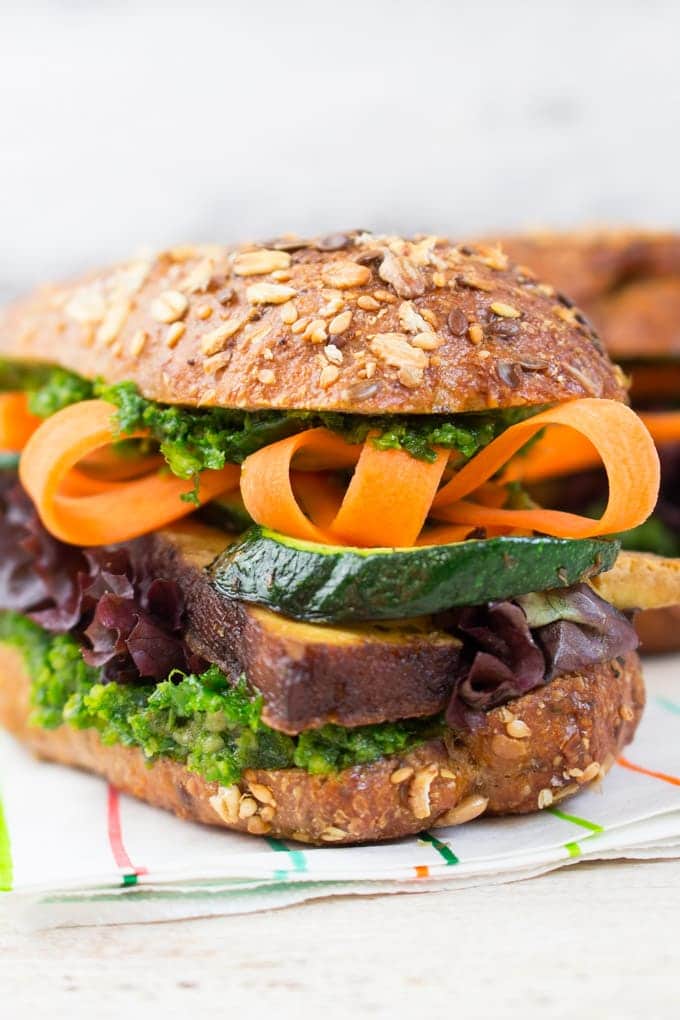 HOW TO PRESS TOFU
Usually tofu is packed in water. To make crispy tofu, it's important to press most of the water out of the tofu.
Are you a fan of tofu and make it regularly? Then you could invest in a tofu press, which is a very easy way to press tofu.
However, you don't necessarily need to buy a tofu press to make crispy tofu. You could also use things you already have at home to make a homemade tofu press.
You can press tofu with a homemade tofu press in just four easy steps:
Start by removing your tofu from the packaging.
Then wrap it with a clean dishtowel. Alternatively, you could also use paper towels.
Cover it with a baking sheet and then place something heavy on top. I usually use a stack of cookbooks. But you could also use cans of beans, a cast iron skillet, or smaller weights you use for weight lifting exercises.
Let it press for about 10-15 minutes.
How To Marinade Tofu
The second step after pressing your tofu is marinating it to give it some flavor. The longer you leave the tofu in the marinade, the more flavorful it will be. You should let it marinade for at least 1-2 hours in the fridge.
If you have more time, I'd definitely recommend letting the tofu marinate overnight in the fridge. You just need to plan ahead a bit and make it the night before.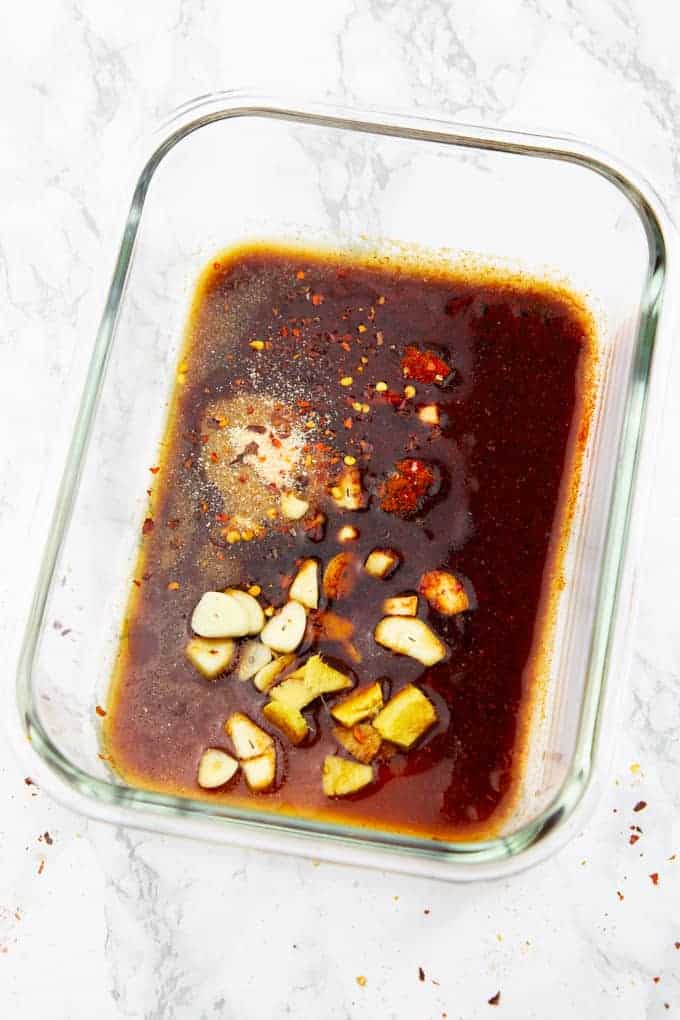 My basic tofu marinade consists of:
sesame oil
soy sauce (or tamari for a gluten-free version)
garlic
fresh ginger
rice vinegar
paprika powder
maple syrup
red pepper flakes
onion powder
smoked paprika powder
Check out the full recipe for my tofu marinade if you're interested. I also like to add some sriracha or other hot sauce to the marinade when I want my tofu to be a bit spicier.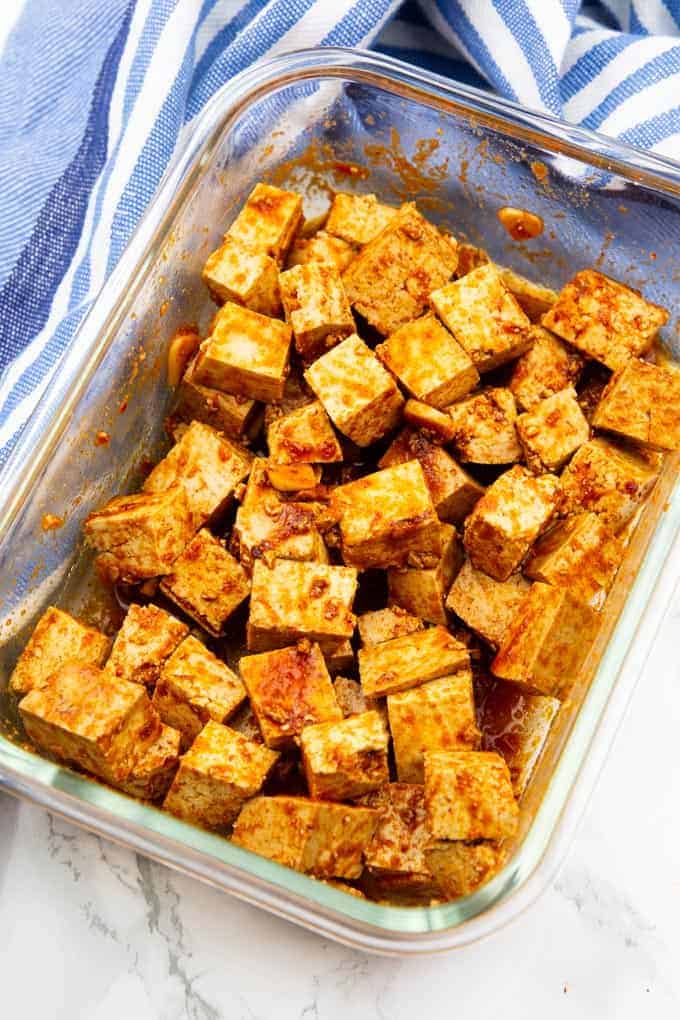 How To Bake Tofu
Baking is my favorite way of preparing tofu. If you want super crispy tofu cubes, you should really try making them in the oven. It's so easy!
Follow these easy steps if you want to make baked tofu:
Preheat your oven to 350 °F.
After the tofu has been marinated for at least 1-2 hours, place it in a bowl leaving the remaining tofu marinade behind.
Add two tablespoons of corn starch (for 14 ounces of tofu). Make sure all cubes are covered in corn starch. Line a baking sheet with parchment paper and place the tofu cubes on top.
Bake for 25 minutes, tossing halfway.
It's really important to toss the tofu cubes in corn starch. This way they will become extra crispy. So don't skip this step.
I love to add crispy baked tofu cubes on top of salads.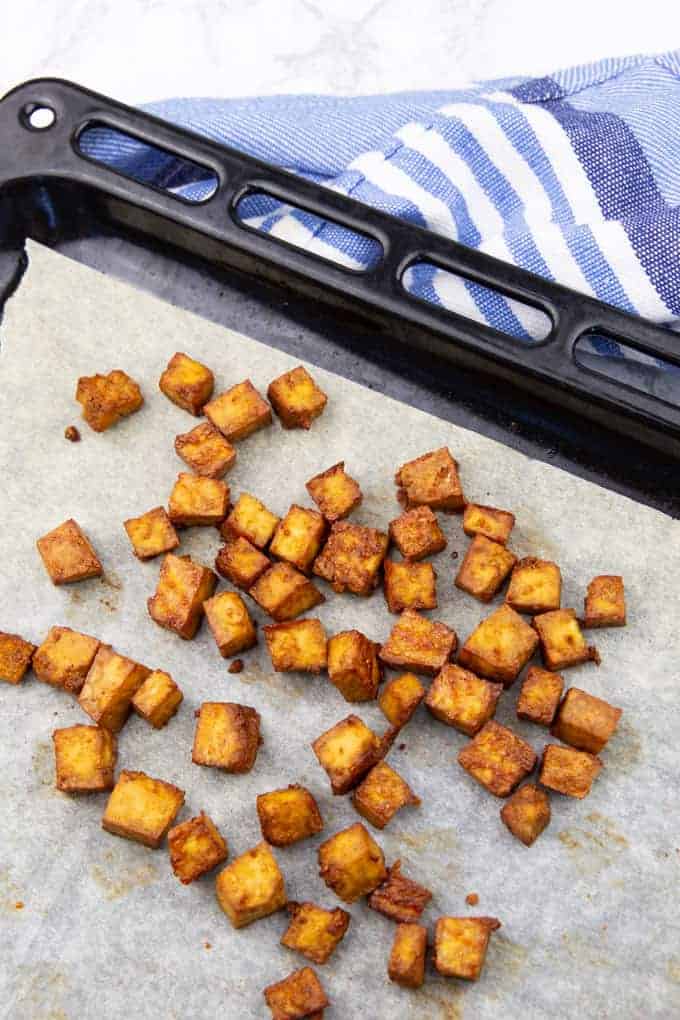 How To Cook Tofu
Cooking tofu instead of baking is also super easy. All you have to do is heat some oil in a frying pan or in a cast iron skillet.
Add the marinated tofu and cook it until it's golden brown. You can either sauté the tofu with just a little bit of oil or you could fry it with a few tablespoons of oil.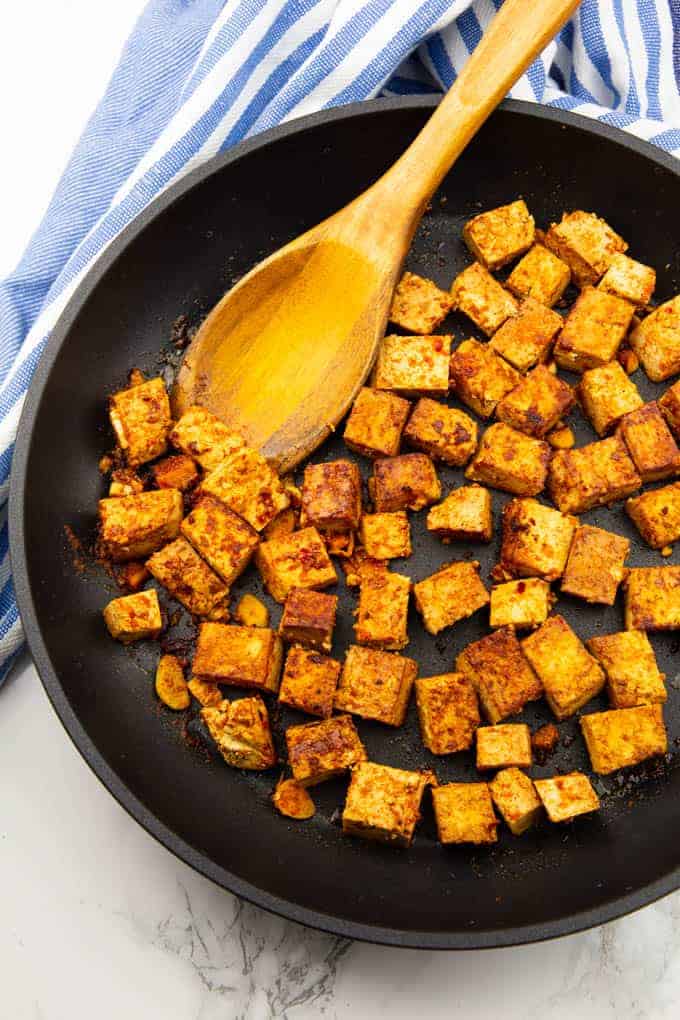 What Kind of Tofu Should I Use?
To make crispy tofu, you should use firm or extra-firm tofu. It has already been pressed enough to hold its shape fairly well when you buy it.
Please do not use soft or silken tofu for this recipe. It will fall apart when being pressed. Unlike firm tofu, soft or "silken" tofu is usually used for vegan sauces or mousses that are blended.
My Favorite Tofu Recipes:
I LOVE TO HEAR FROM YOU GUYS!
I hope you enjoy these tips on how to cook tofu! Don't forget to pin or share this post so you have these tofu recipes ready when you need them!
If you give any of these recipes a try, I'd love to know what you think about it. Just leave me a comment below. Your comments really make my day!
You like my recipes and roundups and want to see more? Then follow me on Facebook, Instagram, or Pinterest!
Sina