If you're looking for delicious vegan donuts, look no further! We've got you covered with 24 drool-worthy vegan donuts that are super easy to make and that are sooo delicious!!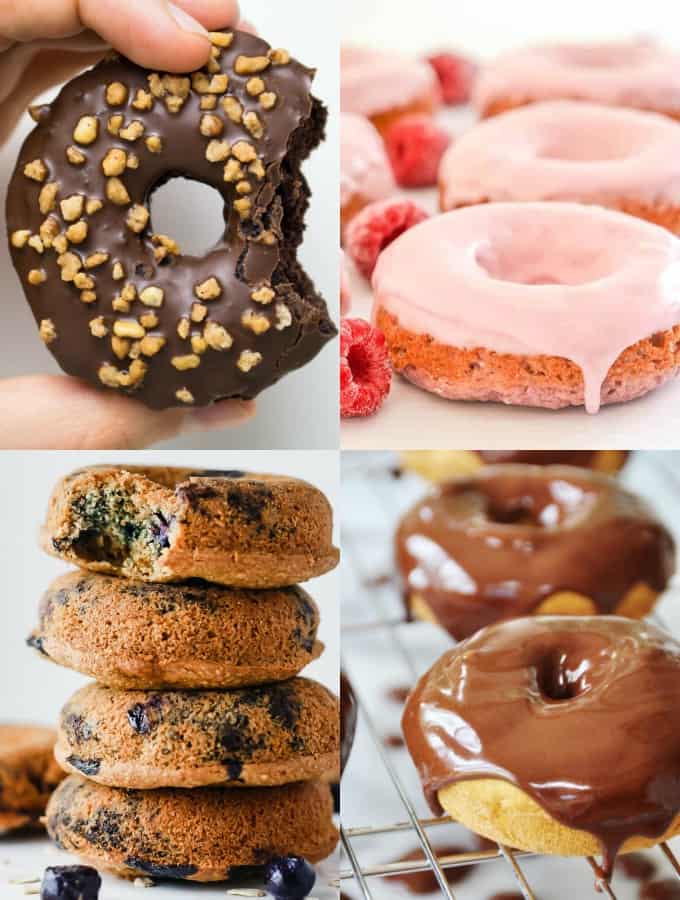 Can vegans eat donuts?
I've heard this question so many times. And the answer is a big YES. While regular donuts contain eggs and milk and are, thus, not vegan, vegans can still eat donuts. It's super easy to make vegan donuts or even veganize your favorite donut recipes. Just use almond, soy, or oat milk instead of cow's milk. You also got many different options to replace the eggs.
What are vegan donuts made of? And how to make vegan donuts:
Like regular donuts, most vegan donuts call for all-purpose flour. Instead of cow's milk you can use a plant-based milk alternative such as almond milk or soy milk. Instead of eggs you could use:
bananans
applesauce
flaxseeds or chia seeds
store-bought vegan egg replacers
or even aquafaba (the liquid from canned beans)
All of these egg replacements work similar to eggs in baked goods. Bananas for example add moisture while flaxseeds work really well for binding. And of course you can add a chocolate glaze on top. Just use dark chocolate that doesn't contain any milk ingredients. Or get a bit more creative and add other flavors to the glace like lemon, vanilla, or even fruits like strawberries or raspberries.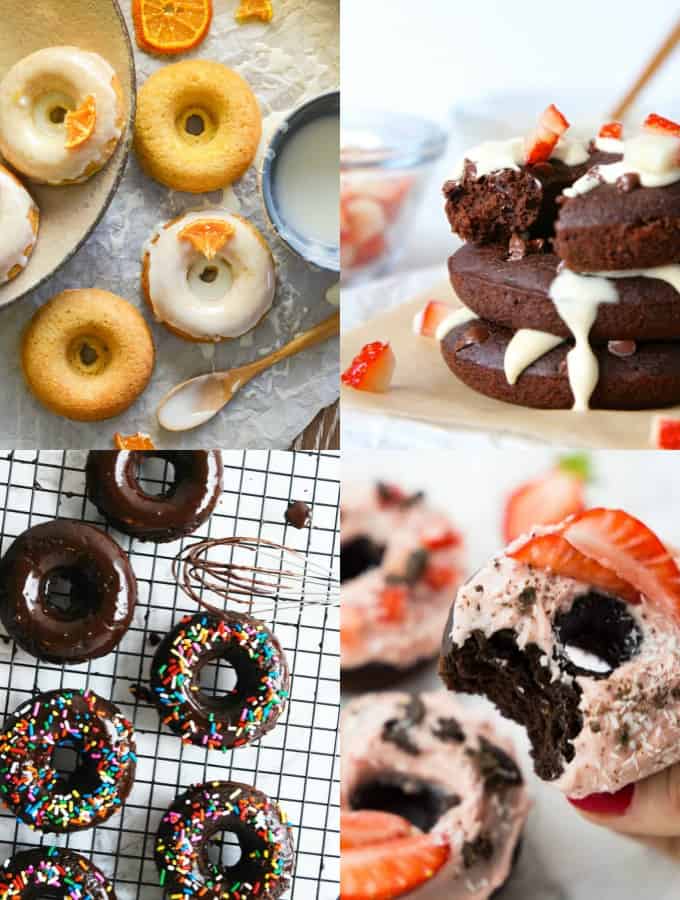 Where to buy vegan donuts?
In most cases, it's still very hard to buy vegan donuts. Finding vegan donuts in normal supermarkets is unfortunately still very rare. However, keep an eye out when shopping at organic grocery stores or health food stores. Besides, many vegan coffee shops offer vegan donuts. So just google for vegan cafés in your area and check out the reviews online. Some may have vegan donuts you can try. Especially in big cities, more and more regular coffee shops offer vegan baked goods as well. Yaay! Peta posted an article about the best vegan doughnut places in the U.S., which could be helpful as well.
So I guess that's enough info on vegan donuts and most of you are ready to see all of those delicious vegan donut recipes I talked about! So let's get the yumminess started!!
24 Drool-Worthy Vegan Donuts You Just Have to Try!!
Vegan Donuts with Chocolate Glaze and Hazelnuts
Baked Vegan Pumpkin Spice Doughnuts with Chocolate Cinnamon Icing
Lemon Poppyseed Donuts with Vanilla Frosting by Kathy from Healthy Happy Life
Vegan Chocolate Donuts with Strawberry Frosting
Baked Vegan Blueberry Donuts by Emilie from Emilie Eats
Vegan Pumpkin Donuts by Richa from Vegan Richa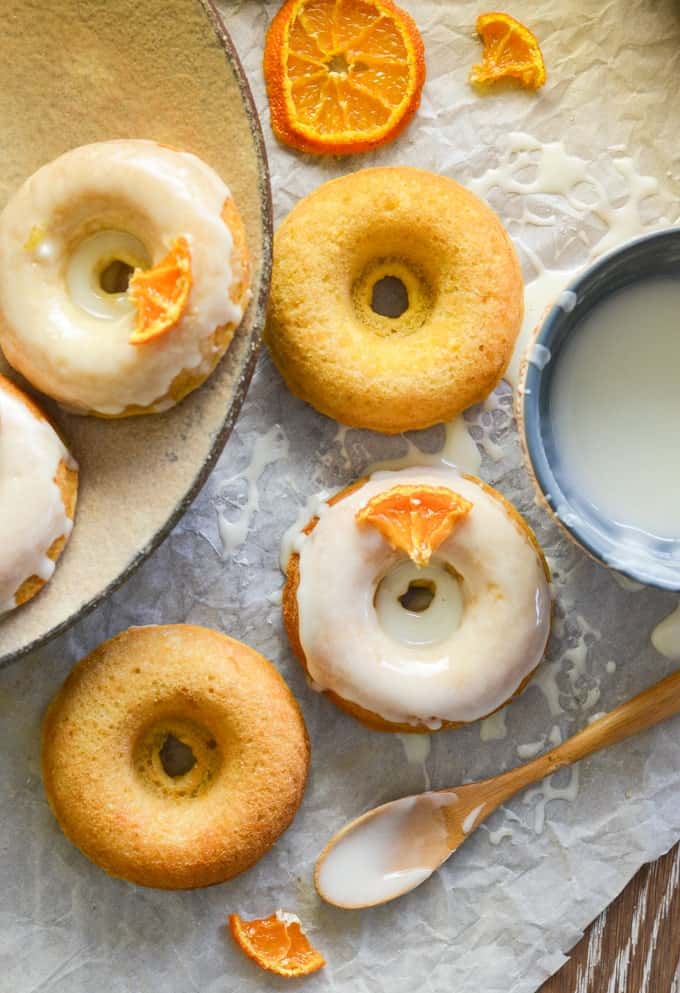 Sticky Orange Oil Baked Donuts by Melanie from A Virtual Vegan
Vegan Baked Lemon Thyme Doughnuts by Linda from Veganosity
Banana Chocolate Chip Doughnuts by Sara from Beaming Banana
Vegan Powdered Donuts by Melissa from Vegan Huggs
Vegan Maple Bacon Doughnuts by Sarah from My Darling Vegan
Orange Poppy Seed Doughnuts by Sarah from My Darling Vegan
Baked Apple Cider Donuts by Jenn from Veggie Inspired
Gluten-Free and Vegan Double Chocolate Baked Donuts by Megan from Allergy Awesomeness
Maple Doughnuts by Gwen from Delightful Adventures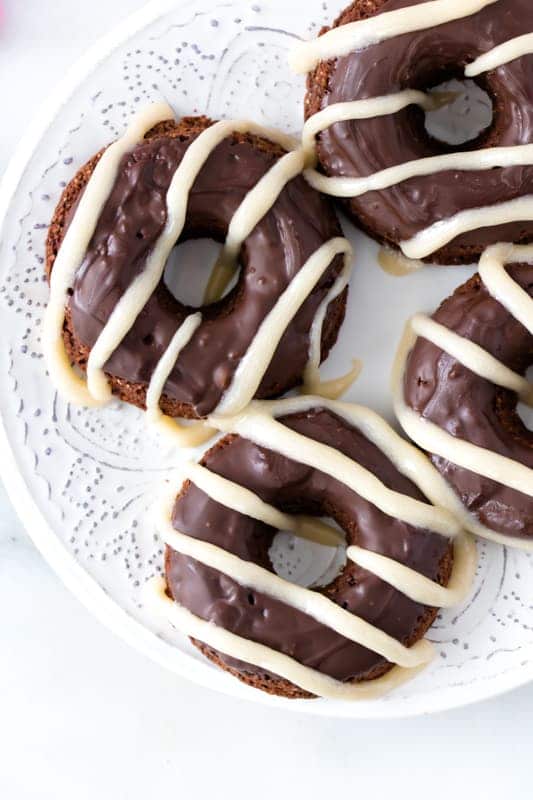 Baked Chocolate Chia Seed Donuts by Elaine from Eating by Elaine
Peaches and Cream Dairy Free Donuts by Jenn from Veggie Inspired
Double Chocolate Chip Brownie Doughnuts by Margaret from The Plant Philosophy
Vegan Double Vanilla Chocolate Chip Donuts by Brandi from The Vegan 8
Raspberry Donuts by Melanie from A Virtual Vegan
Baked Toasted Coconut Donuts by Marly From Namely Marly
Vegan and Gluten-Free Baked Chocolate Doughnuts by Gwen from Delightful Adventures
Vegan Pumpkin Donuts by Alisa from Go Dairy Free