Okay, jackfruit seriously is the coolest fruit ever. I mean how crazy is it that you can use a fruit to make vegan pulled pork?! I know we vegans always get a bit crazy with our food, but this is just kinda insane, right?! Haha! But believe me, it's soooo extremely delicious and the texture is just out of this world. Last weekend, Flo and I made this vegan pulled pork wrap with avocado and we just gobbled it down.
So easy and delicious!! For those of you who have never heard of jackfruit before: it's the largest tree-borne fruit in the world and it's commonly found in South and South East Asia.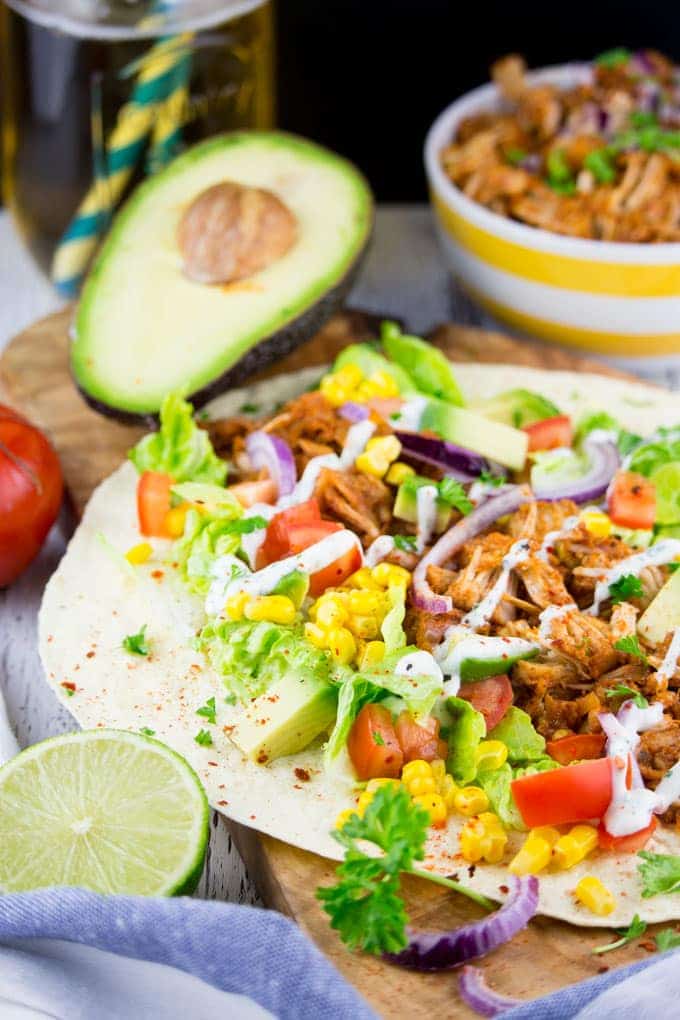 The funniest thing is that I wasn't even a fan of pulled pork before I became vegan, but I sure LOVE this jackfruit pulled pork. I'm not 100 percent sure, but I think I just had pulled pork once when we visited friends in Canada and spent Thanksgiving with them. I can't really remember its exact taste, but Flo said these vegan pulled pork wraps tasted almost exactly like the real thing. We topped them off with some corn, avocado, tomatoes, lettuce, and a little splash of soy yogurt sauce with parsley.
To get the sauce right, it's important that you use unsweetened soy yogurt. If you can't get a hold of unsweetened plant-based yogurt, you could also sub the yogurt sauce with cashew sour cream. We tried that as well and it's just as delicious. I used it for my vegan tacos with lentil walnut meat, so if you're interested go check out that recipe and you'll find the recipe for the cashew sour cream in the recipe section at the end of the post.
I don't know who first thought of using jackfruit to make vegan pulled pork, but to the person who first had that idea: "Thanks so much! You're a real genius!!" I've first tried it last summer and shared this recipe for vegan jackfruit pulled pork sandwiches with ranch sauce with you guys. I just couldn't believe how easy and yummy it was back then. I had a lot of people who told me in the comment section or on Facebook that they tried my recipe and felt exactly the same way, so I decided to post another jackfruit pulled pork recipe for you.
It's actually a bit embarrassing, but I got inspired to make this vegan pulled pork wrap by McDonald's. Haha! This doesn't happen too often, right? In April, we spent a couple of days in Amsterdam and there were signs for this McDonald's pulled pork wrap eeeeeverywhere all over the city! So as soon as I saw that, I just knew that I had to make a VEGAN pulled pork wrap. ;-)
Plus, I really needed a break from writing my master's thesis and desperately longed for some creative kitchen time. When I first moved in with Flo almost six years ago I seriously hated cooking and it couldn't understand how people felt that cooking was relaxing. But now that's exactly what it is for me: pure relaxation!! And the best thing is that you got all that delicious food after you're done cooking!
How to make vegan pulled pork or jackfruit pulled pork:
Making vegan pulled pork (aka jackfruit pulled pork or pulled jackfruit, however you wanna call it) couldn't be easier. The important thing is that you buy YOUNG jackfruit in brine or water, not in syrup. It doesn't work with any other kind. I usually get it at our local Asian supermarket and it's really cheap, but if you don't have an Asian grocery market where you live, you could also order it online.
So once you got a hold of young jackfruit, you're good to go. First rinse the jackfruit and cut off the core. Then put them into a medium-sized mixing bowl and stir in the spices (I used cumin, paprika powder, red pepper flakes, and of course salt and pepper). The jackfruit pieces should all be nicely covered. I also added some liquid smoke, which gives it a really great hearty and smoky taste. It's optional, but I really recommend using it. I bought mine on amazon like a year or two ago and you really don't need a lot of it, so it has a long shelf life. To give it its typical hearty BBQ taste, I also stirred in a pretty good amount of BBQ sauce. If you're fully vegan, make sure the brand you use is totally plant-based.
While the vegan pulled pork is cooking (this will take about 15-20 minutes), you got enough time to prepare the vegan yogurt sauce (or cashew sour cream), the tomatoes, the avocado, the lettuce, the corn, and the red onions. So all in all making this vegan pulled pork wrap won't take much longer than half an hour.
Have a great and sunny week everyone!! xx

For the vegan jackfruit pulled pork:
For the vegan yogurt sauce:
For the vegan jackfruit pulled pork:

For the vegan yogurt sauce:
Drain and rinse the jackfruit. Remove the core and put it in a mixing bowl. Stir in the spices (paprika powder, cumin, red pepper flakes, salt, and pepper). The jackfruit pieces should all be nicely covered.

In a medium pan, heat the olive oil over medium heat. Sauté the onion for about 3 minutes or until it becomes translucent. Then add the garlic and cook for another minute.

Add the jackfruit and cook for about 3 minutes. Then add the BBQ sauce, the liquid smoke (if using), and the vegetable broth and cook for another 15- 20 minutes. Use a fork to shred the jackfruit.

In then meantime, make the vegan yogurt sauce. Put the soy yogurt (make sure it's unsweetened) in a small bowl and stir in the chopped parsley. Season with salt and pepper.

Serve the vegan jackfruit pulled pork on tortilla wraps together with the chopped tomatoes, lettuce, avocado, corn, red onions, and the yogurt sauce. Roll them up and enjoy!