I've always loved pasta and I really don't know what I like better: warm pasta dishes or pasta salad. I think the special thing about pasta salad is that we don't have it very often (most of the time we only make it for parties or BBQs), so I'm always getting quite excited about it. When GlobeIn sent me one of their Artisan boxes to review and it contained a jar of sun-dried tomato caper spread and a box of thyme with roasted sesame seeds, I knew right away that this would make a perfect vegan pesto pasta salad. I also added arugula, cherry tomatoes, and black olives. To give the pesto salad a bit more color, I used tri-color spaghetti, but of course you can also use regular or whole-wheat spaghetti.  It's already getting colder here, so we only enjoyed the salad together with roasted bread, but it would also be a great side dish for BBQs and picnics. It's super easy to make and comes together in only 20 minutes.
But probably you're already wondering what I meant when I mentioned the GlobeIn Artisan box. Globe In is a shop that features products sourced from direct relationships with artisans from all over the world.  By selling these products, GlobeIn supports artisans in developing countries where, after agriculture, artisan goods are the second largest source of employment. You can either buy these Artisan products separately in their online shop, or you can subscribe for a monthly box full of handcrafted, organic, and fair trade products for 30 dollars per month. Each box has a different theme. For example, the box I got has the theme "Entertain". The vegan sun-dried tomato caper spread can either be served as a dip, on warm bread, or with pasta. I'm really in love with the Za'atar Spice Mix. I've never heard of something like this before. It's a combination of dried thyme, wild sumac, cold pressed olive oil, and roasted sesame seeds.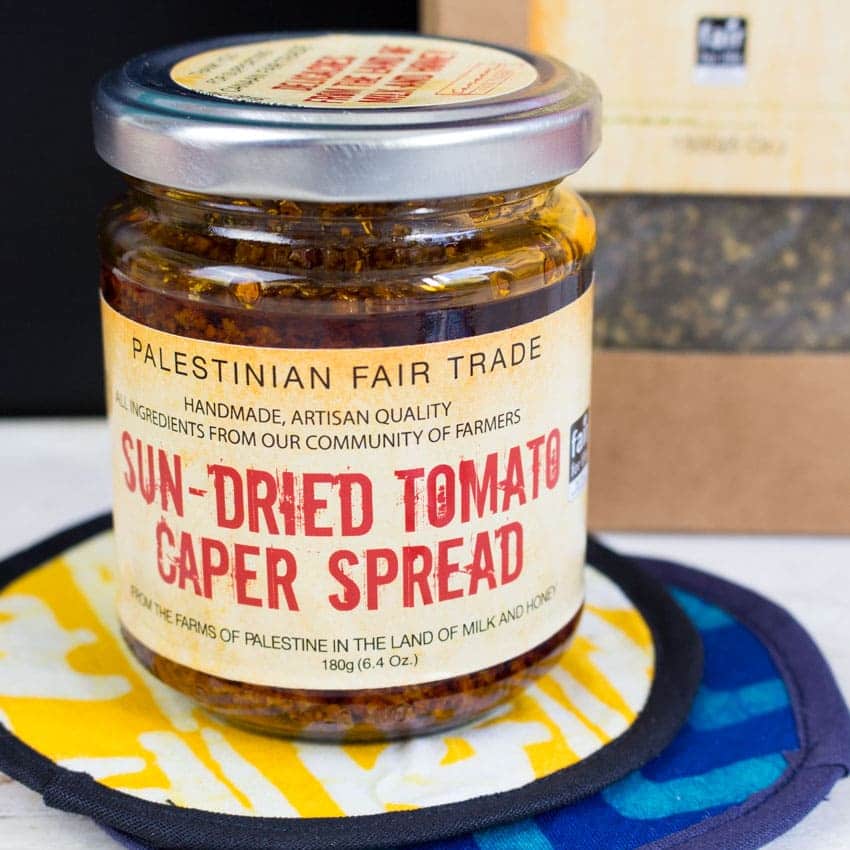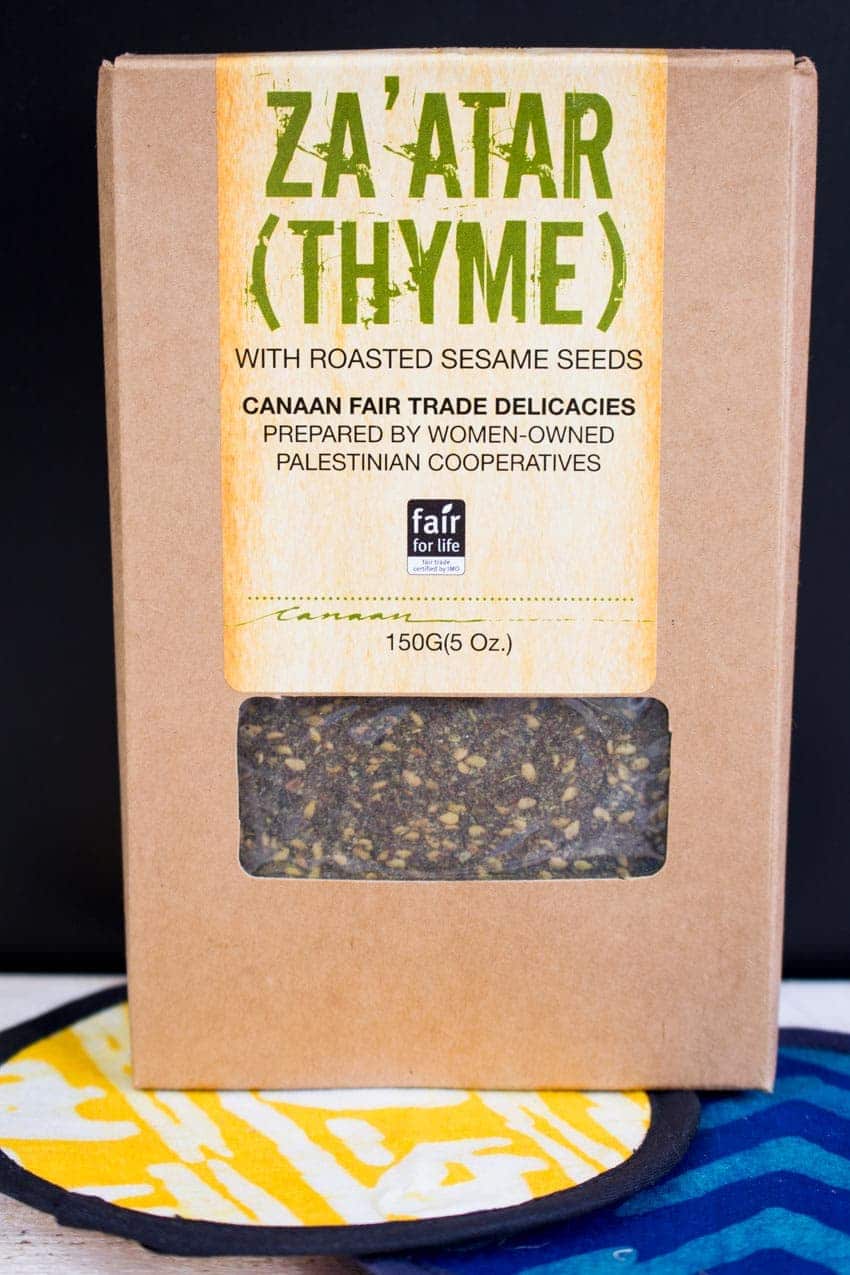 Besides the tomato caper spread and Za'tar Spice Mix with sesame seeds from Palestine, it also includes coasters from Ghana that use discarded plastic bags, a tea time bunting from India, and a palm leaf basket from Mexico. All of the products you can find in the Artisan box are made through projects that help women support themselves and climb the economic ladder through meaningful work. Previous themes were picnic, wellness, refresh, and bake to name just a few of them. I especially liked the tea time bunting that is made from upcycled Indian saris. Unfortunately, we don't have a birthday coming up soon, but I think these would make a really great decoration. All in all, I really liked this idea and I can assure you that you won't get a box of junk or stuff that you won't need. I recently subscribed for a monthly box of vegan things (not a Globe In box though, but almost all their products are vegan too) and I'm always getting so excited when I open it. It kinda feels like Christmas not knowing what's in there. If you want to sign up for a monthly GlobeIn box, use the coupon code VEGANHEAVEN to get 25% off your first month's box with a 3 or 6 month subscription.
But back to the spaghetti salad. If you don't like arugula (I know some people don't, I also just recently began to love it), you can also sub it with fresh baby spinach. Instead of the sun-dried tomato and caper spread that I got from GlobeIn, you can also use homemade pesto. I included a recipe for sun-dried tomato caper pesto further down in the recipe section. Of course you can also serve the cold pesto pasta salad warm and top it off with fresh arugula.
Vegan Pesto Pasta Salad
This vegan pesto pasta salad with arugula, cherry tomatoes, and black olives is perfect for BBQs and picnics. It comes together in only 20 minutes!
Print
Pin
Rate
Ingredients
For the vegan pasta pesto salad:
17

oz

spaghetti

I used tri-color ones

2

cups

cherry tomatoes, cut into halves

3

cups

arugula

1/2

cup

black olives, cut into rings

5

tablespoons

tomato caper pesto

Either use the tomato caper spread from GlobeIn or use the recipe below

1

tablespoon

Za'atar Spice Mix with roasted sesame seeds

Alternatively you can also use one tablespoon of roasted sesame seeds and 1/2 teaspoon thyme
For the sun-dried tomato caper pesto:
1/2

cup

sun dried tomatoes in oil

2

tablespoons

capers

3

tablespoon

olive oil

1

pinch

salt

1

pinch

black pepper
Instructions
Cook the spaghetti according to the instructions on the package.

Place them in a salad bowl and stir in the tomato caper pesto, the olives, the tomatoes, and the arugula. Season with salt and pepper and sprinkle with the Za'atar Spice Mix with roasted sesame seeds.

If you are not using the above mentioned pesto or spice mix from GlobeIn, make the homemade version of the pesto while the spaghetti are cooking. Place the sun-dried tomatoes and capers together with olive oil in a blender or food processor and process until smooth. Season with salt and pepper and combine with the remaining ingredients. Sprinkle with roasted sesame seeds and add 1/2 teaspoon thyme.
Rate the recipe!
If you like this recipe, please leave a good rating! This will help other readers.