If you're a sandwich fan like me, you will LOVE this vegan meatball sub. It's super easy to make, 100 % plant-based, and sooo delicious!!
Everyone loves a good meatball sub and it's so easy to make a vegan version of this Italian-American classic! I've used my recipe for vegan meatballs with kidney beans for this vegan meatball sub. It has been one of the most popular recipes on the blog for a very long time. Over the last years, so many people have tried it and I love to see the photos of your remakes on Instagram and Pinterest.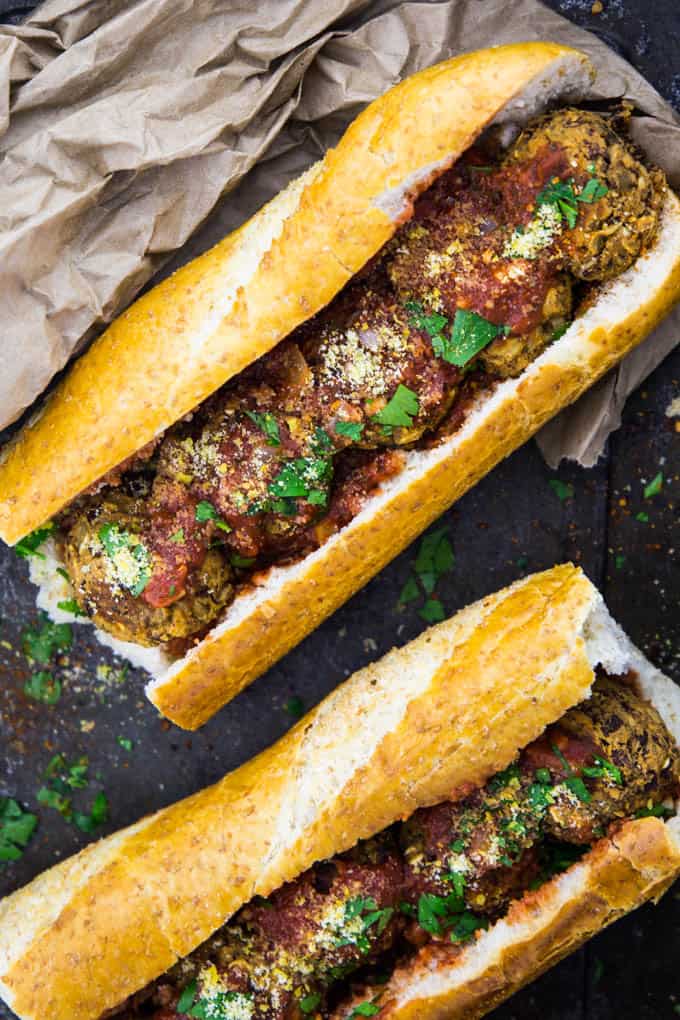 If you're looking for vegan meatballs without soy, this is the right recipe for you. The vegan meatballs are made from scratch. Instead of TVP or tofu, the recipe calls for kidney beans, oats, and lots of spices. This time I also added mushrooms, which was a great addition.
What You Need For This Vegan Meatball Sub
The ingredient list for this vegan meatball sub might seem rather long at first sight but most of the ingredients are just spices.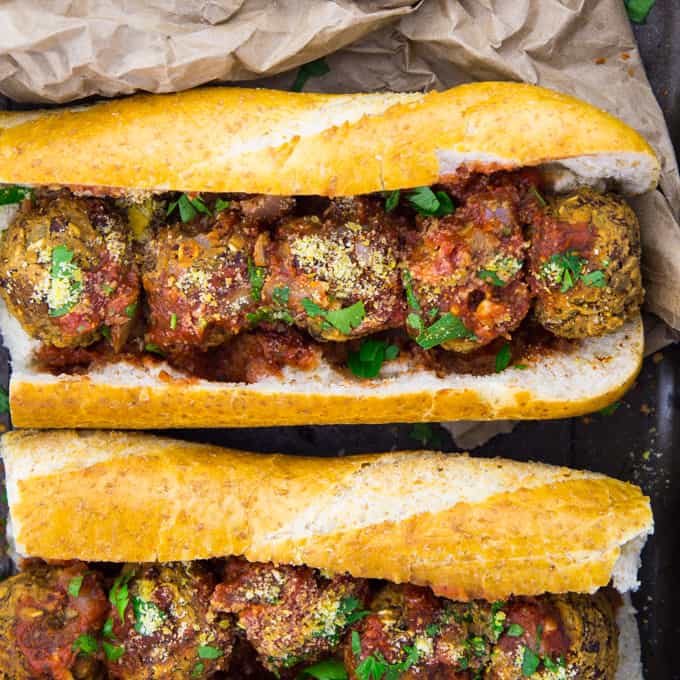 For the vegan meatballs you will need:
cooked kidney beans
garlic
one small red onion
dried oregano and basil
tomato paste
soy sauce (omit for a soy-free version)
rolled oats
sunflower seeds
mushrooms
salt and pepper
And then of course a good marinara sauce and some Italian sandwich rolls or baguette. I also love to sprinkle some vegan Parmesan and fresh parsley on top. I usually use homemade cashew Parmesan with nutritional yeast.
As always, you can find the full ingredient list and the recipe instructions in a separate recipe box at the end of this post.
I used to pan-fry my vegan meatballs, but nowadays I prefer the oil-free baked version. So you can either heat some oil in a large pan and cook them for about 5 minutes until they're brown and crispy. Or you can line a baking sheet with parchment paper, equally divide the meatballs on top of it, and bake them for about 15 minutes. Both ways work great!
Another question I often get about my vegan meatballs is: "Can you freeze vegan meatballs?" Yes, you can and it works out pretty well! I often double the recipe and then just freeze half of them. This way you have a delicious and healthy dinner on busy weeknights. Just make some pasta, heat some marinara, and you're good to go. For an extra boost of nutrients, you can also add some spinach to the sauce.
I hope you like this vegan meatball sub as much as we do around here!
Have a great week, everyone!
Sina – xx
| | |
| --- | --- |
| | |
Rinse and drain the kidney beans. Put them in a medium bowl and mash them well with a fork. In a medium pan, heat some oil and sauté the onions for 3 minutes. Add the minced garlic and the mushrooms and cook for another 2 minutes. Add it to the mashed beans together with the spices, tomato paste, soy sauce, and oats. Put the sunflower seeds in a food processor and pulse until a fine meal is achieved. Add to the bean mixture and combine well. Season with salt and pepper. Form about 12-14 vegan meatballs.

Preheat the oven to 350 °F. Line a baking sheet with parchment paper, equally place the meatballs on top of it, and bake them for about 15 minutes.

Serve the vegan meatballs on Italian sub rolls or baguette and top them with your favorite marinara, vegan cashew Parmesan, and sprinkle them with fresh parsley. Enjoy!