This vegan lentil salad with spinach, pomegranate, avocado, and walnuts is super delicious and packed with nutrients. Perfect for fall!
I'm always looking for quick and easy vegan salads that I can bring along to university. They actually offer some vegan options like burgers, pasta, and stews at our cafeteria, which is so great. It's getting so much easier to find vegan food in restaurants lately! It's actually becoming kind of "normal" and people don't just perplexedly stare at you anymore when you ask for something vegan.
Or they tell you "yes of course" and then they show you the pasta with prawns or the cheese platter on their menu. Haha! I really had this happen to me last year in Miami! But unfortunately the cafeteria at my university is always crowded, so I usually prefer to bring my own food.
Last week, I made this vegan lentil salad with spinach and pomegranate that is just perfect for fall. I also added avocado, apples, and walnuts and topped it off with a tahini orange dressing.
I just love this lentil salad! It's super easy to make, packed with nutrients, colorful, and extremely YUMMY!
Plus, it's great to prepare ahead. I usually cook the lentils the night before and then just cut up the rest and put it all together in a big bowl on the next day. If you like you can also use canned lentils and even save some more time.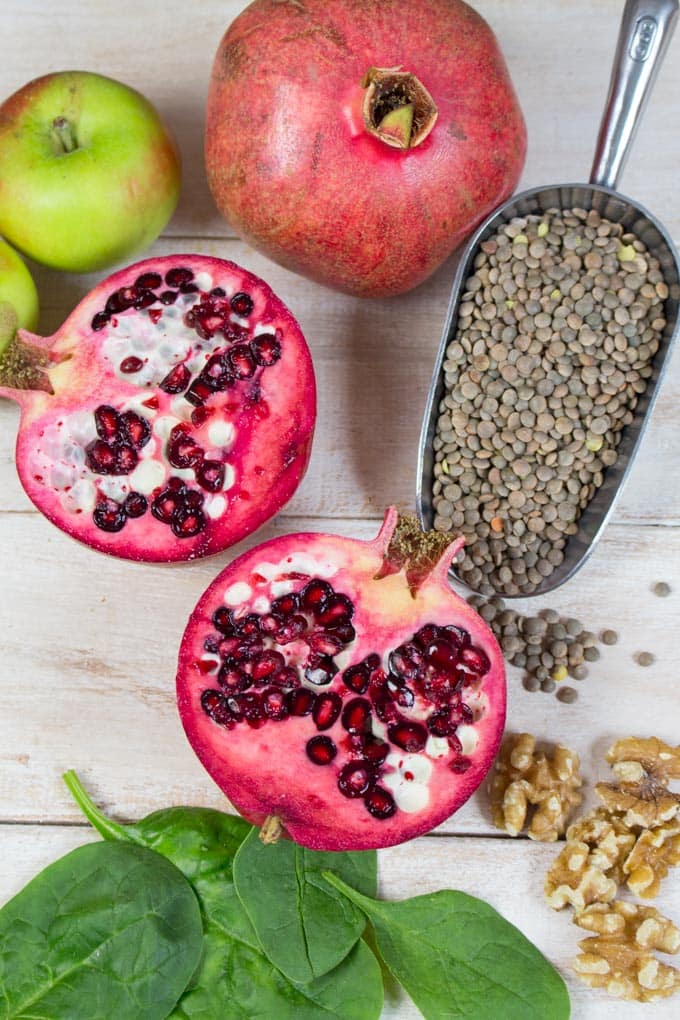 Lentils are definitely among my faves  (so are avocados by the way). When it comes to vegan protein, you just can't go wrong with lentils. They're full of fiber and should be a staple in every pantry. I just love that they're so versatile. You can use them for hearty soups and stews, pasta, salads, and even for dips. Check out my red lentil and sweet potato spread if you're interested.
And they're also super filling, which is also pretty great especially when you bring them along as an school or office lunch. So I guess what is there not to love about these tiny power legumes?!
For the dressing, I used tahini, olive oil, garlic, water, orange juice and orange zest. Just put all ingredients into a blender or food processor and process until smooth. I also love using this dressing for green salads. Tahini is a great source of iron, which makes it perfect for vegans and vegetarians.
When you prepare the lentils ahead, all in all the vegan lentil salad does not take much longer than 10 minutes. I guess with all these veggies and fruits in it you could really call it a fall salad or maybe it's more of a winter lentil salad?
Whatever you wanna call it, I just can't get enough of it. I'll definitely have to make it again this week!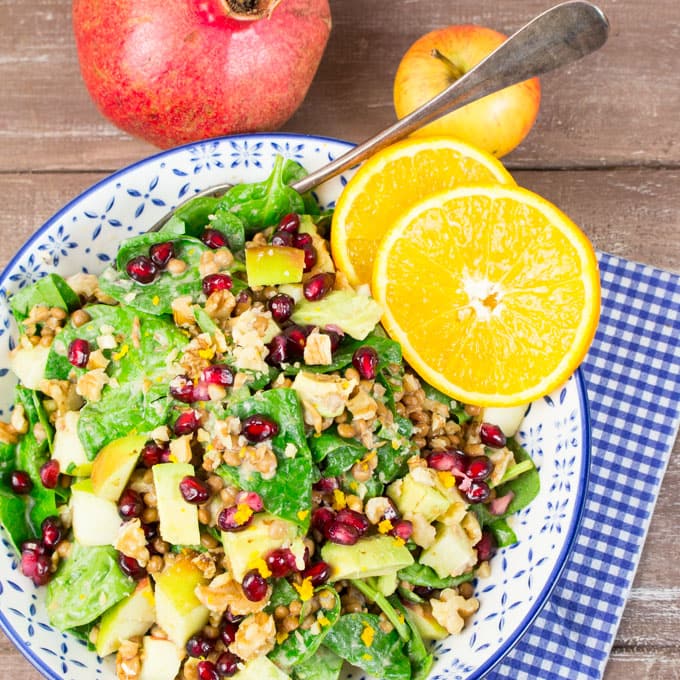 I hope you like this vegan lentil salad as much as I do. :-) Have a great start into the new week! xx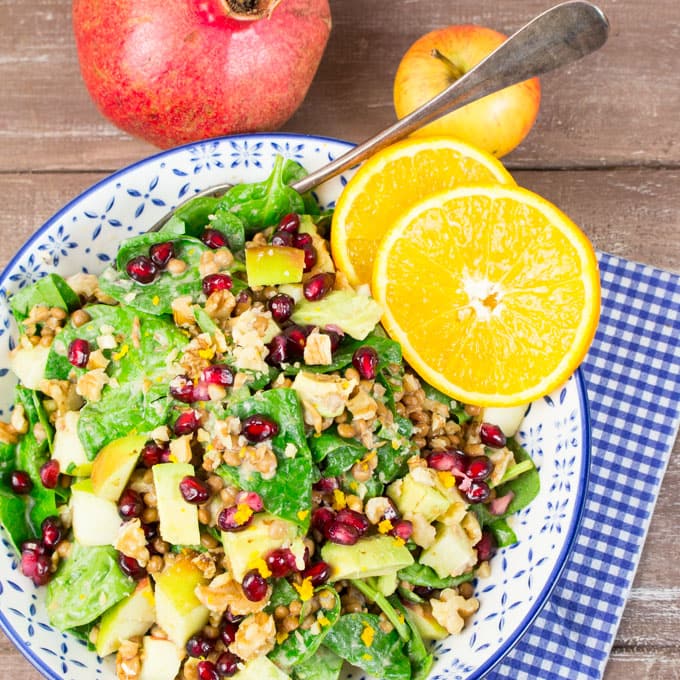 Lentil Salad with Spinach and Pomegranate
This vegan lentil salad with spinach, pomegranate, avocado, and walnuts is super delicious and packed with nutrients. Perfect for fall!
Print
Pin
Rate
Ingredients
For the vegan lentil salad:
3

cups

cooked brown lentils

I usually cook them the night before. Or if you like you can also use canned lentils.

1

avocado, cut into slices

2-3

handfuls

fresh spinach

1/2

cup

walnuts, roughly chopped

2

small

apples, cut into small pieces

1

pomegranate
For the tahini orange dressing:
3

tablespoons

tahini

2

tablespoons

olive oil

1

clove of garlic

6

tablespoons

water

4

tablespoons

orange juice

2

teaspoons

orange zest

salt

black pepper
Instructions
Cook the lentils according to the instructions on the package.

Cut the pomegranate into halves and remove the seeds. I like to do this in a bowl of water because then it doesn't get all messy. Fill a large bowl with water. Place halved pomegranate into the water. Use your fingers to break the seeds out. Remove the white fiber that floats at the top of the water.

Put all ingredients into a big salad bowl.

Make the dressing: Place all ingredients into a food processor or blender and process until smooth.

Pour the dressing over the lentil salad.
Rate the recipe!
If you like this recipe, please leave a good rating! This will help other readers.