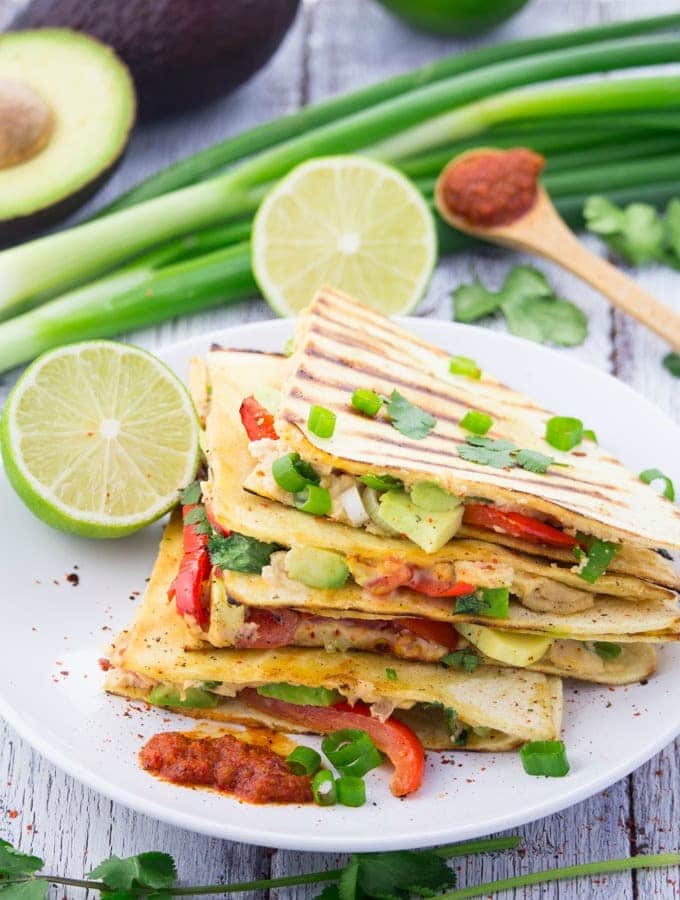 These vegan quesadillas are packed with flavor, minus all the fat from the cheese! They're made with white beans and get their cheesy taste from nutritional yeast and miso paste. They're healthy, super easy to make, and soooo delicious!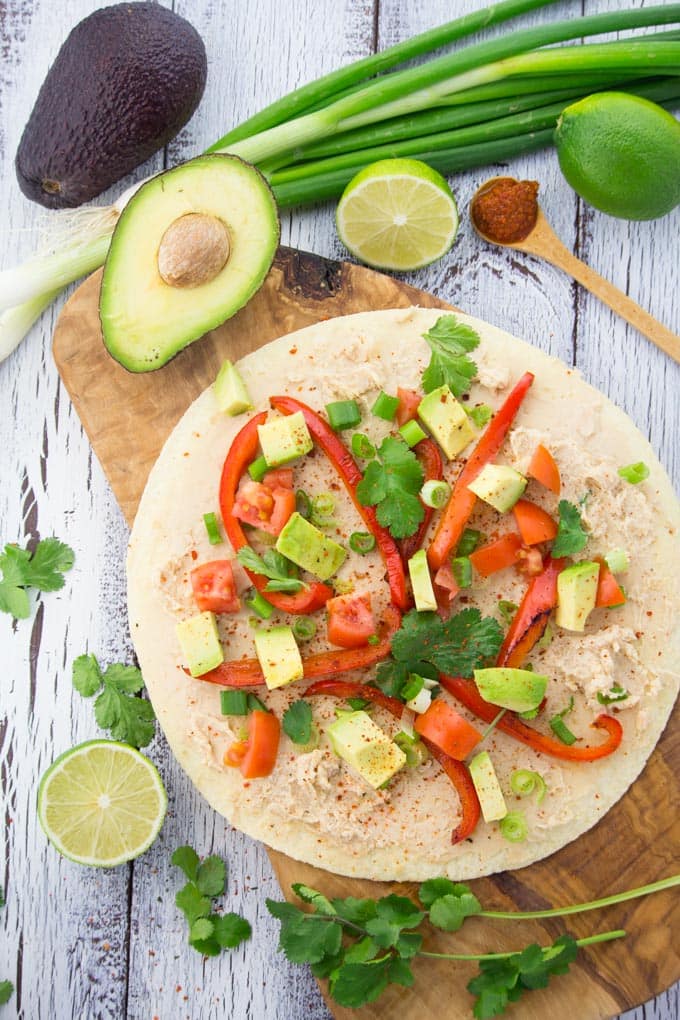 I also added some red bell pepper, avocado, tomatoes, green onions, cilantro, and some red pepper flakes. They're just mildly spicy by themselves, but we dipped them in harissa sauce, which we use for basically anything these days. No, I'm exaggerating, but I found a very mild harissa sauce. And it's so good with Mexican food or oven-baked potatoes, veggies, and hummus.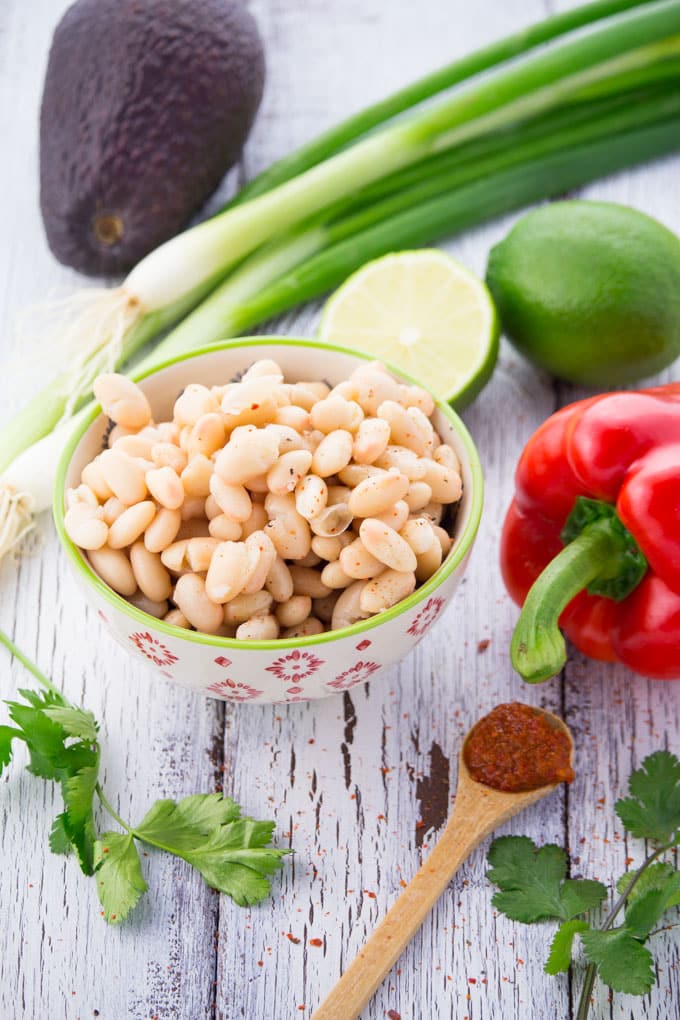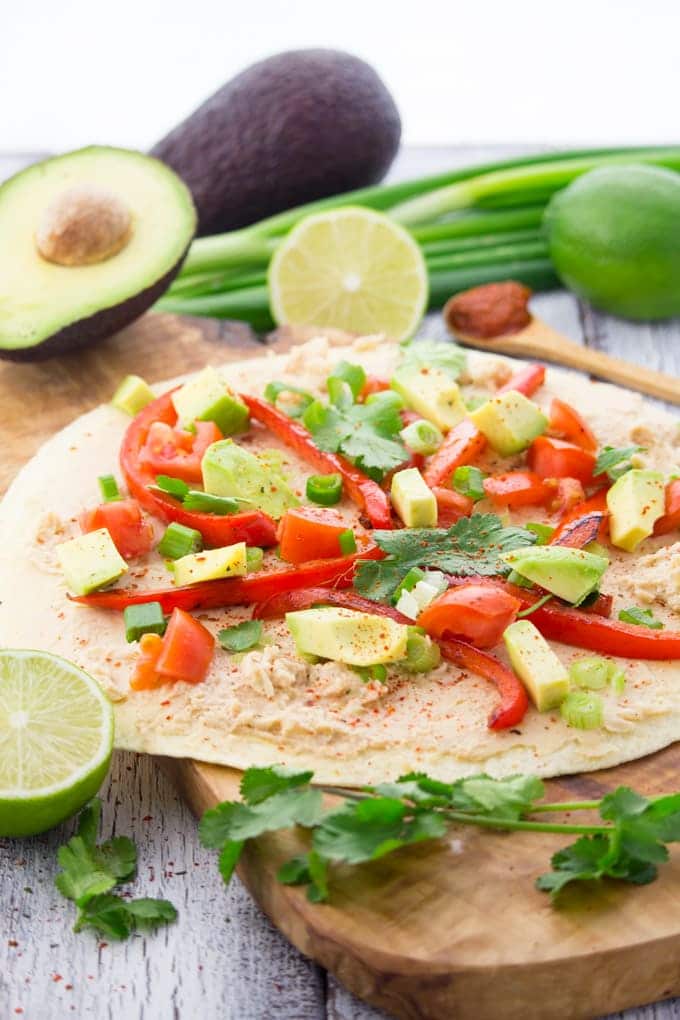 Flo and I simply LOVE Mexican food and we usually have one Mexican night per week. Most of the time, we simply have wraps stuffed with leftover brown rice, guacamole, lettuce, tomatoes, and maybe some BBQ tofu or tempeh. Oh, and of course beans! Either kidney beans or black beans. I just love how easy this is and it's such a great way to use up leftovers. If we wanna get a bit more "fancy" we make these tacos with lentil walnut meat and cashew sour cream. They've been a huge hit on the blog and I absolutely love that they are so easy to make. And it's also so much healthier than ground meat!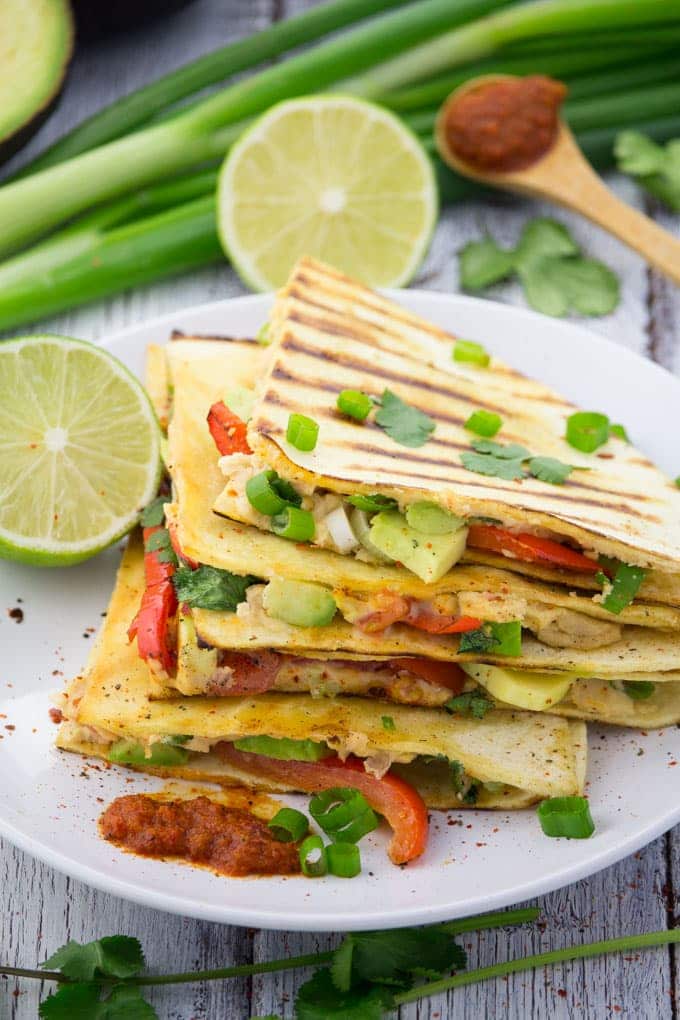 But back to the vegan quesadillas. I first thought of using store-bought vegan cheese for them like Daiya or Follow Your Heart, but I then decided to make it even healthier and easier by using white beans. It's kinda like hummus but with a very cheesy taste. I added miso paste, nutritional yeast, tahini, some oil, and a pinch of cumin and boy was it good!! I actually just wanted to give this a try and I didn't know how it would turn out. But I loved it right away, so I took the pictures and wrote down the whole recipe for these veggie quesadillas for you.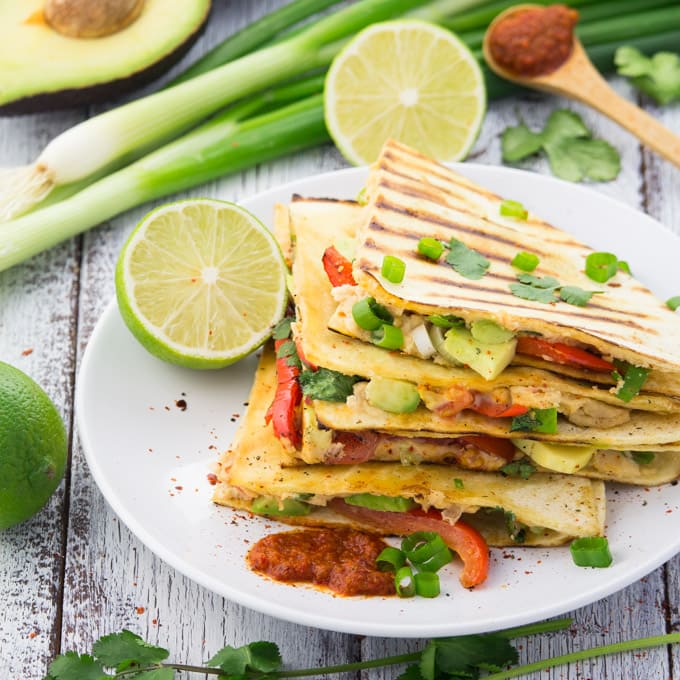 If you give these vegan quesadillas a try, please let me know how you liked them! :-)
Have a great and sunny week, everyone! xx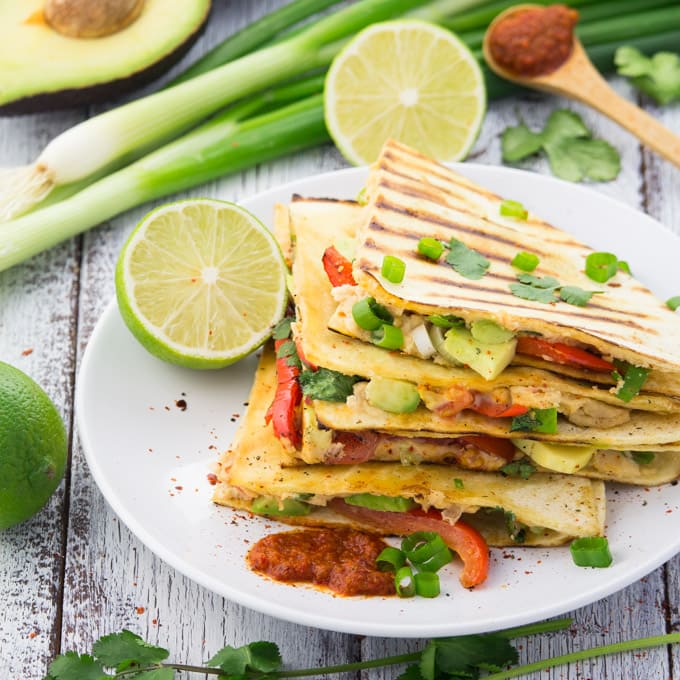 Easy Vegan Quesadillas
These vegan quesadillas with beans are packed with flavor, minus all the fat from cheese! They're healthy, super easy to make, and soooo delicious!
Print
Pin
Rate
Ingredients
1

can (15 oz.)

white beans

2

tablespoons

nutritional yeast

1

teaspoon

white miso paste

1

pinch

ground cumin

1

teaspoon

tahini

1

tablespoon

olive oil

1

small clove of garlic

2

vegan tortillas

1

tomato, chopped

1

red bell pepper, cut into thin stripes

1

avocado, cut into small pieces

2

green onions, cut into rings

fresh cilantro

red pepper flakes

harissa paste, to dip
Instructions
Wash and rinse the white beans. Put them into a food processor together with the nutritional yeast, the white miso paste, the ground cumin, the tahini, the olive oil, and the garlic. Process until smooth. Set aside.

Heat some oil in a griddle pan and gently roast the red bell pepper for about 4 minutes.

Spread the bean "cheese" evenly on the first tortilla and add the roasted red bell pepper, the tomato, the avocado, the green onions, and the cilantro on top. Sprinkle with some red pepper flakes. Then put the second tortilla on top. Cut in four pieces.

Heat some more oil (not too much, 1/2 tablespoon will be enough) in a griddle pan and cook the quesadillas for about 2 minutes on each side until they're crispy. You can also use a non-stick frying pan for an oil-free version if you like.

Top them off with some fresh cilantro and green onions and serve immediately.
Rate the recipe!
If you like this recipe, please leave a good rating! This will help other readers.