Hi guys, I got a new vegan ice cream creation for you to enjoy this summer: Chocolate chunk beet ice cream. This might sound like a pretty strange combo, but it's sooooo DELICIOUS!! It's actually like vegan red velvet ice cream. But while many red velvet ice cream recipes call for red food coloring, I used cooked beets instead, which makes it so much healthier!
I'm so in love with the color of this purple ice cream! When Flo first saw it, he said it kind of looked like purple unicorn ice cream with some chocolate chunks in it. And I think it really does!! I first thought of giving it this name, but probably nobody would have ever found it using Google. So I decided to just go with beet ice cream instead…
How to Make this Chocolate Chunk Beet Ice Cream
The best thing is you need only very few ingredients to make this beetroot ice cream: Cooked beets, coconut milk, agave, a little bit of ginger, and dark chocolate. If you want the ice cream to be plant-based make sure the dark chocolate is dairy-free. Most brands are, but unfortunately not all, so it's best to check the labels.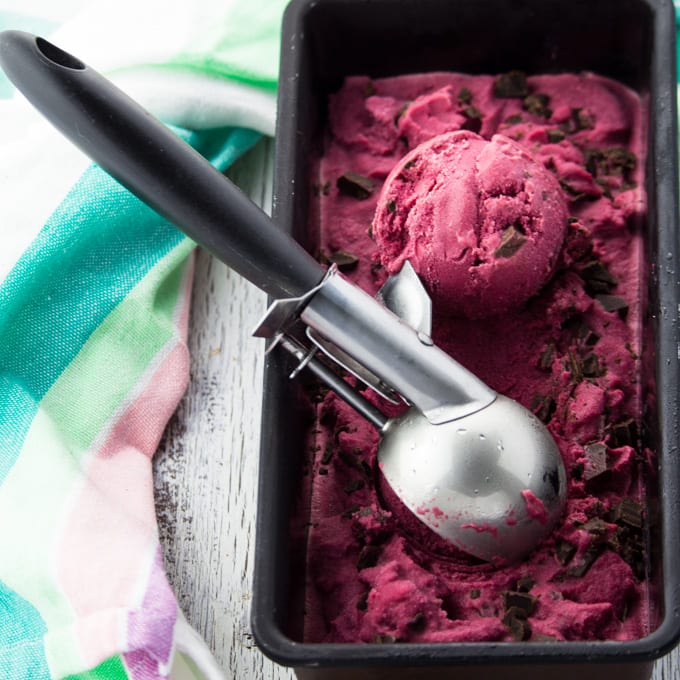 I actually wanted to get an ice cream maker for so long, but our little apartment is already crowded with kitchen appliances. We got a blender, a mixing machine, a smaller food processor, a spiralizer, a pressure cooker, tons of different baking forms, and sooo much more. But as a food blogger you need all this stuff, don't you? Haha!
The bad thing is that I don't have enough room for all this stuff anymore, so I started to even store them in the living room some while ago. So I actually wasn't sure about the ice cream maker. Plus, I usually make most of my vegan ice cream with the blender using frozen bananas and other frozen fruits. So I wasn't sure if it's really worth it. But when my mom told me she got an old ice cream maker she hasn't used in years, I just couldn't say no…
So this beet ice cream was the first ice cream I tried with my new, or actually very old, ice cream maker. And it turned out super delicious! I can't wait to try more vegan ice cream flavors with it. If you don't have an ice cream maker and still want to give this vegan red velvet ice cream a try, no problem! Just put it in a freezer-safe container and freeze it for about 4 hours, but make sure to slightly whisk it every 20-30 minutes, so it doesn't get too icy.
I hope you like this beet ice cream as much as we do! Have a great and sunny week! xx
| | |
| --- | --- |
| | |
Put the cooked beets, the coconut milk, the agave, and the ginger in a food processor and blend until smooth.

Ice Cream Machine (recommended): Put the beet coconut mixture in your ice cream machine and freeze according to the manufacturer's instructions. Stir in the chocolate chunks and place the ice cream in a freezer-safe container and freeze for another 2 hours in your freezer. Thaw for 5-10 minutes and scoop with an ice cream scoop.

No Machine/No Churn: Put the beet coconut mixture in a freezer-safe container, stir in the chococalte chunks and freeze for about 4 hours, whisking slightly every 20-30 minutes to avoid it getting too icy. Thaw for 5-10 minutes and scoop with an ice cream scoop.