Can you believe that these are the first cupcakes I've ever made?! And I'm not just talking about vegan cupcakes, I mean cupcakes in general. I'm a HUGE fan of muffins and bake some almost every other week, but somehow I never got around to making cupcakes. Well things were about to change when I made these vegan strawberry cupcakes last weekend!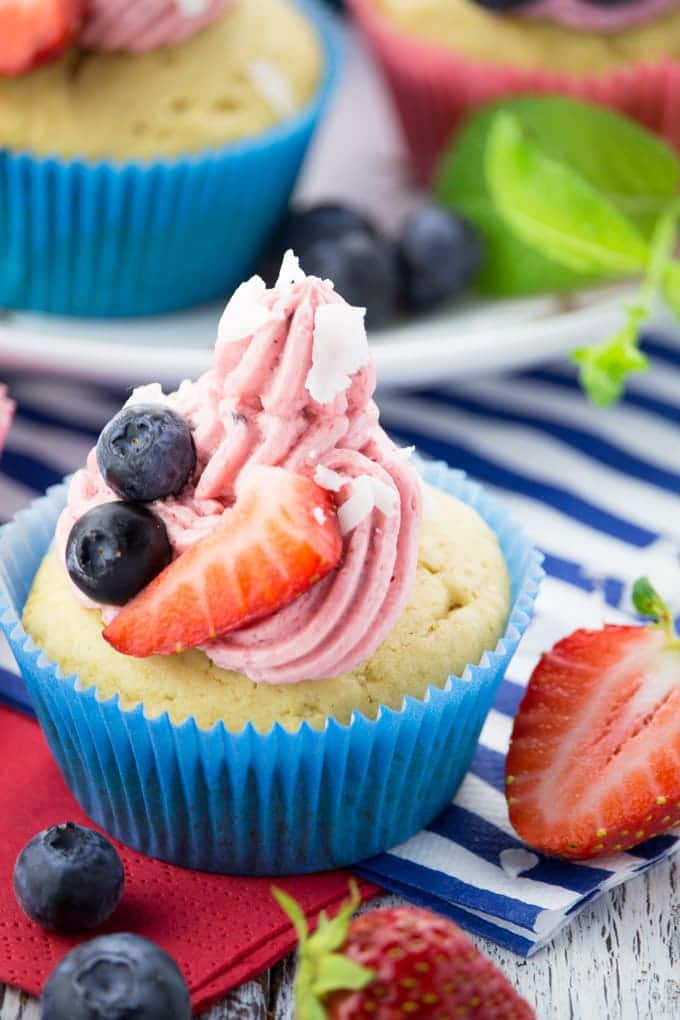 I actually intended to make vegan 4th of July cupcakes with a natural strawberry and blueberry frosting, but they turned out to look a bit more girly than I thought. Haha! I mean you could probably still bring these vegan strawberry cupcakes to a 4th of July party and make a decent impression, but I think they'd be even better for a girls birthday party! Miniature vegan birthday cakes in pink and purple so to say. ;-)
Making vegan cupcakes is super easy! Instead of eggs you can just use a couple of tablespoons of apple sauce and some apple vinegar. To replace cow's milk in baking, I usually use almond milk, but soy or oat milk works as well. Although a lot of people still think vegan baking is extremely complicated, it really isn't!
Vegan Egg Replacements for Baking:
Once you know how to replace eggs and dairy, you could even just veganize old baking recipes. I've done this a couple of times and it always worked out pretty well. The only time it didn't work out was when I tried to make a vegan sponge cake using my moms old recipe, but that was probably my fault because I left it in the oven for too long. She used to make me a sponge cake filled with whipped cream, bananas, and mandarins for my birthdays and I really gotta figure out how to make a vegan version of it! Once I've perfected the recipe, I'll share it with you guys.
But back to the egg replacement…
For binding, you can just use one tablespoon of ground flaxseeds with three tablespoons of water. This equals one egg.
For adding moisture, you can either use 1/2 cup of mashed ripe bananas or 1/4 cup of unsweetened apple sauce.
If you're interested in learning more about egg substitutes, check out Peta's vegan guide to replacing eggs. It's super helpful!
I hope you like these vegan strawberry cupcakes! Let me know if you give them a try. As always, I absolutely love hearing from you guys!
Vegan Strawberry Cupcakes
These vegan strawberry cupcakes with blueberries and coconut flakes are not only perfect for 4th of July but also for girls birthday parties!
Print
Pin
Rate
Ingredients
For the cupcakes:
1/3

cup

vegan butter, softened

1/2

cup

brown sugar

1

pinch

salt

1/2

cup

almond or soy milk

1

teaspoon

apple vinegar

1 3/4

cups

regular flour

3

tablespoons

unsweetened apple sauce

2

teaspoons

baking powder
For the strawberry and blueberry frosting:
1/2

cup

fresh blueberries, blended until smooth

1/2

cup

fresh strawberries, blended until smooth

1/2

cup

vegan butter

1 1/2

cups

powdered sugar

1/2

teaspoon

natural vanilla extract

more strawberries and blueberries, to decorate

2

tablespoons

coconut flakes, to decorate
Instructions
Preheat the oven to 350 °F and line your muffin form with 12 paper muffin liners.

In a large mixing bowl, combine the softened butter with the sugar and the salt and beat with a mixer until combined and fluffy. This should take about 2-3 minutes.

Then add the remaining ingredients and blend until until well combined. No large lumps should be left.

Divide evenly among the cupcake/muffin holders and bake on a center rack for 20 minutes, or until a toothpick inserted into the center comes out clean.

Transfer them to a cooling rack and let them cool down completely.

In the meantime, make the frosting. Place the vegan butter into a mixing bowl and beat until light and fluffy. Then add vanilla and powdered sugar and continue mixing until thick and creamy. The frosting is supposed to be pretty thick.

If you decide to make both, the strawberry AND the blueberry frosting (the first one turns out pink and the second one purple), put half of the frosting aside. Then add 4 teaspoons of the strawberry sauce and mix until well combined. Put the frosting an icing syringe or an icing bag and put on top of six of the cupcakes. Then add the blueberry sauce to the remaining frosting, mix, and do the same to the remaining six cupcakes. If you decide to only make the strawberry frosting double the amount of strawberry sauce.

Decorate the cupcakes with strawberries, blueberries, and coconut flakes. Serve immediately or store them in the fridge.
Rate the recipe!
If you like this recipe, please leave a good rating! This will help other readers.