Last weekend, we treated ourselves to this vegan shawarma with tzatziki and seitan and boy was it good!! You would never guess that it's totally meat and dairy-free!
If you've never had seitan before you should really give it a try! It's crispy, super easy to use, and has lots of protein! You can either use store-bought seitan, which is is also called wheat meat, or make it yourself. It's basically made by washing dough with water until all of the starch granules have been removed, leaving you with only gluten, which you can then cook and season however you want. There are lots of step by step instruction videos on Youtube on how to make seitan, if you're interested in making it yourself.  I usually buy mine at our local Asian market. They have tons of vegan options!
We served the seitan in a Turkish flat bread with sesame seeds and topped it off with vegan tzatziki (looots of garlic!), tomatoes, cucumber, red cabbage, and lettuce. It's really easy to make and it's ready in less than 15 minutes. The biggest part of making this vegetarian shawarma, or doner, is actually cutting everything into slices.
Vegan shawarma, döner, doner, or donair?
But what is doner/donair? It's a traditional Turkish dish (in Turkish it's spelled döner) with meat (usually lamb but sometimes also beef or chicken) wrapped in a flatbread or pita. It's commonly served as fast-food in Turkey as well as all over Europa, and sometimes also in Canada and Australia. In Germany, it's super popular and you can find it at almost every street corner. Most kebab shops also offer vegetarian and vegan options, either doners with feta or falafel pitas and wraps. I just love falafel, but this vegan doner with seitan is sooo good as well and it reminds me very much of the traditional version, just totally meat-free! Shawarma is very similar to doner, however, it's mostly eaten in Arabic countries. They often serve it with tabbouleh and hummus.
I've always loved tzatziki and this vegan version is just as good as the original! It's also great with some oven-roasted potatoes and a green salad or just with bread! Totally YUMMY! You only need three ingredients (not including salt and pepper): Yogurt, cucumber, and garlic. I used soy yogurt instead of regular yogurt and it works really well. However, you should make sure to use unsweetened soy yogurt because you don't wanna end up with a sweet tzatziki. I haven't tried it with any other kind of plant-based yogurt, but I guess it would work with cashew or almond yogurt as well.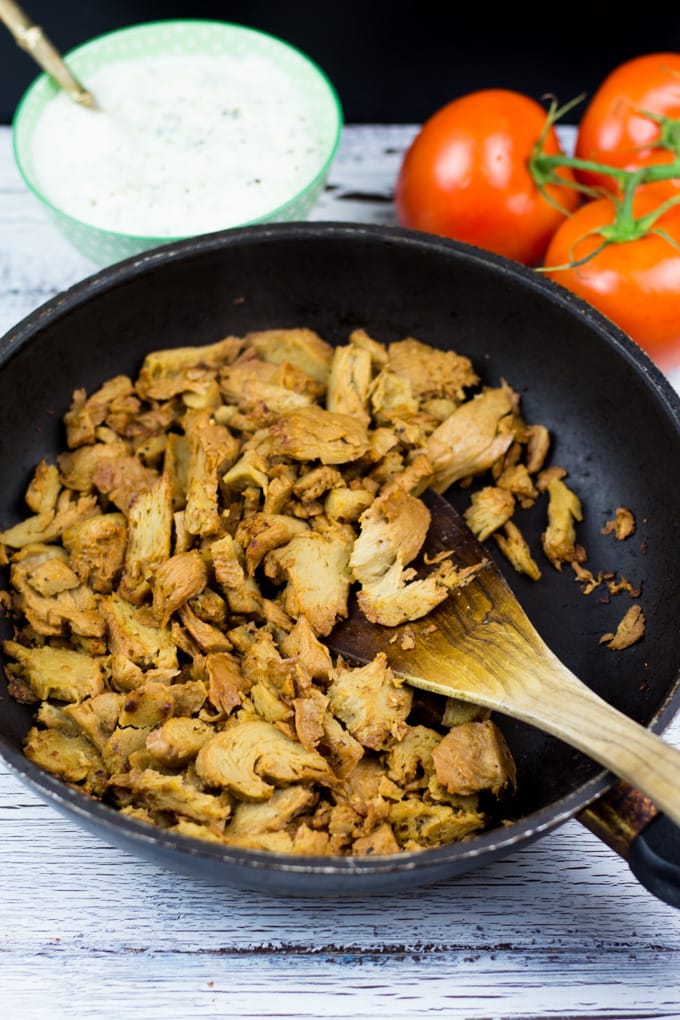 I seasoned the seitan with paprika powder, soy sauce, garlic powder, salt, and pepper and cooked it for about 5 minutes until it was brown and crispy. You could also use it like chicken and make a vegan chicken sandwich, or actually a seitan sandwich with it.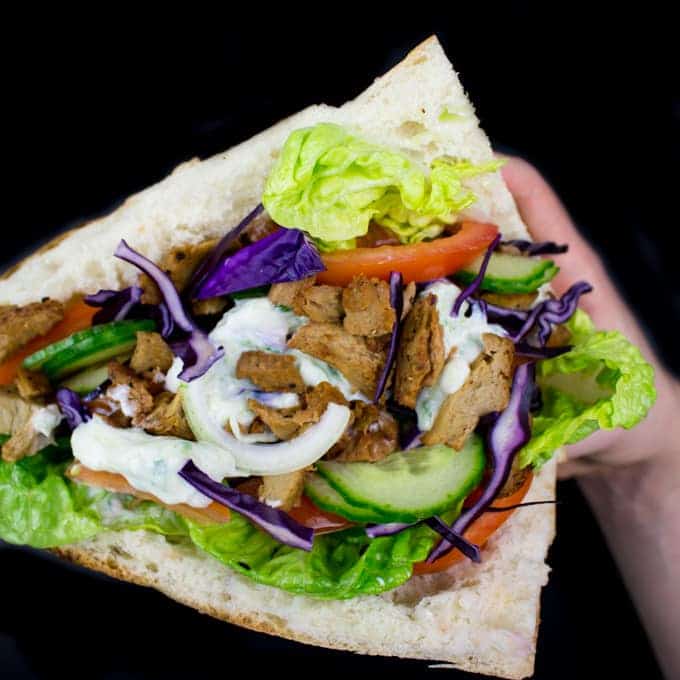 Let me know if you give this vegan shawarma a try! As always, I love hearing from you! :-)
Have a great week, everyone! xx
| | |
| --- | --- |
| | |
First make the vegan tzatziki. Squeeze the grated cucumber and press out as much water as possible. Place the yogurt in a medium bowl and stir in the minced garlic and the cucumber. Season with salt and pepper and set aside.

In a medium pan, heat the olive oil and add the seitan. Season it with paprika and garlic powder, soy sauce, salt, and pepper and cook for about 5 minutes until it's brown and crispy.

Serve the seitan together with the tomato, cucumber, onion, lettuce, and the red cabbage in a Turkish flat bread (alternatively you can also use pitas or wraps) and top it off with some vegan tzatziki.