This vegan cheesecake with raspberries is one of my favorite vegan cakes! It's super easy to make and unlike many vegan cheesecake recipes it's baked and not made with cashews.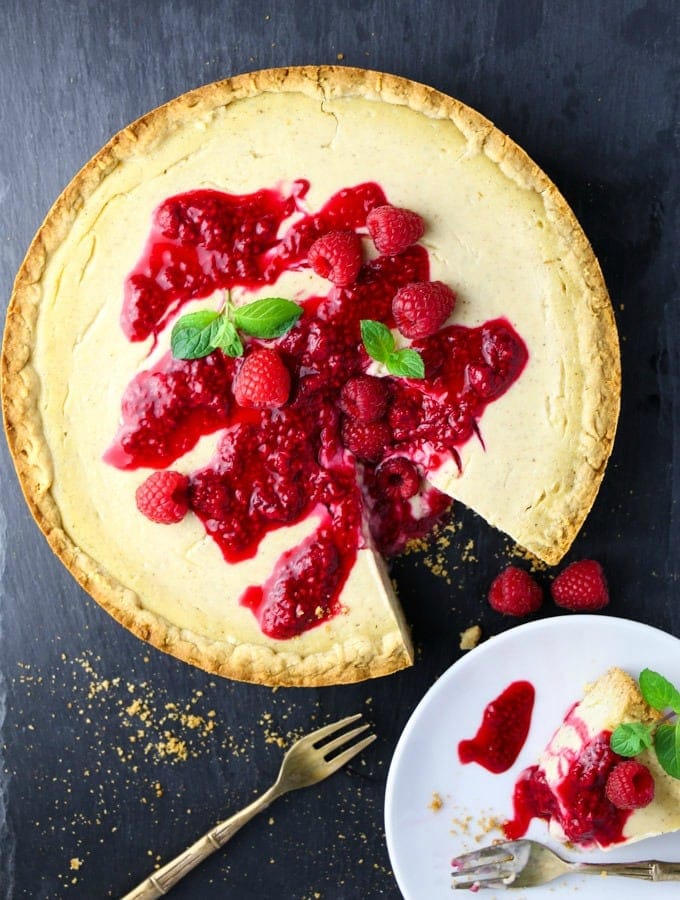 I've always loved cheesecake! I would even say it has been my favorite kind of cake before I became vegan. But you don't necessarily need dairy products to be able to enjoy delicious cheesecake. When I first started to make vegan cheesecake a couple of years ago, I used cashews instead of dairy. I was so surprised how creamy and delicious this vegan cheesecake turned out. I got a couple of cashew cheesecake recipes on the blog if you'd like to check them out. One is my mini strawberry cheesecakes and then I got another recipe for vegan matcha cheesecake. They're both so yummy!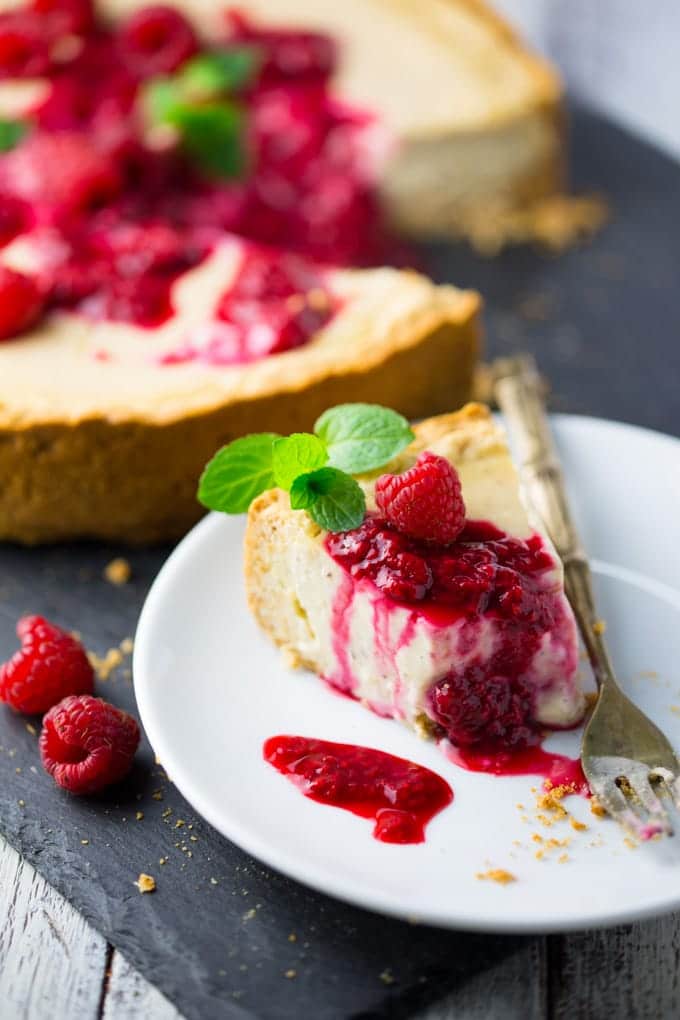 How to Make Vegan Cheesecake
I really love to use cashews for vegan and raw cheesecake. However, it can be pretty rich and you can't eat too much of it. Like one small slice is definitely enough. So I started experimenting with other dairy-free products…
I used vanilla soy yogurt for this vegan cheesecake and I topped it with raspberries. The recipe is pretty easy and you don't need any fancy ingredients. And boy, it's SO delicious. I actually like it even better than all the cashew cheesecakes I tried. And you can have more than one slice of it. Haha! I mean that's a big advantage as well, right?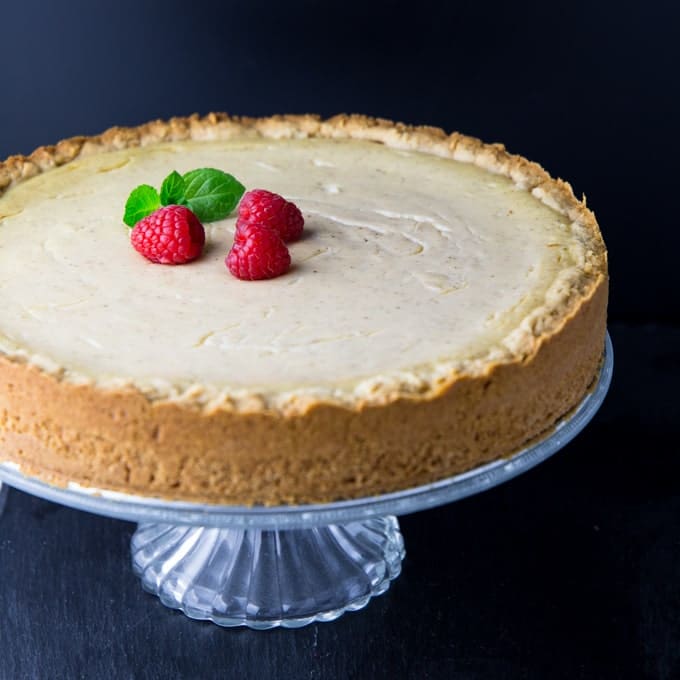 The texture and the taste is so close to the traditional cheesecake I grew up with. It's so creamy, delicious, and decadent! It's perfect to bring along to your next birthday party or even for a date. Or maybe make a nice meal at home for Valentine's Day and make this vegan vanilla cheesecake with raspberries for dessert.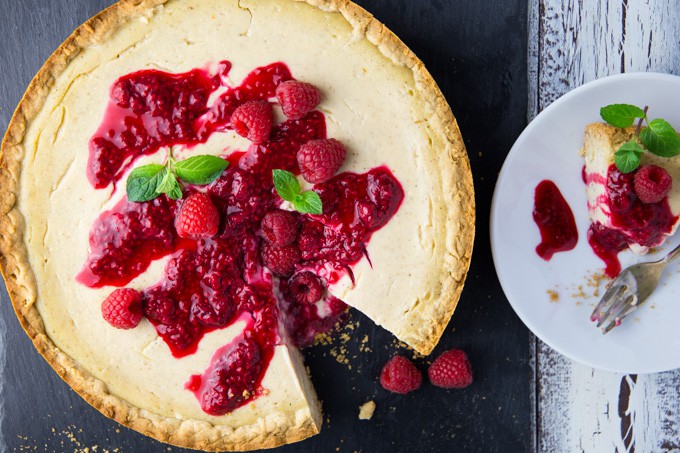 I made it for the family when I visited my parents last weekend and they all loved it. They already now that vegan cakes are amazing and you don't need eggs or milk for baking. But they were still kinda surprised that you could make vegan cheesecake. I mean "cheese"cake, right? But absolutely no dairy needed for this one!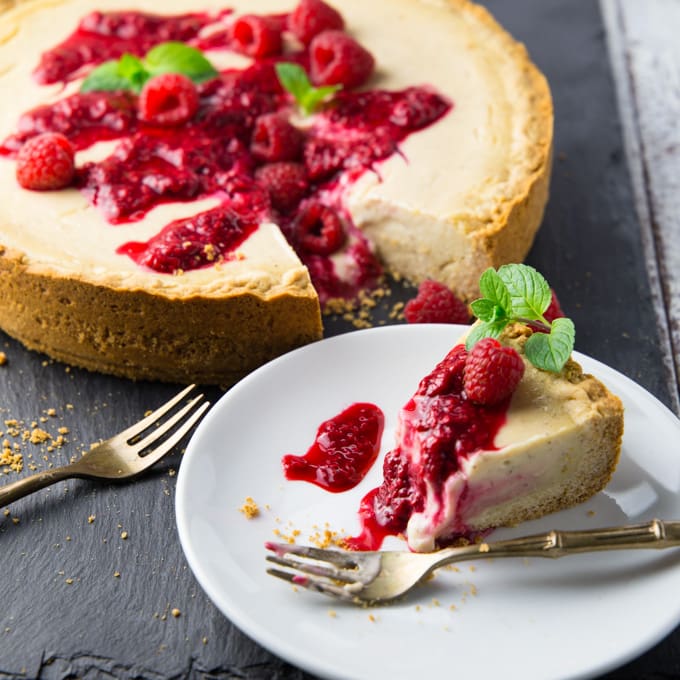 As always, it was gone so fast. My dad even went for two extra slices because he couldn't get enough of it. He sure loves his cakes! Haha!
I hope you love this recipe just as much as I do. It's one of my all-time favorite vegan cakes!
Let me know if you give it a try…
Talk to you soon
Sina – xx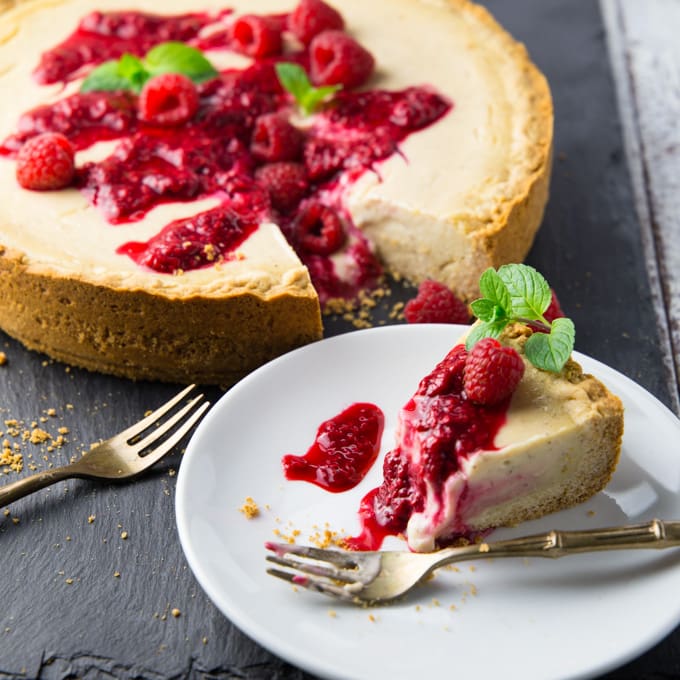 Vegan Cheesecake (without Cashews)
This vegan cheesecake with raspberries is one of my favorite vegan cakes! It's super easy to make and unlike many vegan cheesecake recipes it's baked and not made with cashews.
Print
Pin
Rate
Ingredients
For the crust:
2

cups + 2 tablespoons

all-purpose flour

1/2

cup

plant-based margarine

It should be soft, so put it out of the fridge about 1 hour before using.

1/4

cup

agave

1 1/2

tablespoons

baking powder

2

tablespoons

water
For the cheesecake:
35

oz

vanilla soy yogurt

(1 kg)

2

bags

vanilla pudding powder or custard powder (make sure it's vegan)

(2.8 oz or 80 g in total)

1/2

cup

melted margarine

1/4

cup

agave
For the topping:
1/2

cup

pureed raspberries

fresh raspberries

fresh mint leaves
Instructions
Preheat the oven to 350 °F. Prepare the crust: Combine all ingredients in a mixing bowl and use your hands to knead it into a soft dough.

Rub the pan with margarine all over the bottom and sides of the pan.

Press the dough into the bottom and up the sides of the pan, making a thicker layer on the bottom than on the sides.

In a large mixing bowl combine all the ingredients for the cheesecake filling. Beat with a hand-held electric mixer until well combined.

Pour in the filling and bake for about 1 hour. Don't worry if the filling is still soft and a bit runny. It will harden once the cake has cooled down. Let it cool down for an hour. Then place it in the fridge for at least 4 hours.

Top it with the raspberry sauce, some fresh raspberries, and some mint leaves. Enjoy!
Rate the recipe!
If you like this recipe, please leave a good rating! This will help other readers.