If you've been following my blog for a while, you probably know that I'm actually more of a hearty breakfast person. I'd take scrambled tofu with tomatoes and whole wheat buns over pancakes and porridge most of the time.
During the week, I, however, usually only have a green smoothie and some fruits for breakfast, but on the weekend it's a totally different story. But once in a while, I really need a change and have something sweet. Last weekend,  I had this millet porridge with cranberries and quince fruit, which was so incredibly delicious and also pretty easy to make!
I'm always totally crazy about something for a while, and then I kind of forget about it and move on to something else. Do you know what I mean? Maybe it' just me being a bit weird about my food. Well, this also happened with millet.
About two years ago, I had it almost every morning and then all of a sudden I replaced it with green smoothies. Then some time ago, I saw it in the grocery store and I just had to buy it and I'm so glad I did! I just love millet porridge and cooking millet couldn't be easier. Plus, it's gluten free and of course vegan. And it's a really great source of iron!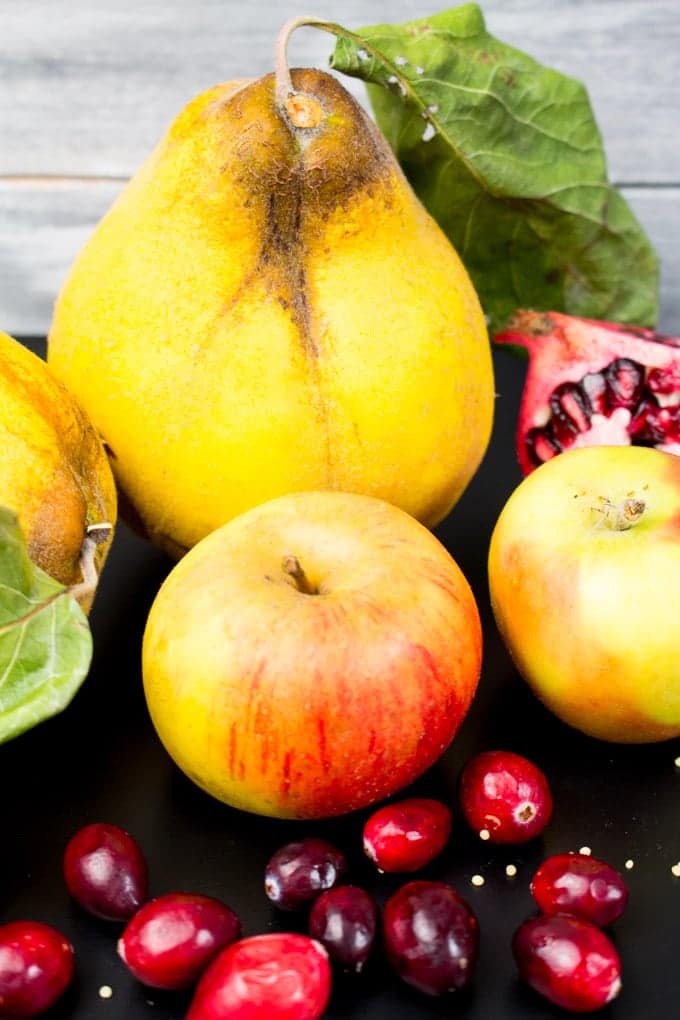 Some of you are probably wondering "what is quince fruit"?
It belongs to the same biological family as apples and pears and are commonly grown in Southern and Central Europe, where the summers are hot enough for the fruits to ripen. Today, they're pretty rare in the U.S. or at least they are not often grown there anymore (they were pretty popular in the colonies back in the 18th century though). Now, they're mostly imported from Argentina. In the fall, you can find them at farmer markets or at Whole Foods.
If you have problems finding them, you can also use pears instead. I've tried that and it tastes really great too! My boyfriend's mom got a quince tree in her garden and is always happy when someone takes a couple of the quince fruits because she couldn't possibly use them all by herself. There are literately tons of them each fall! They're also great for crumbles and jam.
I cooked the millet with almond milk for about 15 minutes and served it with cranberries, apples, and quinces, which I sweetened with coconut sugar and cooked for about 15 minutes. If you like you could also sub the coconut sugar with agave or brown sugar.  To top it all off, I sprinkled it with cinnamon, coconut flakes, and pomegranate seeds.
I'm sure this would also make an awesome dessert! Maybe it's even great for Thanksgiving?
I hope you like millet as much as I do! If you haven't tried it yet, you should definitely give it a try.
As always, I love hearing from you! xx
Millet Porridge with Cranberries and Quince Fruit
This vegan millet porridge with cranberries and quince fruit is a healthy and delicious breakfast. It also makes a great dessert!
Print
Pin
Rate
Ingredients
1

cup

millet

2

cups

almond milk or other plant-based milk

1

quince (about 7 oz)

If you can't find quince fruit, you could use 2 pears instead.

1

cup

cranberries

2

small

apples

1

tablespoon

coconut sugar

1/2

cup

water

1/2

teaspoon

cinnamon

1-2

teaspoons

coconut flakes

1/2

cup

pomegranate seeds
Instructions
Cook the millet together with the almond milk for about 15 minutes on a low heat.

Cut the apples and the quince into small pieces. Put them in a small pot together with the cranberries, add the water and the coconut sugar and cook for about 10 minutes.

Serve the millet together with the cranberry-pear-quince sauce and top it off with cinnamon, coconut flakes and pomegranate seeds.
Rate the recipe!
If you like this recipe, please leave a good rating! This will help other readers.