On Monday, I came back from Lisbon, where I spent four awesome days with my best friend since 5th grade. I really fell in love with this beautiful city and can't wait to see more of Portugal in the future! The weather was fantastic for our weekend trip; it was not too hot but still warm enough to wear shorts and t-shirts. It was also our first stay with airbnb and we really liked it. Our apartment was easy to find, well-equipped, and clean. There was really nothing to complain about. Have you ever traveled on airbnb and how did you like it? I must admit that I was a bit skeptical at first, but we got a really great price and it was definitely not my last time. :-)
Of course we also checked out some vegan and vegetarian restaurants during our stay in the Portuguese capital. It wasn't as easy to find vegan food in Lisbon as it was in New York or London, but it wasn't too hard either. As always, I checked happy cow beforehand and wrote down some of the restaurants that sounded good to me.
One of them was a vegetarian buffet restaurant named Terra (Rua da Palmeira 15), which means earth in Portuguese. As it wasn't far from our apartment it was perfect for our first night because we had to get up  really early to catch our plane and were pretty tired by the time we were ready for dinner. I would say that about 80% of their food was vegan and although the food wasn't labeled, it was easy to see which dishes were only vegetarian as all of them were topped with cheese. There was also someone right beside the buffet who you can ask if you are unsure about the ingredients. We payed 16 euros for the buffet, which I think was totally okay. I especially liked the great choice of salads. They offered several green salads, loads of veggies, legumes, and couscous and rice salads. This was topped with deep-fried eggplants and falafel. The only things I was missing were hummus and guacamole.
The main course was also good, but for me the salad bar was definitely the best part of our dinner. We booked a table for 7.30 and were seated in their beautiful outside area. At first, it wasn't too busy, but there were more and more people coming, so I guess it's best to book a table when you want to make sure to sit outside. But when you come early (dinner starts at 7.30), you will probably also get a nice table.
On our next day, we visited the Castelo de São Jorge, a Moorish castle on a hill overlooking the historic centre of Lisbon and Tagus River. The castle is really worth visiting! Admission costs eight euros for adults. We planned to take the tram 28, a must-do for tourists, up the hill, but obviously we weren't the only tourists who wanted to do so. It was literally packed with people, so we decided to walk, which was a great decision, because the little streets are just gorgeous and the view is even better. Once we arrived at the castle, we saw a little café that offered fresh juices and we just couldn't resist after our long walk. When you stand in front of the castle, the Gelataria Portuguesa is the first café on the righthand side. We had a watermelon fruit slush for 1,90 Euros, which was freshly prepared for us. Although it wasn't really a fruit slush but more of a juice it was a great refreshment! They also offer fresh fruit salads and ice cream.
There are also two more vegan places not far from the castle. One is  Sao Tome 48 (Rua de Sao Tome 48), an Argentine snack bar, which offers vegan pizza, empanada, and cakes. It is not exclusively vegan or vegetarian and also has fish and meat products. I only tried the empanada, which were filled with lots of veggies. It was my first time eating empanada, but my friend had them before because her boyfriend's dad is from Chile and we both liked them. Unfortunately, I didn't try their vegan cake, but it looked really good. They also have cappuccino with soy milk.
Only two minutes down the street, is Princessa do Castelo (Rua do Salvador 64A), a little exclusively vegan bistro. The menu is not very elaborate, but I had a vegan quiche, which was good. The staff was really friendly and it has a small outside seating area. They also offer smoothies, cakes, and ice cream, which I, however, didn't try.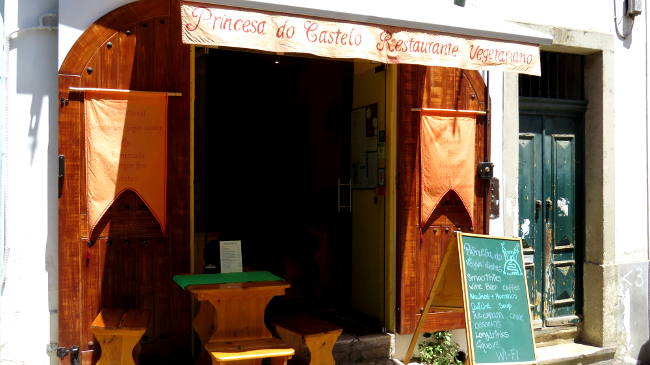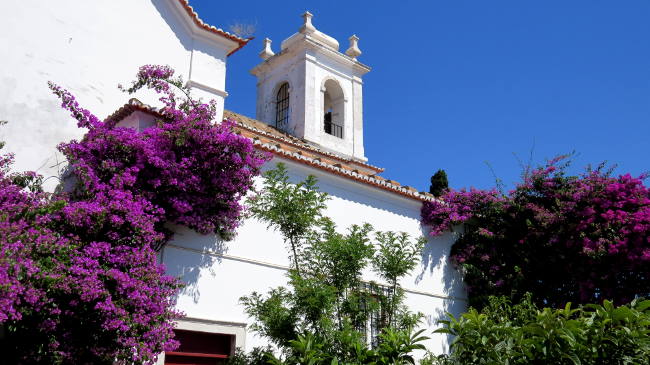 I've eaten a lot of  sorbet in the last couple of years, but the sorbet I tried in Lisbon was definitely the best I've ever had. I can highly recommend a café in the inner city center called Amorino Baixa (R. Augusta). At first I thought it was super expensive (3, 50 euros for a small cup), but you do get a pretty large serving, so it is totally worth it. The best is that you can choose as many different flavors as you want and they divide the cup into small portions. We tried blood orange, strawberry, mango, and passion fruit and I just couldn't decide which one was the best as they were all incredibly good!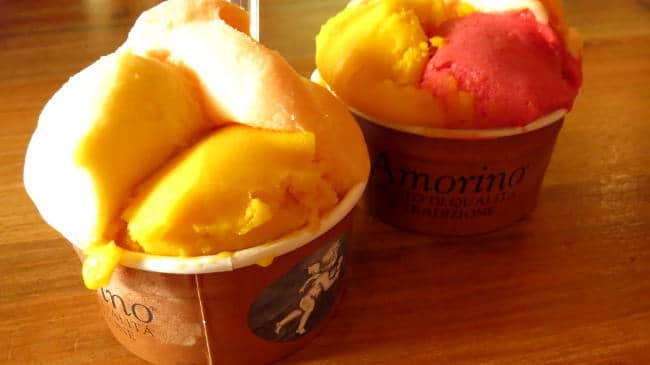 On our way home from the city, I came across another vegetarian and vegan restaurant. Since we had already bought groceries to cook dinner in our apartment, we didn't try their food, but the menu looked really interesting. It's called Os Tibetanos and offers samosas, seitan and tofu curries. The building was really beautiful from the outside.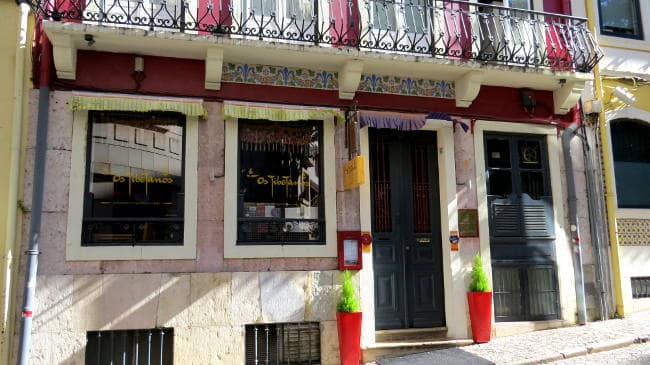 Our apartment was well located for vegans. Besides Terra there was also a small burger restaurant, Hamburgeria do Bairro, offering several vegetarian and vegan burgers. We passed it a few times on our way to the bus station and it was always pretty busy. We both couldn't believe how cheap their food was! You get a burger, homemade fries (either normal potatoes or sweet potatoes), and a drink for only 6-7 dollars. We had a really good homemade lemonade for only 1,25 euros. At first, we got a Portuguese menu and couldn't quite figure out what to have. But we asked them for help and they even brought us an English menu. They have four veggie burgers; one, however, contains egg (portobello, smoked tofu, falafel, and seitan). I had the one with smoked tofu and really liked it, although the burger bun could have been toasted. But maybe that was just me. Sorry for the bad picture of the burger! ;-) Of course I totally forgot to take a picture before starting to eat.
On our last full day, we went to Belém, which is six kilometers west of the city center. It's right beside the River Tagus and has several major tourist attractions such as Jéronimos Monastery and the Tower of Belém. I couldn't find any vegetarian or vegan restaurants on the internet, so I was a bit worried if I would find something to eat. We first went to an Italian place (Nosolo Italia) right beside the river, but there was huge line and they told us we had to wait at least an hour. After some time, we decided to have a sandwich in a little coffee shop (Jeronymo) not far from Jéronimos Monastery (when you stand in front of the monastery its on the righthand side, about 5 minutes down the main street (R. Belém)). I had a sandwich with grilled vegetables, which was really yummy. I thought it was a bit weird that it was served with chips, which I didn't really need.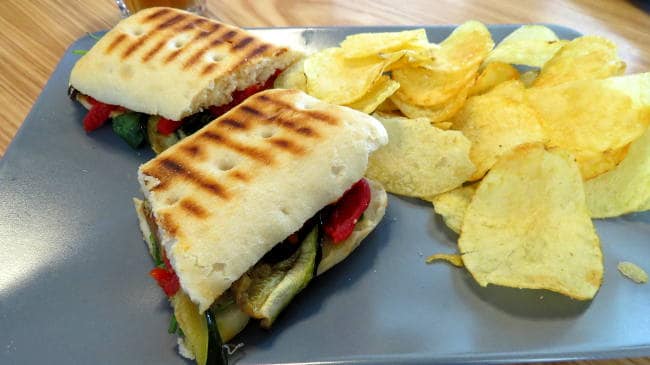 Just beside the monetary, I also saw a fast food place, called Pão Pão Queijo Queij, which offers vegan sandwiches, wraps, and salads. It's the one with the red sun blind.
All in all, we had a really great weekend in Lisbon! On our last day, we even took a train to a nearby beach, which was great. Although it's not super easy to find vegan food in Lisbon, it's not too hard either when you look for vegan restaurants beforehand. :-) And sometimes you just find vegan options when you stroll through the city. For example, even the little mini supermarket near our apartment had soy milk and yogurt.