Are you looking for vegan bowls recipes that are easy to make, filling, and healthy at the same time? Then look no further! These 10 vegan bowls make the perfect lunch or dinner!

Probably you've all heard of the famous power bowl or the buddha bowl. Or mabe you've already had a poké bowl? No matter which version you choose, they're all amazing! For those of you who are new to the whole "bowl thing": It's basically small portions of different foods served in a single bowl. Plant-based bowls mostly consist of whole grains like quinoa, brown rice and plant proteins such as tofu, tempeh, or beans.
My personal favorites are burrito and sushi bowls. It's basically like a deconstructed burrito or a sushi roll. And I mean everything is easier to eat in a bowl and it's also more fun!
So let's get started with the bowl yumminess!
As always, click on the heading above each photo to see the actual recipe.
10 Amazing Vegan Bowls Recipes
This chickpea shawarma bowl by Jenn from Peas and Crayons makes such a great lunch. It's the perfect combination of fresh and crunchy vegetables and crispy chickpeas. All topped with an easy tahini sauce!
This vegan burrito bowl with quinoa makes the perfect weeknight dinner. It's super easy to make, healthy, and packed with protein. Besides, it's vegan and gluten-free. It's one of my all-time favorite dinner recipes!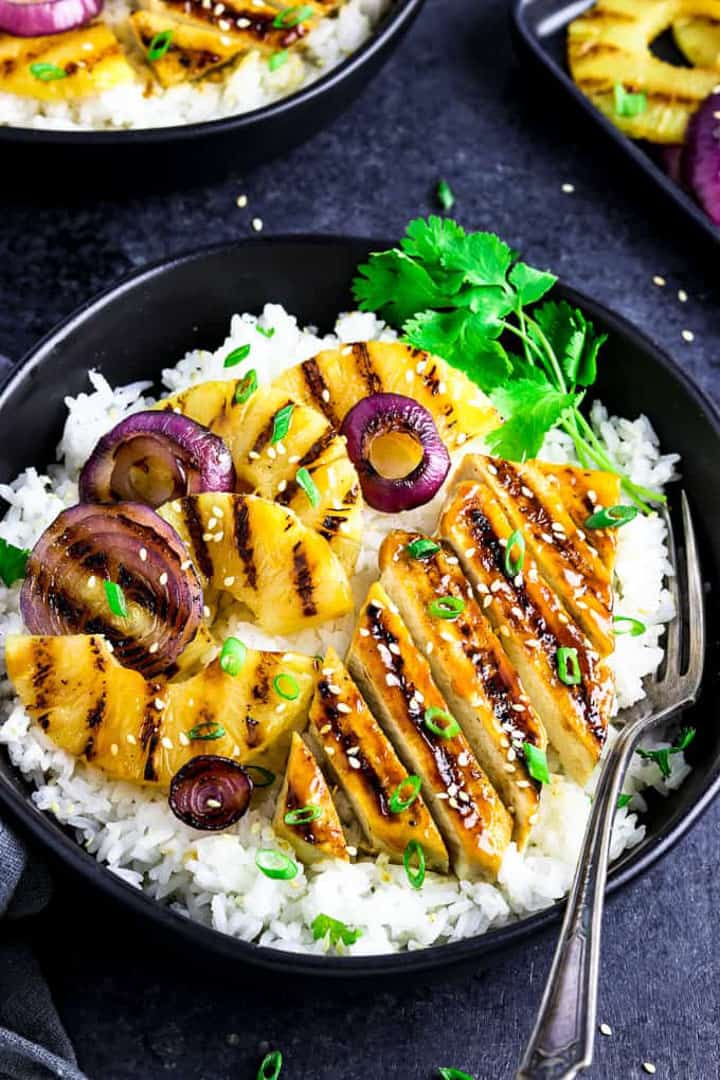 Doesn't this grilled pineapple teriyaki bowl with tofu and red onion by Melissa from Vegan Huggs look super delicious? It's smoky, sweet, and spicy at the same time!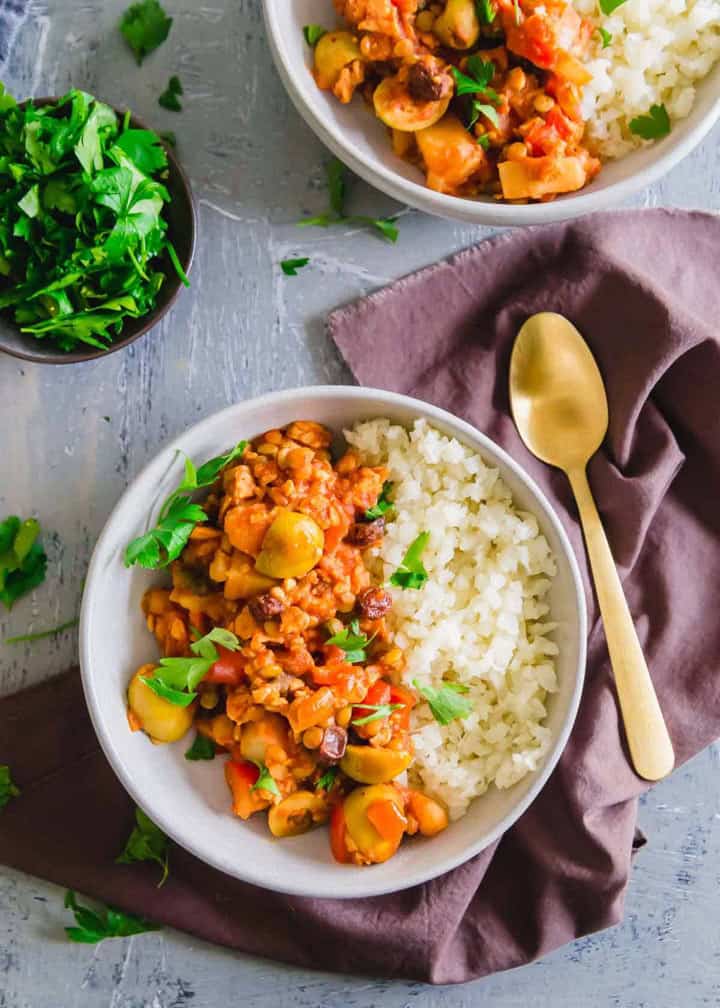 This vegan picadillo by Gina from Running to the Kitchen is a veganized version of this traditional Cuban recipe. Gina used tempeh, lentil, and potatoes as well as a hearty tomato base. To make things easy for you, she included Instant Pot and stove-top options.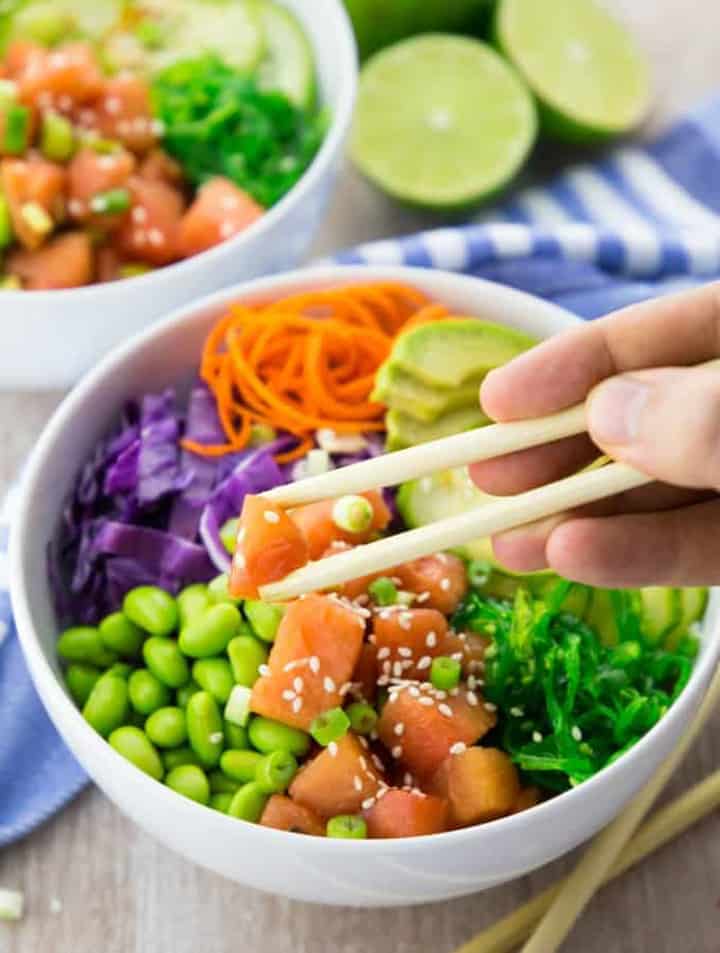 Are you a poke bowl fan looking for a vegan version of this popular Hawaiian dish? Then try this vegan poke bowl with watermelon "tuna" and sriracha mayonnaise. It's super delicious, fresh, and incredibly healthy. You're gonna LOVE it!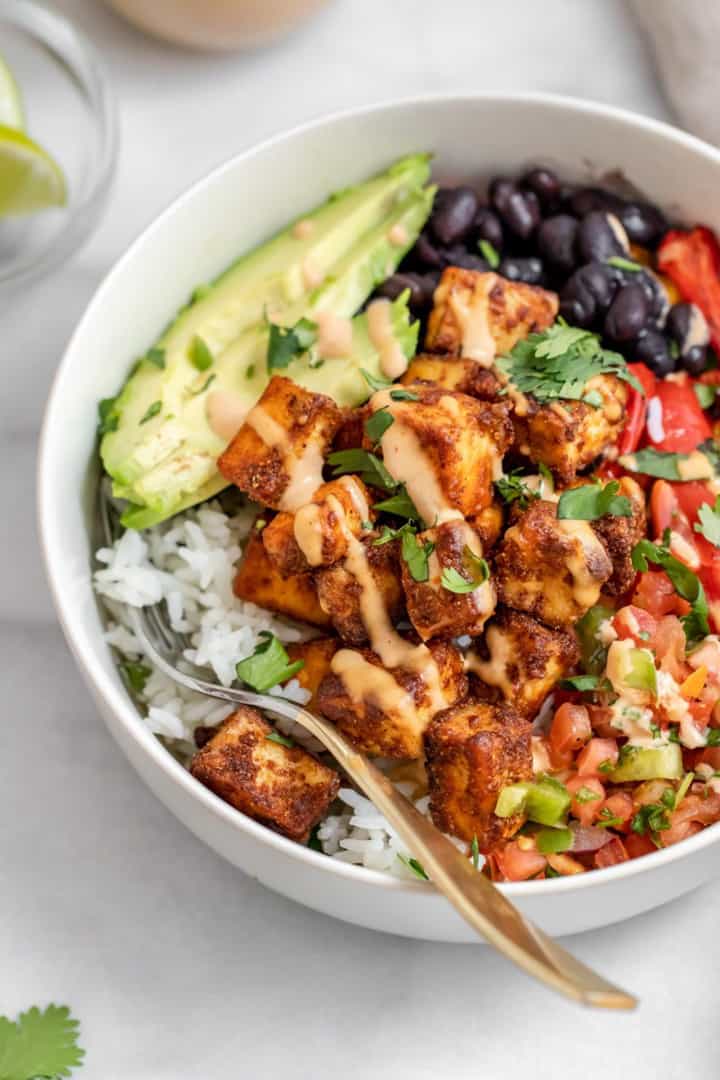 This spicy baked tofu burrito bowl by Claire from Eat with Clarity is the perfect recipe for meal prep. It's packed with healthy protein from tofu and black beans.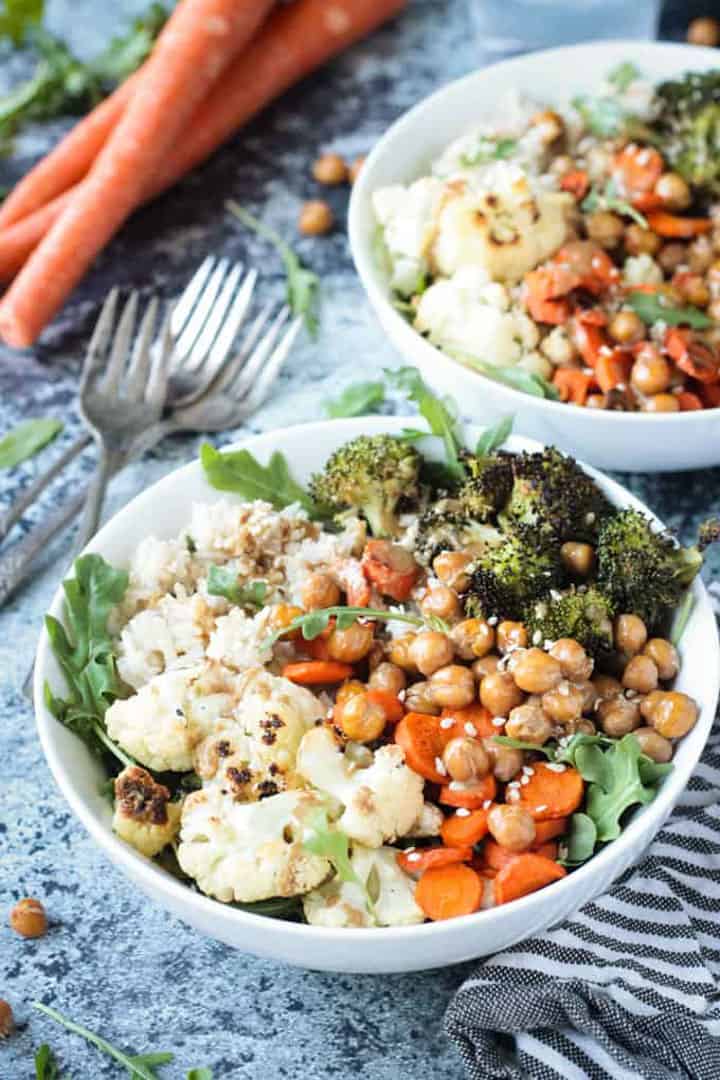 This roasted veggie bowl with brown rice by Jenn from Veggie Inspired makes an easy and healthy dinner for the whole family. Jenn served it with a sweet tahini dressing that is loaded with nutrients.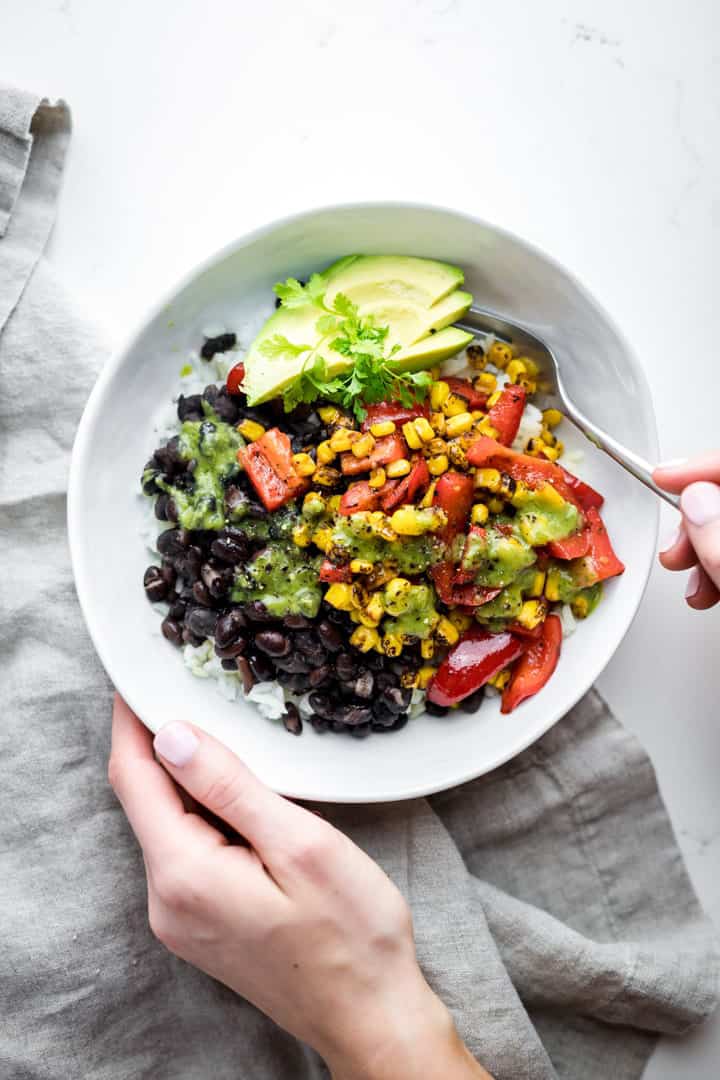 I absolutely love burritos, but if you're looking for an even easier option you should try this 15 minute vegan burrito bowl by Bethany from A Simple Palate. It makes a great weeknight meal and you need just a few simple pantry ingredients.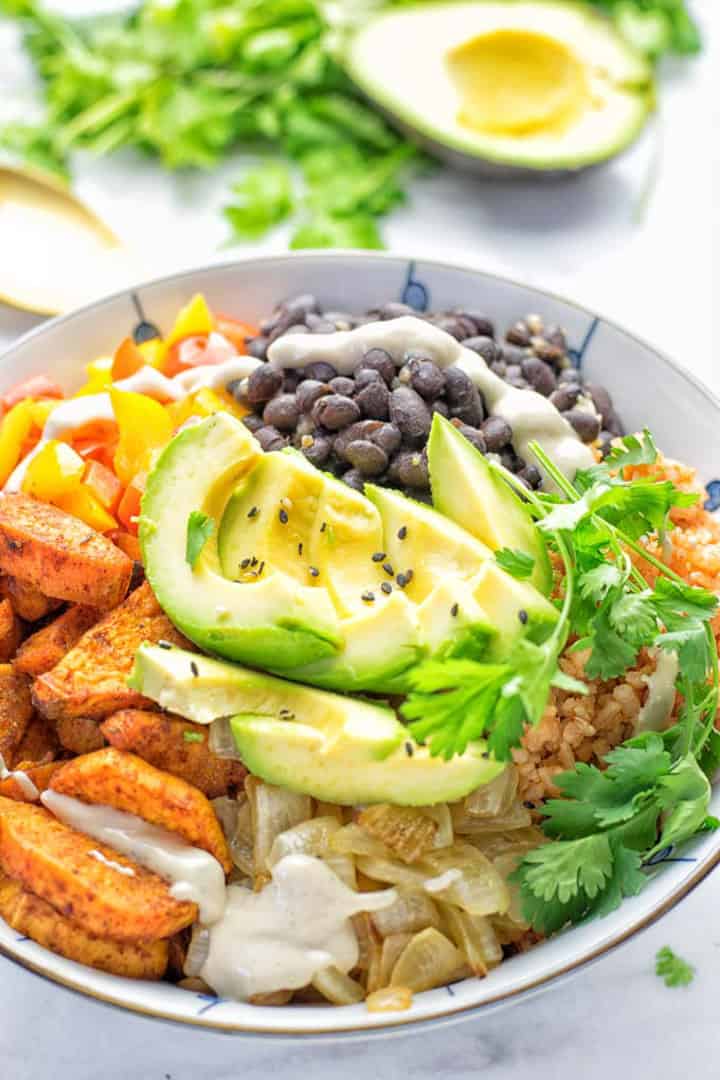 This Cajun sweet potato rice bowl by Florian from Contentedness Cooking is another healthy and delicious bowl that is perfect for weeknights.
If you're looking for a vegan bowl recipe that provides you with lots of protein, you should try this delicious sweet potato quinoa bowl by Jenn from Veggie Inspired. Serve it with a creamy cashew sauce for even more flavor!
I LOVE TO HEAR FROM YOU GUYS!
I hope you enjoy these vegan bowls recipes as much as I do! Don't forget to pin or share this post so you have these vegan bowls ready when you need them!
If you give any of these recipes a try, I'd love to know what you think about it. Just leave me a comment below. Your comments really make my day!
You like my recipes and roundups and want to see more? Then follow me on Facebook, Instagram, or Pinterest!
Sina