If you're looking for vegan instant pot recipes, this is the perfect post for you! It includes 18 easy vegan dinner recipes that are ready in no time. Perfect for busy weeknights!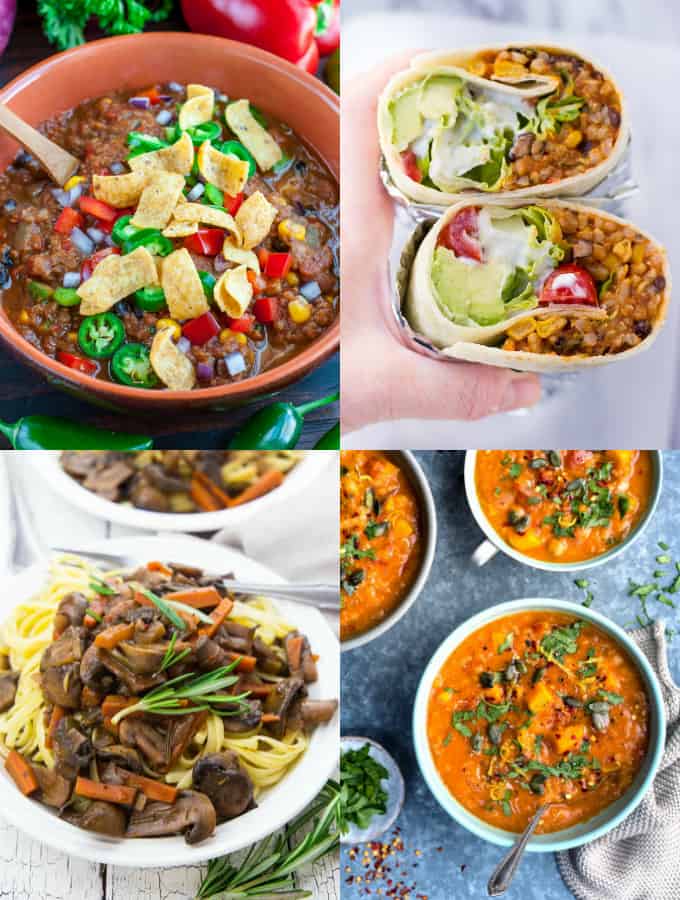 When I bought an Instant Pot last fall, I was completely lost at first. Everything I tried turned out waaaay too soft and mushy!
After a weekend of instant pot testing, my hubby actually started complaining that we only ate what he called "baby food". And he was actually right! Poor guy. Haha!
It actually took me some time to figure out how to use my instant pot and get the timing right. But now I absolutely LOVE it!! I use it to cook beans and other legumes and it makes the most amazing porridge! Besides, it's awesome for brown rice and quinoa. And you can even make whole meals in it!
For this week's roundup I teamed up with some fellow food bloggers to provide you with an awesome list of vegan instant pot recipes. So many great vegan dinner ideas in just one place!
We've got several vegan chilis, stews, and soups for you. But also some easy pasta recipes and even Instant pot burritos! I'm sure there is something for every taste. I just wanna try all of these recipes at once!!
How the Instant Pot Pressure Cooker Works
Like other pressure cookers, the Instant Pot works on a simple principle: steam pressure. It builds up high pressure, which allows us to cook food way faster than on the stove top.
The Instant Pot got several different programs for different foods and it's super easy to use. Plus, it's very safe.
Unlike regular pressure cooker, the Instant Pot is a real multi-cooker. You can also use it as a slow cooker, a rice cooker, a steamer, a sauté pan, and a warming pot. And you can even make yogurt in it!
Why Buy an Instant Pot?
It's perfect to save time! Cooking gets so much easier with it!
You can even do other things while cooking (you don't have to watch the food while it's cooking – the Instant Pot does all the work. "Set and forget" so to say).
It's perfect if you like legumes like chickpeas, black beans, or kidney beans (I don't even pre-soak my legumes, 25-30 minutes is all you need for dried legumes and you don't have to do much) – it also saves you lots of money!
If you have limited storage space, the Instant Pot is perfect for you (it's a rice maker, yogurt maker, slow cooker, pressure cooker all in one)
It's perfect for soups, stews, chilis, and one pot meals! Making delicious vegan instant pot recipes is so easy!
It's very easy to use and the price of about $100 is very fair compared to other kitchen appliances!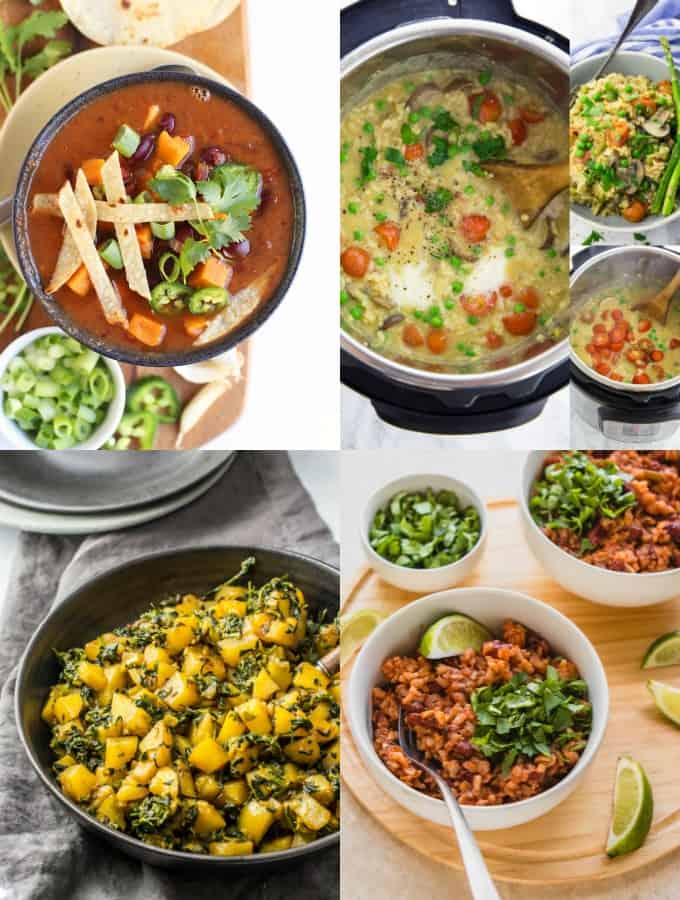 Which Instant Pot to Buy?
I have the Duo 6 Quart Instant Pot and I'm super happy with it. I think it's the most common one.
It has 14 built-in programs:
soup/broth
meat/stew
bean/chili
poultry
sauté/searing
steam
rice
porridge
multigrain
slow cook
keep-warm
yogurt
pressure cook
It also has a 24-hour delay start, so you can program when your Instant Pot should start cooking. Besides, it has an automatic keep-warm function, which holds the temperature of the food until it's ready to serve.
I must admit that I don't use the programs very often. Usually I just use the manual setting, which works great. I'll also try to make my own coconut yogurt with the Instant Pot in the next few days. I've been meaning to try this for like ever! There are just too many delicious vegan instant pot recipes to try!
So let's get started with this roundup!
18 Easy Vegan Instant Pot Recipes for Weeknights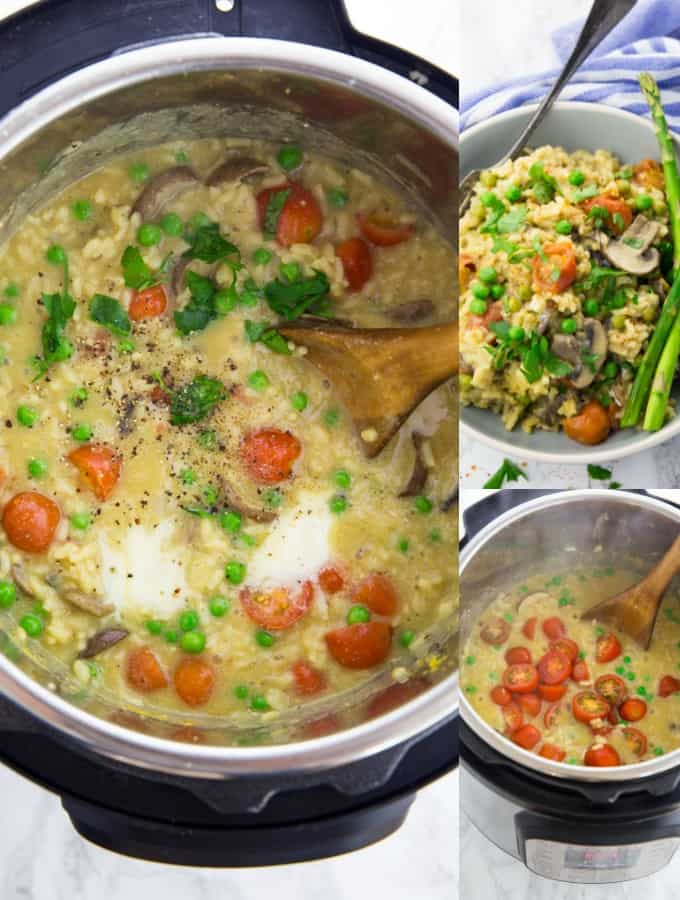 Vegan Instant Pot Risotto with Mushrooms
Vegan Lentil Chili by Jenn from Peas and Crayons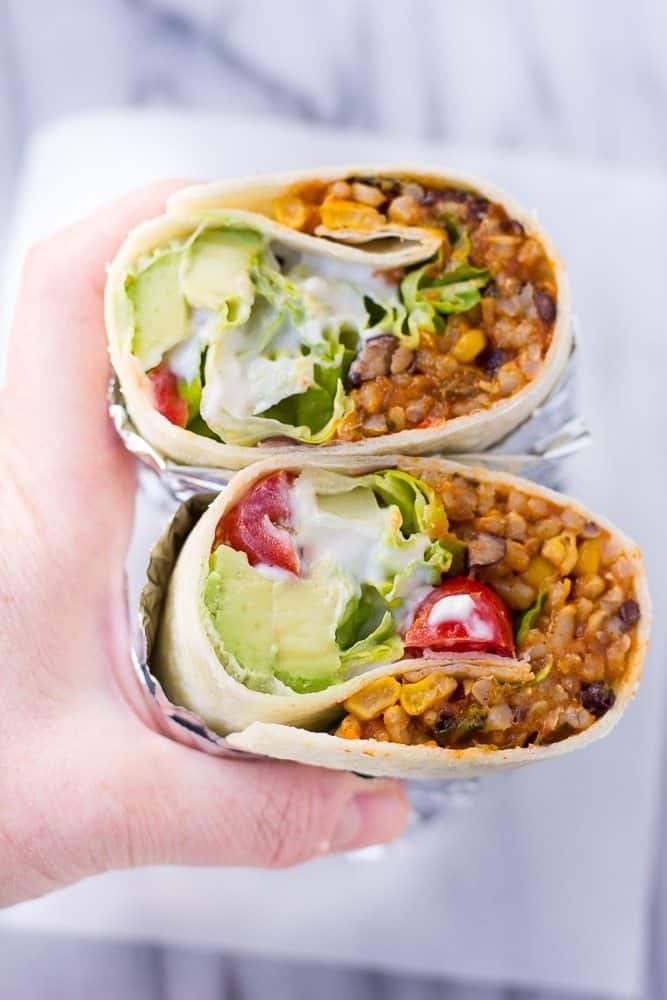 Instant Pot Vegan Burritos by Nora from Nora Cooks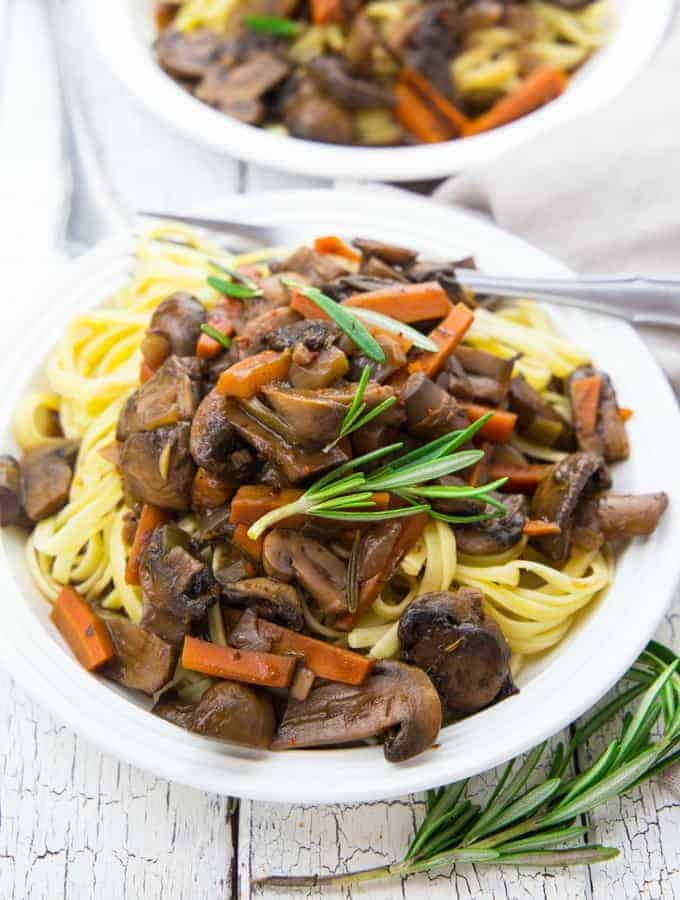 Mushroom Bourguignon with Pasta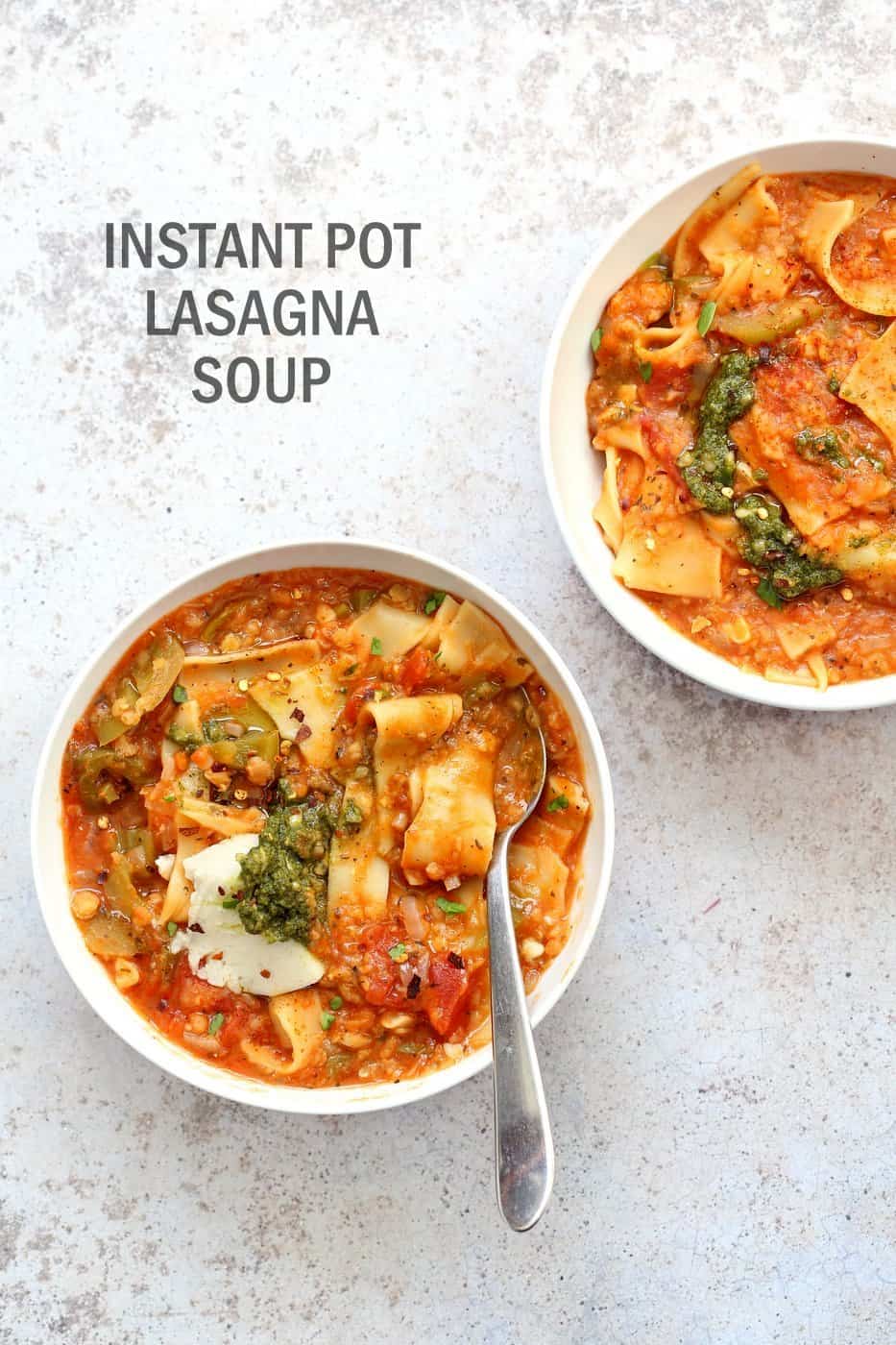 Instant Pot Lasagna Soup by Richa from Vegan Richa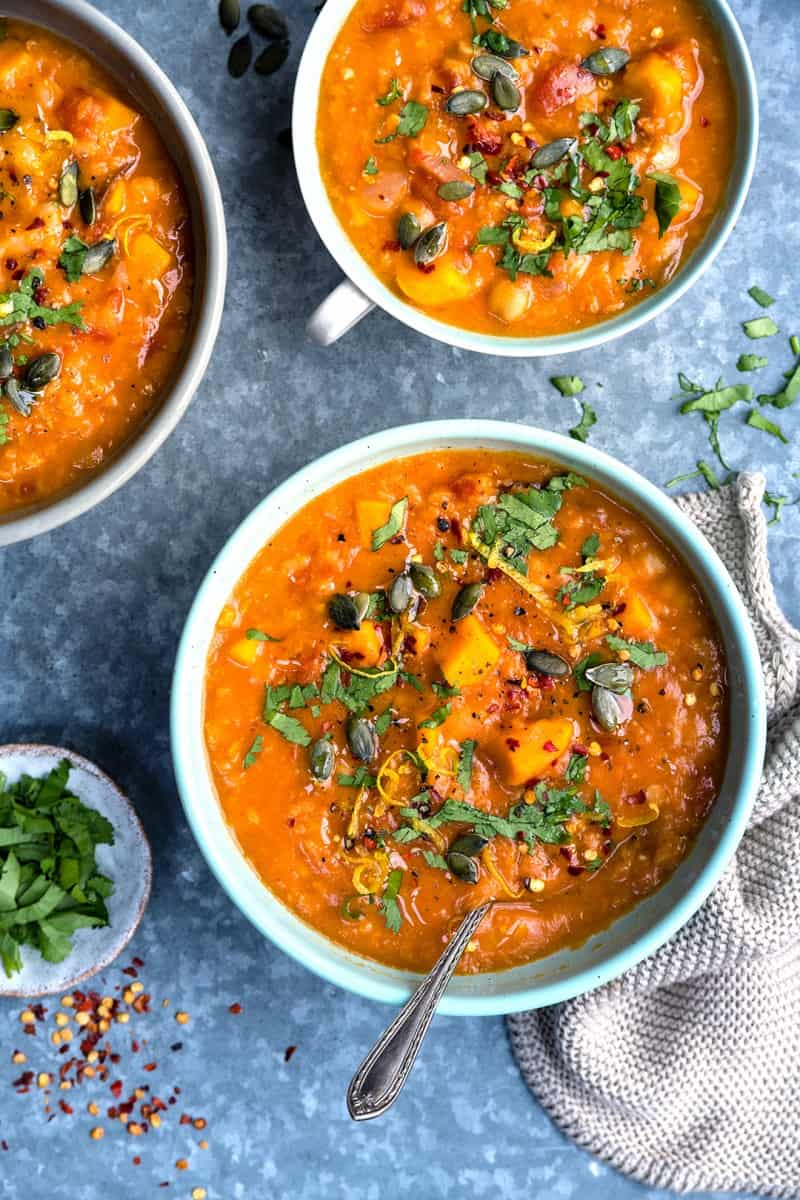 Pressure Cooker Sweet Potato Chickpea Red Lentil Soup by Lucy from Super Golden Bakes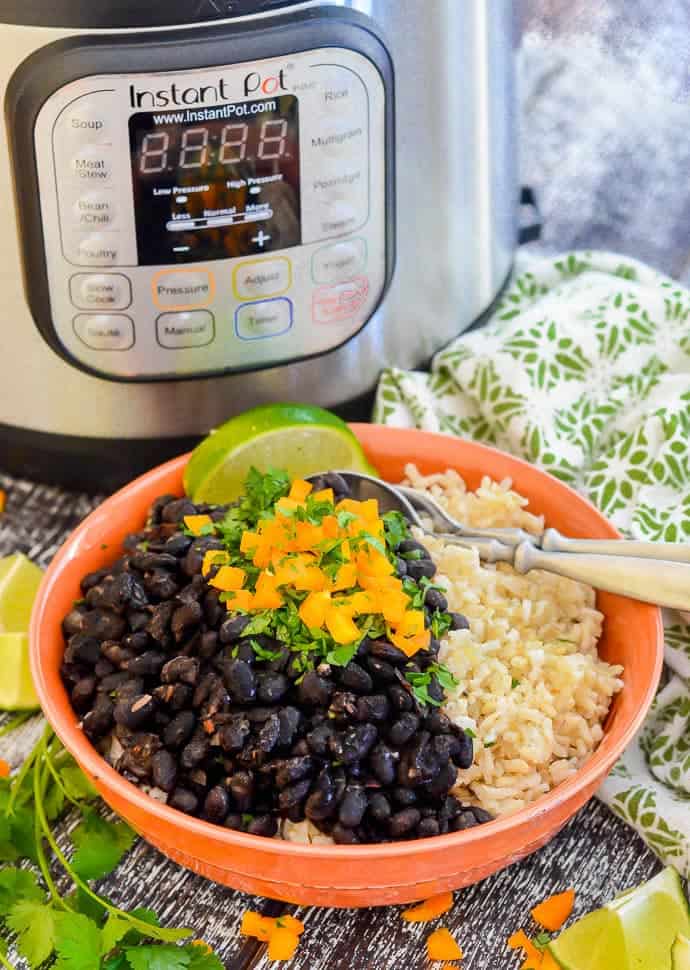 Instant Pot Vegan Seasoned Black Beans by Melanie from A Virtual Vegan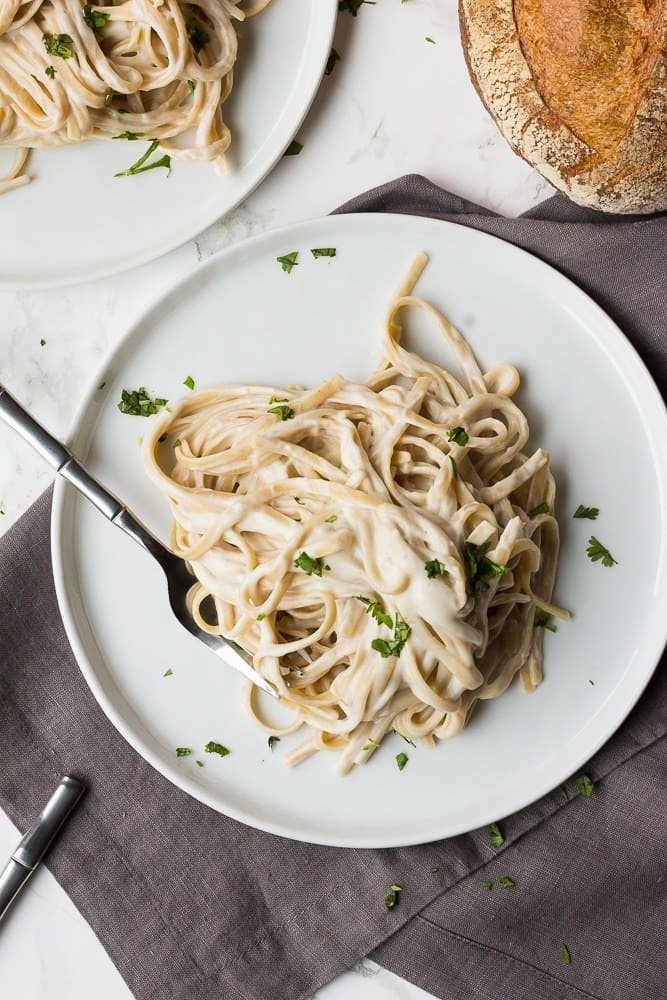 Instant Pot Vegan Alfredo Sauce by Nora from Nora Cooks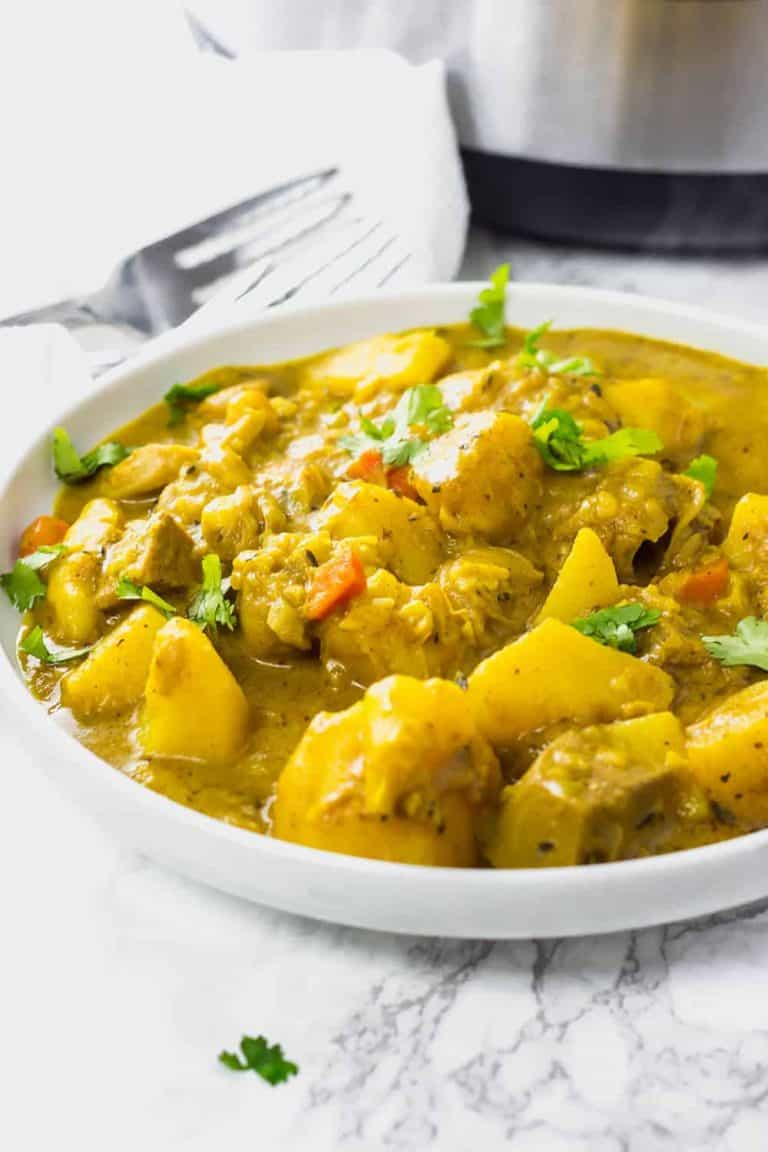 Vegan Jackfruit with Potato Curry by Michelle from Healthier Steps
Instant Pot Vegetable Soup by Sarah from Where You Get Your Protein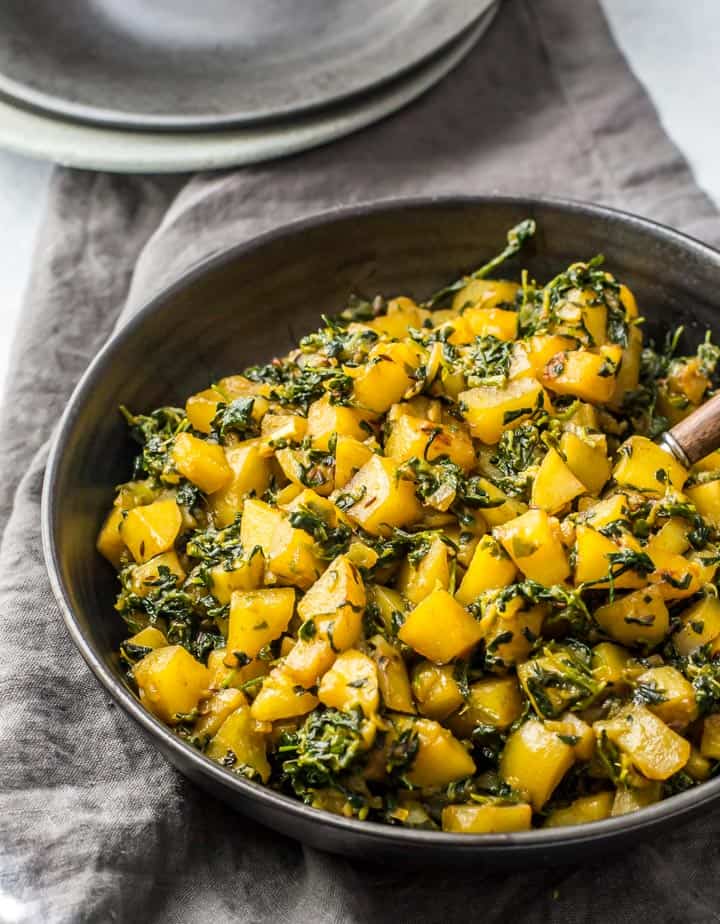 Aloo Methi by Anu from Simmer to Slimmer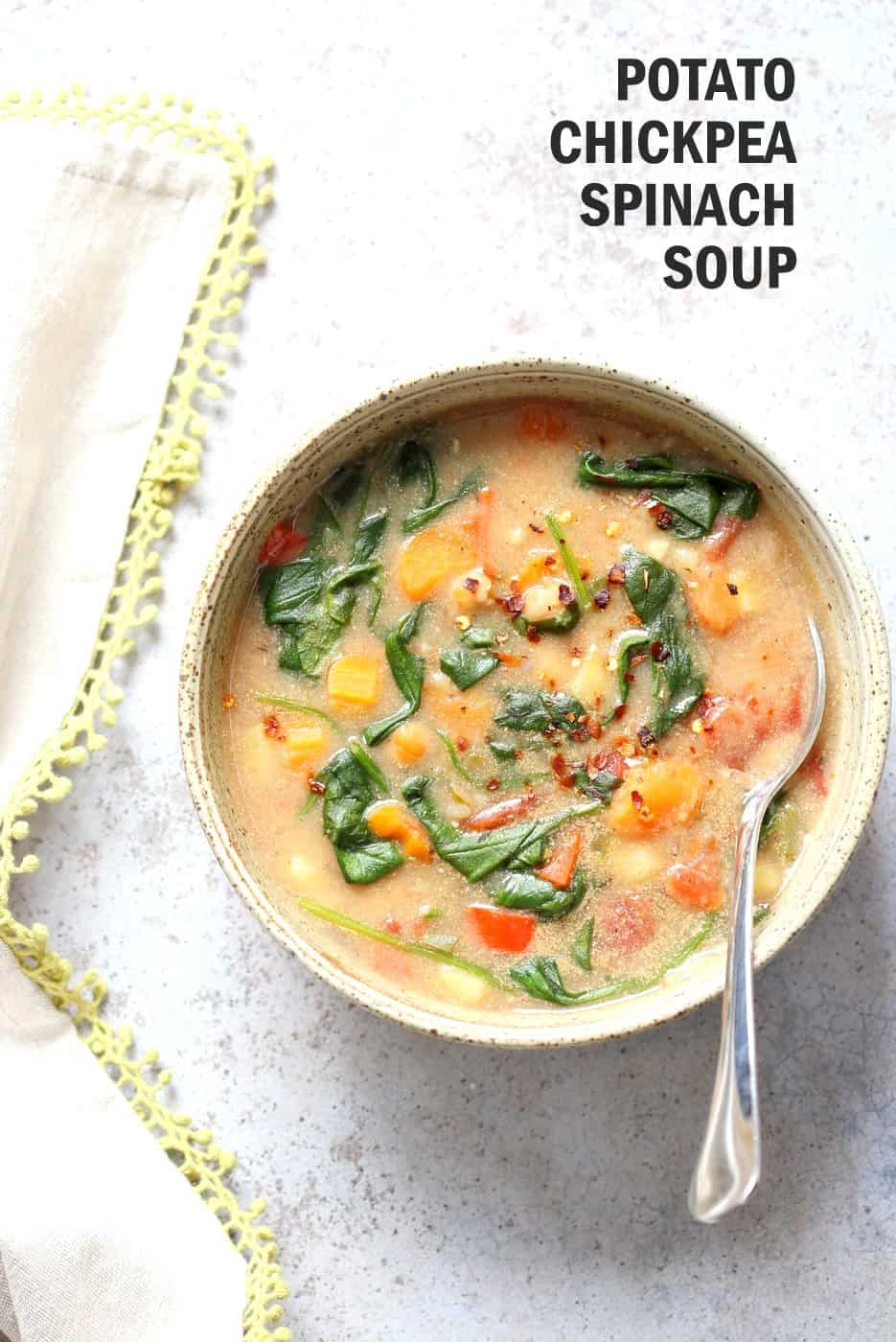 Veggie Chickpea Potato Soup in the Instant Pot by Richa from Vegan Richa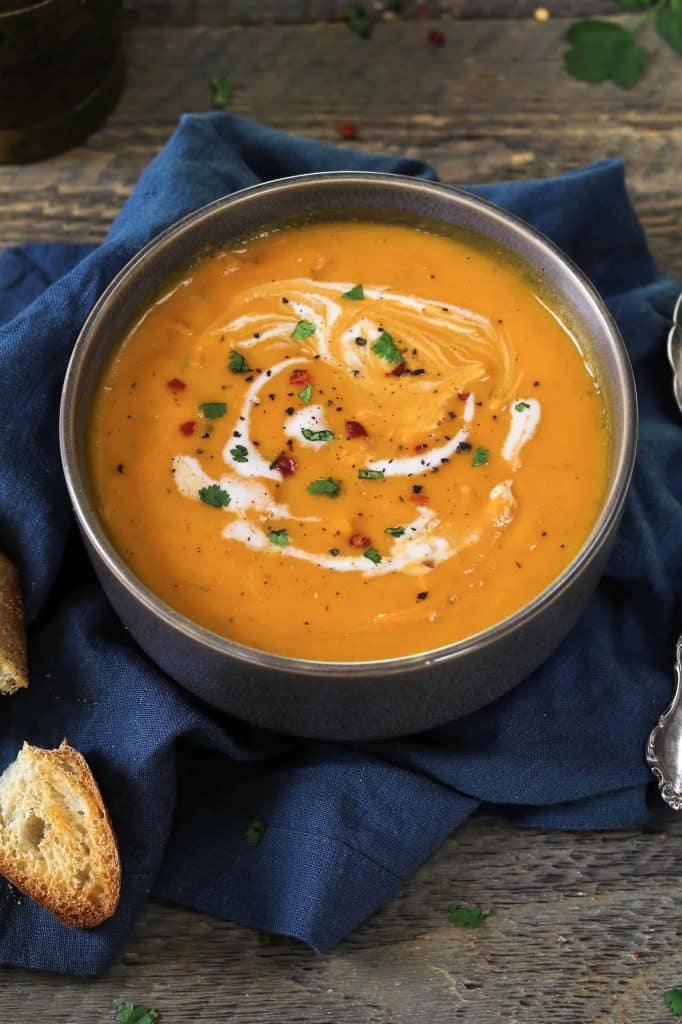 Vegan Carrot Ginger Soup by Melissa from Vegan Huggs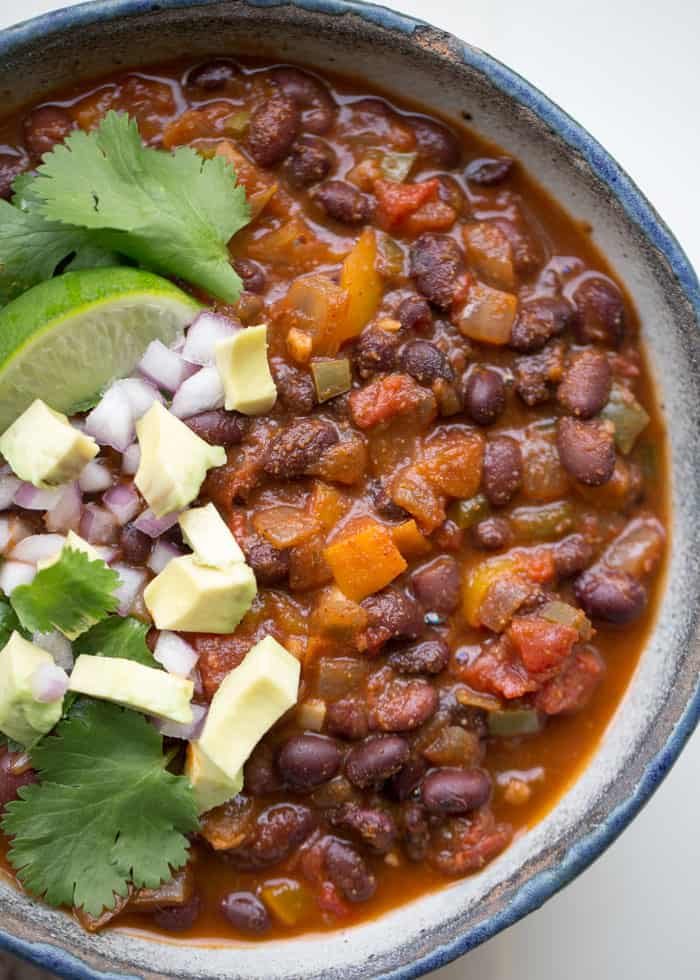 Instant Pot Vegan Black Bean Chili by Kare from Kitchen Treaty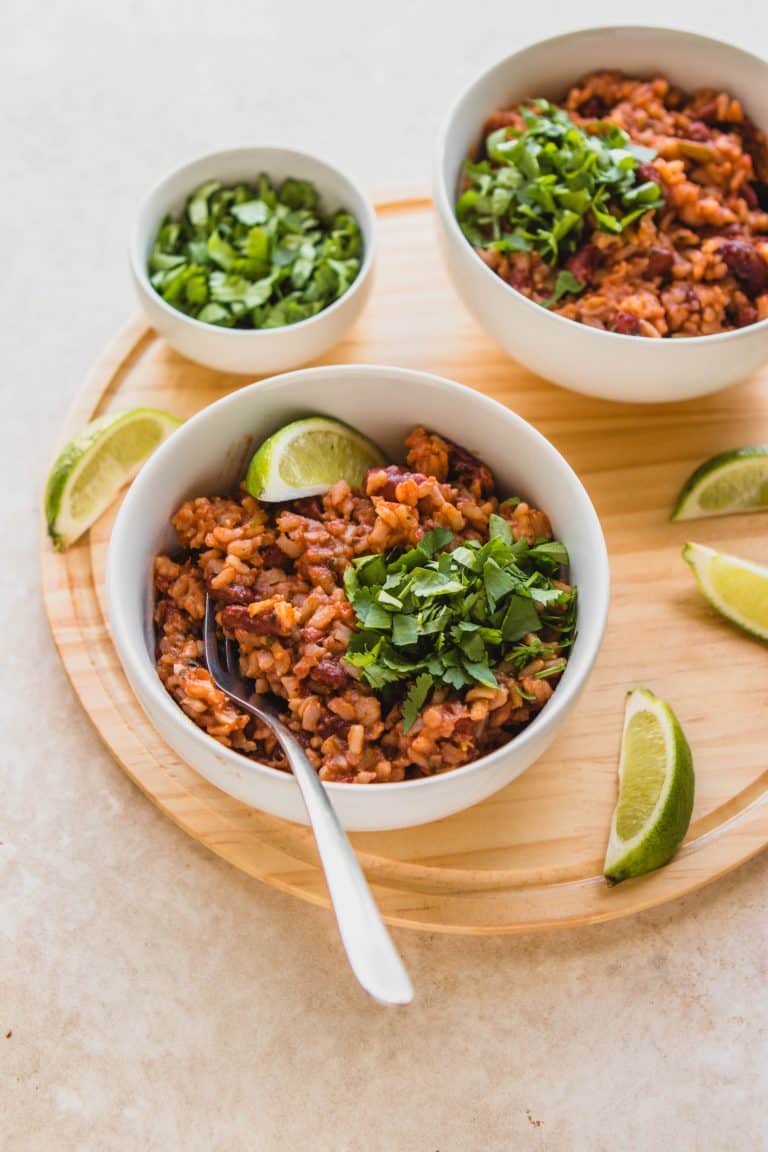 Rice and Beans by Caitlin from From My Bowl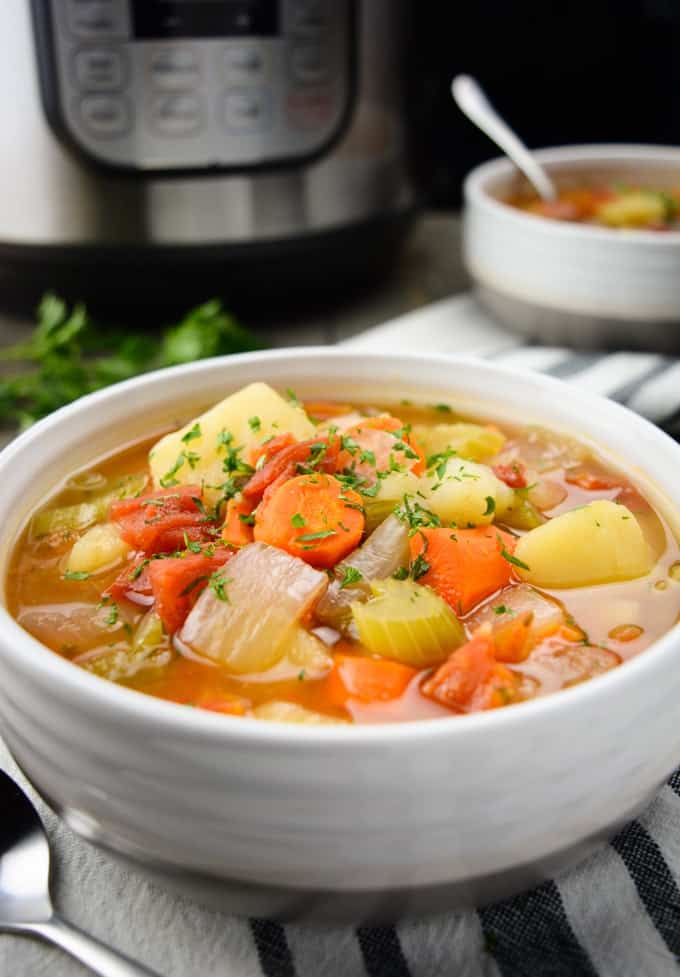 Instant Pot Vegetable Soup by Marlena from Where You Get Your Protein From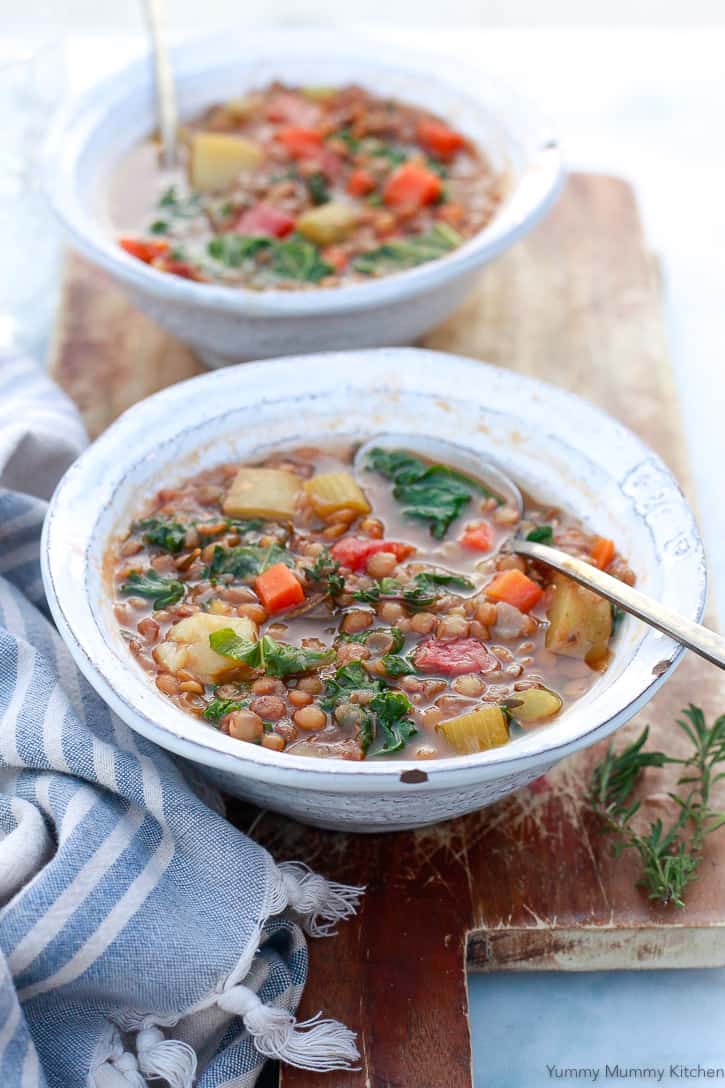 Instant Pot Lentil Soup by Marina from Yummy Mummy Kitchen
I Love To Hear From You!
I hope you enjoy these vegan Instant Pot recipes as much as I do! Don't forget to pin or share this post so you have these vegan fast food options ready when you need them!
If you give any of these recipes a try, I'd love to know what you think about it. Just leave me a comment below. Your comments really make my day!
You might also like these 10 delicious vegan air fryer recipes.
You like my recipes and roundups and want to see more? Then follow me on Facebook, Instagram, or Pinterest!
Sina