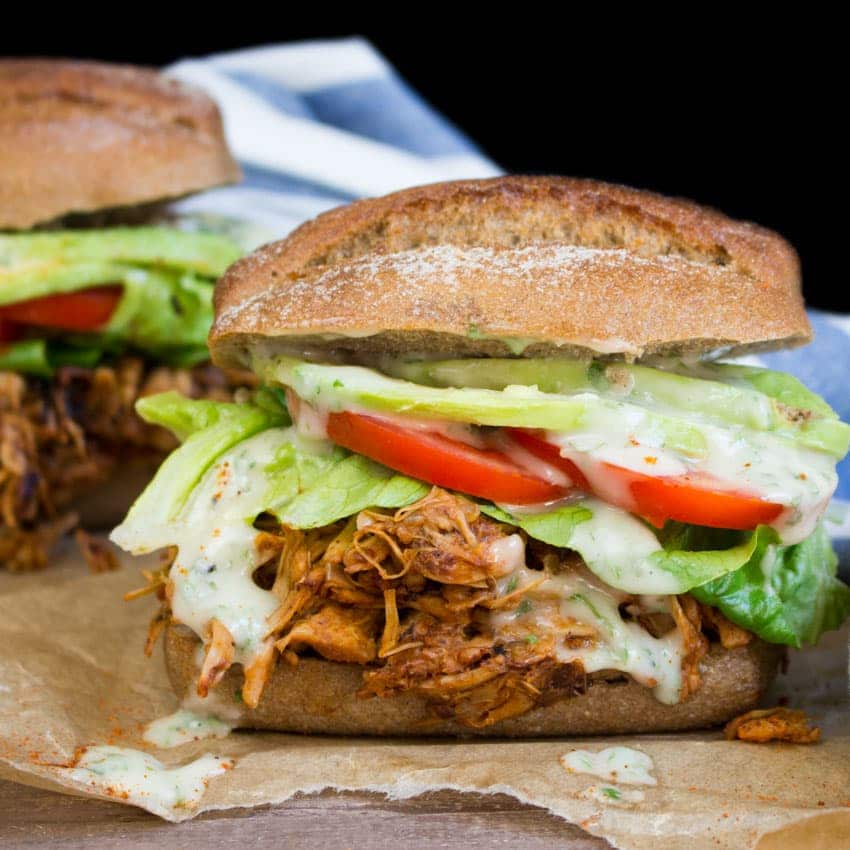 Print
Jackfruit Pulled Pork Sandwiches
These jackfruit pulled pork sandwiches with avocado and ranch sauce don't only look like the real thing, but they also taste amazing!!
For the pulled jackfruit:
For the vegan ranch sauce:
1/2

cup

vegan mayonnaise

1/2

teaspoon

garlic powder

1/2

teaspoon

onion powder

1

tablespoon

parsley, finely chopped

salt, to taste

black pepper, to taste

1

tablespoon

soy milk
For the sandwiches
2

buns

1

tomato

1

avocado

lettuce
Drain and rinse the jackfruit. Remove the core and put in a mixing bowl. Stir in the spices (paprika, cumin, brown sugar) so the pieces are nicely covered.

In a medium pan, heat the olive oil over medium heat. Sauté the onion for about 3 minutes or until it becomes translucent. Then add the garlic and cook for another minute.

Add the jackfruit and cook for about 3 minutes. Then add the BBQ sauce, the liquid smoke (if using), and the vegetable broth and cook for another 15- 20 minutes. Use a fork to shred the jackfruit.

In then meantime make the vegan ranch sauce: Combine all ingredients in a small bowl.

Serve the pulled jackfruit on a bun together with tomatoes, lettuce, avocado, and ranch sauce.